#100 posts equals a $100 giveaway!!
Oh wait… you might be saying to yourself – I already knew that! If so, you're right; in celebration of my 100th post on August 23 I kicked off a
fabulous $100 giveaway
to the
Fahrenheit 350° Confectionery
. If you didn't already know that, isn't that some great news?!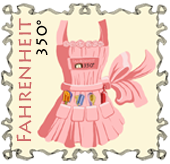 Today was slotted to be the final day to enter, but Jodi, from
Simply this and that
, and I bumped into each other (in a proverbial sense of course) and she has some exciting things going on over at her blog! She is moving over to
Pleasant-Home
! and is having a welcoming party! She invited, and well, I just couldn't say no!
How could I? Jodi is fabulous! Her welcoming party is replete with a week long celebration of giveaways, and new goodies daily! So…, I am extending the deadline for the giveaway by four days; now the absolute the last day to enter is
September 4
!
All you have to do is become a dessert guest!
For an extra entry leave a comment right here,
and for a third blog about this
and be sure to leave a directing URL,
and if you are here from Pleasant-Home
tell us how fab Jodi is!
And now… you have one more chance to win-head over right now to Jodi's blog and leave a comment on her gorgeous new website for a chance to win not only my giveaway, but a whole host of others, starting today with an
incredible Glamorous Girly Giveaway from my sister Pamela at French Knots!
She is giving away a beautiful jewelry pendant, 2 yards of specialized fabric, a Lone Star Quilt wall hanging, and Barbie paraphernalia, worth over $200!
It's the Sisters That Rock Giveaway!
Sisters that Rock: Pamela and me, photo by Tilt Photography
And just for changing the dates of the giveaway, I'm upping the ante! In addition to the lucky winner who will win a $100 gift certificate to the
Fahrenheit 350° Confectionery
, one additional person will win a ½ pound sweet log of their choice courtesy of Jodi, and rather than only 10 lucky winners getting a sample – I am upping it to 15!