Now… what does that cute little button on the right sidebar say today?
"Happy
Blogiversary!
(to me!)"
We're going to celebrate and have a good time!
Today is my official blogoversary/blogiversary! I've really been looking forward to doing this:
One year ago: Under The Sea, Mermaid Cupcakes!
It's the simple things people that are so exciting! Really!
And just for the record, I prefer blogiversary, though I've been using them interchangeably.
This celebration is well under way! So far we've featured Pammy @ French Knots, Tracy @ Sugar Crafter, and Evan @ Butter Cakes, and each flirty little baker has generously donated something scrumptious to add to a fabulous blogiversary giveaway package!
Let's refresh what has already been revealed to be in the bounty:
Door #Monday – Pammy's Famous Butter Toffee covered in chocolate and nuts
Door #Tuesday – Tracy's Incredible Pumpkin Muffins chock full of pumpkin and spice
Door #Wednesday – Evan's Best Chocolate Chip Cookies… Ever… No Lie!
What's behind Door #Thursday?
LaDue & Crew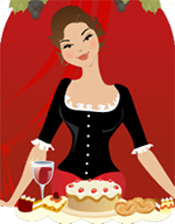 Janet is the mastermind behind LaDue & Crew. I'd love to tell you how I met Janet and came across her impressively marvelous blog, but the truth is I don't remember! I have to admit, on frequent occasion, I definitely get lost surfing amongst the many waves on the world wide web; thus I found Janet! And can I just say, Hallelujah?
Hallelujah!!
Janet has a humorous outlook on baking, on blogging, on life… in general. She is ambitious and daring, she is darling and hilarious, she is adorable and likeable. It's impossible to visit her blog and not leave smiling… well it's impossible to leave.
We all know I have a slight obsession with strawberries, but look at this bread:

…and Peach Blueberry Gallette, oh my!:

Even better! Janet is donating her Cranberry Pistachio Biscotti to my blogiversary celebration! Can't you just imagine dipping this biscotti in chocolate and savoring each bite while escaping into an adventurous and delightful book? Sounds perfect to me! Enter this giveaway and that picture of perfection might feature you! Of course – Janet is donating the recipe too: Cranberry Pistachio Biscotti!
To enter this giveaway: Visit LaDue & Crew and pick a masterpiece that you are dying to try! Then come back here and leave a comment telling me which one you love! And remember – get lots of extra entries by reading and following the extra large fine print below!

What will be behind Door #Friday, and Door #Saturday? Make sure and come back to see
what else you can win
, and enter for more chances to take home
everything
featured this week!
First time here? All week I am celebrating my blogoversary with prizes and treats and bloggers and giveaways! Everyday something new will be up for grabs, and everyday you can enter to win! The last giveaway will be posted on Saturday, and you will have until Tuesday, November 17th to enter each and every giveaway. ONE very sweet winner will win everything featured this week! That could be you! You, could win everything!
As always, followers

automatically get 5 entries each

! (but! you have to leave a comment on the giveaway for validation)
Commenting is required, but will also earn you one additional entry per giveaway (

look for instructions on each individual giveaway

)
Facebooking about each giveaway will earn you one additional entry per giveaway (mention in comment)
Tweeting will earn you one additional entry per giveaway (mention in comment with #handle)
Commenting on the Featured Blogger's Blog will give you one additional entry per giveaway
**Giveaway closed! Winner announced soon!**