What's behind Door #Wednesday?
Buttercakes by Evan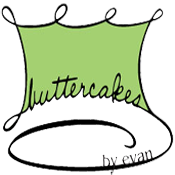 Is it okay to say that Evan is my favorite? Sssshhh, don't tell
Pammy
or
Tracy
!
Though Evan has a boy name, she is all girl, and who doesn't love a little sassy girl with a sporty attitude? I met Evan when I was searching for carrot cake decorations. Remember when I had my (one and only) TV debut?, on the elusive access cable television station? I was searching for ideas to really wow my fans, and I came across her gorgeous carrot cake with… Starburst carrots!

Then came this:

… and I knew immediately that we were long lost friends! Evan and I started emailing back and forth, and then we exchanged a couple voicemails; she has the cutest southern accent! Evan and I are great friends, we have a thousand and one things in common, and I can't wait to meet her! We have plans to go to the opening of the Harry Potter Theme Park together, and I am just itching with excitement!
If you've been reading this blog for any time at all, you've heard me mention Evan. In June, I posted my favorite cake of hers (to date (…up to June)) of farm animals. Evan has an incredible cake business, Buttercakes by Evan, in Mobile, Alabama. I send her orders all the time, but the problem is – she doesn't ship… she just teases and torments me! However, if you live within 50 miles of Mobile, she will deliver! Her blog is not only for showing off her incredible cakes, and ordering, but for giving away free tutorials on how to make incredible things from fondant, gumpaste, and other fancy etc. Evan also works as a pastry chef for a local restaurant in Alabama, so go get your sweet fix and then come back and brag to me… I'll probably cry!
Evan is donating 1 dozen of The Best Chocolate Chip Cookies…Ever…No Lie… to my blogiversary celebration! Look at that picture! These have 2 sticks of melted butter in them! Have you ever had results like this with melted butter? Um, I'll answer that for you: No!! I'm telling you, she's amazing!
She's so amazing, she's giving you the recipe:
The Best Chocolate Chip Cookies…Ever…No Lie…
The Dry Stuff:
2 ¼ cups AP flour
1 tsp baking soda
1 tsp salt
2 cups chocolate chips

The Wet Stuff:
¾ cups granulated sugar
¾ cups light brown sugar
1 cup (2 sticks) unsalted butter, melted and slightly cooled
1 large egg
1 tsp vanilla

Whisk together the Dry Stuff, make a well in the center, and set aside
Whisk together the Wet Stuff and pour into the Dry Stuff
Quickly fold the ingredients together just until combined
Do not overmix

Use a spoon or a disher and dish out your cookies, 2 inches apart, on an ungreased baking sheet
Bake at 375° for 10-12 minutes
Let cool on the baking sheet for 2 minutes
Transfer to a wire rack or paper towel-lined counter top
To enter this giveaway: Visit Buttercakes by Evan and get lost in heaven. Then when you have regained consciousness, come back and tell me what you would order, what your favorite tutorial is, or just what you love over there!
Make sure and come back tomorrow to see what else you can win, and enter for more chances to take home everything!
First time here? All week I am celebrating my blogoversary with prizes and treats and bloggers and giveaways! Everyday something new will be up for grabs, and everyday you can enter to win! The last giveaway will be posted on Saturday, and you will have until Tuesday, November 17th to enter each and every giveaway. ONE very sweet winner will win everything featured this week! That could be you! You, could win everything!
Door #Monday
Door #Tuesday
As always, followers

automatically get 5 entries each

! (but! you have to leave a comment on the giveaway for validation)
Commenting is required, but will also earn you one additional entry per giveaway (

look for instructions on each individual giveaway

)
Facebooking about each giveaway will earn you one additional entry per giveaway (mention in comment)
Tweeting will earn you one additional entry per giveaway (mention in comment with #handle)
Commenting on the Featured Blogger's Blog will give you one additional entry per giveaway
**Giveaway closed! Winner announced soon!**