I want to say that this Almond Croissant Recipe is my favorite, but then again, everytime I bake a croissant recipe – or eat a croissant for that matter – I say it's my favorite.
Otherwise known as Croissants aux Amandes, this Almond Croissant Recipe is a traditional french croissant made with frangipane.
Almond Croissant Recipe
100 layers of sweet almond cream that melts underneath a
blanket of pastry dough.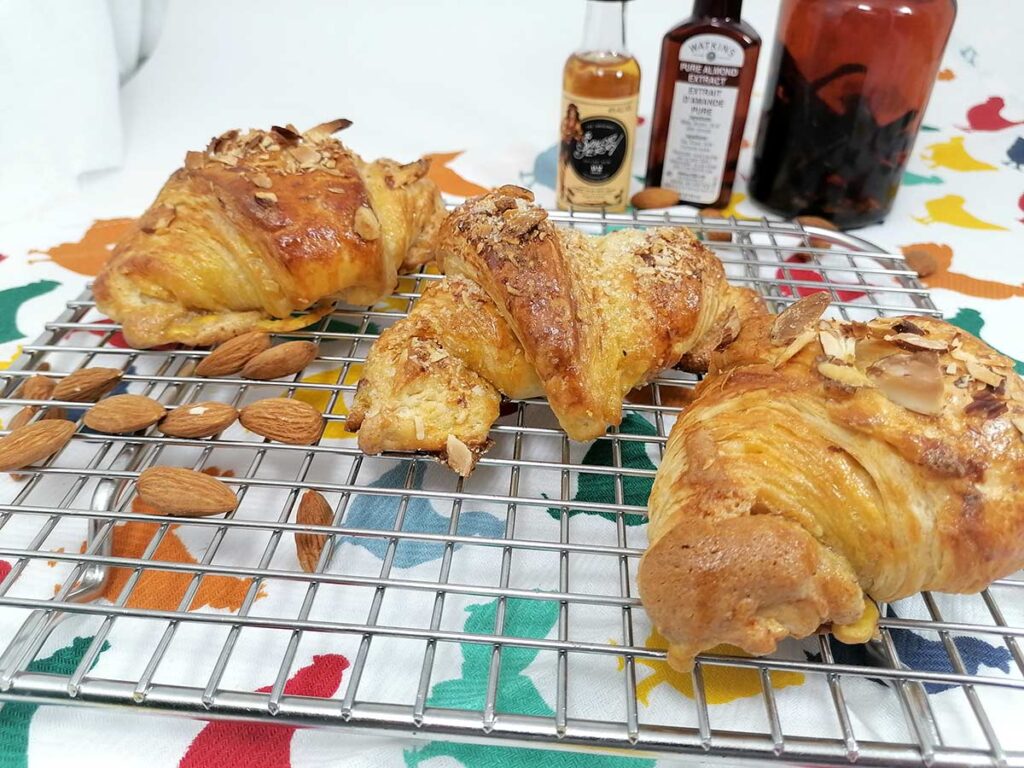 What is Frangipane?
Frangipane has so many culinary uses, and this is just one of them. Frangipane is a wonderful item to have on hand, and incredibly versatile. It's also called almond paste, almond cream and sometimes marzipan.
The concoction is almonds that are crushed and pulverized then mixed with eggs, cream, spices and butter. It's so easy to make at home in your blender!
When it's baked into an Almond Croissant Recipe it melts into the croissant and tastes almost like honey. It's absolutely delicious.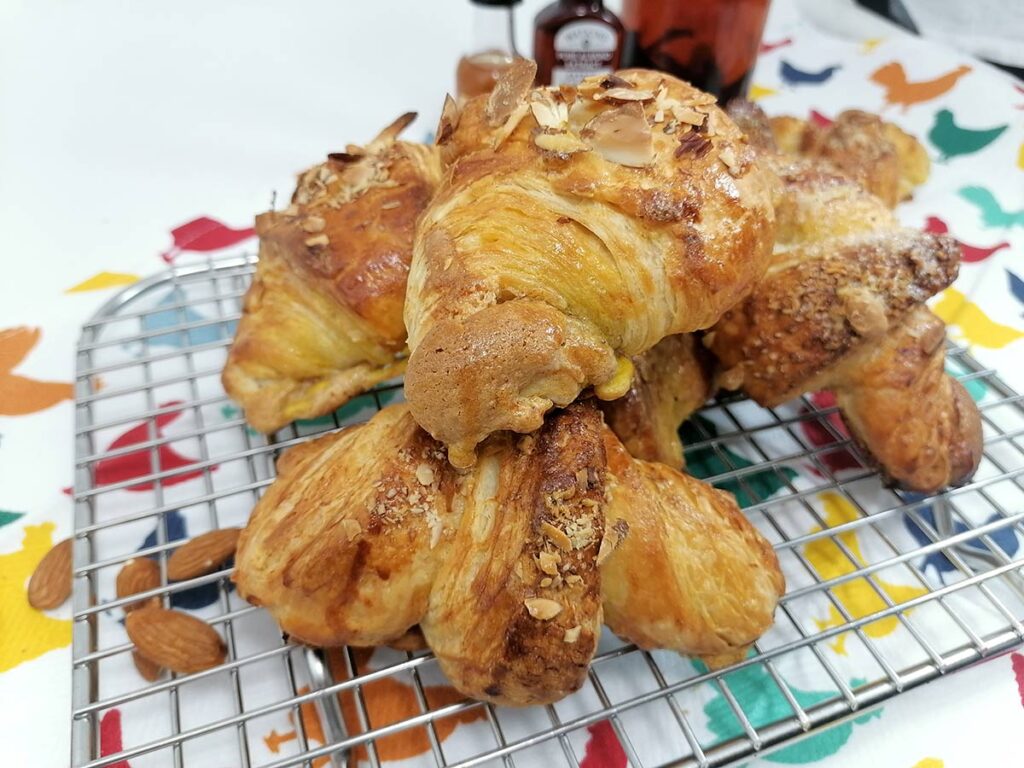 Other Desserts Baked with Frangipane
Frangipane is actually a dessert by the same name. It's a pastry crust filled with almond cream, and then covered with peaches.
A Bakewell Tart is an English dessert that has layers of frangipane, layers of jam, and layers of shaved almonds.
Apple Pie gets a twist in an Almond and Apple Tart that combines apples with frangipane before being baked.
Marzipan is typically coated in chocolate and eaten as a gourmet chocolate confection.
You can even simply spread it on toast, or French bread for a wonderful sweet treat.
How to Make this Almond Croissant Recipe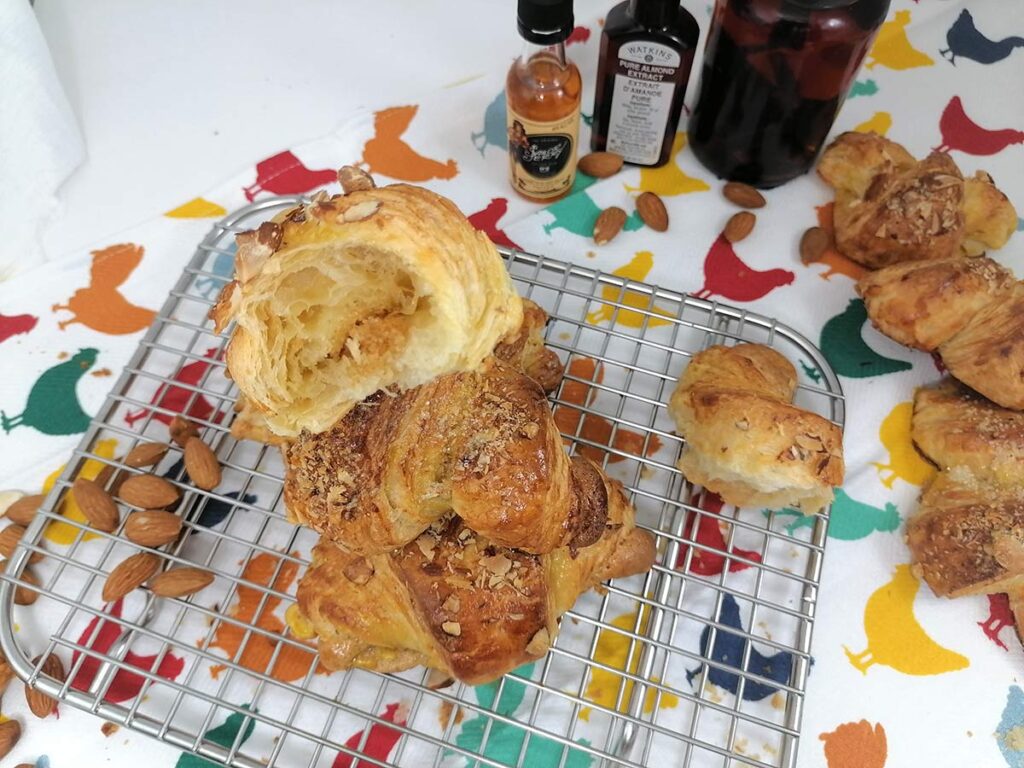 This recipe utilizes a basic croissant dough recipe combined with frangipane to create an amazing buttery bread with a touch of almond infused sweetness.
Anytime you add any sort of filling to croissants, the filling is going to stick to the pastry dough. The layers next to the frangipane will not rise, instead they will melt and add a wonderful flavor to the pastry.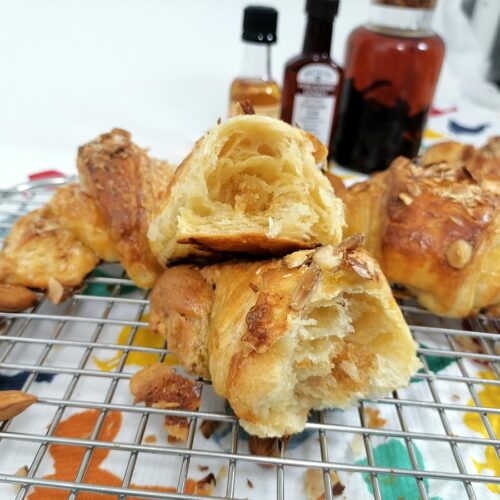 Almond Croissants (Croissants aux Amandes)
100 layers of sweet almond cream that melts underneath a blanket of pastry dough.
Ingredients
Frangipane
1

cup

butter

½

cup

granulated sugar

½

cup

powdered sugar

2

cups

almonds

1

tablespoon

flour

2

eggs

2

teaspoons

almond extract

1 ½

teaspoons

vanilla extract

1 ½

teaspoons

rum

Pinch

of salt
Croissant Dough
1

cup

water warmed

4

teaspoons

dry active yeast

½

teaspoon

sugar

3 ½

cups

flour

4

teaspoons

salt

¼

cup

sugar
Instructions
Frangipane
Add all ingredients to a blender and mix until smooth

Use immediately, or transfer to a glass jar with a tight fitting lid and freeze until ready to use
Croissant Dough
Proof yeast with sugar

Let sit until bubbly and rising

In a large mixing bowl add flour, salt and ¼ cup of sugar

Whisk until incorporated and make a well in the center

Add in yeast proof

Mix with hands and then add

6.5 tablespoons softened butter

Mix again with hands until combined and continue to knead on un-floured surface until soft and smooth

If using a stand mixer, mix on low speed just until combined

Transfer to a clean bowl and let rise for several hours, at least until doubled

Remove from the bowl and deflate the dough.

Roll into a long rectangle and fold over like an envelope

Wrap in plastic and place in the fridge overnight

Make a tourrage with 16.5 tablespoons of butter by smashing and rolling the butter inside a quart ziploc bag

When the butter is flat and square, place it in the fridge to harden

Cut it out of the ziploc bag so it remains the same shape

Allow to thaw just until you can create a light indent in the top with your finger

Remove the dough from the fridge and roll out to double the size of your butter square

Place the square of butter on one side of the dough and fold the other side of the dough to cover the butter

Roll the dough out again, until double the length,

Fold the dough over itself like a letter, in three folds

Place back in the fridge for at least an hour

You want to keep the dough cold so the butter stays laminated between the layers of dough

Repeat the rolling and folding process three times

Each time, make sure to turn the dough, so you are rolling in the opposite direction of the folds

Refrigerate between turns, and overnight after the last fold

After the dough has chilled, split dough in half and work with half the dough at a time

Roll out dough to 1/2 to 1/4 inch thickness

Cut out short rectangles, barely longer than wide

Place a tablespoon of frangipane at the top of each rectangle

Roll up and cover with egg wash and let rise for a minimum of 2 hours

Preheat oven to Fahrenheit 400°

Wash the croissants again with egg wash as the oven heats to temperature

Cook at Fahrenheit 400° for 15 minutes, lower temperature to Fahrenheit 375° and cook for additional 10 minutes
Make Almond Croissants
If you make this Almond Croissant recipe, tag @Fahrenheit350sweets on Instagram so I can see it! And I'd love it if you left a review and a comment below!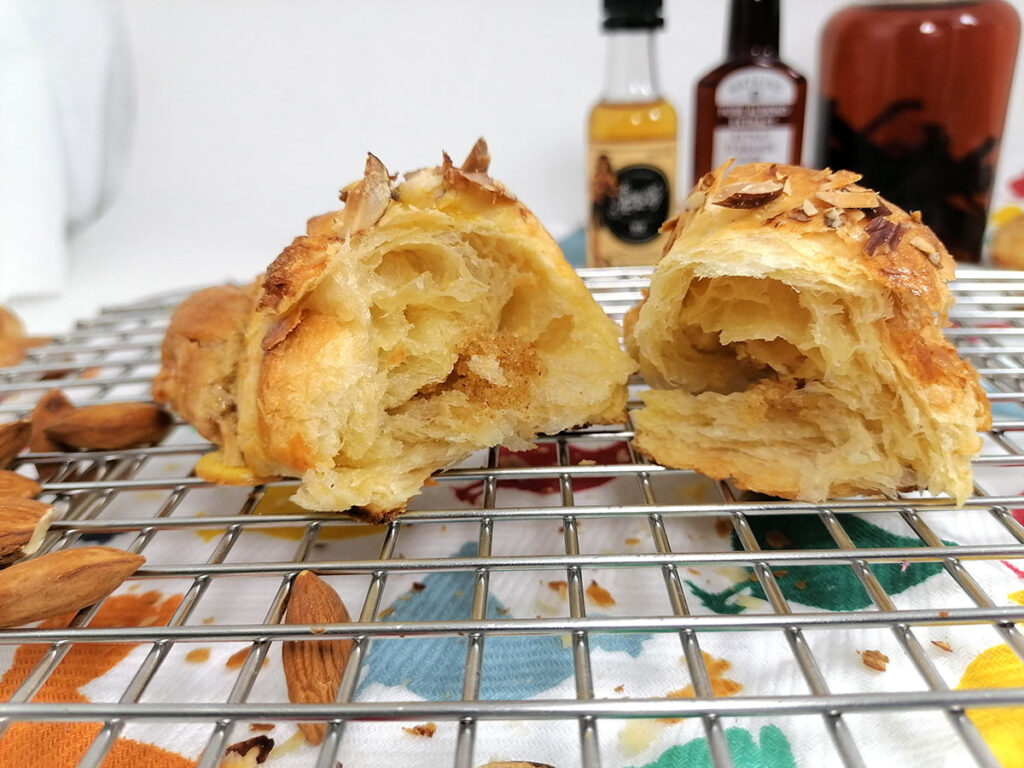 More Croissant Recipes to Bake at Fahrenheit 350°!