I first created this Salted Caramel Bundt Cake 10 years ago for a National Bake Sale I was privileged to be a part of dedicated to ending childhood hunger. 100% of proceeds were donated to Share Our Strength – an amazing organization!  
In effort to earn big bucks for this incredible cause, I knew it had to appeal to every single sensory organ. At least as many as possible.
Sight: This caramel bundt cake is gorgeous, with a ribbed crumb texture
Touch: You can't help but want to run your fingers along each rounded mound of this cake
Sound: It looks so good, you can imagine the way it sounds as you chew each and every morsel
Smell: The aroma of this cake wafts around the room that guides your nose to the prize
The second best thing next to taste was to appeal to the sense of smell. Since no one would be able to try this caramel bundt cake in advance, I wanted this cake to smell as good as it looked.
Let me tell you, this cake with salted caramel does just that! It has a delicious aroma due to its secret ingredient.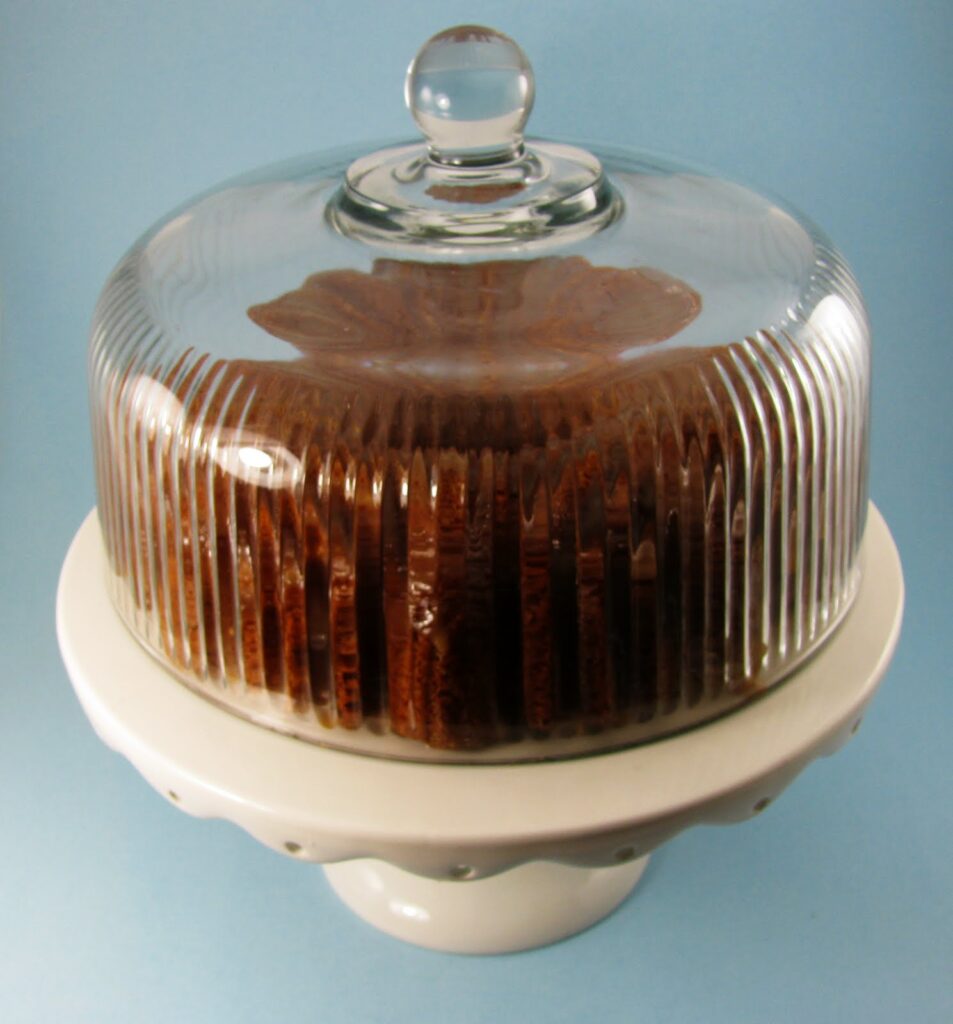 What Compliments Salted Caramel?
What's the first thing you think of when you think of salted caramel? Chocolate, right?
But that would be too obvious. What about bananas? Ice Cream? Apples? Popcorn? So bland! So white!
Secret Ingredient
I'm talking deep, rich, and sweet with just a little bit of a tart punch.
Orange.
Orange Salted Caramel Bundt Cake
This pair of ingredients is so harmonious together. The orange brings out the buttery cream of the caramel, and adds a fruity balance to the yellow cake.
This is an easy, one bowl cake that you can whip up in about 20 minutes.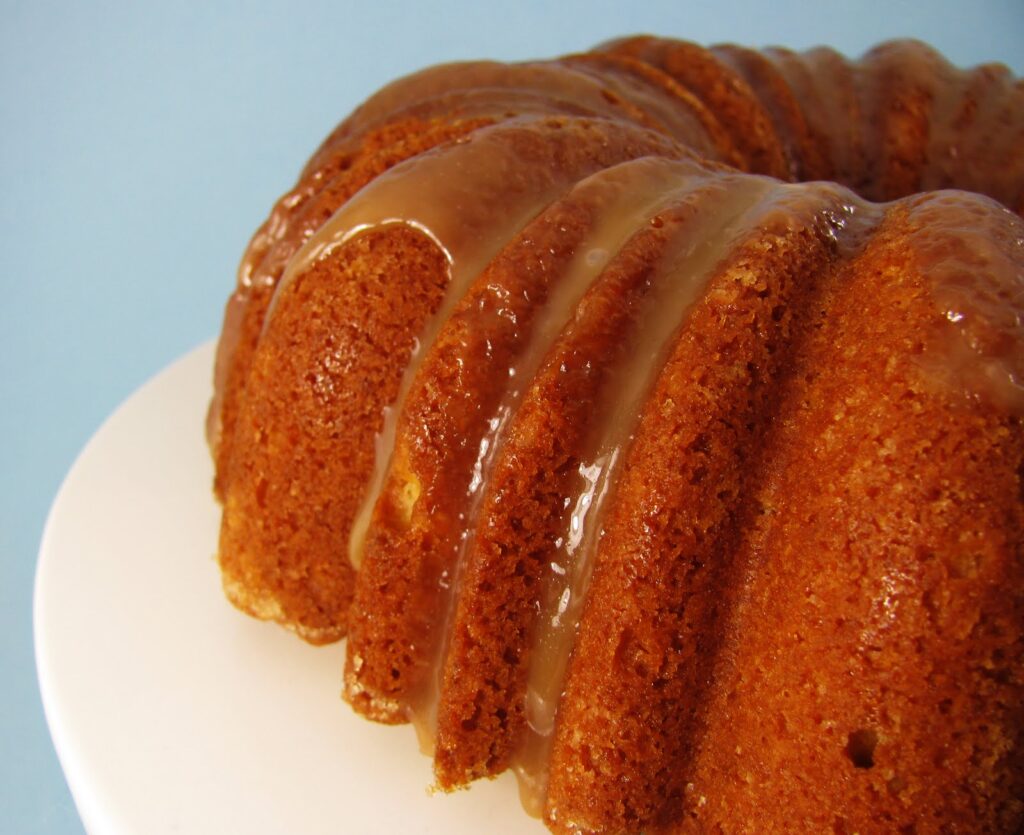 Taste
The smell of this cake with salted caramel is surpassed only by it's intense taste.
Caramel Sauce
If you are adventurous you can make your own caramel sauce, but a bottle of Mrs. Richardson's never did anyone wrong.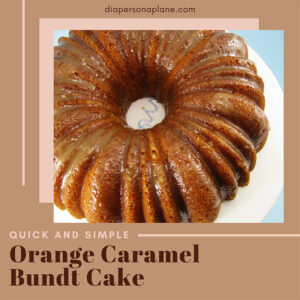 Orange Caramel Bundt Cake
This buttery Bundt cake tastes as good as it looks with one secret ingredient!
Ingredients
Cake
1 ¼

cup

butter

1

cup

sugar

1

tsp

vanilla

Zest from 2 large oranges

1

tsp

baking powder

1

tsp

salt

2

cups

flour

4

eggs

¼

cup

of caramel sauce

¾

cup

sour cream
Caramel Sauce (Optional)
1

cup

sugar

3

tbsp

butter

1

tsp

salt (more based on your preference)

½

tsp

vanilla extract

1

cup

heavy whipping cream
Instructions
Cake
Whip butter, sugar, vanilla and orange zest together until creamy

Mix together until mixture is combined and batter resembles cookie dough

Add eggs, caramel sauce, and sour cream

Whisk together until smooth

Pour into well greased and floured bundt cake pan

Bake at Fahrenheit 325° 45-60 minutes until cake is lightly browned and springs back at the touch

Let rest in pan for 10 minutes

Invert on a wire rack

Pour ¼ cup of caramel sauce over hot cake

Let rest until cooled
Caramel Sauce (Optional)
Melt all ingredients in a large saucepan, minus ½ of heavy whipping cream, on medium heat

Bring to a boil and cook for 5 minutes, stirring constantly

When mixture is starting to become difficult to stir, add in remaining ½ cup of cream

Cook 5-7 minutes more until soft ball stage, or until the mixture drips slowly off of your wooden spoon
Notes
Soft ball stage is when a teaspoon of caramel is dropped into cold water. The caramel will immediately set. If it separates it needs to continue cooking. If it is soft and malleable it is ready to go. If it cracks it's overdone. 
What is the Best Bundt Cake Pan?
Metal bundt cake pans are the best. They create a perfectly browned exterior and encourage the cake to climb to its maximum height. Nordicware is my personal favorite.
What is Bundt Cake?
It's basically a really pretty pound cake!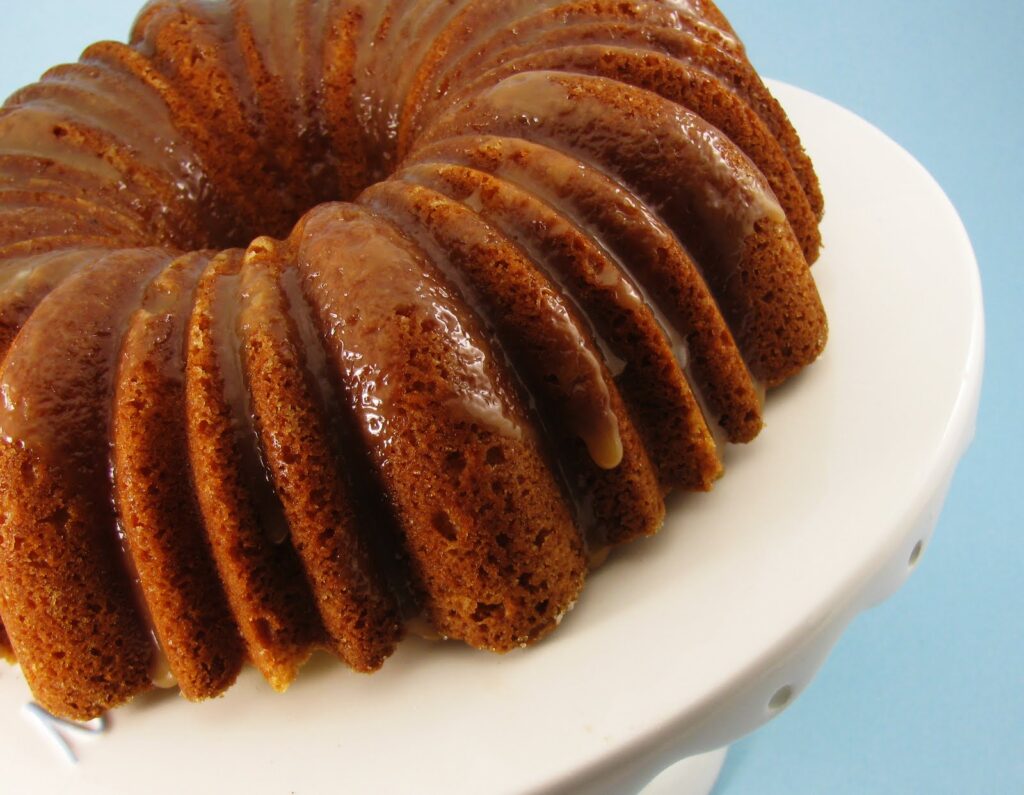 Can I Use Wrapped Caramels for this Cake?
I do not recommend using wrapped caramels for this caramel bundt cake. Wrapped caramels are cooked longer with added ingredients to help them hold their shape. This recipe uses caramel sauce, not caramel candy.
Not to mention, you'd have to melt the caramels first, which will add extra time and dirty dishes!
If the Secret Ingredient is Orange, Why Doesn't this Caramel Bundt Cake Use any Orange Juice?
The flavor from the orange zest is very potent, however it does not increase the sweetness of the cake.
Make This Orange Caramel Bundt Cake
If you make this salted caramel bundt cake, tag @Fahrenheit350sweets on Instagram so I can see it! And I'd love it if you left a review and a comment below! 
Like this recipe? Check out more Bundt cake inspired recipes!