Did you know Santa is plum sick and tired of eating chocolate chip cookies? It's true! Mrs. Claus told me. But don't worry! These festive Candy Cane Lane Cookies are sure to bring a huge smile to Old St. Nick and have him laughing all the way to the North Pole. 
small break
The crushed candy peppermint on the top reminds me of the game Candy Land. It just looks like a little peppermint rock pathway to happiness! And it is!
These Candy Cane Lane Cookies are buttery, sweet, minty fresh, and cool. Basically they are snickerdoodles with the cinnamon swapped out for peppermint. They are crispy on the edge and chewy in the middle.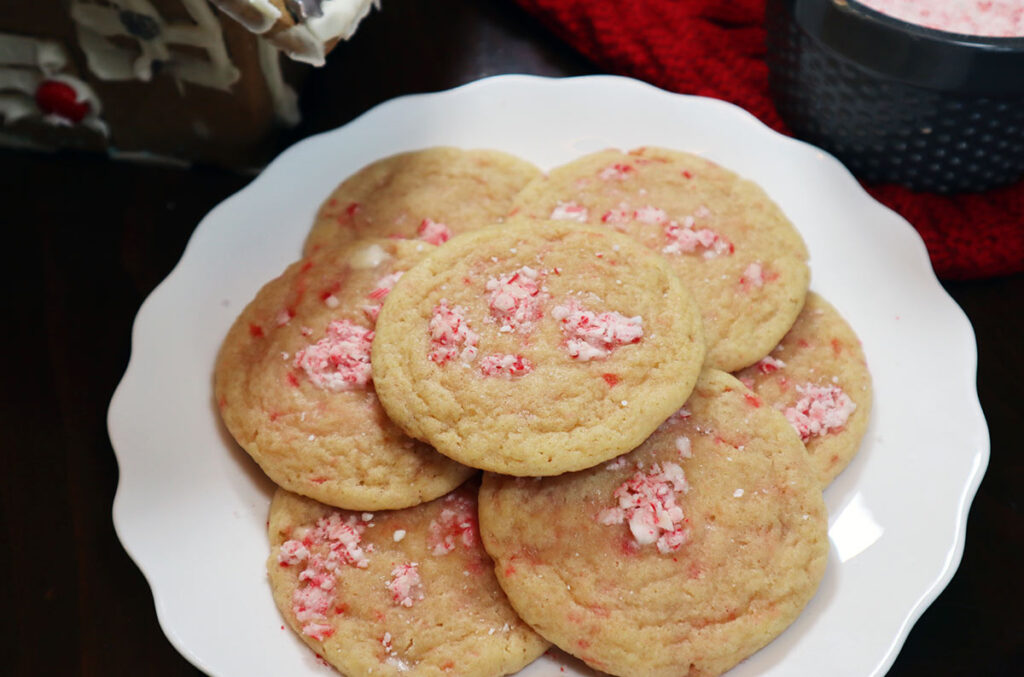 Pepperdoodles just doesn't quite have the same ring to it!
Candy Cane Lane Cookies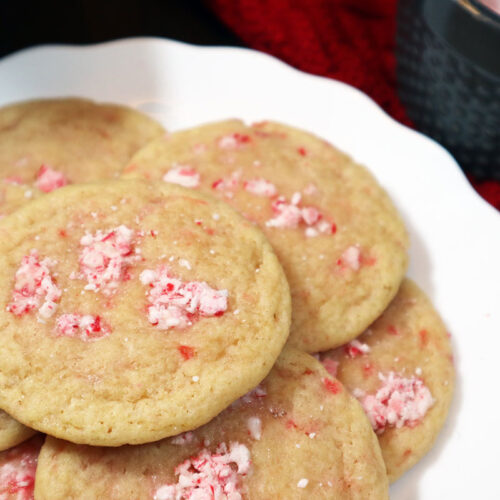 Candy Cane Lane Cookies
Butter sugar cookies dipped in crushed candy canes!
Ingredients
1

cup

butter

1 ½

cups

sugar

2

eggs

1

teaspoon

vanilla

2 ¾

cups

flour

2

teaspoons

cream of tartar

1

teaspoon

baking soda

¼

teaspoon

salt

⅓

cup

crushed candy canes

⅓

cup

crushed candy canes

for dipping cookie dough
Instructions
Mix butter and sugar until light and fluffy

Add eggs and beat with a handheld mixer until dough doubles in size

Add flour, soda, salt and ⅓ cup of crushed candy canes

Stir just until dough comes together

Roll dough into balls and place face down into remaining crushed candy canes until the surface is covered

Cook with candy cane mixture face up

Bake at Fahrenheit 350° for 9-11 minutes
Why Do You Leave Out Cookies for Santa?
There are several origin stories for why we leave out cookies for Santa.
The first is, of course, that he's traveled a long way, and needs refreshment.
Another is that it gives children a way to say Thank You to Santa for all he brings them.
Don't forget the reindeer need treats too!
But did you know that Santa used to eat the Christmas Tree decorations? To dissuade him families started leaving out cookies to fill his tummy instead!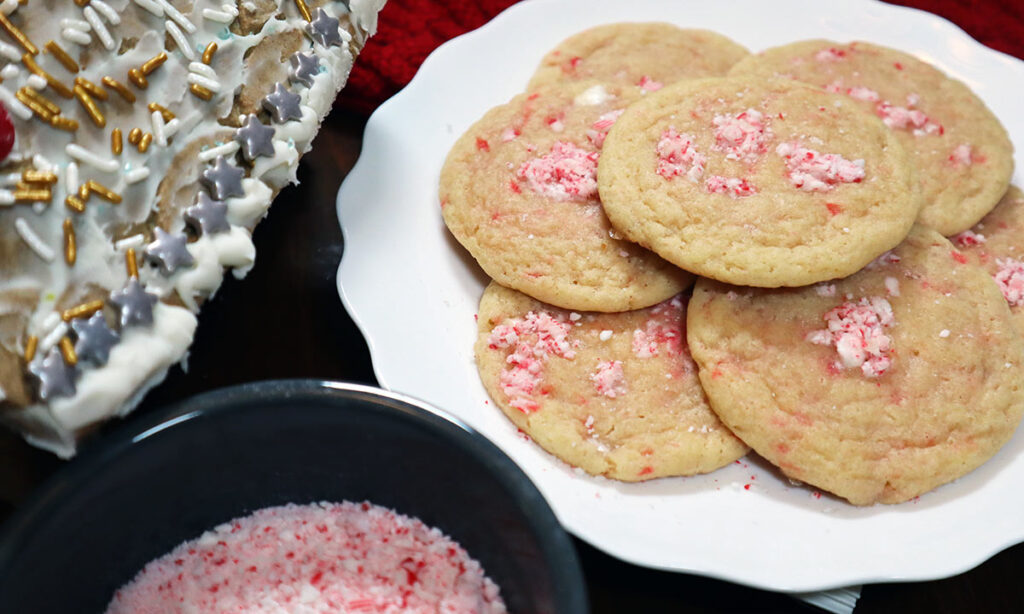 What is the Most Popular Cookie Left for Santa?
Oreo's!
Right? I'd never leave Santa store bought cookies, but have you tried the peanut butter filled ones? Mmmm!
How Do You Incorporate Santa Claus into a Christian Christmas?
We love celebrating Christmas, and think Santa Claus is the perfect emulation of Christlike love. He devotes his life to service to celebrate the most important day of the year!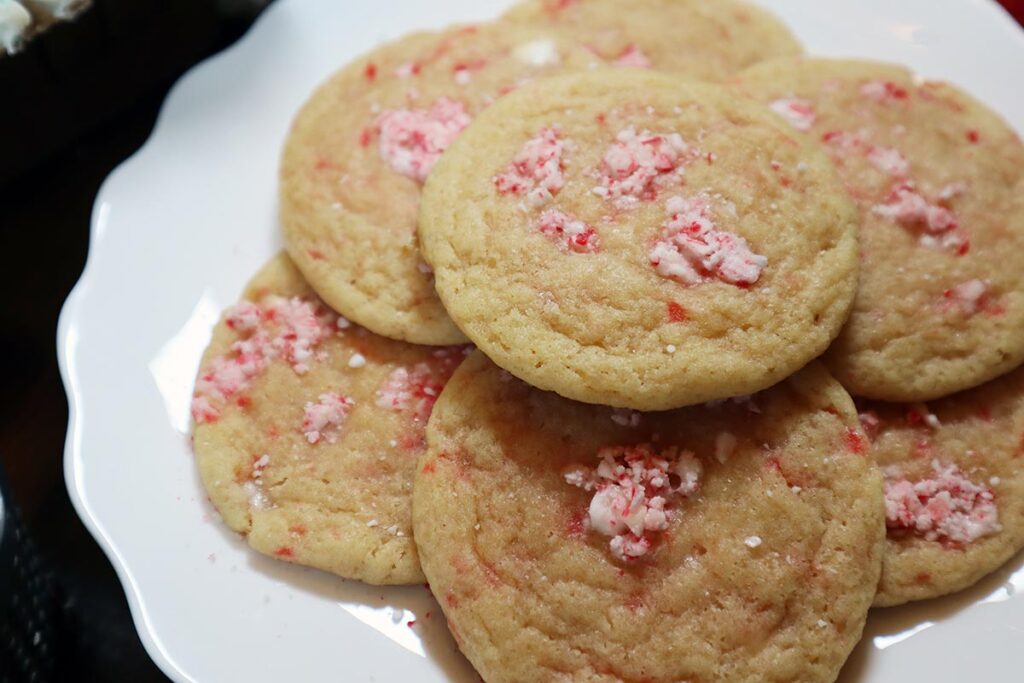 The Symbolism of the Candy Cane
The Candy Cane is one of the most prominent symbols of the Holiday Season.
It symbolizes our Savior Jesus Christ first as the shape of the staff that shepherds hold as they tend their flock. The shape also reminds us that He watches over us as our Elder Brother.
But which way is right side up? Held the other way, it's the letter J – for Jesus.
The candy cane represents Christ's perfection with white, and His sacrifice with red. The peppermint flavor is reminiscent of the hyssop plant that is used frequently in the bible for purification.
Like this recipe? Check out more of our favorite holiday recipes!