I love the ease of a yummy brownie made from a boxed brownie mix! They never disappoint, and they take mere minutes to make! Add a special frosting, and you can elevate a boxed brownie mix into something really special, like these fresh mint brownies made with a mint frosting.
This mint frosting for brownies is simply made by steeping fresh mint leaves in whipping cream and adding the mint cream to a basic buttercream frosting recipe.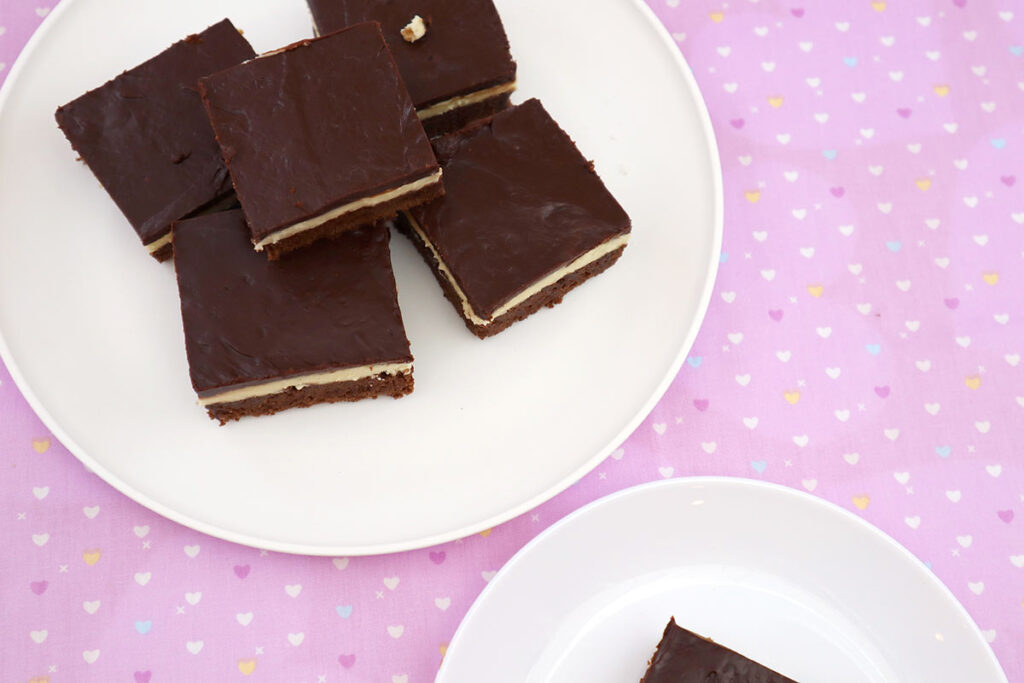 Almost nothing can beat the flavor of mint combined with chocolate.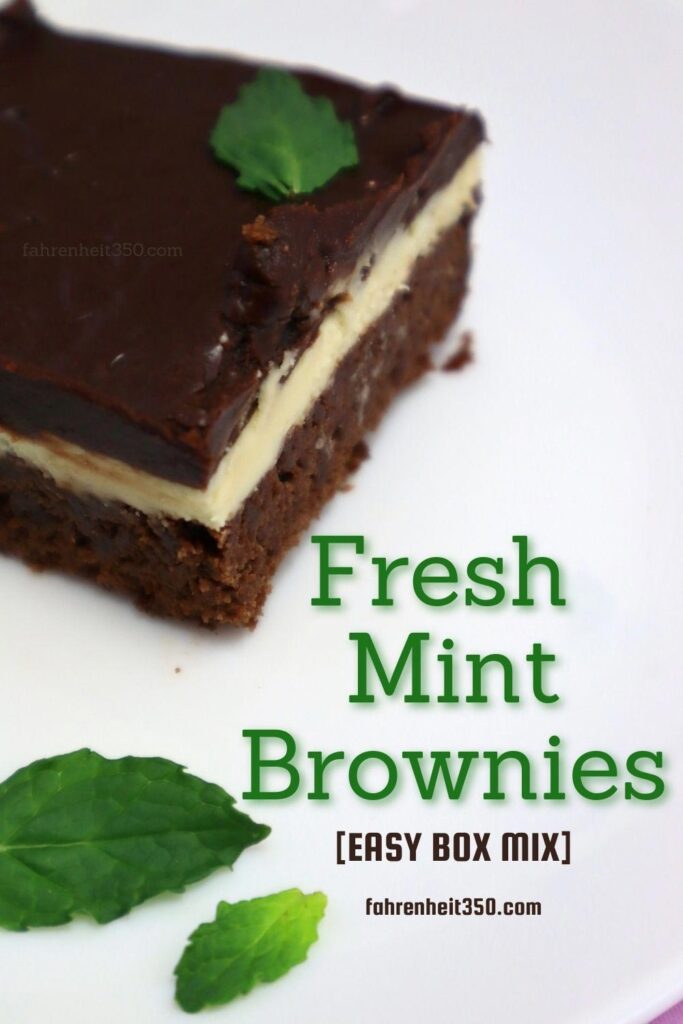 Fresh mint brownies made with real mint don't have any of that synthetic taste, and no worry about ruining a perfectly good brownie with an overpowering mint flavor. These are cool, pure and so sweet.
Second to the taste is that they are truly beautiful. A white middle mint frosting for brownies layer sandwiched between a flawless chocolate ganache looks so delicate and fragile that it is a delightful surprise to bite into it and discover that it is as smooth as the minty frosting layer beneath it.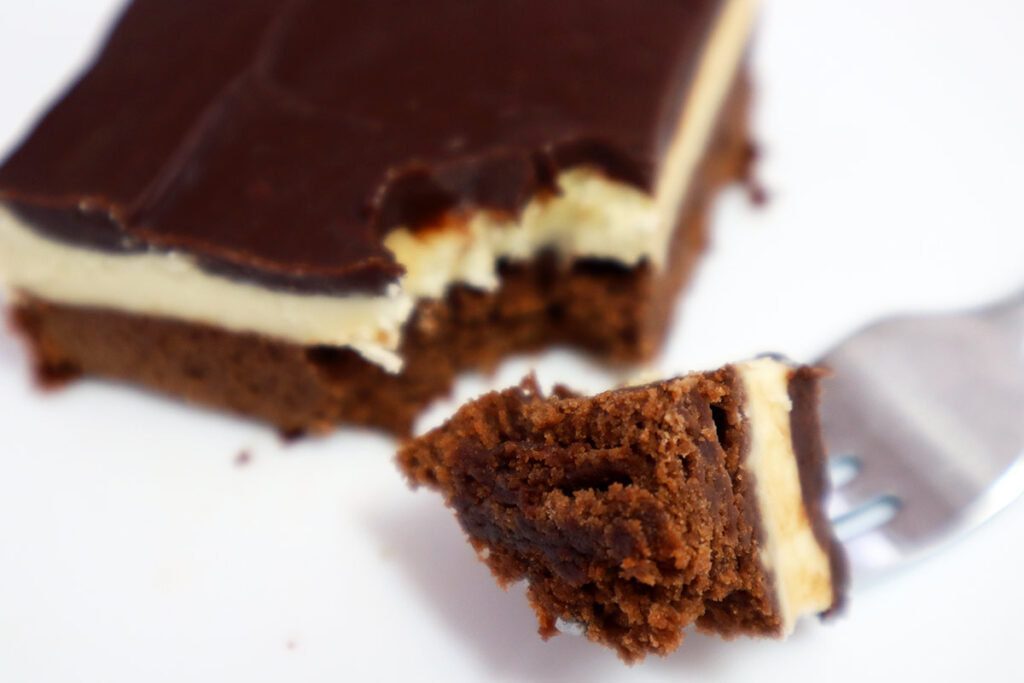 Fresh Mint Brownies
Flawless fresh mint brownies that taste as smooth as they look, and look as cool as they taste.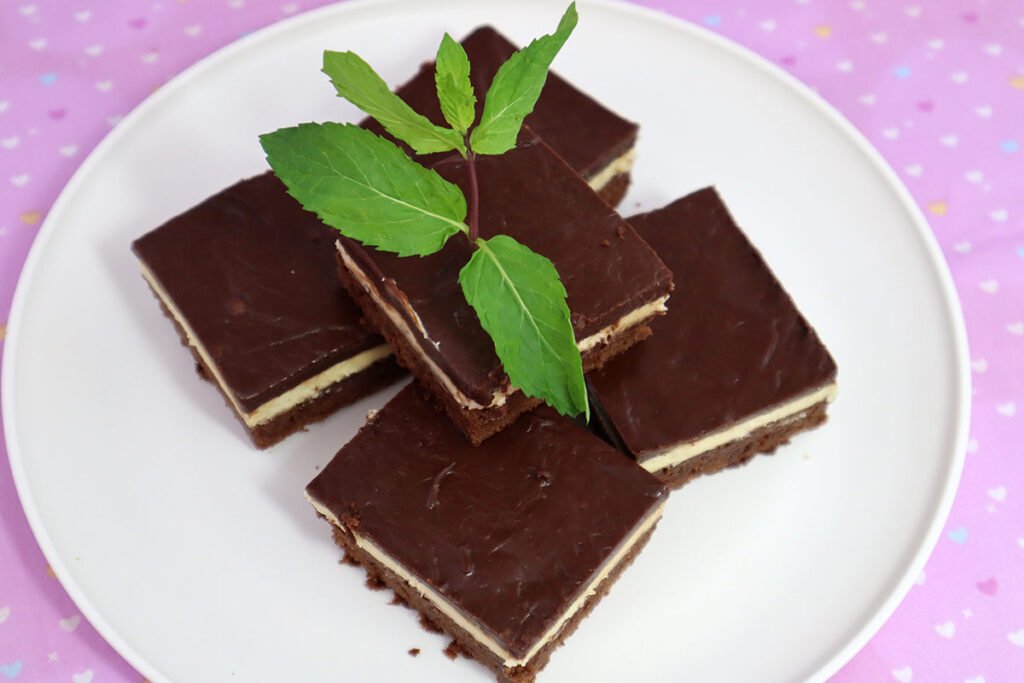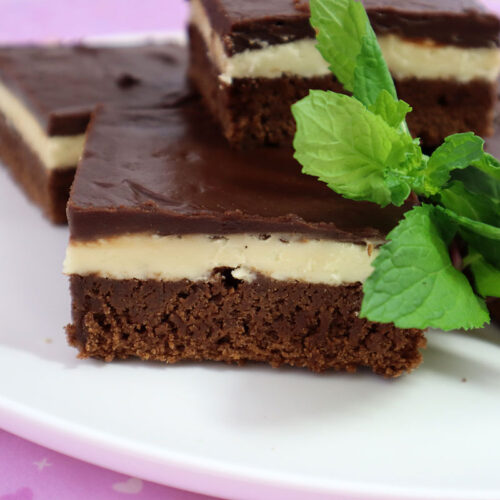 Fresh Mint Brownies
This mint frosting for brownies is simply made by steeping fresh mint leaves in whipping cream and adding the mint cream to a basic buttercream frosting recipe.
Ingredients
Mint Frosting
2

oz.

fresh mint leaves

½

cup

whipping cream

3

cups

powdered sugar

⅓

cup

butter

½

teaspoon

vanilla
Mint Glaze
¾

cup

semi sweet chocolate chips

½

cup

milk chocolate chips

½

cup

mint whipping cream
Instructions
Brownies
Bake in a greased 9×13 pan at Fahrenheit 350° for 18 minutes

Remove from oven and allow to cool completely
Mint Frosting
Add 1 cup of whipping cream to a saucepan over high heat

Cut mint leaves into cream mixture and bring to a boil

Once boiling, cover and turn heat off

Allow leaves to steep for a minimum of one hour

Strain cream and discard leaves

Reserve ½ cup of mint flavored whipping cream and set aside

Use remaining whipping cream and add to frosting ingredients

Beat with electric mixer until smooth

Spread over top of cooled brownies
Mint Glaze
Melt chocolate in the same saucepan you steeped the mint leaves

Add reserved ½ cup of mint whipping cream

2 tablespoons butter

Stir until just melted

Pour over frosting layer, smooth to edges, and let set
What if I Just Want to Use Mint Extract?
Make sure you use mint extract, and not peppermint extract. There is a big difference! Peppermint is the flavor of candy canes – more like menthol. Mint is much sweeter, used more frequently in recipes like cookies and ice cream.
Like in these Chocolate Chocolate Chip Mint Cookies.
Add ½ teaspoon extract to your frosting.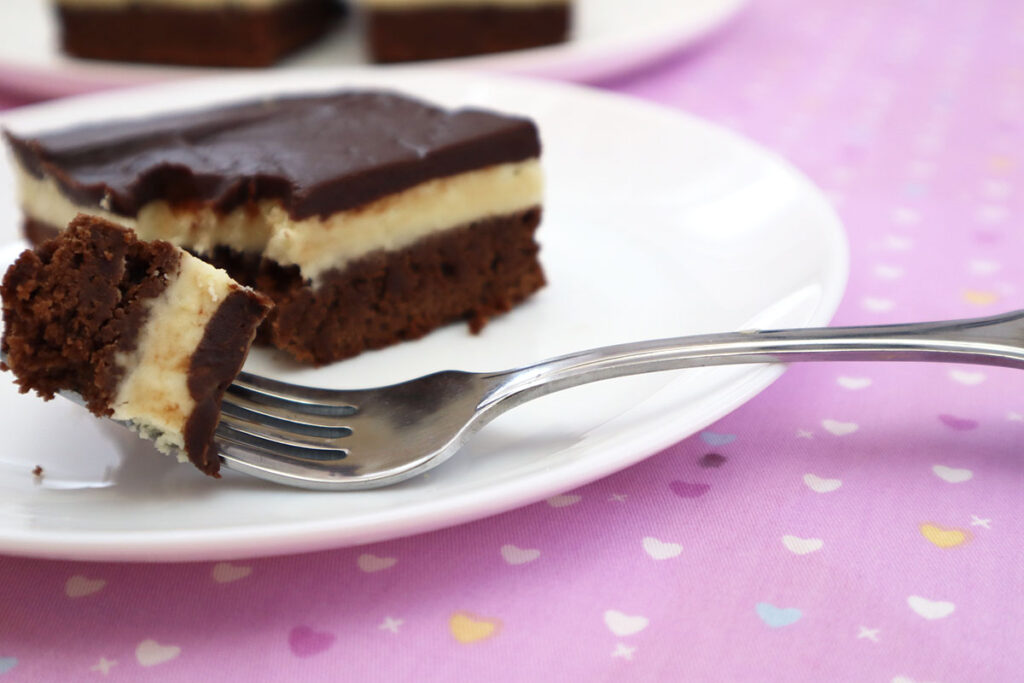 Why Aren't These Brownies Green?
I'm more of a purist, so I opted to leave out the green food coloring.
They are definitely more festive, and perfect for St. Patrick's Day, if you add food coloring to your frosting. I've used green coloring on occasion, if the time of year or the celebration called for it!
Brownies from Scratch
I've never found a brownie recipe I love as much as a good brownie mix. I know, it's surprising since I love making everything from scratch.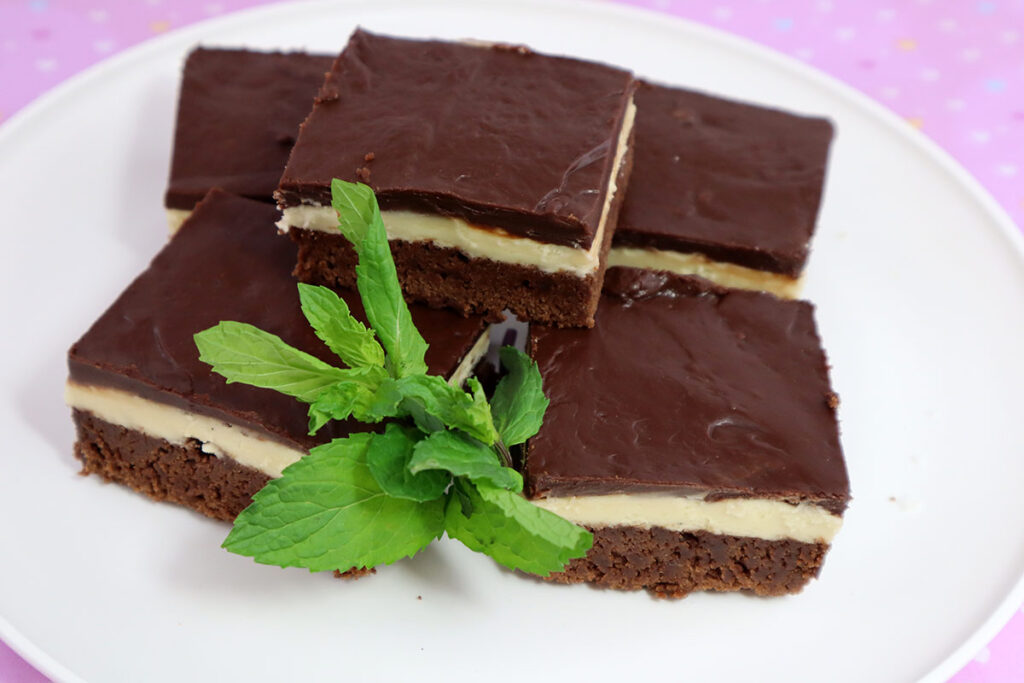 But, if I were to recommend a brownie recipe, it would be Mary Berry's from The Great British Baking Show.
Disclaimer: I've never made Mary Berry's recipe!
I recommend it only because they considered doing an American spin off and I was selected to participate! Pretty cool, huh!
Unfortunately that TV show never happened. Sad, I know!