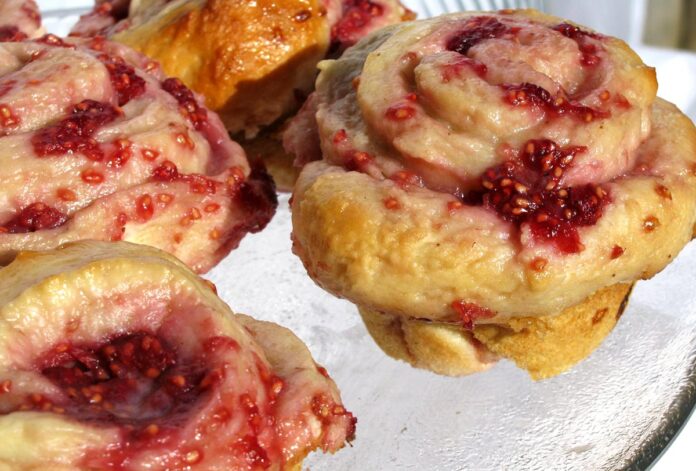 What is it about raspberries that just make them so irresistible? For me, it's like they are a combination of both strawberries and lemons mixed into one perfect little berry. They are sweet, but also tart. However you want to describe them, they make this honey buns recipe absolute perfection!
Raspberry Honey Buns Recipe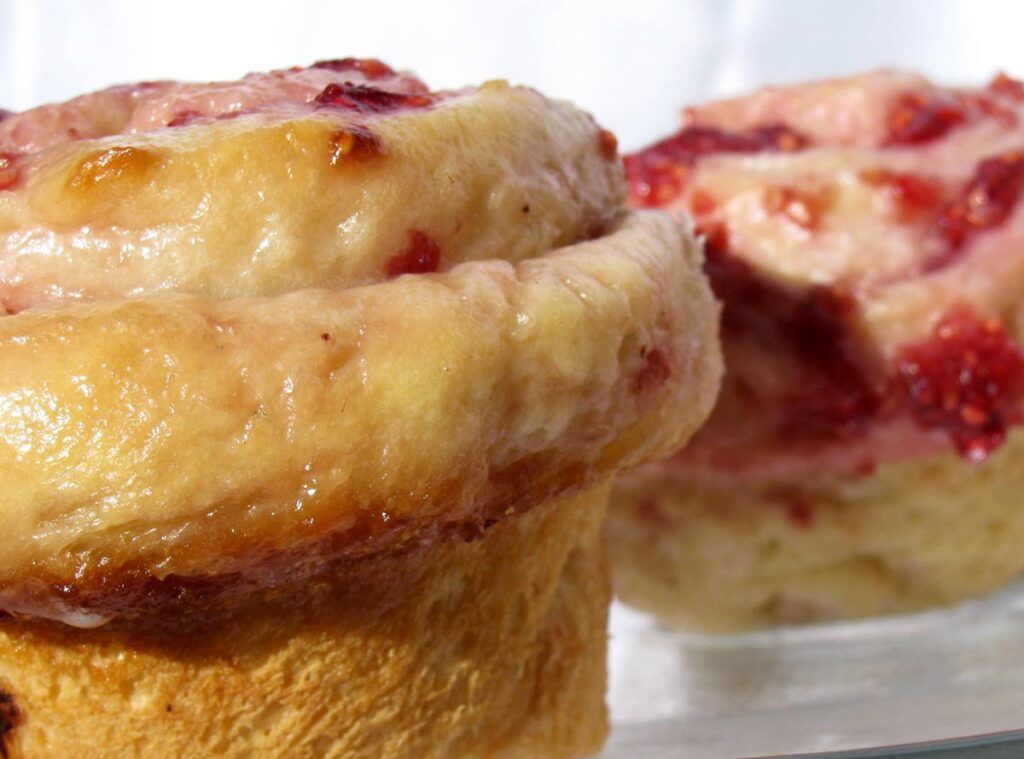 With such an adorable name, you are sure to melt over these delicious rolls that are made with pure creamed honey and whole tart raspberries.
Warning: This Honey Buns Recipe is Heavy and Dense
This bread recipe is inspired from the 1983 edition of Southern Living Magazine. It is old school; back when every single recipe had to have butter + cream + everything else a cow makes. It's a dense, heavy bread, but it's also sweet and filling.
If you want a less dense bread, that is more airy and fluffy, substitute water for the sour cream.
How to Make this Recipe
This is a standard bread recipe, but made like cinnamon rolls.
Instead of a brown sugar filling, you are going to make these delicious Raspberry Honey Buns filled with a creamed honey raspberry filling.
You'll roll out the dough, cover the dough with the delicious raspberry filling, and then roll the dough up tight like a pinwheel.
Cut even circles out of the dough and place each circle face up to rise in the pan.
Cook and cover with frosting!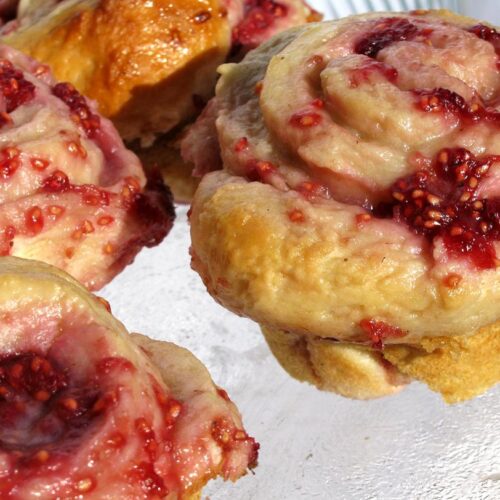 Raspberry Honey Buns
You will love this delicious honey buns recipe with rolls that are made with pure creamed honey and whole tart raspberries.
Ingredients
Honey Buns Dough
8

oz

sour cream

2

tablespoons

raspberry juice

1

package active yeast

2 ½ teaspoons

3

tablespoons

sugar

2

tablespoons

butter

1

teaspoon

salt

⅛

teaspoon

baking soda

4

cups

flour

1

egg
Raspberry Filling
1

cup

raspberries

1

tablespoon

sugar

2

tablespoons

butter

2

tablespoons

warmed creamed honey
Honey Icing
1

tablespoon

creamed honey

1

teaspoon

liquid whipping cream

2

teaspoons

powdered sugar
Instructions
Honey Buns Dough
Melt sour cream raspberry juice over low heat until warmed

Transfer to a mixing bowl with a dough hook and add yeast

Allow yeast to proof for 5 minutes

Stir in sugar and melted butter and yeast

Add salt, baking soda, 2 cups flour, and egg

Knead until mixture is smooth and combined

Continue to add flour in ½ cup increments until dough is tacky and pulls from the edges of the bowl

Let rise until doubled in size

On a floured surface, roll dough out to a large rectangle a half inch thick

Spread filling across the surface, edge to edge

Roll dough up lengthwise, pinch ends together, cut into whirlpools and press into prepared pans

I used a well greased muffin tin, but you can also use a casserole dish and place rolls 1 inch apart to allow room to rise

Rise for an additional 1 hour minimum

Bake at Fahrenheit 375°, 20 minutes, release from pan
Raspberry Filling
Stir raspberries and sugar together until raspberries start to release their juice

Add softened butter and warmed creamed honey

Stir just until mixture is combined
Honey Icing
Whisk all ingredients together until smooth

Spoon over rolls while still hot
Should I Use Fresh or Frozen Raspberries?
If you are like me, I'm stingy when it comes to food I can't reproduce. Like raspberries, for instance. I will let them sit in my fridge for far too long, just because I hate not having them.
Lately, I've started buying them in bulk and freezing them while they are still fresh. This recipe is great with either fresh or frozen raspberries.
How Do I Get Raspberry Juice?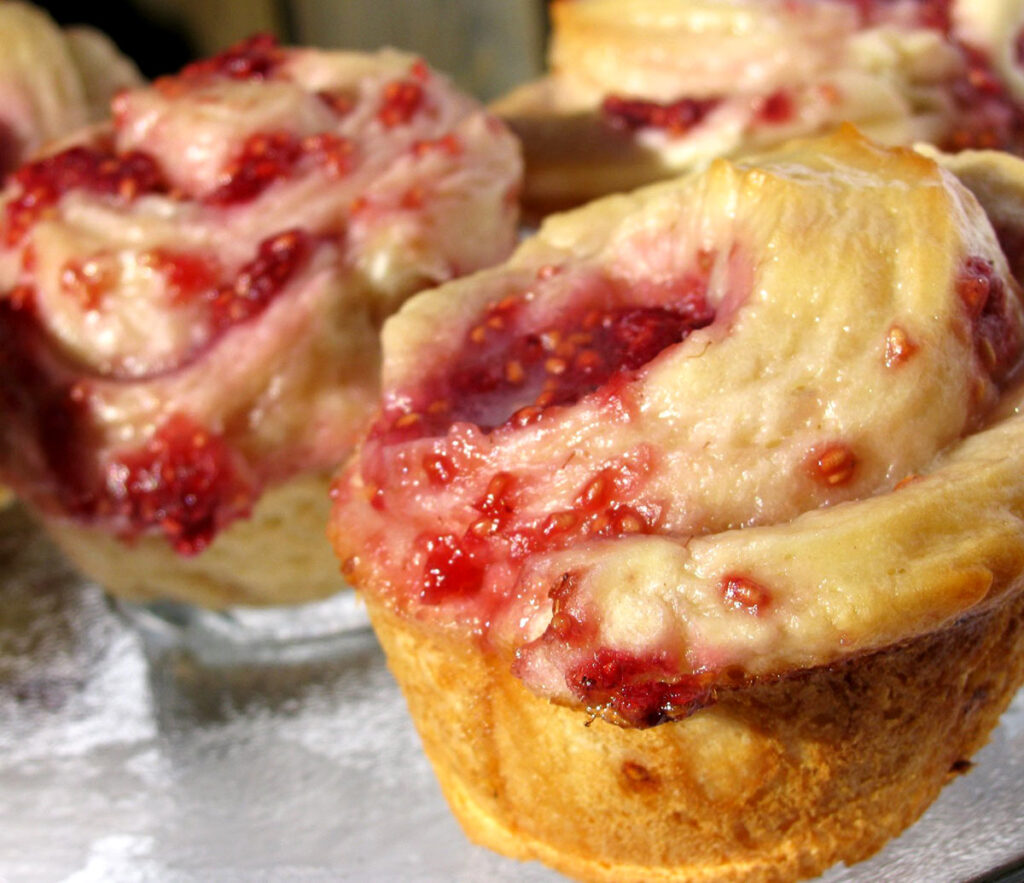 Pulverize raspberries in a blender or food processor, then strain out the seeds.
Some of my Favorite Baking Tools on Amazon
As an Amazon affiliate I may get a few pennies if you click on these links, but you don't pay any extra!
I baked these honey buns in a muffin tin, but my favorite way to cook these types of rolls, sticky buns, cinnamon rolls or the like is in a high edge sheet cake pan.
And then of course, you must have a large wire rack for cooling and catching dripping icing.
Make this Raspberry Honey Buns Recipe
If you make this honey buns recipe, tag @Fahrenheit350sweets on Instagram so I can see it! And I'd love it if you left a review and a comment below!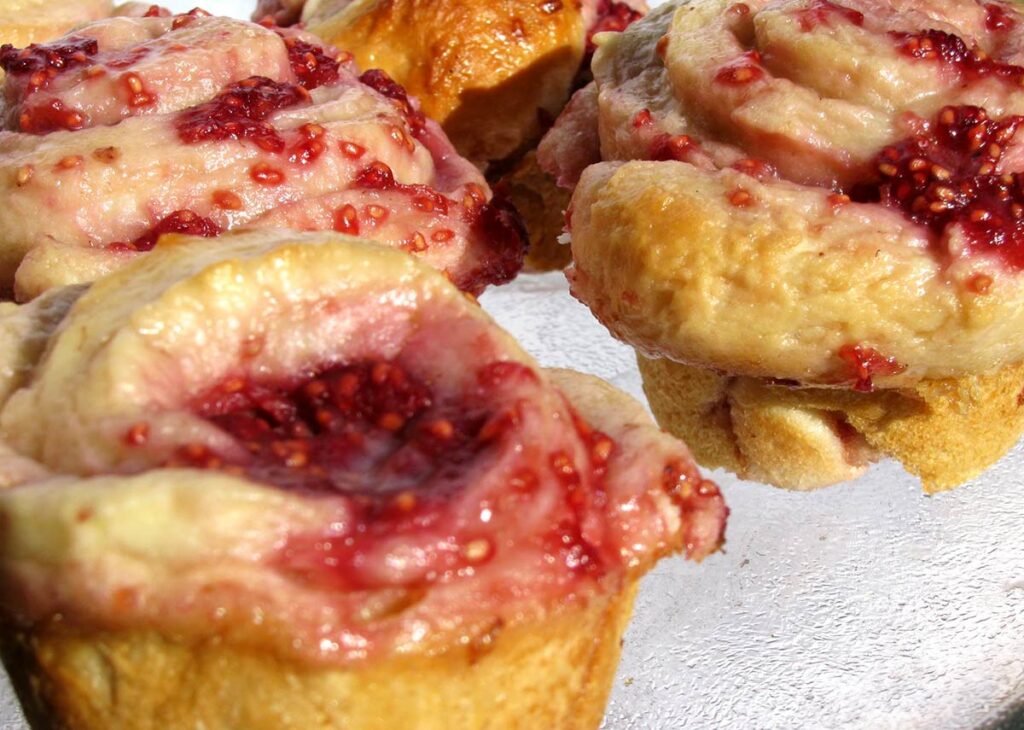 More Bread Recipes to Bake at Fahrenheit 350°!