I've never understood why people love pancakes so much, or why restaurants offer them as a side item as popular as french fries. French fries I can get behind. Hashbrowns I can get behind. But Pancakes? They have zero structure. They just dissolve in your mouth like cotton. In fact, they taste like cotton. That is… until I tried these sourdough Kamut pancakes.
Kamut Pancakes
Seriously, this ancient wheat Einkorn pancake recipe or Kamut pancakes – you can make them with any type of ancient wheat, are nothing like the flimsy pancakes they give out for free at your local IHOP.
These yummy pancakes give true meaning to the name cakes made in a pan. Kamut pancakes are thick and buttery, they are moist, they are flavorful, and they are melt in your mouth good.
Sourdough Kamut
When I first made my sourdough close to 2 years ago (it's still thriving after traveling cross country twice!) I first tried making sourdough ancient wheat kamut pancakes.
Sourdough really gives these kamut pancakes an edge. Then by adding some amazing additional ingredients this recipe will become your go to breakfast recipe and the reason your fridge is full of rotating sourdough feeds.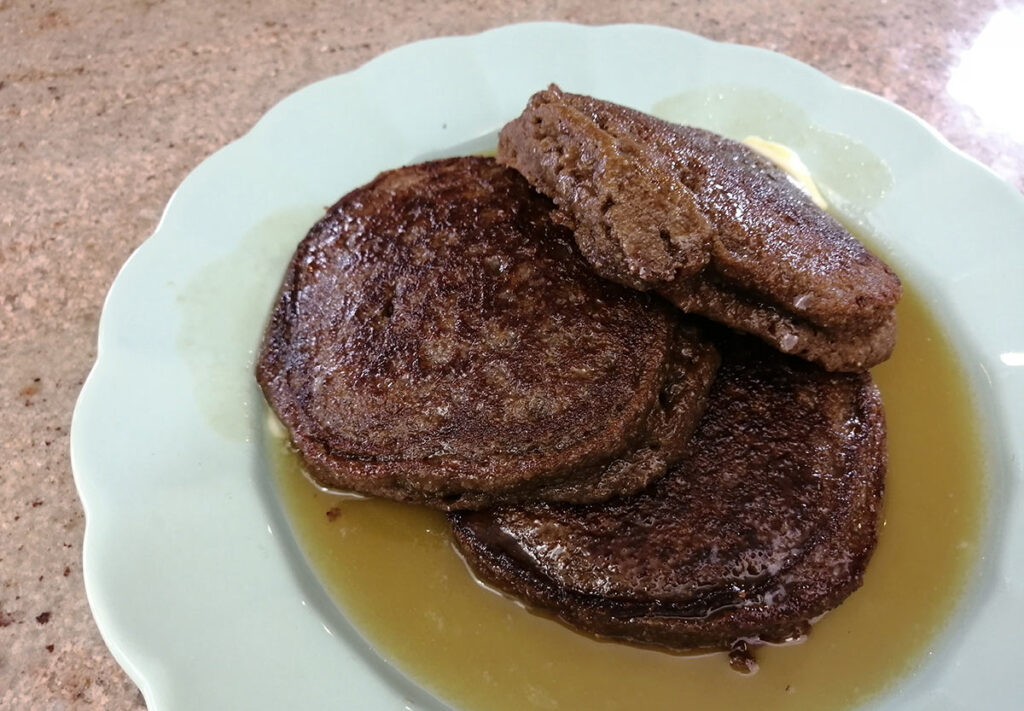 Love at First Bite
These pancakes converted me from pancake hater to pancake lover. I am a changed woman!
Standard sourdough pancakes simply take sourdough, flour, eggs, and milk. But, this recipe goes beyond standard.
These pancakes are packed full of protein, zinc and Omega 3's from ancient wheat
Fiber, potassium and Vitamin E from peanut butter
Vitamin C, B6 and magnesium from bananas
And anti-inflammatory cocoa powder that is high in phytonutrients.
One thing these pancakes are not full of? Gluten, sugar, and refined carbohydrates.
How to Make this Recipe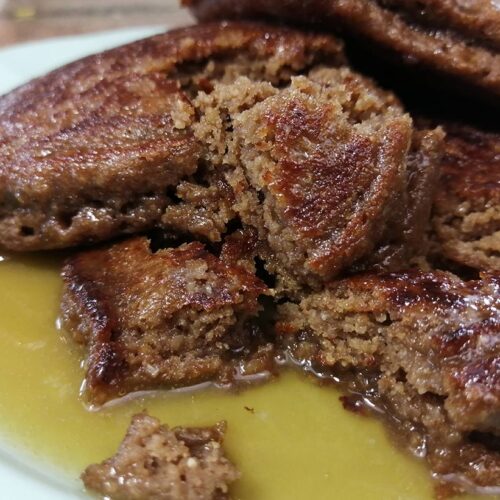 Sourdough Peanut Butter Chocolate Banana Kamut Pancakes
Ingredients
¼

cup

butter

1

cup

milk

1

teaspoon

vanilla extract

¼

cup

maple syrup

½

cup

natural peanut butter

¼

cup

cocoa powder

1 ½

cups

ancient flour

kamut or einkorn

1

teaspoon

soda

1

teaspoon

baking soda

1

teaspoon

salt

1 ½

cups

sourdough starter

2

eggs

Maple Syrup

Fresh Bananas
Instructions
Heat butter, milk, vanilla, peanut butter, maple syrup over medium heat until butter and peanut butters are melted

Set aside

Add dry ingredients to a large bowl and whisk to combine

Add sourdough starter and eggs and stir to combine

Slowly mix in melted wet ingredients and fold until mixed in

Let sit for 30 minutes before cooking

Serve with freshly sliced bananas and pure maple syrup
Notes
For my 4 kids, I like to double this recipe so there is plenty for everyone! 
Sourdough Discard
This recipe does use a lot of sourdough discard. Unless you bake sourdough everyday, you might not have this much on hand. But no worries. You can feed your sourdough a day before, or even the night before to make up the difference.
Instead of discarding your old starter, keep it all and just feed it!
Feeding Sourdough
There are lots of different ways to feed your sourdough. You can go with weights, or you can go by volume.
I like to keep it easy and just use equal parts starter and water, and add just shy double the amount of flour.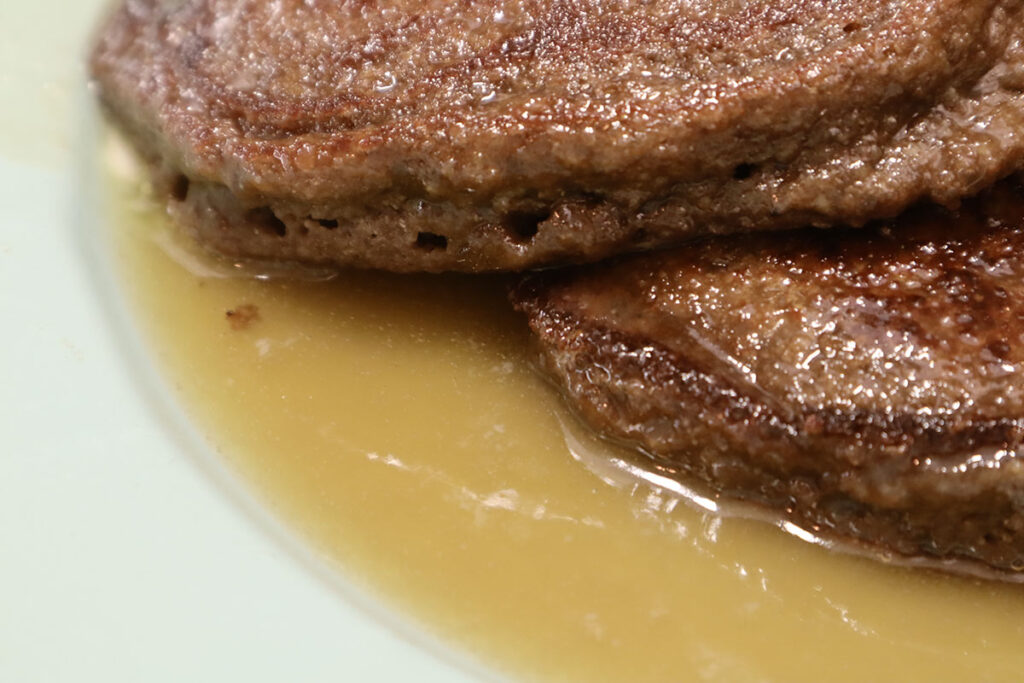 Why Ancient Wheat?
Ancient Wheat will keep your sourdough good and fed. It is packed full of all the wheat, all the brain, and all the nutrients so the starters has so much to feed off of.
Why Sourdough?
Sourdough has so many benefits.
The two that are my favorite are:
Souring the flour eliminates all the phytic acid in the wheat. Did you know phytic acid causes tooth decay? It actually stops your body from absorbing nutrients.
It effectively eliminates the gluten from flour while not eliminating the structure that gluten provides to baked goods.
Make These Kamut Pancakes!
If you make these pancakes, tag @Fahrenheit350sweets on Instagram so I can see it! And I'd love it if you left a review and a comment below!
More Amazing Breakfast Recipes to Bake at Fahrenheit350°!
Banana Bread Kamut Pancakes