Can you live without old fashioned chewy peanut butter cookies? I can't. Especially when it's these amazing nutty peanut butter cookies that are laced with honey.
Yes, I just referenced honey as if it were a drug.
Honey and sugar combined with peanut butter elevate these old fashioned chewy peanut butter cookies like no other recipe. I first found this recipe over a decade ago, and have loved it ever since.
Big and Chewy Peanut Butter Cookies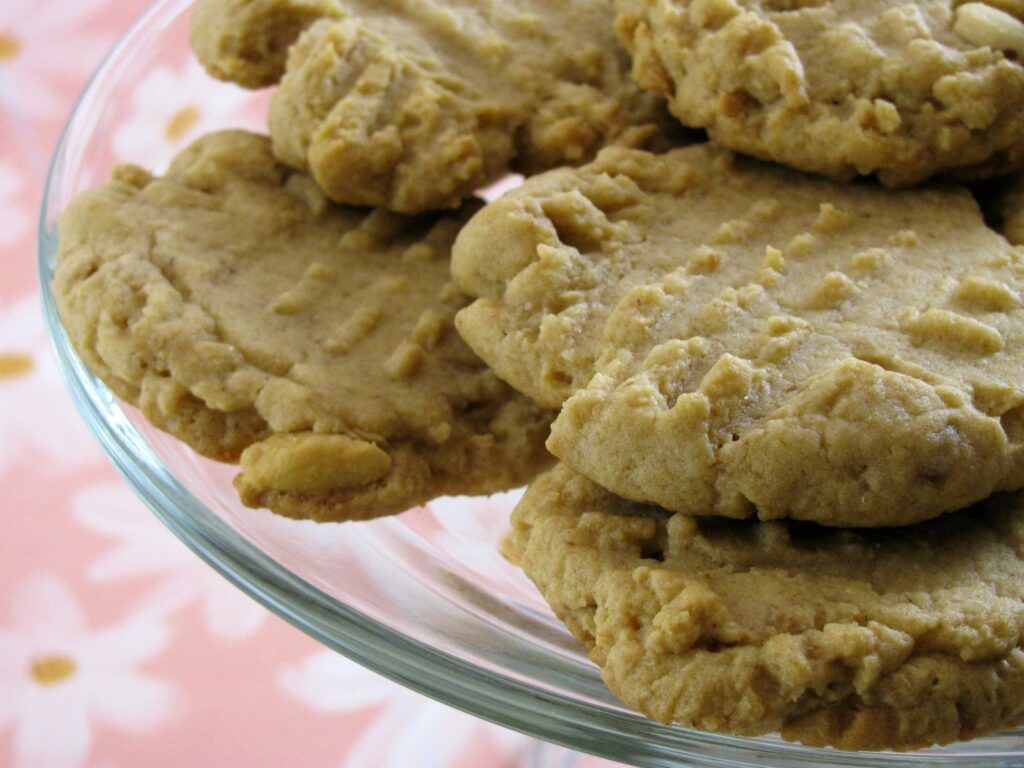 Cookies are a simple pleasure. They are quick to whip up which is so important, and they can be stored easily to enjoy later. They are a concise creation, deliberate in their purpose and oh, so fulfilling.
Regardless of what events have transpired in your day, cookies will make it better! After all, they can make a tall glass of milk magically taste like chocolate, sugar, or peanut butter!
Even in The Matrix, when Neo goes to visit the Oracle and she gives him the chilling prophecy that he will have to choose between his own life, and Morpheus', what does she do to make that horrific situation better?
She offers Neo a cookie:
"Here, take a cookie. I promise, by the time you're done eating it, you'll feel right as rain."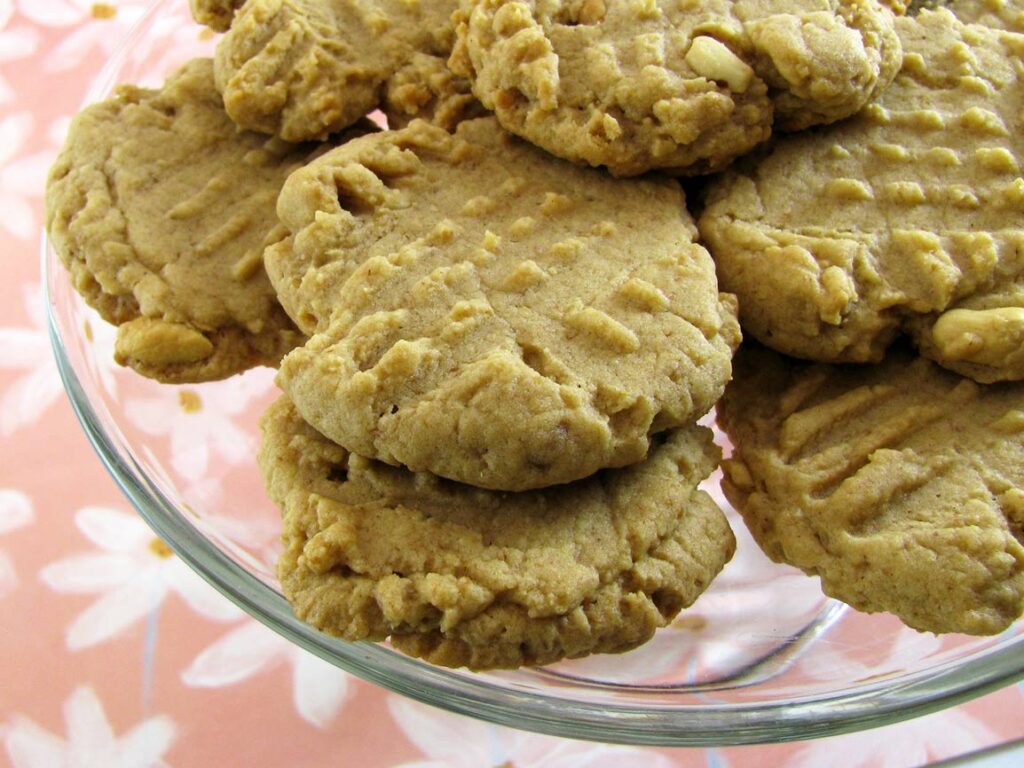 This gesture was sweet, but it also gave Neo literal insight! It was part of the Oracle's code via a wireless connection to the source.
Indeed, cookies may just be the conduit to saving mankind!!!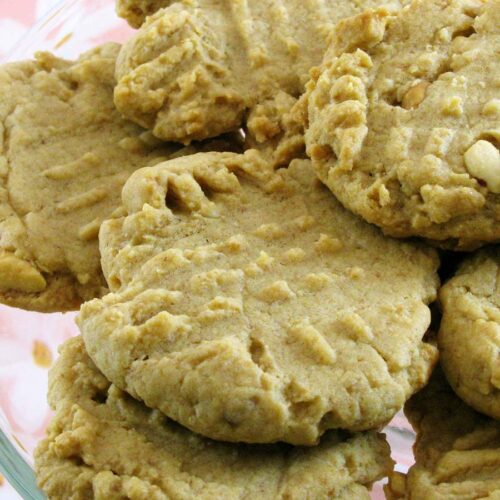 Old Fashioned Chewy Peanut Butter Cookies
The perfect old fashioned peanut butter cookie recipe.
Ingredients
1

cup

butter

1

cup

brown sugar

1

cup

creamy peanut butter

½

cup

honey

½

cup

chopped peanuts

2

eggs

2

teaspoons

vanilla

2

cups

flour

1

cup

wheat flour

I opted for wheat germ

½

teaspoon

salt

1

teaspoon

baking soda
Instructions
Preheat oven to Fahrenheit 350°

In a medium size bowl cream butters, sugars and nuts together until smooth

Add eggs, and vanilla

Whip together until light and fluffy

Stir in flours, salt and baking soda until combined

Drop rounds of dough onto a greased cookie sheet, or use a baking mat

Use a fork to press a cross hatch pattern on tops of cookies

Bake at Fahrenheit 350° for 7-9 minutes

Remove from oven and let sit for 1 minute

Transfer to cool on wire rack
Can I Use Creamy or Chunky Peanut Butter?
Yes! These old fashioned chewy peanut butter cookies are delicious no matter what type of peanut butter you use!
Do You Use All Natural Oily Peanut Butter?
I do! You can use either for this recipe. In fact, I never let oily peanut butter scare me off! I like to use products that have as few added ingredients as possible, and all peanut butter should be is peanuts!
The trick is just to make sure your peanut butter is good and stirred! An emulsion blender is always good for stirring good old fashioned peanut butter too! I also store my peanut butter upside down to keep the oil from settling at the bottom.
If you feel like you need to, you can always strain off some of the liquid, but I've never had to do that.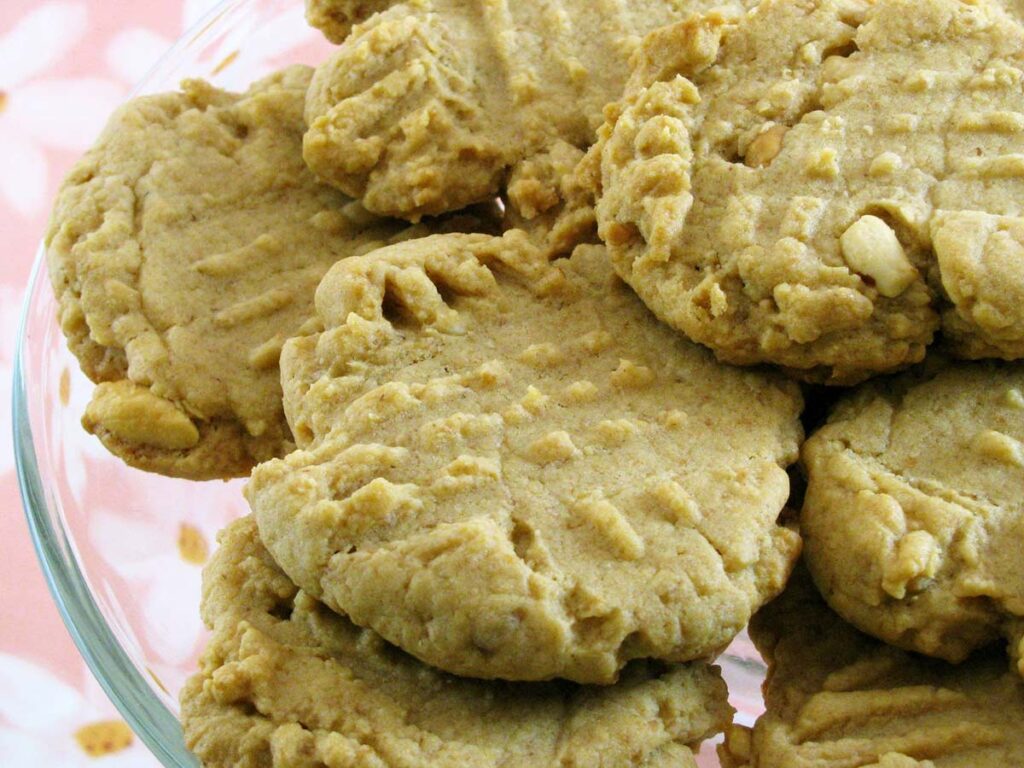 Why Do You Add Wheat Germ instead of Wheat Flour?
I like wheat germ because it's good and fibrous and highly nutritious! It makes me feel better about balancing and indulging in my favorite old fashioned chewy peanut butter cookies!
My Favorite Things on Amazon for Making Cookies
I am an Amazon affiliate and Amazon sometimes pays me an incredibly small stipend from the sale of these items, and it does not cost you anything to click on them!
When was the last time you saw cookie sheets like these? You want a nice even golden brown and an extra crisp exterior? Then you need these baking pans! Make sure you decrease cooking time by a minute because this thin sheet will make everything cook even faster.
Use up less counter space with these awesome stacked cooling racks!
My favorite baking silicone mats!
Make This Old Fashioned Chewy Peanut Butter Cookie Recipe
If you make these cookies, tag @Fahrenheit350sweets on Instagram so I can see it! And I'd love it if you left a review and a comment below!
More Delicious Recipes to Bake at Fahrenheit 350°!