There are some desserts, though wildly popular, I've just never been drawn to. Desserts like Boston Creme Pie, Cherry Pie, Tiramisu (probably because mine turned out awful), and Old Fashioned Pineapple Upside Down Cake.
What a mistake.
Old Fashioned Pineapple Upside Down Cake
Up until very recently, Pineapple Upside Down Cake could be found in the above list. Gabriel, quite aptly said he thought it always sounded like a "cheap dessert". Having never found a reason, or excuse to make this cake, there it wasted away in the 'cheap' category.
But then about a week ago we invited some friends over for dinner, and what do you know? They requested this very cake for dessert. As a polite host, who had demanded a request for dessert, I quietly obliged.
I really should do more things I don't feel like doing. This cake is A. to the M.A.Z.I.N.G. In fact, it may very well now be my ultimate favorite cake.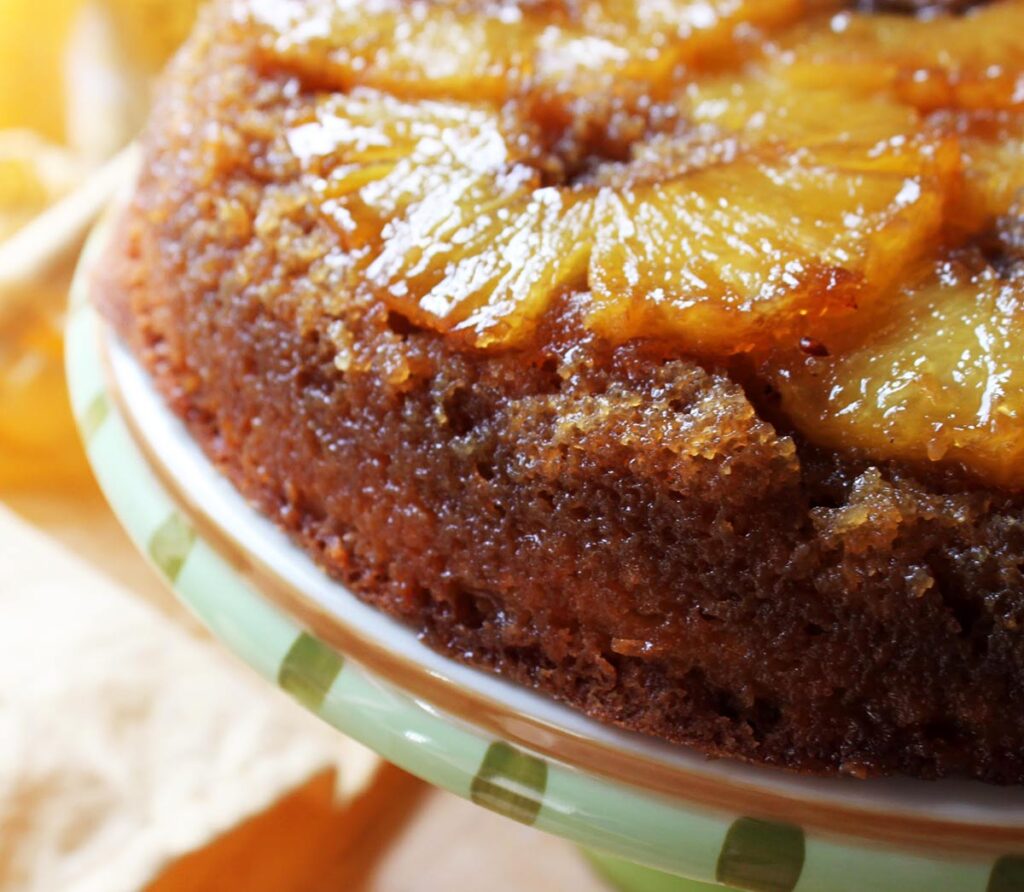 To Cherry or Not to Cherry?
The answer is always no.
We are using fresh pineapple, so bottled maraschino cherries have no place on this fresh Caribbean cake.
How to Make Old Fashioned Pineapple Upside Down Cake
When I first made this old fashioned pineapple upside down cake, I made a very wonderful mistake by adding ¾ cup of butter to the caramel topping instead of ¾ stick of butter! A difference of 6 extra tablespoons! As such, I ended up getting to double the caramel topping.
It's the best thing to ever happen to Pineapple Upside Down cake, and the secret to making this already incredible dessert that much better!
The resulting candied pineapple cooked in a cast iron pan is perfection. The moist butter rum cake seeps into the pineapple and increases the flavor of every single bite!
This old fashioned pineapple upside down cake is the consummate in fresh, warm, comfortingly sweet confections. It has a rich flavor that is deep and resonates with each bite.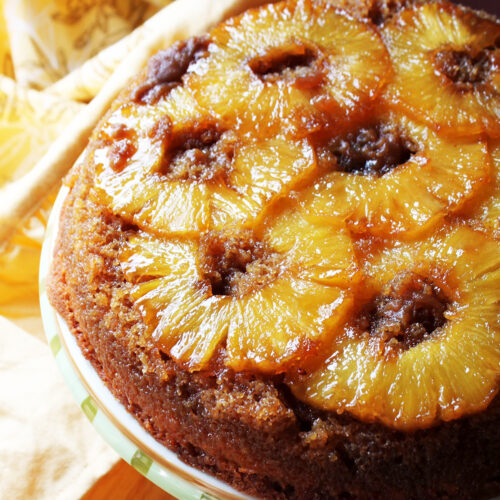 Old Fashioned Pineapple Upside Down Cake
Baked in a cast iron skillet with double the brown sugar caramel topping this old fashioned pineapple upside down cake is everyone's favorite cake!
Ingredients
Double Brown Sugar Caramel Topping
1

fresh pineapple

12

tablespoons

unsalted butter

1 ½

cups

packed light brown sugar
Cake Batter
1 ½

cups

all-purpose flour

2

teaspoons

baking powder

¼

teaspoon

salt

6

tablespoons

unsalted butter

softened

1

cup

granulated sugar

2

large eggs

1

teaspoon

vanilla

1

tablespoon

dark rum

imitation works great

½

cup

unsweetened pineapple juice

can use half the pineapple for juicing
Instructions
Double Brown Sugar Caramel Topping
Cut pineapple into ½ inch thick pieces and cut out the center of each piece

In 10" cast iron pan melt butter and add brown sugar

Simmer over medium-high heat until mixture comes to a boil stirring constantly

Cook for 5-6 minutes

Remove from heat and allow to cool for 10 minutes

Arrange pineapple on top of sugar mixture in skilet, overlapping pieces slightly until the base of the pan is covered
Cake Batter
Beat butter and sugar in a large bowl with an electric mixer until light and fluffy

Add eggs one at a time, beating well after each addition

Incorporate half of the flour, baking powder, and salt and mix on low just until blended

Add pineapple juice and beat again until blended

Add remaining flour, again just until blended

Batter may appear slightly curdled

Spoon batter over pineapple in the cast iron pan and spread evenly until pineapple slices are covered

Bake at Fahrenheit 350° for 35 to 45 minutes

Remove from oven and let sit for 5 minutes

Carefully invert cake onto a plate

Serve cake warm or at room temperature
Can I Use Canned Pineapple for this Cake?
Of course! Do whatever makes it easier for you!
But I have to tell you, fresh pineapple really makes this cake extra special!
Do I Have to Use a Cast Iron Pan?
No. You can use a regular cake pan.
Be sure not to use a springform pan, or you'll risk losing some of the caramel topping! And of course, that would be shame since we doubled it to make this cake extra special!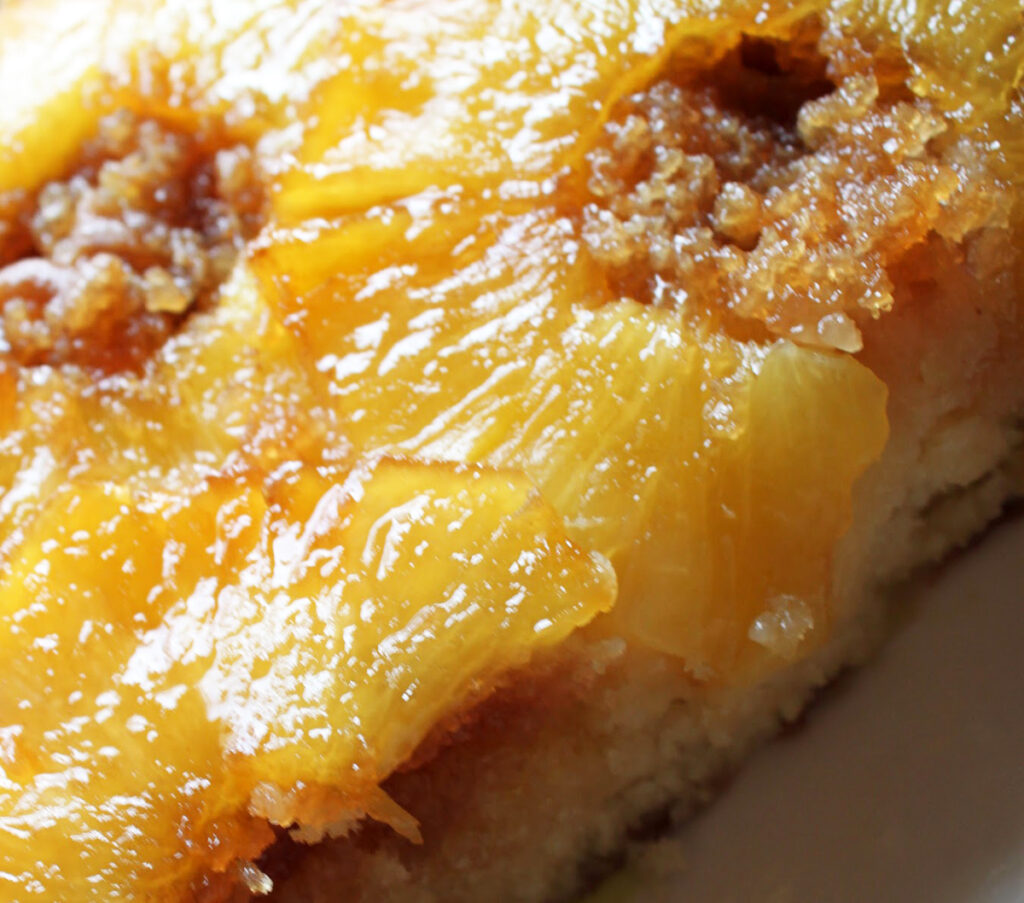 Just look at how sticky and gooey and delicious that shiny caramel looks soaked into the pineapple!
Make This Amazing Old Fashioned Pineapple Upside Down Cake
If you make this Old Fashioned Pineapple Upside Down Cake tag @Fahrenheit350sweets on Instagram so I can see it! And I'd love it if you left a review and a comment below!
More Yummy Fruit Based Cake Recipes to Bake at Fahrenheit 350°!