Look, I like cream cheese straight out of the fridge as much as the next person… on celery! Not plain! Not raw! Not like some sort of vegetable pretending to be a fruit! Cream cheese should either be used in a bacon cheesy millionaire dip, or combined with sugar as a frosting, a cheesecake or in this ice cream cheesecake.
Stop with the raw no bake cheesecakes, please, just stop.
This is the Strawberry Ice Cream Cheesecake recipe you've been looking for. The ice cream cheesecake that actually qualifies as a true cheesecake. The ice cream cheesecake that combines a layer of perfectly cooked, smooth and slightly tangy cheesecake with a layer of smooth, fruity and fresh strawberry ice cream.
Strawberry Ice Cream Cheesecake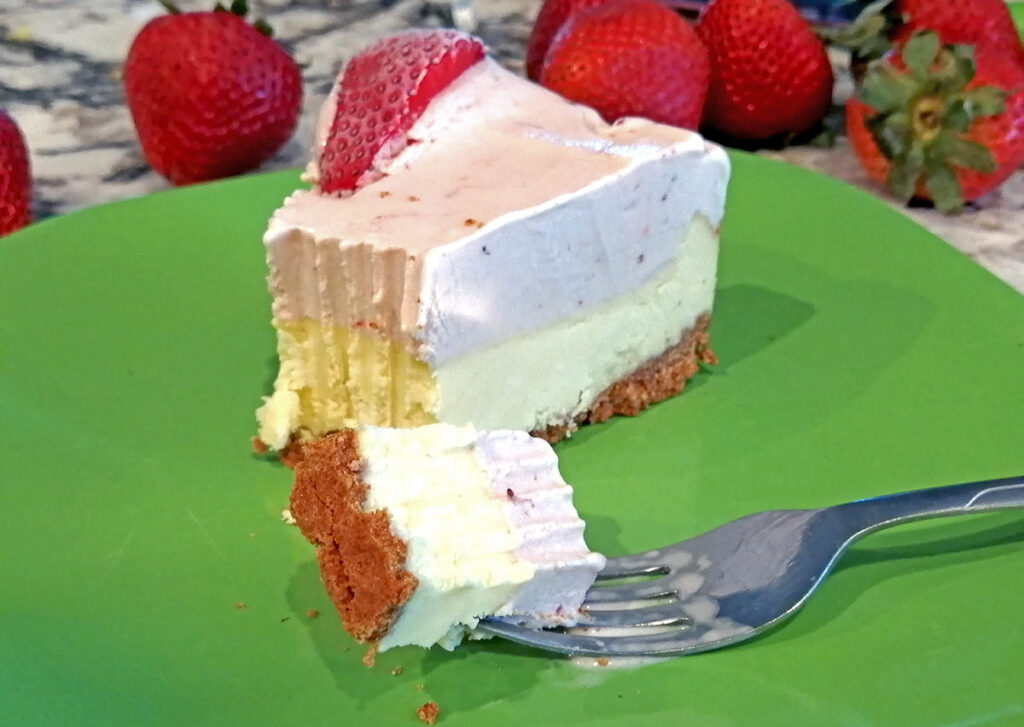 This ice cream cheesecake is way more than just frozen cream cheese. It has layers of smooth cheesecake, strawberry ice cream and fresh strawberries frozen solid into one cheesecake pie.
Perfect Dessert for Hot Summer Nights
Summer round these parts is the type of summer heat that motivates you to take a shovel and start digging a hole in your backyard. I'd settle for a pool full of mud at this point. Anything would help.
In this sweltering heat, I'm all about freezing everything, and cheesecake is one of the best desserts you can eat frozen.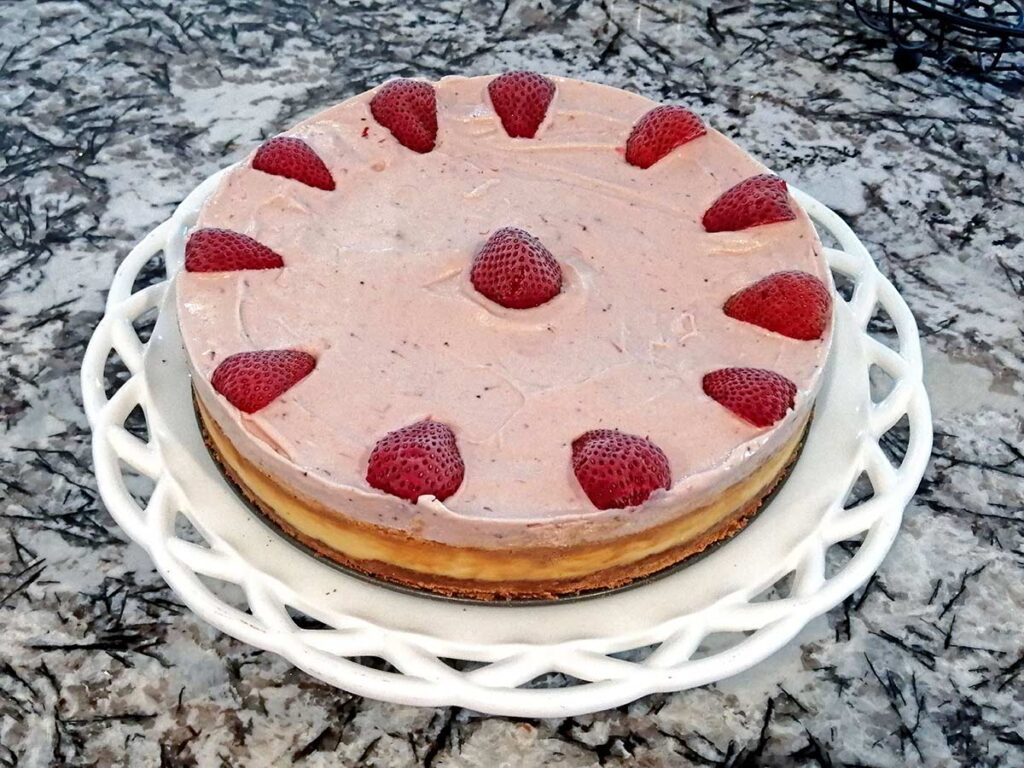 Especially with this recipe. The sour cream helps keep this cheesecake from freezing rock solid so it can be enjoyed immediately out of the freezer.
How to Make Strawberry Ice Cream Cheesecake
After making a delicious cheesecake, you want to keep the cake in the pan and then pop it in the freezer until chilled. It doesn't have to be completely frozen – just on its way.
After the cheesecake is chilled, all you have to do is take an entire package of ice cream and simply spread it over the top of the cheesecake.
After that, simply place the entire ensemble back in the freezer to set all the way.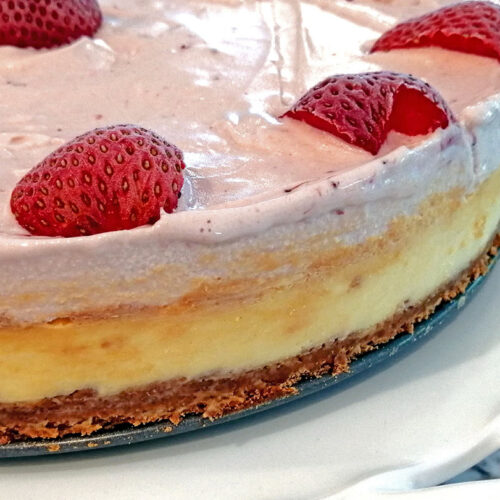 Strawberry Ice Cream Cheesecake
Frozen cheesecake topped with a layer of delicious strawberry ice cream!
Ingredients
Crust
2

packages of graham crackers

2

tablespoons

sugar

2

tablespoons

butter

melted
Cheesecake
24

oz.

cream cheese

1 ½

cups

sugar

½

cup

sour cream

1

teaspoon

vanilla

2

eggs
Ice Cream
1.5

quarts

Strawberry Ice Cream

fresh strawberries

optional
Instructions
Crust
Preheat oven to Fahrenheit 350°

Pulverize graham crackers in blender or food processor into fine crumbs

Add sugar and butter and pulse until mixed

Press into the bottom of an 11" springform pan

Bake at Fahrenheit 350° for 5 minutes

Remove from oven and set aside
Cheesecake
Lower oven to Fahrenheit 325°

Beat cream cheese, sugar, sour cream and vanilla on high until super creamy

Add eggs one at a time until thoroughly mixed

Pour over graham cracker crumbs and smooth to edges

Shake pan gently to settle cheesecake

Bake at Fahrenheit 325° for 30 minutes until cake is set

Remove from oven and cool to room temperature

Put cheesecake in freezer to chill
Ice Cream Finalè
Bring ice cream out of the freezer and let soften for 10 minutes

Scoop into a large bowl and beat with a mixer until smooth and spreadable

Pour over cheesecake and smooth to edges

Place back in freezer to set completely a minimum of 6 hours

Before serving, run a knife along the edges of the pan before removing springform exterior

Serve frozen with fresh strawberries
Can I Substitute Another Type of Ice Cream?
Absolutely yes! You can make this ice cream cheesecake with any flavor of ice cream! The cheesecake base is a standard plain cheesecake and is perfect for pairing with every possible flavor of ice cream.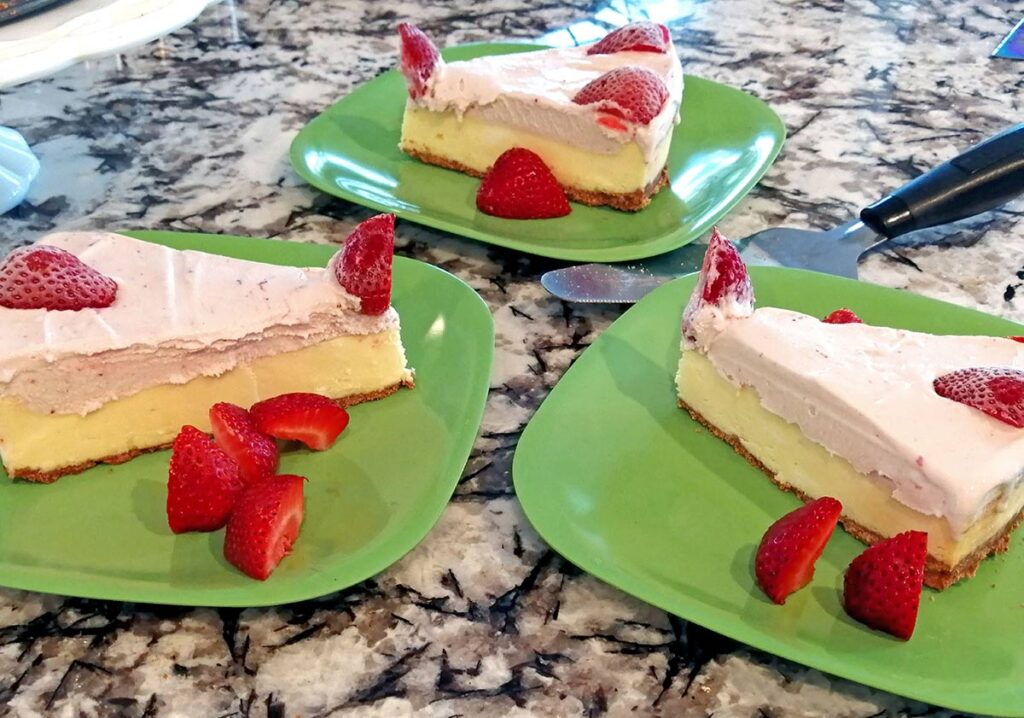 Leave me a note in the comments on what ice cream you'd pair with this frozen cheesecake!
Do I Need That Much Ice Cream?
1.5 quarts of ice cream will match the amount of cheesecake 1 for 1.
If you use less, you'll have an imbalanced ratio. If that works for you, that's all you need.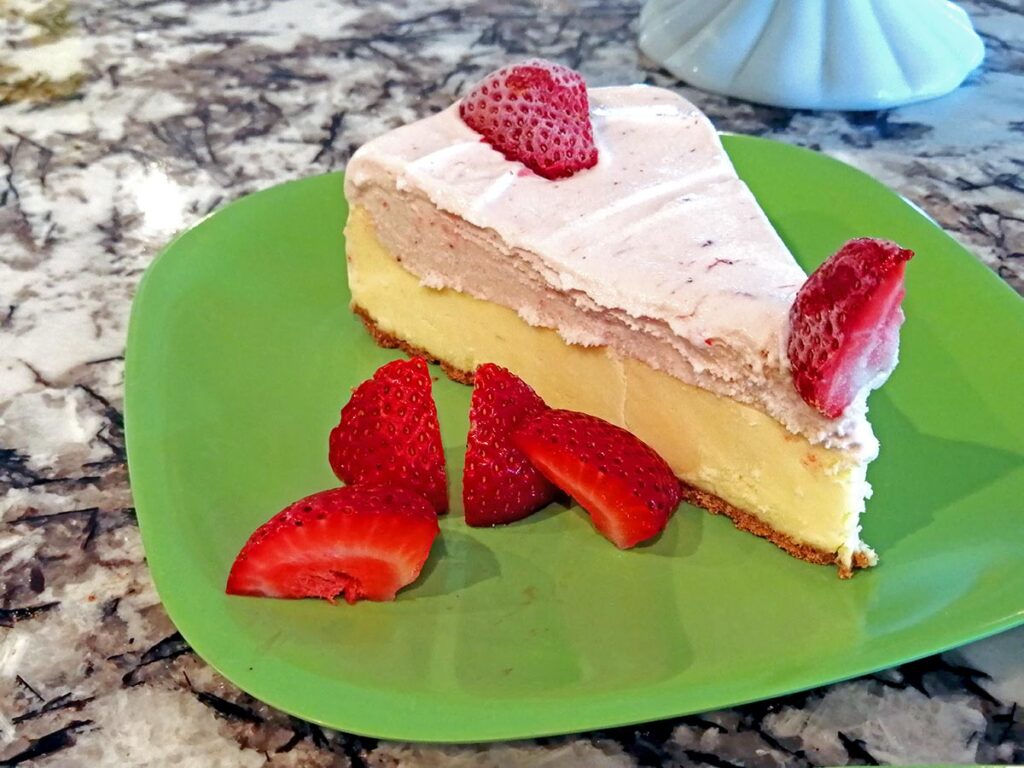 What if My Cheesecake Cracks?
One of the great things about this recipe is that it's super forgiving. You can undercook, or overcook the cheesecake and no one is going to be the wiser.
Once it's frozen and has the top layer of ice cream on it, it's going to look and taste the same!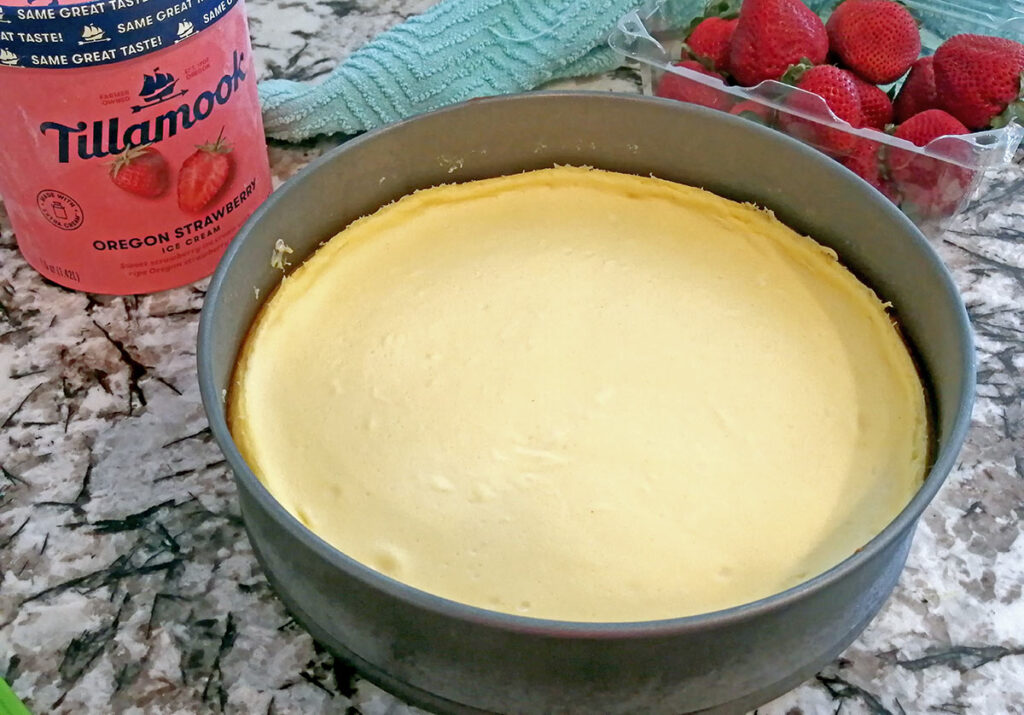 Full disclosure, my cheesecake almost always cracks. I secretly think that's why cheesecakes always have a topping. This was just lucky, and so I had to snap a picture as proof!
Cheesecake Making Supplies on Amazon
I am an Amazon affiliate and Amazon sometimes pays me an incredibly small stipend from the sale of these items, and it does not cost you anything to click on them!
Every single size springform pan your heart could ever desire!
I'd love to have this mini cheesecake pan in my arsenal!
Crazy. I've never seen square springform pans before! What would you use these for?
Make This Strawberry Ice Cream Cheesecake
If you make this Strawberry Ice Cream Cheesecake tag @Fahrenheit350sweets on Instagram so I can see it! And I'd love it if you left a review and a comment below!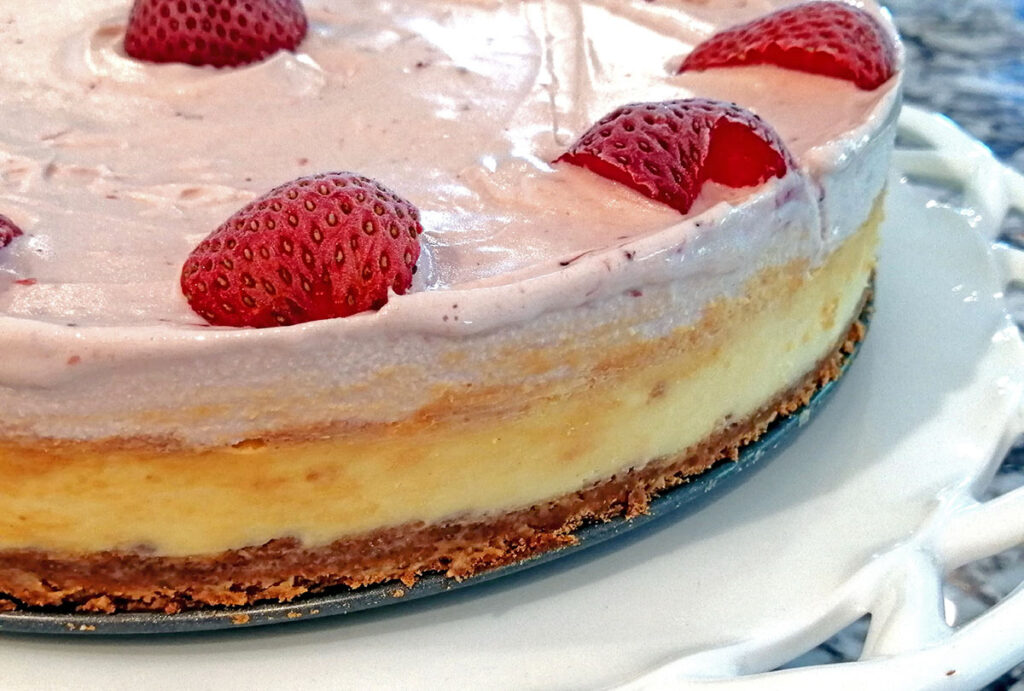 More Yummy Strawberry Recipes to Bake at Fahrenheit 350°!