blank
Original Post 2011 | Updated 2021
While there is something really heartwarming about slaving away in the kitchen making homemade chocolates, I gotta tell you that these Oreo truffle recipes are a heck of a lot easier.
The first 8 years of our marriage, I made Gabriel homemade chocolates every Valentine's Day. You know, the ones where you make a buttercream caramel and let it cool on granite before mixing it for hours, until it turns into the kind of candy that you buy for $20 a pound from a high scale chocolate store.
And, I loved doing it! But since I discovered the simplicity of oreo truffle recipes, I haven't made him homemade chocolates even once!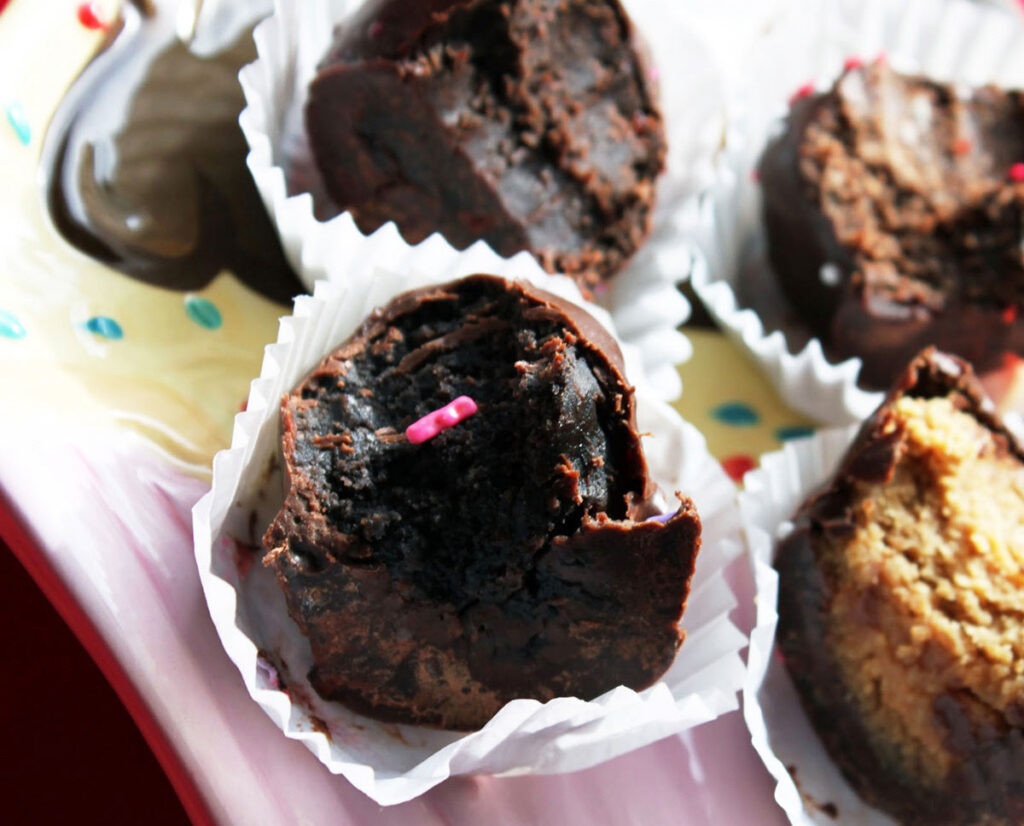 It was the 9th year we celebrated Valentine's together when I was 32 weeks pregnant with the twins that I had to break from tradition. I was tired and I couldn't stand in one place for more than 5 minutes. For that reason, I was almost tempted to buy Gabriel chocolates, but it broke my heart to think of totally eliminating this tradition.
Instead of slaving away at old fashioned cream filled chocolates, I opted for Cookie Truffles! Oreo Truffles, Mint Oreo Truffles, Nutella Oreo Truffles, the list goes on!
Now that the twins are older, maybe I'll get back to doing it the old fashioned way and teach them the trade, but until then these are such a great alternative!
Oreo Truffle Recipes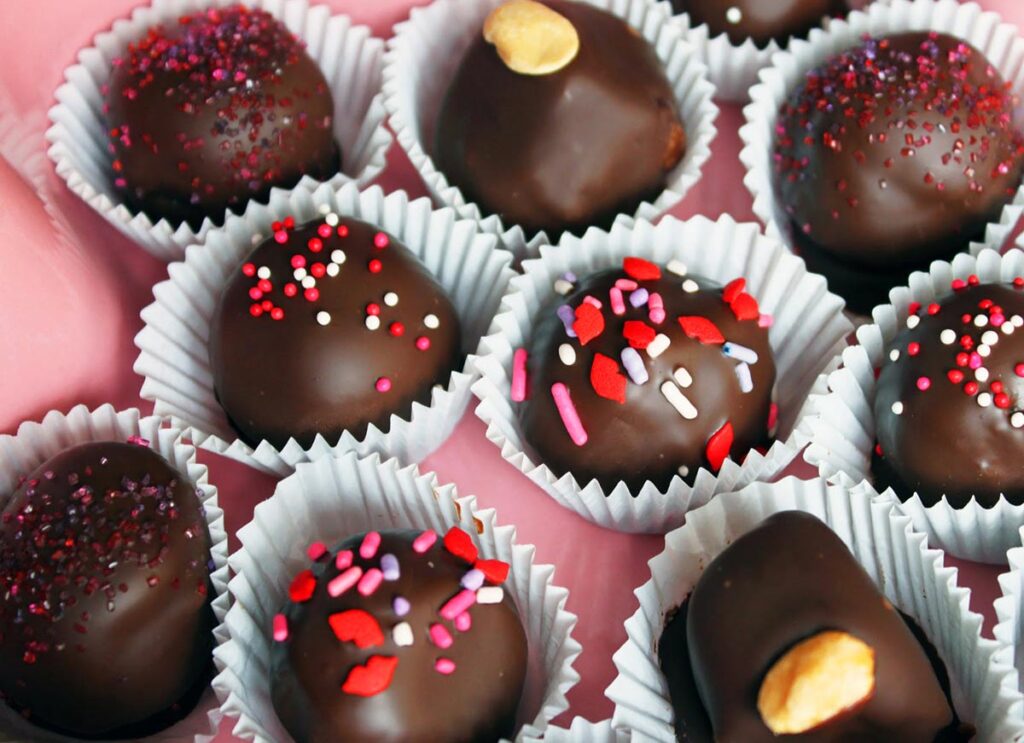 Oreo Truffle Recipes have been around for a long time, but why not take it one step further? The grocery store aisle for cookies is immense. It is filled with Chocolate Chip Cookies, Milano Cookies, Keebler Cookies, and my favorite, Nutter Butter Cookies!
Why Stop at Plain Old Oreo Truffles?
So today I'm going to give you 6 different recipes for cookie truffles:
Oreo Truffles
Mint Oreo Keebler Truffles
Nutella Oreo Truffles
Nutter Butter Truffles
Chocolate Chip Cookie Truffles
Orange Milano Truffles
All you need are store bought cookies and a few simple ingredients!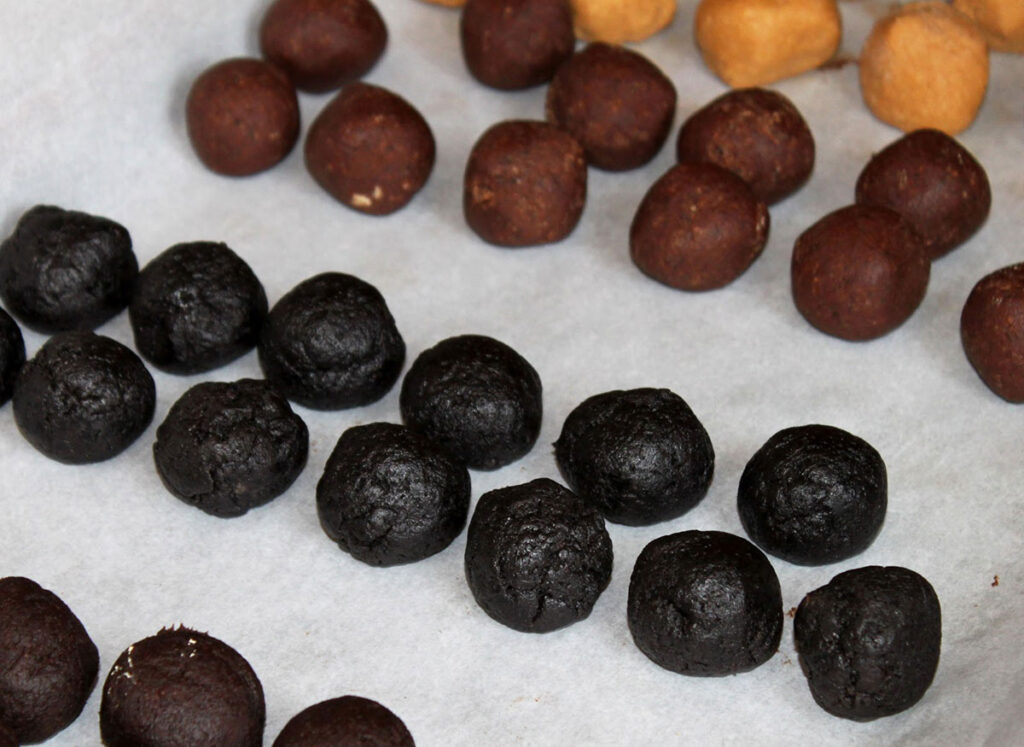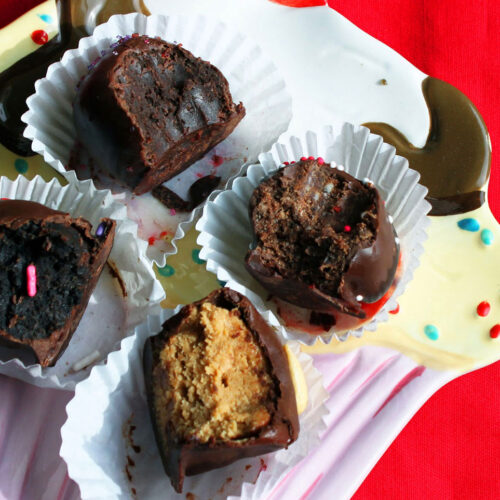 Oreo Cookie Truffles
These cookie truffles are so simple! They only need store bought cookies, and nutella or cream cheese!
Ingredients
Oreo Truffles
8

oz.

double stuffed Oreo cookies

4

oz.

cream cheese
Orange Milano Truffles
7

oz.

Orange Milano Cookies

1

teaspoon

fresh squeezed orange juice

4

oz.

chocolate ganache
Mint Oreo Truffles
8

oz.

Keebler Mint Cookies or Mint Oreo cookies

2

oz.

chocolate ganache

2

oz.

cream cheese

1

teaspoon

mint extract
Chocolate Chip Cookie Truffles
8

oz.

chocolate chip cookies

4

oz.

Nutella

¼

cup

mini chocolate chips
Nutter Butter Truffles
8

oz.

Nutter Butter cookies

4

oz.

creamy peanut butter
Nutella Oreo Cookies
8

oz.

double stuffed Oreo cookies

4

oz.

Nutella
Ganache Filling
4

oz.

chopped chocolate

3

oz.

whipping cream
Instructions
Cookie Truffles
For each type of cookie truffle, crush and pulverize cookies in a blender

Transfer crushed cookies to a bowl

Add additional ingredients

Mix together until smooth and mixture comes together into a ball

Roll dough into individual ½ oz sized balls balls

Dip in melted chocolate

Transfer to a flat surface lined with wax paper to set

Optional – Garnish with sprinkles
Ganache for Cookie Truffles
Melt chocolate and cream in saucepan over medium heat until melted

Allow to cool to room temperature

Whip with hand mixer until fluffy
When Making Oreo Truffles do you Remove the Cream?
No, you definitely do not want to remove the cream when you make Oreo truffles. Place the whole cookie in the blender and mix until pulverized. The cream in the Oreo cookie will add the depth of flavor to the truffle that you want!
How Long do Oreo Truffles Last?
These Oreo truffles will last a lot longer than you have the willpower to keep them in the pantry! Stick them in the fridge for about 3 weeks, or freeze them for a later date.
Are There Other Cookies You Can Use to Make Truffles?
Are your wheels spinning? Mine too!
The possibilities are endless. I've got to head to the kitchen and see how many more I can come up with. Can you imagine Mother's Cookies? Mother's Cookies with some buttercream frosting? Wafer Cookies with peanut butter? I can promise you I'll be updated this post again soon!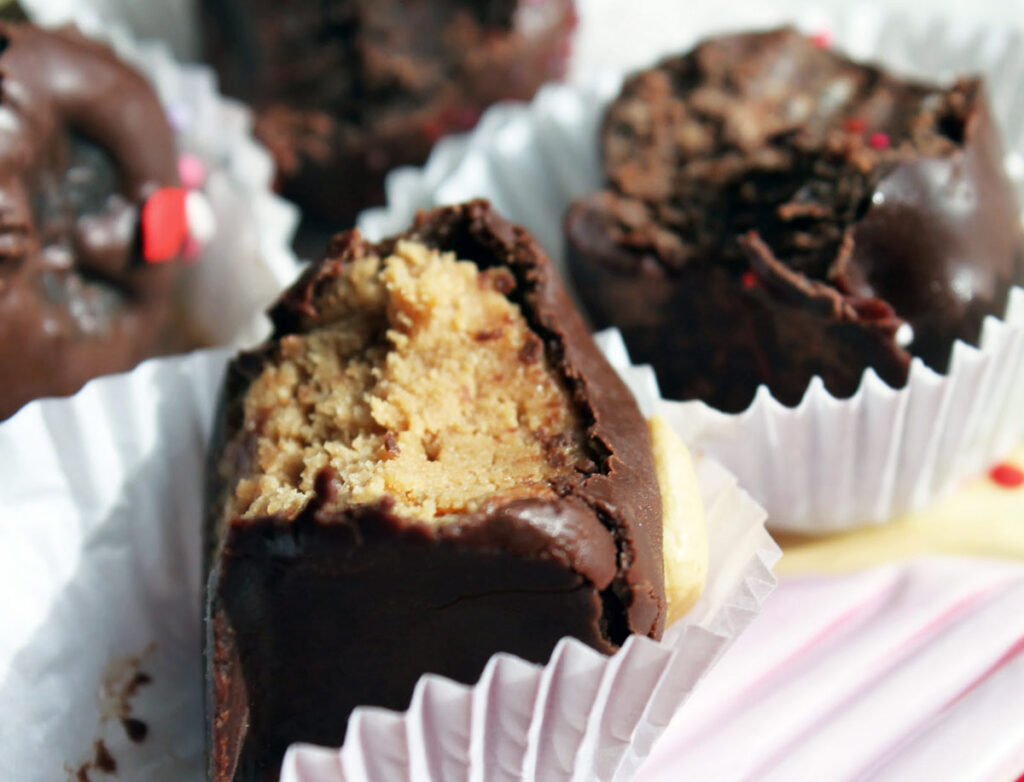 Leave your ideas in the comments below!
What Can I do with Leftover Broken Cookies?
This Oreo truffle recipe is perfect for leftover broken cookies! If you have leftover broken chocolate cookies, mix with cream cheese. If you've got leftover broken vanilla or other cookies, use Nutella or ganache. Or pick both!
Simply pick a combo that sounds good to you, and you can't go wrong making cookie truffles.
What About Using Homemade Cookies?
I've never tried homemade cookies! I imagine they might be too soft to make a good filling, but I could be totally wrong!
If you try it – let me know!
Oreo Truffles Recipe
If you make these cookies, tag @Fahrenheit350sweets on Instagram so I can see it!
Looking for More Valentine's Day Recipes?