blank
Why have regular popcorn when you can indulge in yummy buttery marshmallow popcorn balls? Marshmallow popcorn balls that take 3 minutes to make.
break
Because, if you are like me, you need a treat more than just every once in a while. More than just Sunday afternoon with the family. 
Then you find yourself in the kitchen, staring down the fridge like two cowboys facing each other on a dusty road with tumbleweeds swirling around them. I'm always the one that draws first. The fridge just sits there, taunting me, while I have to figure out what my next move is.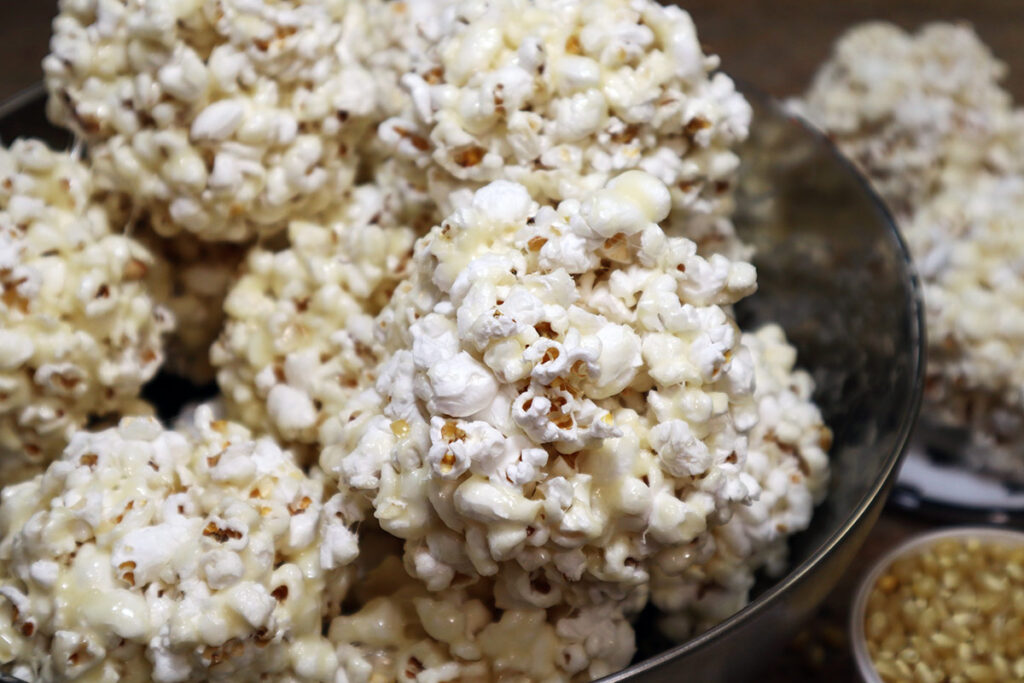 If you ever find yourself staring down your adversary and the only way to win is by a quick draw with the perfect treat, these updated modern marshmallow popcorn balls are your best ammunition.
These Marshmallow Popcorn Balls are gooey, sticky, buttery, sweet, and best of all: easy. Basically, all the five food groups that matter. You can even use microwave popcorn, and it just takes 3 minutes for the ingredients to boil.
Gooey, Sticky, Buttery, Sweet & Easy
Marshmallow Popcorn Balls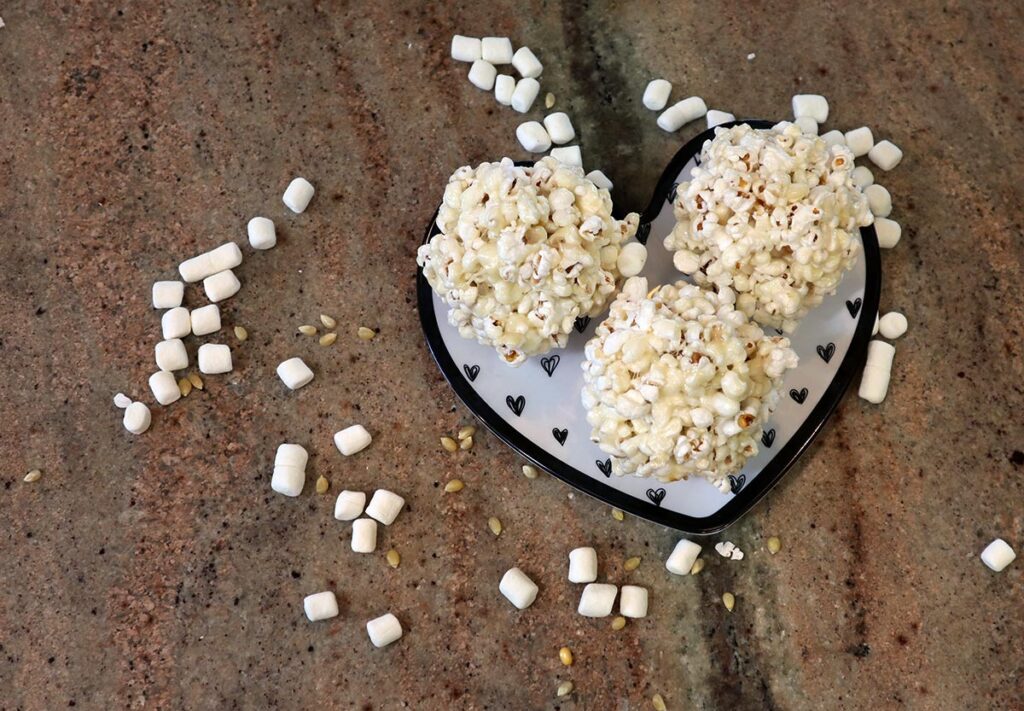 Marshmallow Popcorn Balls are the best treat for an evening at home with your favorite people. Or, to stuff in your purse to sneak into the movie. Or, to take to a game night with friends. Or, basically any time or any place.
First you make a simple caramel sauce with sugar, butter and corn syrup. Stir in some marshmallows until melted and pour over freshly popped popcorn.
So basically you get both caramel popcorn and marshmallow popcorn and buttered popcorn all at once in this amazing treat.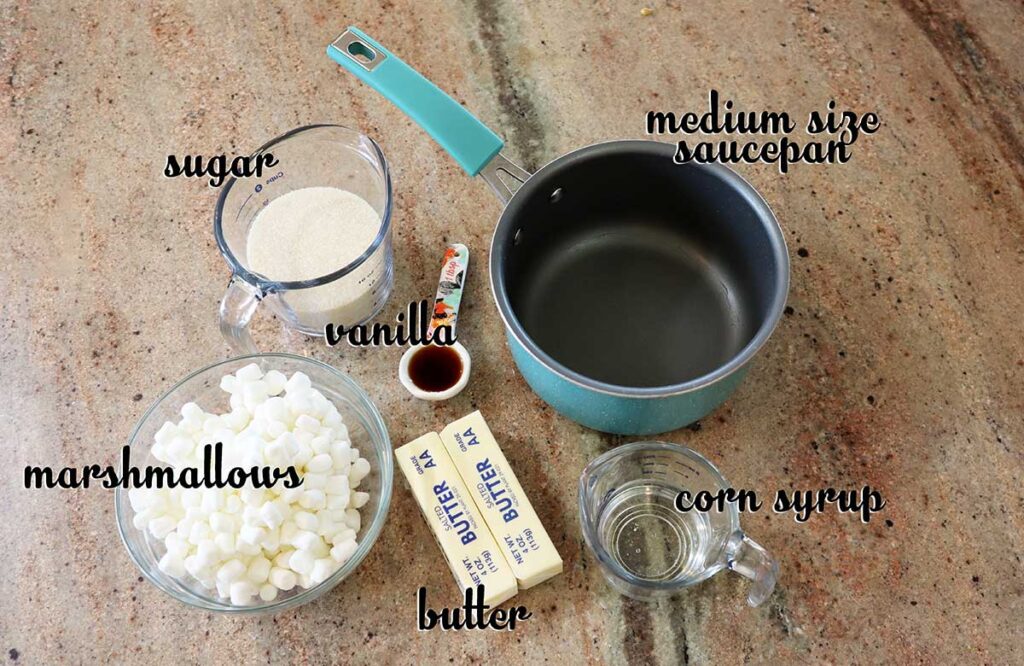 Simplicity at its best!
How to Make This Recipe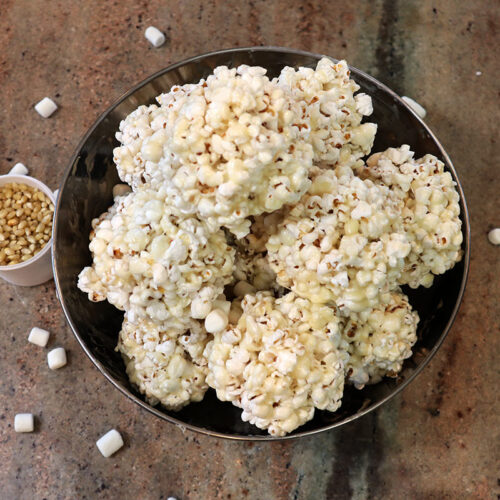 Marshmallow Popcorn Balls
Perfectly easy caramel marshmallow popcorn balls that use microwave popcorn and just take 3 minutes to cook!
Ingredients
15

cups

popped popcorn

or 2-3 bags of microwave popcorn

1 ½

cups

sugar

½

cup

Karo syrup

1

cup

butter

3

cups

mini marshmallows

1

teaspoon

of vanilla extract
Instructions
Melt sugar, butter and karo syrup over medium heat

When butter is melted, bring to boil

Boil for exactly 3 minutes

Watch closely because you don't want to cook it any longer

Remove from heat

Stir in marshmallows and vanilla extract until melted

Pour over popcorn until evenly coated

Spread over wax paper to cool

Mold into popcorn balls
What if I Don't Have Exactly 15 Cups of Popcorn?
Less popcorn means more marshmallow coating. You can't go wrong.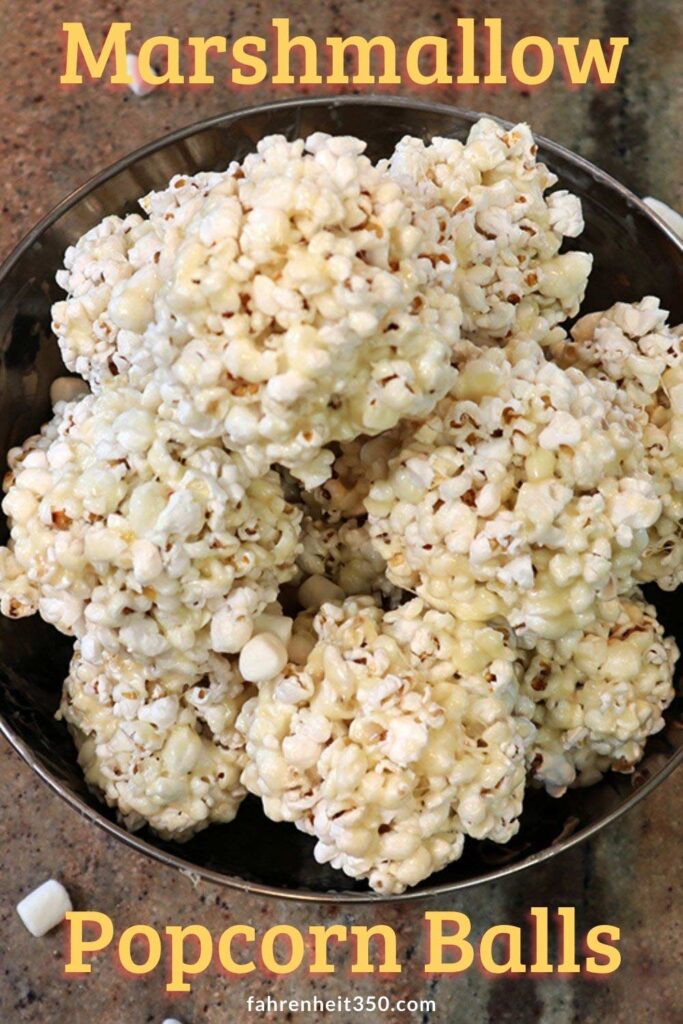 Can I Use Buttered Popcorn?
Can you, or should you? You absolutely should.
Do I Have to Use Microwave Popcorn?
Nope, and neither do I when I make this recipe.
In fact, we don't even own a microwave! You know, on account of it zapping every single nutrient out of the food and causing radiation to fill the house. Not that these marshmallow popcorn balls have any nutrients in them, but still.
We just pop regular popcorn!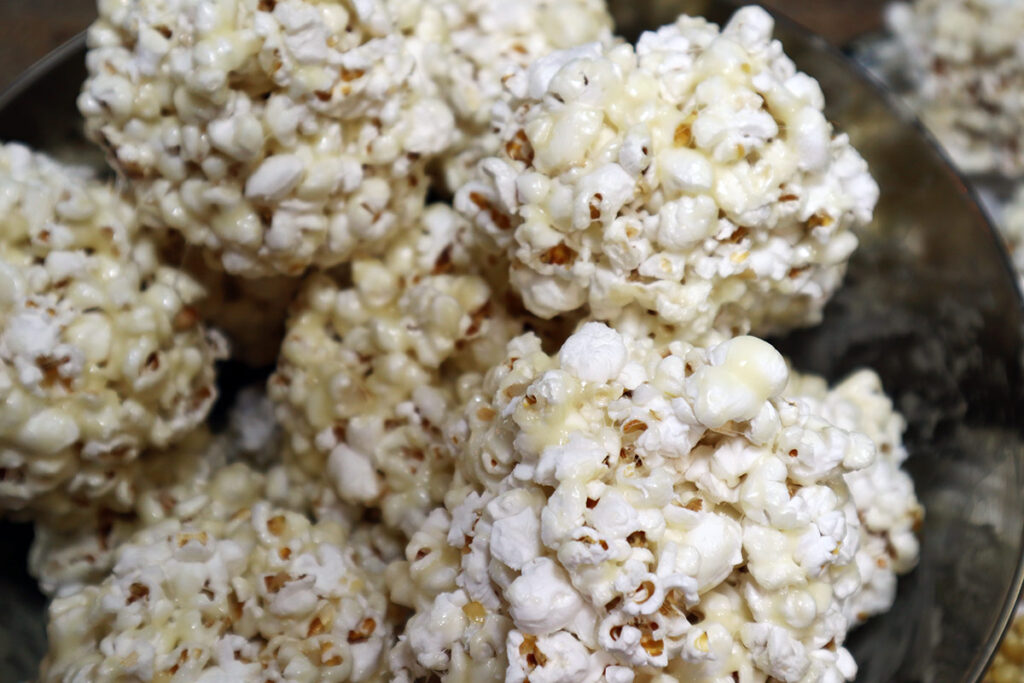 You totally can use microwave popcorn though, and dare I say it? It tastes even better with microwave popcorn. It's extra buttery and extra salty.
Should I use Yellow or White Popcorn Kernels?
It absolutely doesn't make a bit of difference. I just use whatever I have, which is whatever I bought when I went to the store and probably whatever was cheaper at the time.
Why Won't My Marshmallow Popcorn Balls Stick Together?
Either you didn't wait long enough to form them and the mixture is still too hot, or you waited too long and the mixture is no longer sticky.
Or, you overcooked the mixture and you have less caramel and more toffee.
Once the butter melts, stick to the 3 minute timer exactly and they'll come out perfect every single time.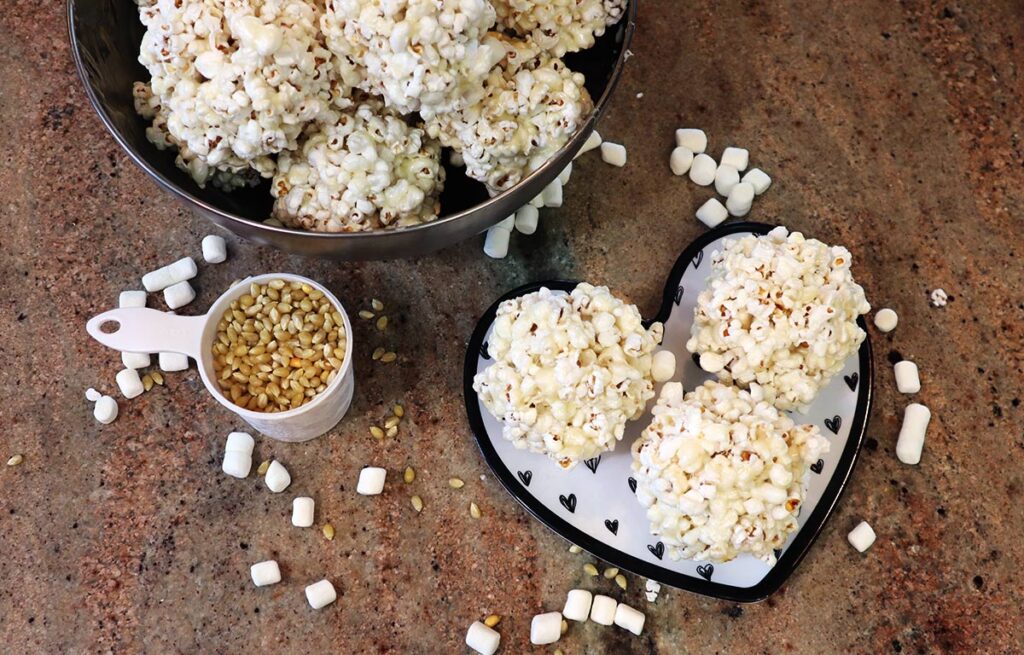 What if I Cook the Mixture Longer than 3 Minutes?
See above. You'll have tough marshmallow popcorn balls, instead of chewy popcorn balls.
Don't do it, trust me. I've made this mistake before.
Why do Some Versions of Marshmallow Popcorn Balls Have Vinegar?
I've been trying to find the answer to that question, and honestly, I don't know.
I'm guessing there is some chemical reaction that keeps the caramel soft. My grandma's caramel popcorn recipe uses baking soda.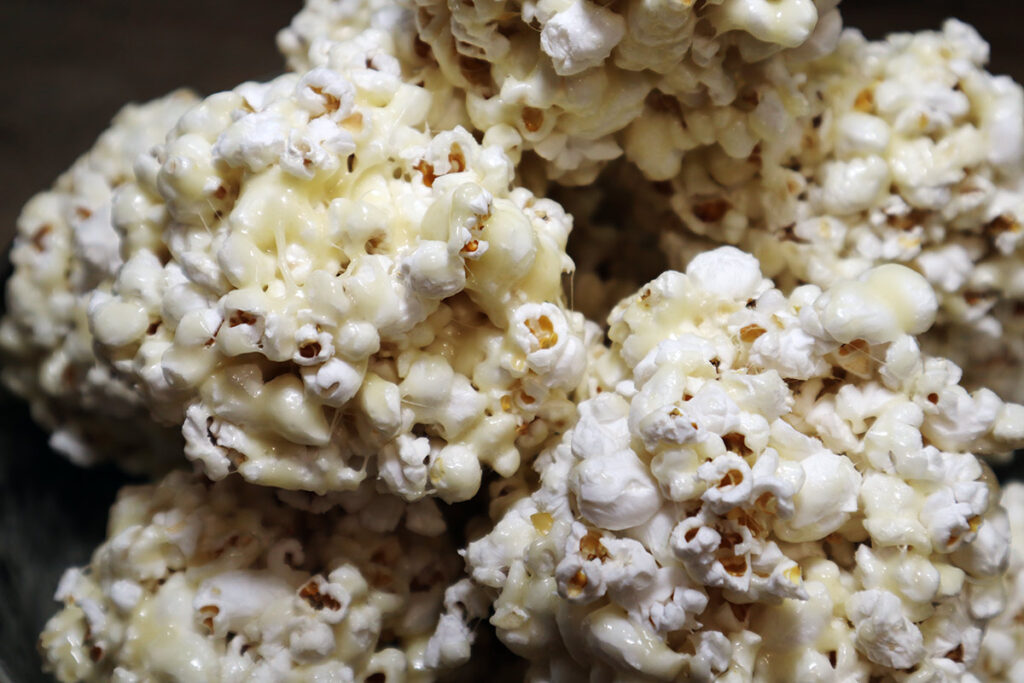 Can I Use Regular Jet Puffed Marshmallows?
You sound like me! It's the only thing you've got on hand, and the last thing you want to do is run to the store. This was supposed to be easy right? So use them!
8 Jet Puffed Marshmallows will equal 1 cup of marshmallows – or 28 total.
Make These Yummy Marshmallow Popcorn Balls
If you make these popcorn balls, tag @Fahrenheit350sweets on Instagram so I can see it! And I'd love it if you left a review and a comment below!