Ever since growing mint in my home garden a few years back, I can't get enough of it. Mint grows like a weed. Like a glorious, beautiful, sweet smelling weed, and any home gardener needs an arsenal of recipes to use it in. Chocolate Mint Mousse is just one of many quick, easy and incredibly satisfying desserts you can make with it.
There is also:
But if you don't have fresh mint leaves, or a garden, don't think you can't make this Chocolate Mint Mousse, or all of these great recipes!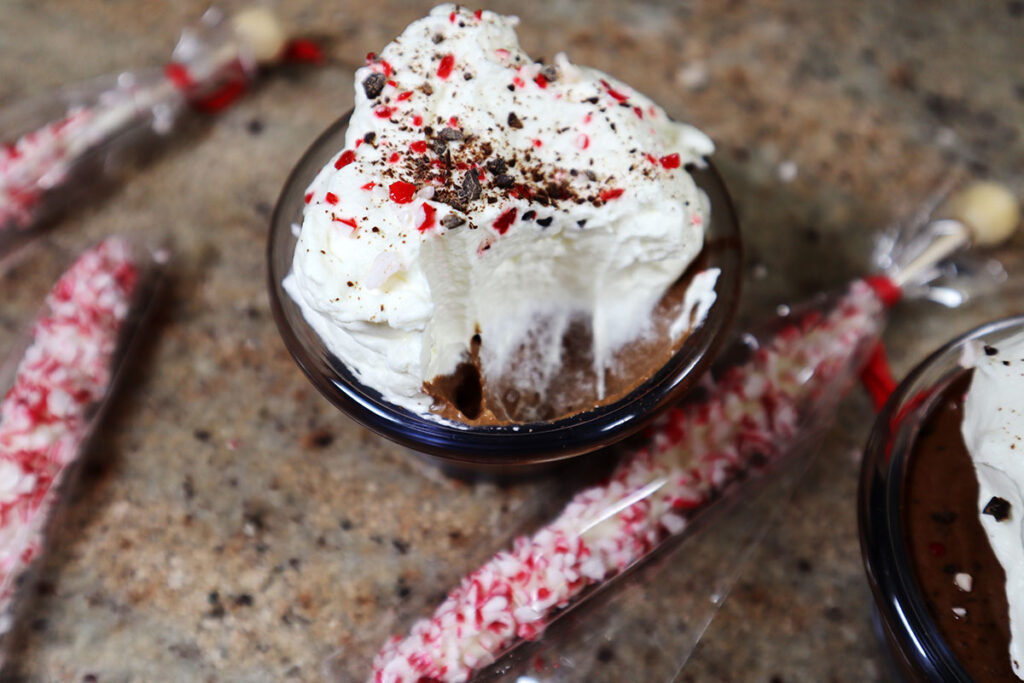 You can absolutely use crushed candy canes, mint extract, or pick up fresh mint leaves at the grocery store. Any of these suggestions are a great alternative! You can swap them out in any of these recipes!
Truth be told, I haven't had that garden for several years. We've moved 5 times since living in that house in just the past 4 years. We have a lot of different projects going on.
On the plus side is we are always busy and always doing something fun.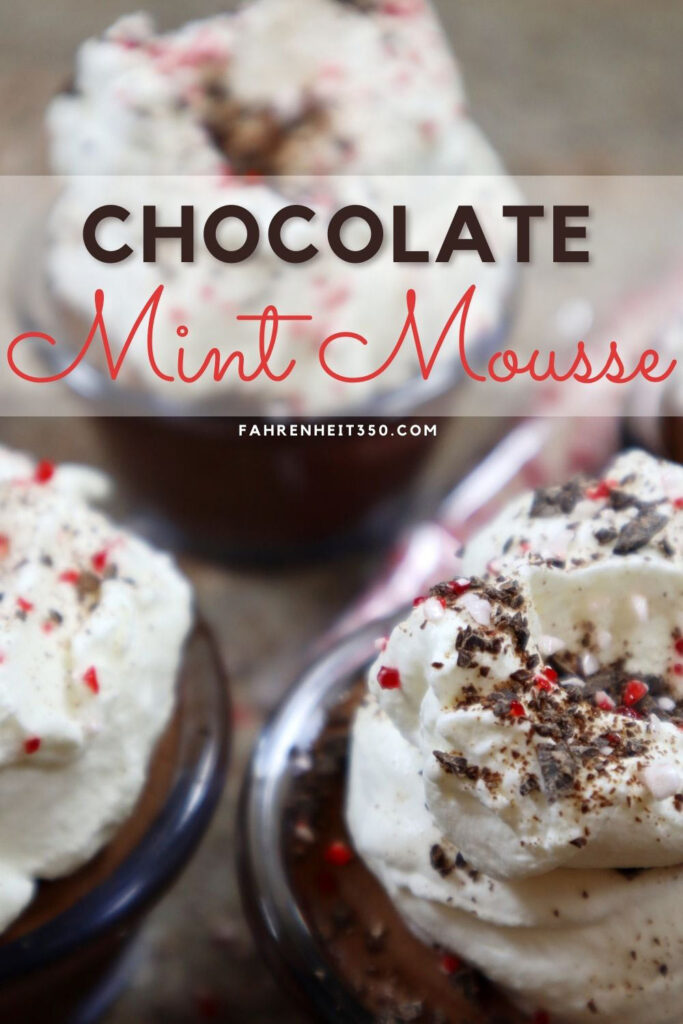 The downside is, I don't have any fresh mint. There are worse things.
The flavor of mint is so exquisite and fresh. It pairs with just about everything. Especially chocolate. Nothing accentuates chocolate like mint. It's the absolute perfect combination, and dare I say it, even better than chocolate and peanut butter!
With Valentine's Day just around the corner, there is just one thing I need: lots and lots of chocolate! Lots and lots of chocolate! I don't care how you give it to me, just give me lots and lots of CHOCOLATE! And Chocolate Mint Mousse is the perfect dessert to pair with a romantic dinner.
Chocolate Mint Mousse
The mint flavor in this mousse lends a cool, and refreshing bite to the decadence of rich chocolate. However, the flavor is scant and does not overpower or reduce the primary essence of chocolate.
The resulting balance is perfect harmony.
What is the Secret to Making the Perfect Chocolate Mousse?
It's all in the chocolate you use! See below for the perfect combination.
How to Make This Recipe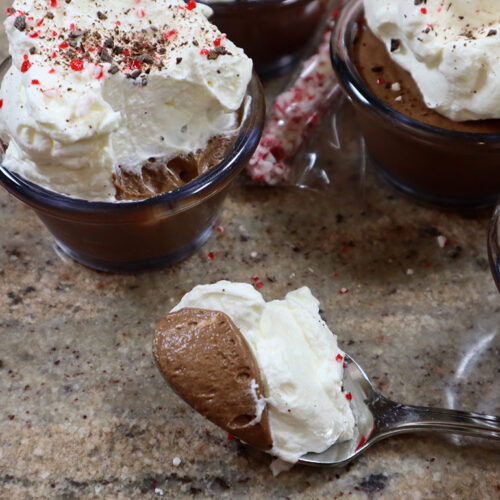 Chocolate Mint Mousse
Nothing accentuates chocolate like mint. It's the absolute perfect combination, and these Chocolate Mint Mousse cups are exactly what you need to satisfy your chocolate craving.
Equipment
Sauce pan

Metal Mixing Bowl
Ingredients
2

tablespoons

crushed candy canes

or fresh mint leaves

¼

cup

hot water

4

egg yolks

reserve 2 egg whites

2

tablespoons

sugar

Pinch

of salt

6

oz.

of chopped chocolate

½

cup

heavy whipping cream

2

teaspoons

sugar

2

egg whites

1

tablespoon

sugar

1

cup

heavy whipping cream

1

tablespoon

sugar
Instructions
Melt crushed candy canes, or steep cut leaves into hot water

Set aside

(Alternatively, you could opt for 1/2 teaspoon peppermint extract)

Bring a saucepan of water to a low rolling bowl double broiler

Fit a metal bowl over the sauce pan.

Add yolks, salt, sugar, and peppermint

Whisk over heat until the eggs begin to thicken and has doubled in volume

Turn heat off and stir in chopped chocolate

(I used 2.5 ounces Callebaut #821 Milk Chocolate & 3.5 ounces Guittard French Vanilla Semi-Sweet Dark Chocolate)

Remove from heat and continue stirring occasionally until mixture has cooled to room temperature

In a separate bowl whip ½ cup heavy cream, plus 2 teaspoons sugar to stiff peaks

Set aside

In a separate bowl whip 2 egg whites plus 1 tablespoon sugar to firm peaks

Set aside

When chocolate mixture has cooled entirely fold egg whites into chocolate mixture

Then fold in whipping cream, just until combined

Pour into individual serving dishes (6 small or 4 large)

Allow to set for a minimum of 2 hours in the fridge and up to 24 hours

When ready to serve, top with dollop of whipped cream and a spoonful of chocolate shavings, crushed peppermint candy, or both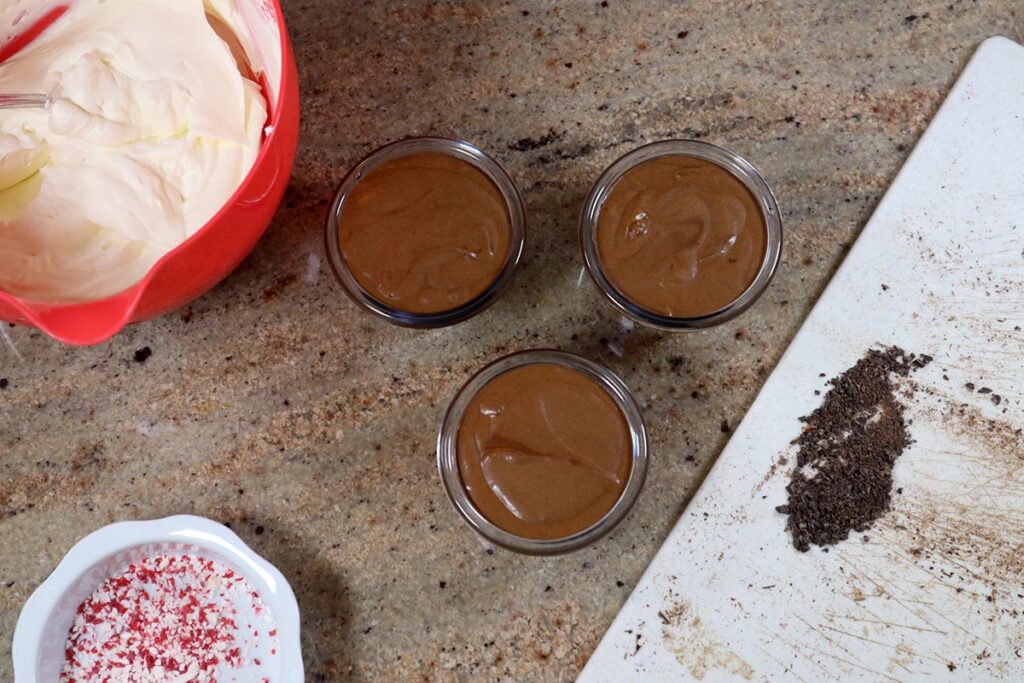 What Type of Chocolate Should I Use?
The mousse will taste like the chocolate you choose. You won't regret using high quality chocolate!
If you use chocolate chips, your Chocolate Mint Mousse will still be delicious, but you will get a richer flavor if you use a more pure dedicated chocolate.
This is repeated in the recipe above, but my favorite chocolate to use is 2.5 ounces Callebaut #821 Milk Chocolate & 3.5 ounces Guittard French Vanilla Semi-Sweet Dark Chocolate.
You can typically find both at a local baking store in your city for less than Amazon, and bonus: both types of chocolate are always non GMO!
How Far Ahead Can I Make This Recipe?
You can make these Chocolate Mint Mousse cups up to 3 days in advance. Keep chilled in the fridge, and wait to top with whipping cream until just before serving.
You can even freeze this mousse for a longer shelf life. Dish up the mousse in the serving cups you will be using, and make sure it's wrapped tightly. Thaw a few hours before serving, and garnish with whipping cream.
Don't stir it after freezing, it will immediately become runny and goopy.
Is this a Christmas Recipe?
It sure can be! But it's delicious all year round! Who said only Santa Claus only gets to enjoy peppermint sticks?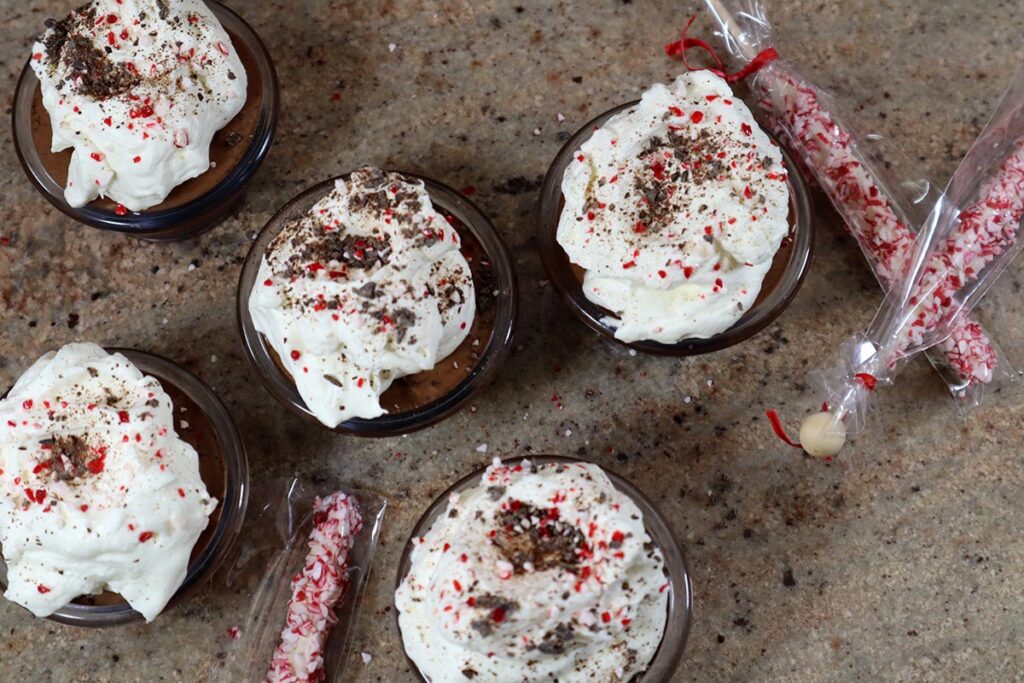 What If I Don't Prefer Mint?
Leave it out!
This Chocolate Mint Mousse recipe doesn't have an overtly strong mint flavor, so you might find you like it. In fact, it barely cools the chocolate.
If you leave it out, you'll simply have a pure chocolate recipe and it will be amazing!
I dare you to add a few specs of chili powder to really bring out the depth of the chocolate in this recipe!
How Do You Use Fresh Mint in this Recipe?
You will steep the fresh chopped mint leaves in the water, and then strain the mint leaves out before cooking the egg mixture.
How Do You Use Crushed Peppermint in this Recipe?
Soak the peppermint in the ¼ cup of water until dissolved. You may need still see clumps, but the rest of the particles will melt when you bring the temperature up in the double broiler.
How Do I Use Peppermint Extract in this Recipe?
Simply add ½ teaspoon of mint extract in with the eggs and sugar as you are tempering the eggs. You won't need to adjust anything else.
Why is My Chocolate Mint Mousse Runny?
This is a very forgiving recipe, but if you run into trouble, see the following list of suggestions:
It has not set up. Make sure that you chill the mousse for a minimum of 2 hours. 6 hours or longer is best.
You did not whip the egg whites to firm peaks, and they lost their volume when you folded them in. You may have also stirred them in for too long. You want to fold them into the chocolate just until combined.
You did not cook the eggs long enough. It should be obvious when the eggs are done, they will become thick and the mixture will clump together.
You did not whip the cream long enough. Don't worry about slightly over-mixxing the egg whites or the cream. Once they are folded into the chocolate mixture, it will be nice and creamy.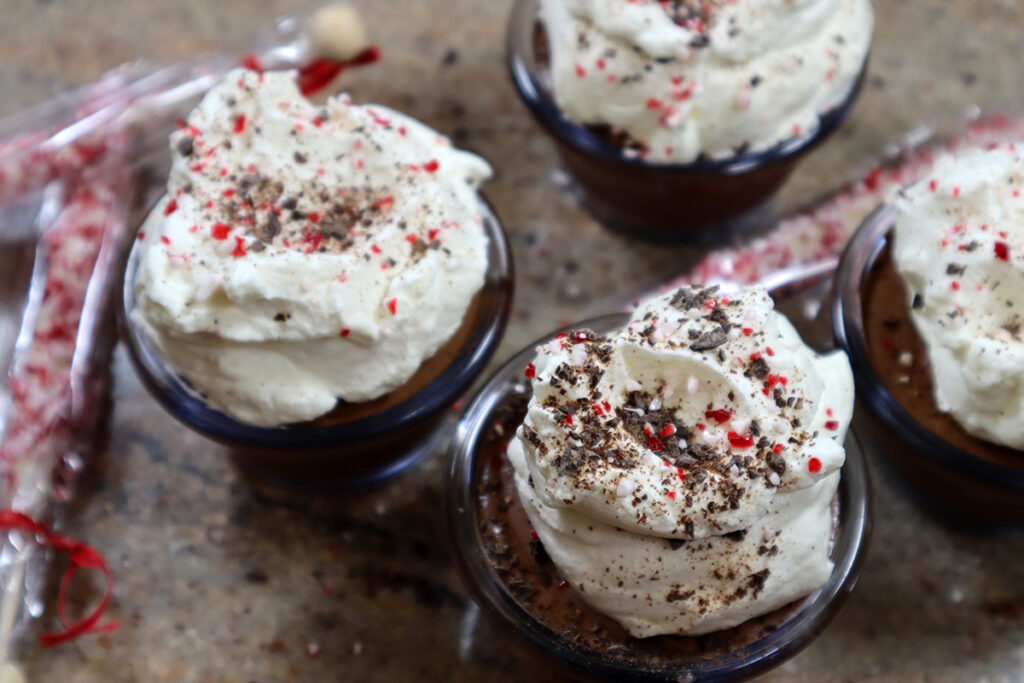 Why is My Chocolate Mint Mousse Hard?
This is almost always because of one of two reasons. Either you over cooked the eggs, which is fairly obvious, or you over heated the chocolate, which is also fairly obvious. If your mixture starts to seize, at any point – that means you cannot stir it, this is what happened.
How Long Does it Take Mousse to Set Up?
2 hours minimum | 24 hours maximum
How Long Will This Dessert Last in the Fridge?
3 days, at most — props to you if you can stay out of it!
More Delicious Chocolate Recipes to Bake at Fahrenheit 350°