What is better than chocolate? Maybe chocolate covered in layers and layers of buttery croissant bread dough and cooked to a crispy brown. Known as Pain au Chocolat in France, this pastry recipe goes back to the mid 1800's and was adopted by the French from Austria.
It literally means bread with chocolate.
Pain au Chocolat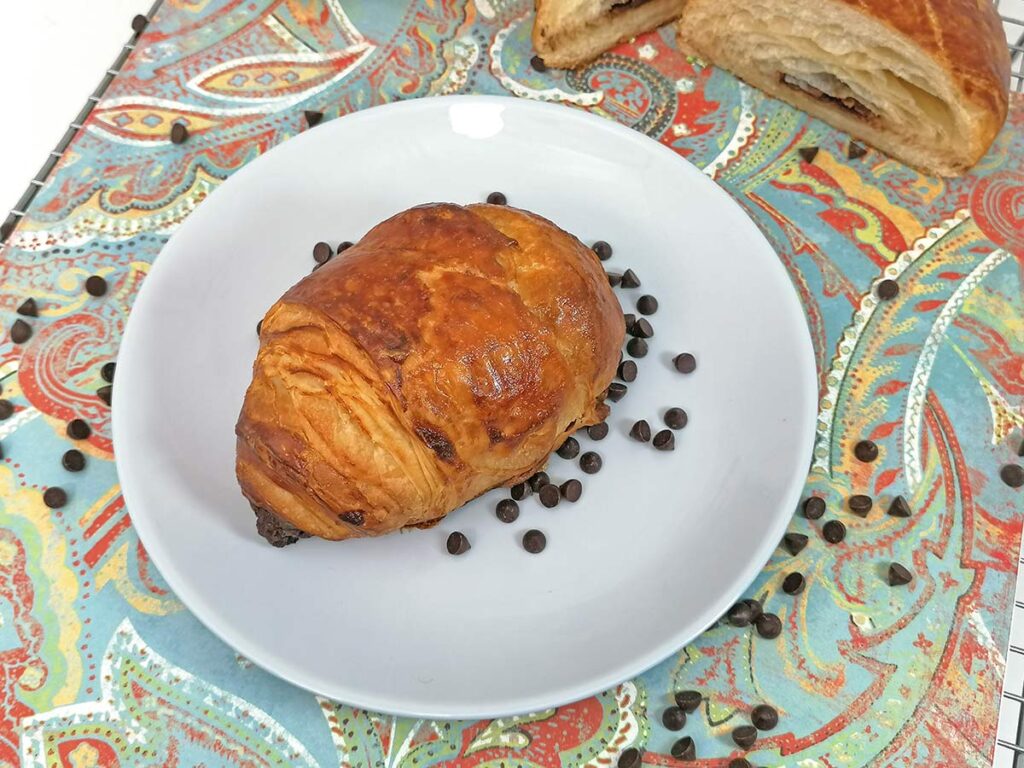 A beautiful and delicious pastry loved the world over,
a pain au chocolat recipe creates a buttery soft chocolate croissant.
Once you've mastered making croissants, which are truly not all that hard to make, the pain au chocolat recipe is one of the easiest French pastries to make. It's no more than placing a dollop or two of chocolate ganache on the dough before rolling it up.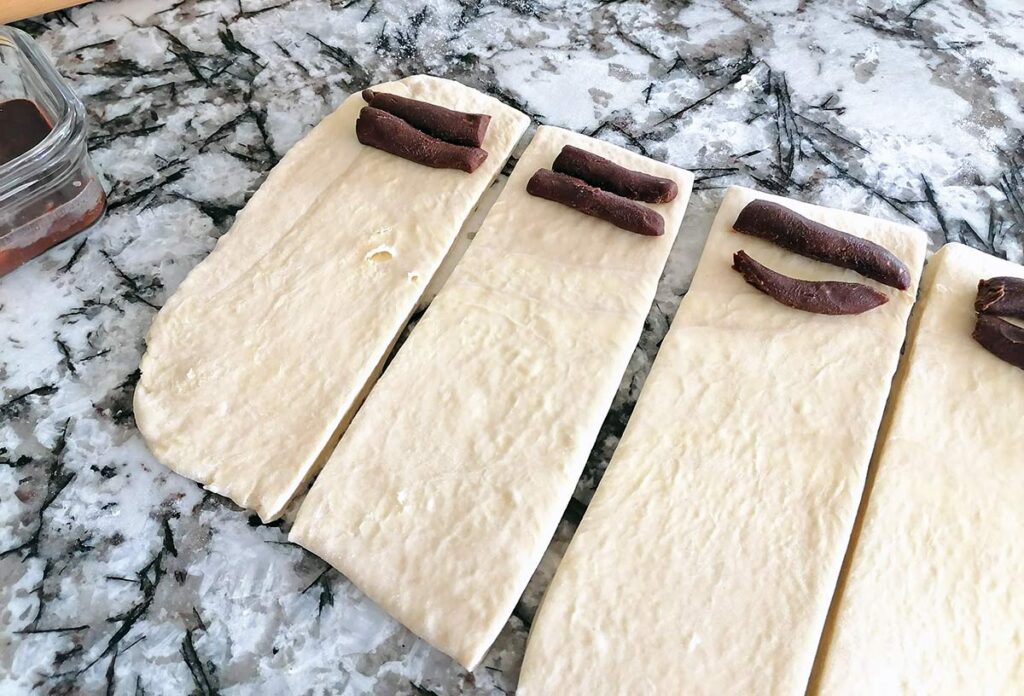 The shape is even easier. Rather than cutting a triangle, you simply slice short strips of croissant dough to make rectangles, then roll them up and squash them down.
How to Make Pain au Chocolat Recipe
This pain au chocolat recipe utilizes a basic croissant dough recipe combined with chocolate ganache to create an amazing buttery bread with a touch of sweet indulgent chocolate.
Anytime you add any sort of filling to croissants, the filling is going to stick to the pastry dough. The layers next to the chocolate will not rise, instead they will add a buttery richness to the croissant and turn it chocolate.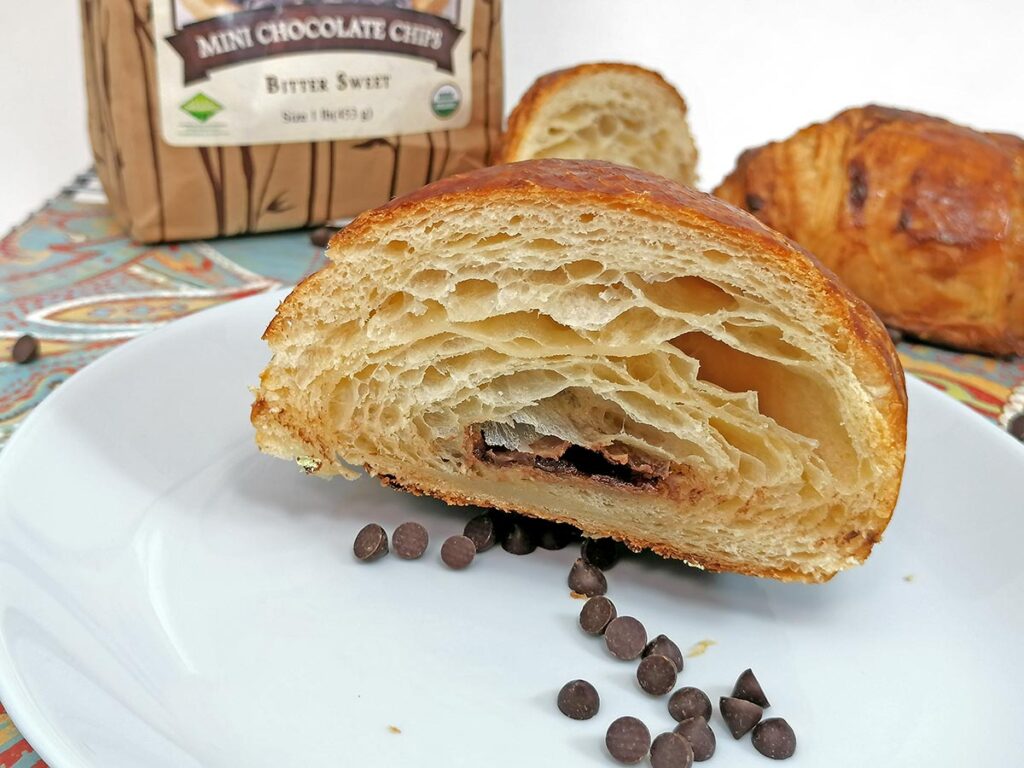 The rest of the croissant will rise and give that airy croissant texture to the pastry.
Tips for Making Croissant Dough
I stumbled upon Bruno on YouTube almost a decade ago and his videos are so much fun to watch. In this video, he takes you step by step through making the croissant dough.
It's so important to take care not to over knead your dough. Either avoid a stand mixer all together, or keep the mixer low and constantly check the dough. You want it smooth, but very soft and limp in your hands.
I also recommend using European butter. Even the most expensive standard brand butter is not good enough for croissants and can give them an off taste.
And make sure you add enough salt. I don't think Bruno's recipe calls for enough, so I've made that adjustment in my recipe below.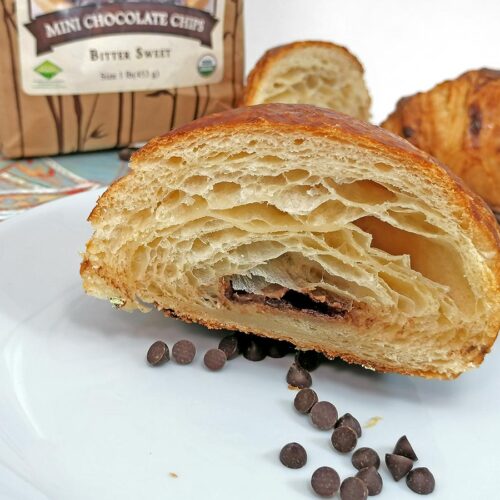 Pain au Chocolat Recipe
A beautiful and delicious pastry loved the world over, a pain au chocolat recipe creates a buttery soft chocolate croissant.
Ingredients
Croissant Dough
1

cup

water warmed

4

teaspoons

dry active yeast

½

teaspoon

sugar

3 ½

cups

flour

4

teaspoons

salt

¼

cup

sugar
Chocolate Ganache
½

cup

chopped chocolate + 1 tablespoon

½

cup

whipping cream
Instructions
Croissant Dough
Proof yeast with sugar

Let sit until bubbly and rising

In a large mixing bowl add flour, salt and ¼ cup of sugar

Whisk until incorporated and make a well in the center

Add in yeast proof

Mix with hands and then add

6.5 tablespoons softened butter

Mix again with hands until combined and continue to knead on un-floured surface until soft and smooth

If using a stand mixer, mix on low speed just until combined

Transfer to a clean bowl and let rise for several hours, at least until doubled

Remove from the bowl and deflate the dough.

Roll into a long rectangle and fold over like an envelope

Wrap in plastic and place in the fridge overnight

Make a tourrage with 16.5 tablespoons of butter by smashing and rolling the butter inside a quart ziploc bag

When the butter is flat and square, place it in the fridge to harden

Cut it out of the ziploc bag so it remains the same shape

Allow to thaw just until you can create a light indent in the top with your finger

Remove the dough from the fridge and roll out to double the size of your butter square

Place the square of butter on one side of the dough and fold the other side of the dough to cover the butter

Roll the dough out again, until double the length,

Fold the dough over itself like a letter, in three folds

Place back in the fridge for at least an hour

You want to keep the dough cold so the butter stays laminated between the layers of dough

Repeat the rolling and folding process three times

Each time, make sure to turn the dough, so you are rolling in the opposite direction of the folds

Refrigerate between turns, and overnight after the last fold

After the dough has chilled, split dough in half and work with half the dough at a time

Roll out dough to 1/2 to 1/4 inch thickness

Cut out short rectangles, barely longer than wide and place a dollop of chocolate ganache at the top of each rectangle

Roll up and cover with egg wash and let rise for a minimum of 2 hours

You can add two pieces of chocolate ganache, allowing one roll of pastry inbetween each piece of chocolate

Preheat oven to Fahrenheit 400°

Wash the croissants again with egg wash as the oven heats to temperature

Cook at Fahrenheit 400° for 15 minutes, lower temperature to Fahrenheit 375° and cook for additional 10 minutes
Chocolate Ganache
Heat cream until bubbly and pour over chopped chocolate

Stir until melted and allow to cool until set
What is the Difference Between Croissants and Puff Pastry?
The only difference is that croissants use yeast.
Croissants develop their rise not only from the laminated butter creating steam and lifting the dough, but also with yeast. The texture of the dough is much softer and the rise is much higher.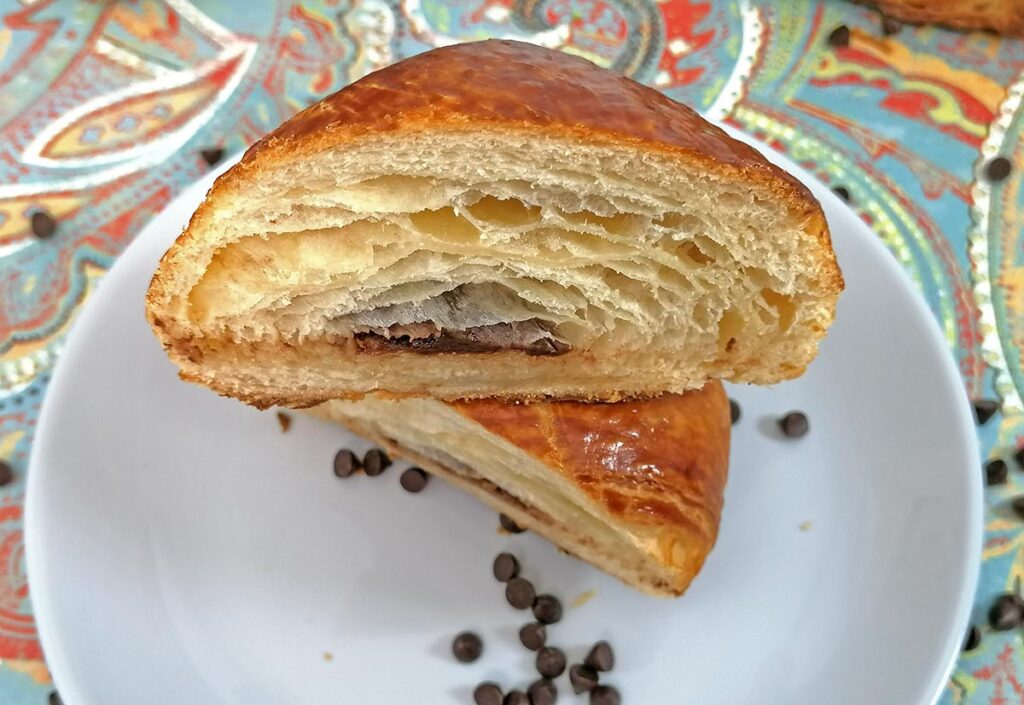 Can I Use Puff Pastry Sheets From the Store for this Recipe?
Yes. It won't be authentic French Pain au Chocolat, but it will taste wonderful.
If we are confessing right now, I actually love puff pastry for so many recipes – especially cinnamon rolls!
Other Recipes Call for Using Bittersweet Chocolate in the Dough
Yes, you can use a few chunks of straight chocolate, and call it a day! It will be delicious!
However, if you are wanting to make an authentic pain au chocolat recipe, then ganache is what is used in the fillings in France.
Croissant Making Supplies on Amazon
I am an Amazon affiliate and Amazon sometimes pays me an incredibly small stipend from the sale of these items, and it does not cost you anything to click on them!
When it comes to making pain au chocolat this amazingly fancy tool will make life so easy! Uniform strips that are just the right size! I know they look small, but the yeast and butter makes them rise!
Truly, it's not that hard to cut out a triangle out of dough, however, when it comes to making uniform croissants every time, it can get a bit tedious. This little gadget takes care of all the hard work!
And if you want itty bitty croissants, this is perfect for dollhouse croissants.
Make This Pain au Chocolat Recipe
If you make bread with chocolate, tag @Fahrenheit350sweets on Instagram so I can see it! And I'd love it if you left a review and a comment below!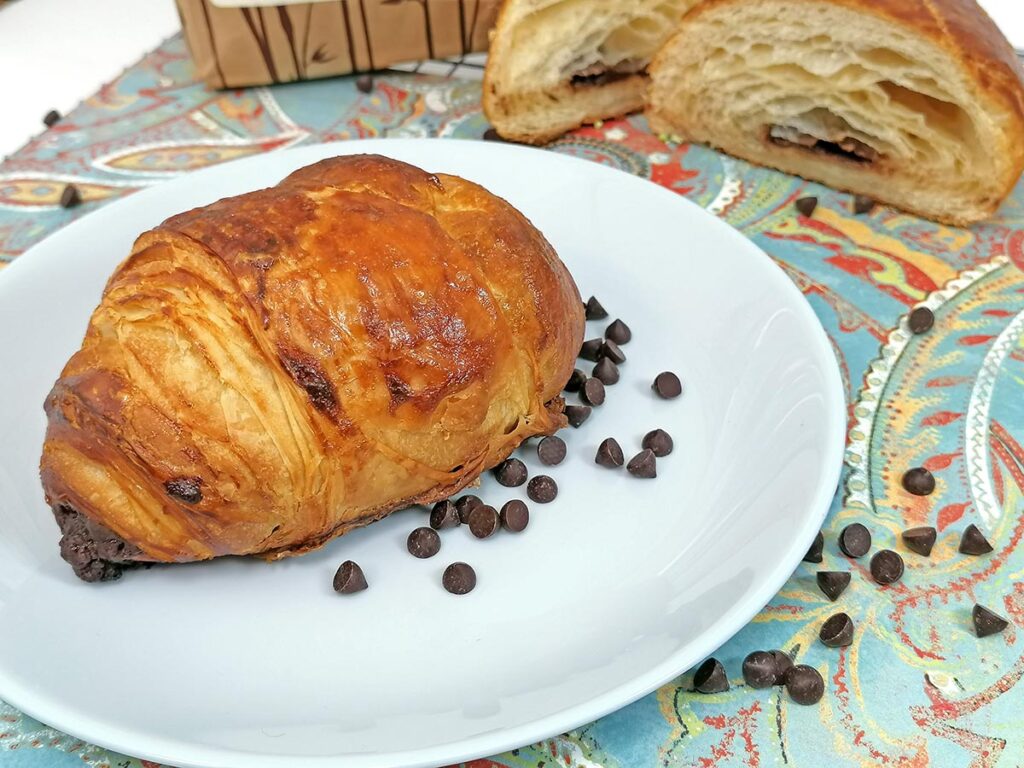 More Yummy Bread Recipes to Bake at Fahrenheit 350°!