What's better than cookies for breakfast? That's easy: Cookie Dough Waffles!
This recipe cooks your favorite chocolate chip cookies inside a waffle and then you can smother it with chocolate maple syrup.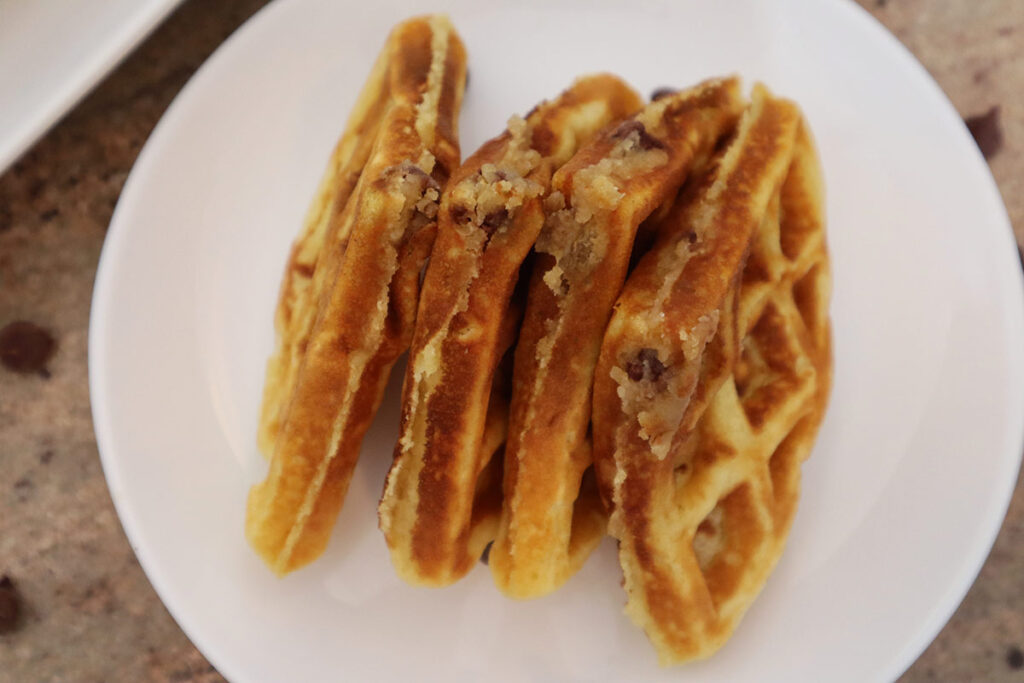 See, it's not dessert because it's waffles. Therefore, you must eat as much as you want to give yourself a good start to the day!
I love these cough dough waffles! They are so yummy and so easy. Isn't that the hallmark of any good recipe?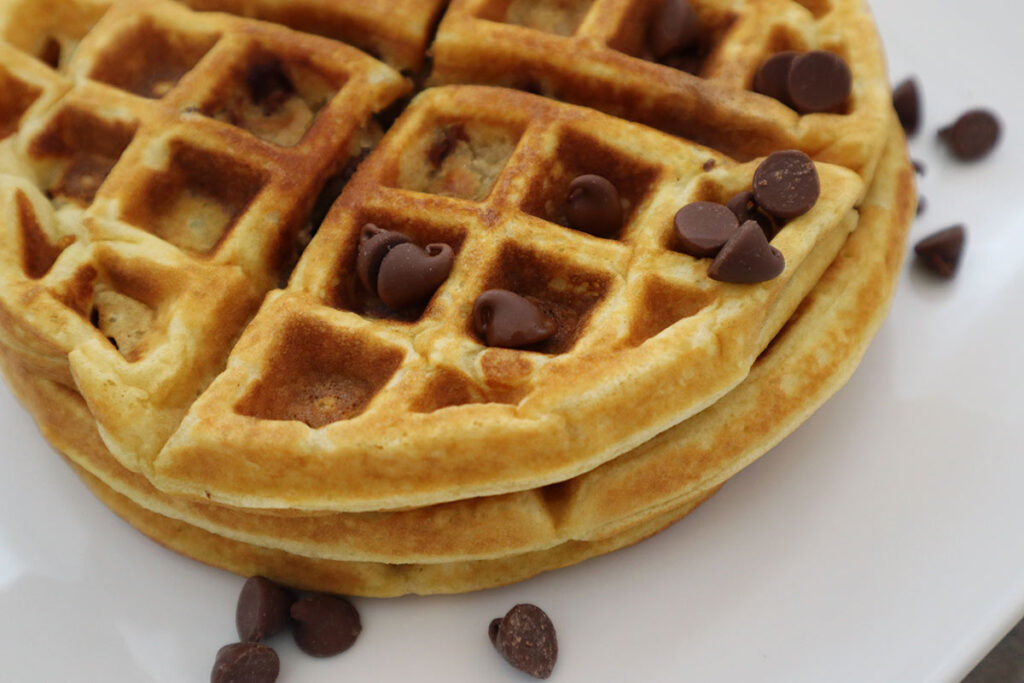 Cookie Dough Waffles
Ingredients
This recipe really is so simple.
You can use any cookie dough recipe, and simply sandwich it in-between the waffle batter in your griddle!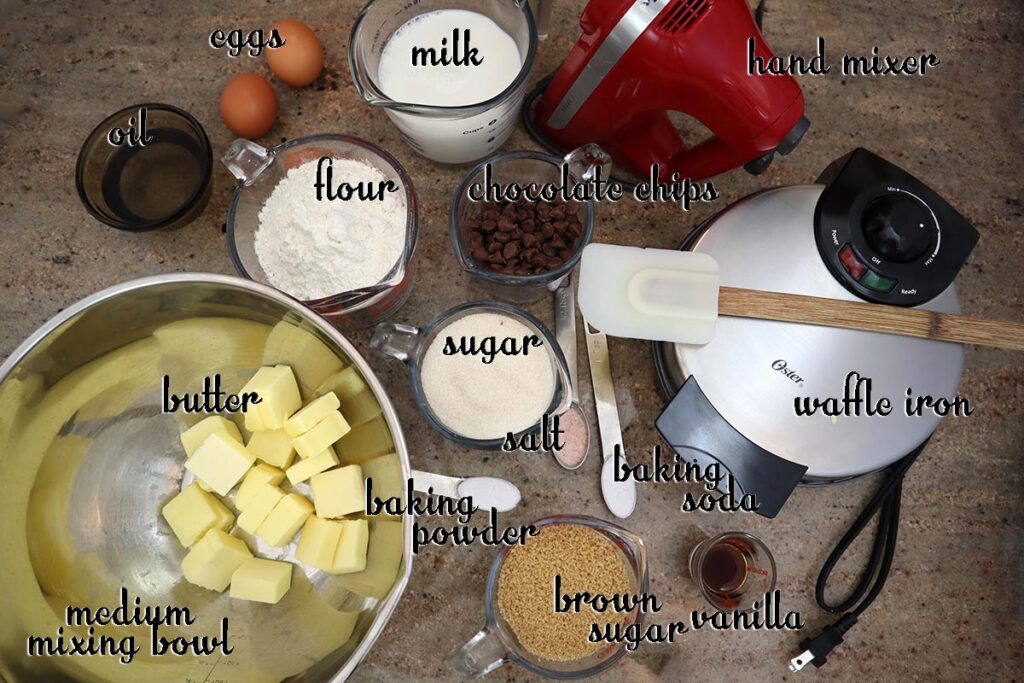 How to Make This Recipe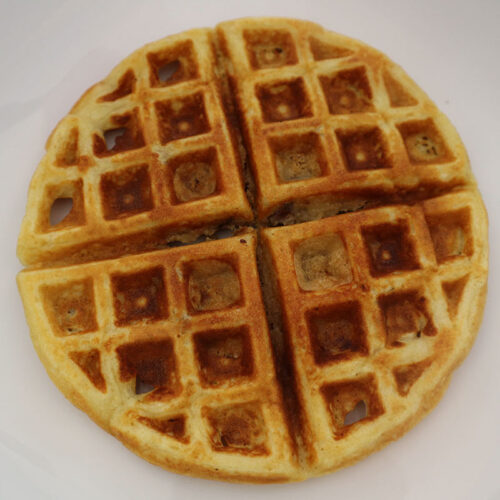 Cooke Dough Waffles
This recipe cooks your favorite chocolate chip cookies inside a waffle!
Ingredients
Chocolate Chip Cookie Dough
1 ¼

cup

butter

1

cup

brown sugar

1

cup

white sugar

1

egg

1

teaspoon

vanilla

2 ¼

cups

flour

1

teaspoon

salt

1

teaspoon

baking soda

1

cup

chocolate chips
Waffle Batter
2

cups

flour

1

tablespoon

baking powder

½

teaspoon

salt

2

egg yolks

2

egg whites

2

cups

milk

½

cup

sunflower oil

⅛

cup

oil for greasing waffle iron
Instructions
Chocolate Chip Cookie Dough
Cream butter and sugars

Add egg and vanilla and beat until light and fluffy

Stir in the remaining ingredients until a dough forms

Roll spoonfuls of dough into a ball and squash to flatten

Set aside
Waffle Batter
Add flour, baking powder and salt to a bowl and whisk to combine

Add egg yolks and reserve egg whites in a clean mixing bowl

Stir egg yolks into the flour with milk and oil until well mixed

Beat egg whites until stiff peaks

Fold into batter just until combined

Let batter sit for 5 – 10 minutes
Finalè
Use a pastry brush to rub oil over the waffle griddle

When waffle iron is hot, pour a heaping ¼ cup of waffle batter onto the bottom griddle

Place a cookie dough disc in the center of the batter

Top cookie dough with another heaping ¼ cup of waffle batter

Close waffle iron lid tight

When the waffle iron indicates the waffle is finished baking remove from waffle iron and transfer to a plate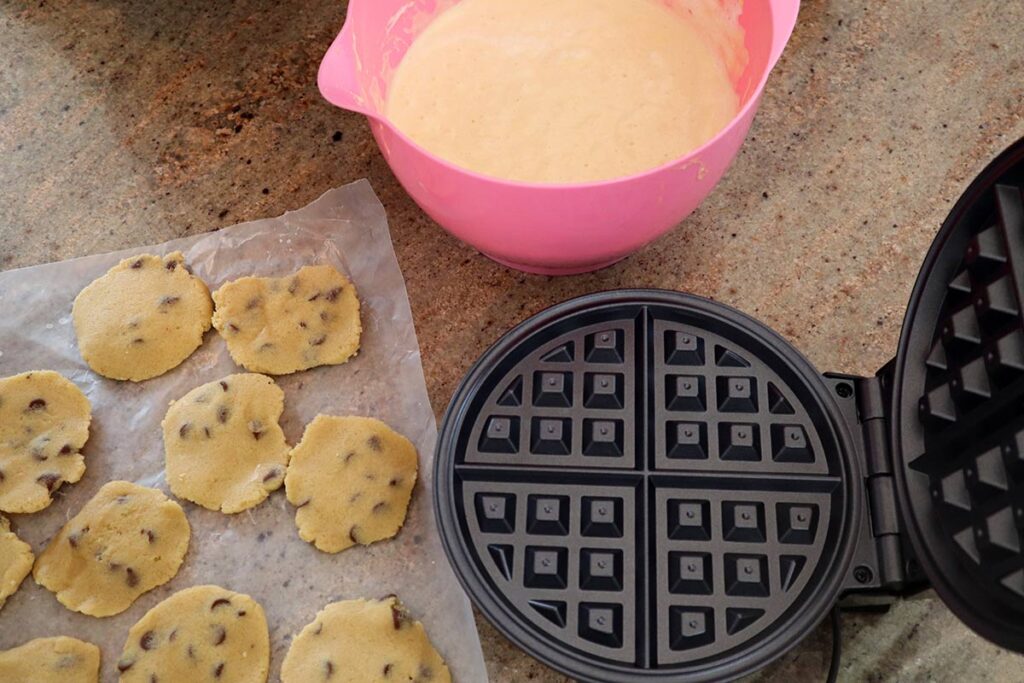 Will Any Cookie Dough Recipe Work?
Yes! You can simply whip up a batch of your favorite cookies and follow the rest of the recipe as indicated.
At Christmas make gingerbread cookie dough waffles, at Valentine's make chocolate chocolate chip mint cookie dough waffles, at Easter make sugar cookie dough waffles.
Even better, make cornflake crunch cookie dough and make cereal waffles!
This recipe is super diverse to please everyone!
Can I Make The Cookie Dough in Advance?
Yes!
After making the cookie dough discs, place discs individually on a cookie sheet and stick them in the freezer until solid. Once frozen, move to a Ziploc bag to consolidate.
The cookie dough discs don't need to thaw completely before adding them to the waffle iron, however, they should be somewhat malleable.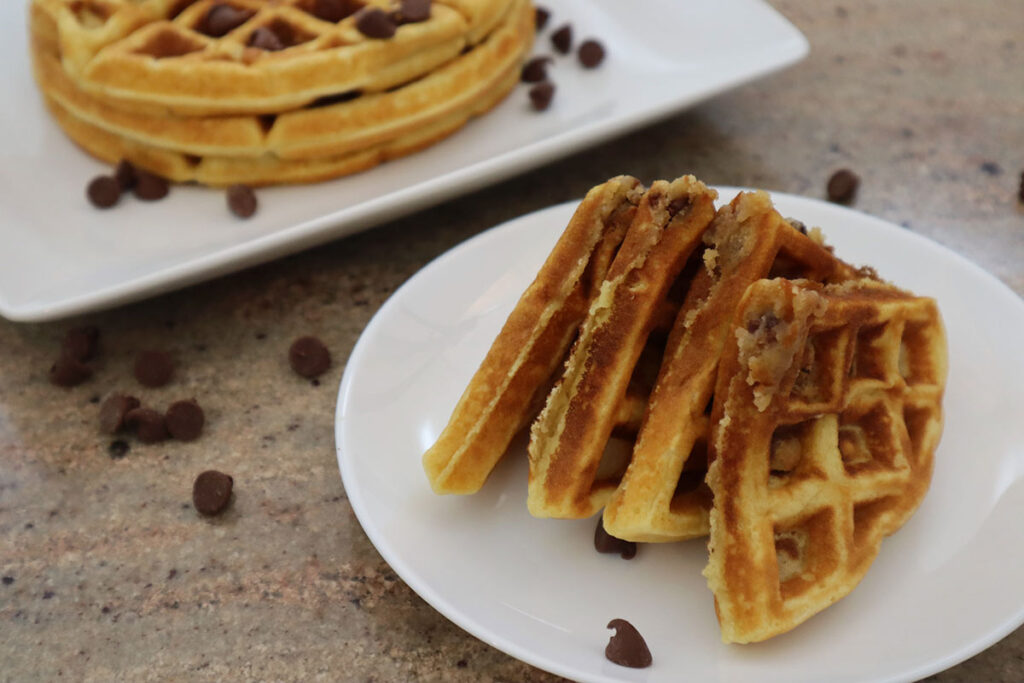 If you thaw them all the way however, they may be hard to separate if they are fully thawed inside the bag. I recommend taking them out of the bag and putting them on a plate or cookie sheet individually when you prepare to make your waffle batter.
Can I Freeze Cookie Dough Waffles?
The cookie dough waffles can also be made in advance and frozen for later enjoyment. Simply make the waffles as instructed and freeze individually. Then pull out as many waffles as you want and heat them up when you are ready to eat!
If you heat them up in the microwave, they will be slightly chewy and soft. If you heat them up in the oven, they will be more crispy. Personally, I like to take each triangle and toast it lightly in the toaster before eating!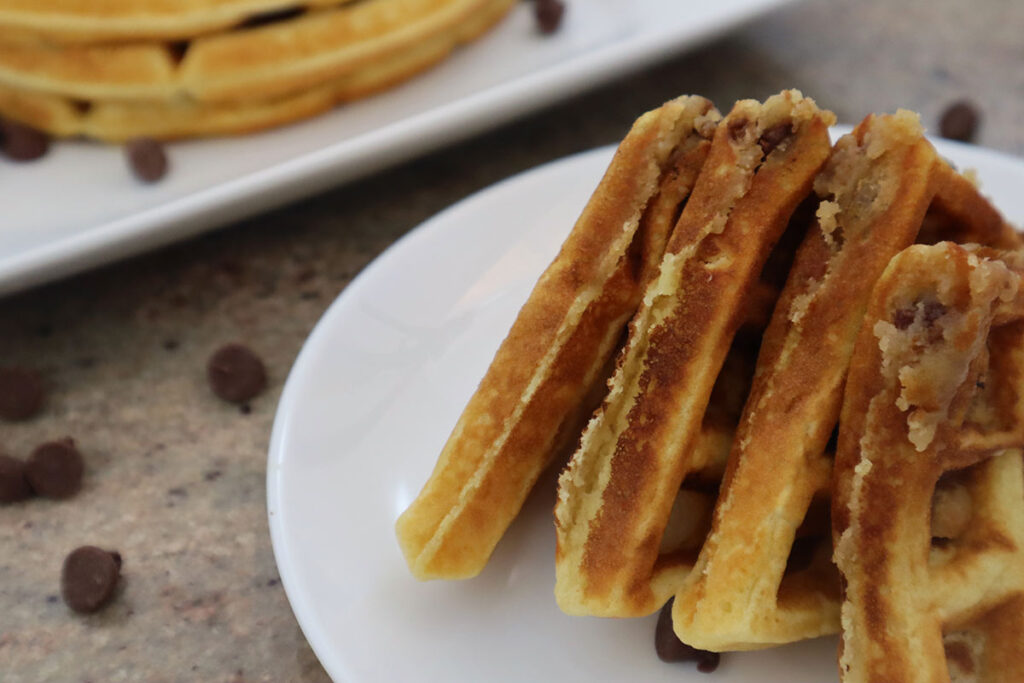 What Waffle Iron Do You Use?
For this cookie dough waffle recipe, I used a classic round Oster Waffle Iron. They are cheap, they are reliable, and they work great!
The waffle iron I want though, is the heavy duty 4 square All-Clad Belgian Waffle Maker. I have a friend who uses this waffle iron and it produces the most crispy, perfectly cooked waffles you've ever seen! Plus each square is a respectable size, and by respectable size I mean no one is complaining about it.
What is Chocolate Maple Syrup?
It's simply chocolate syrup combined with maple syrup! I use a 50/50 ratio and heat it in a little saucepan stirring to combine!
Make These Cookie Dough Waffles!
If you make this yummy breakfast, tag @Fahrenheit350sweets on Instagram so I can see it! And I'd love it if you left a review and a comment below!
More Amazing Breakfast Recipes to Bake at Fahrenheit350°!
Kamut Pancakes (coming soon)