A wonderful friend of mine gave me a set of adorable forked fondue skewers for my birthday! Cheese fondue is amazing, especially when you are sitting in the shadow of The Castle of Gruyères in the medieval town of Fribourg, Switzerland! But, have you ever tried cake fondue?
Angel Food Cake is perfect by itself and is beautiful as a traditional Easter and Spring dessert. You can cover it with a light frosting glaze, cover it with sliced and sugared strawberries, or –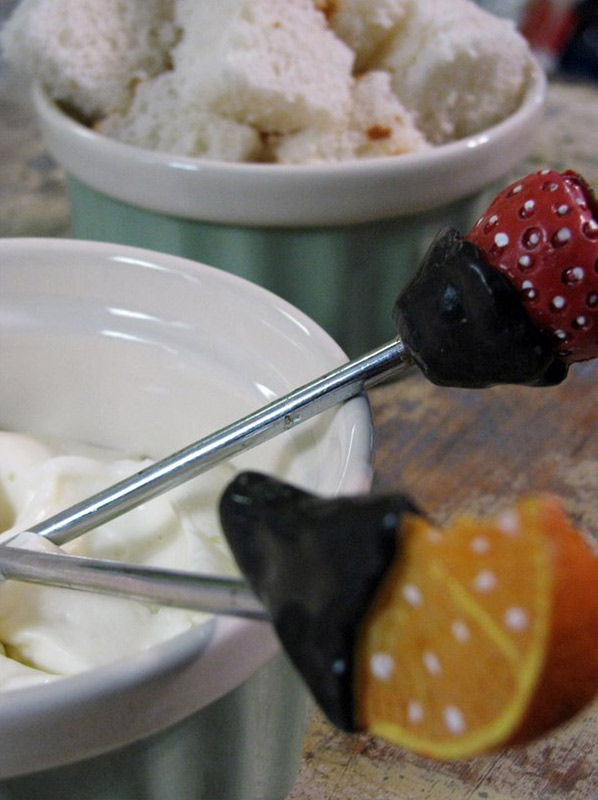 Cut it into cubes and dip it into this fabulous brown butter and toasted coconut cake fondue!
You'll rave about this buttery, caramelly, coconutty, dip and want to put everything in it. It's that good! Look below for tons of more great ideas to dip in this cake fondue.
Toasted Coconut Cake Fondue
with Angel Food Cake Bites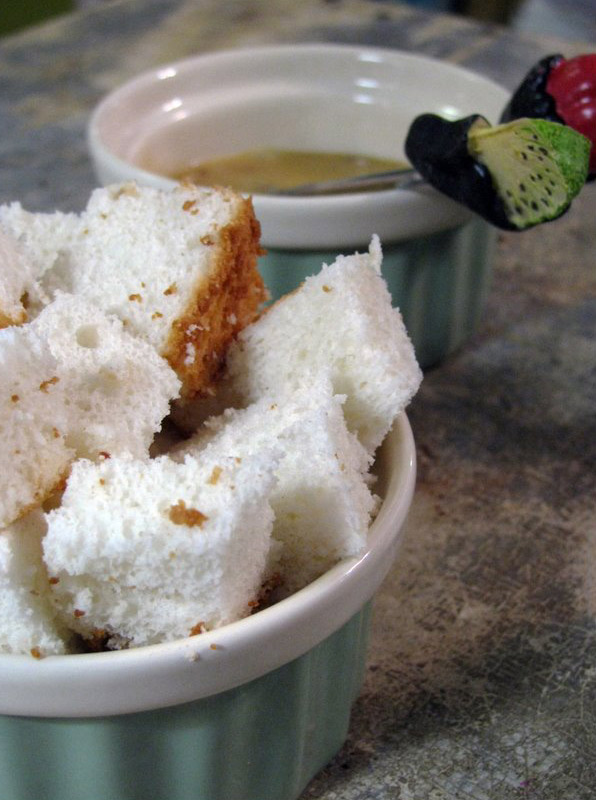 Originally Posted 2009 | Updated 2021
Light and fluffy Angel Food Cake tastes incredibly delicious dipped in this dessert cake fondue! It tastes like silky buttery caramel with crunchy flakes of toasted coconut to give it a little extra depth.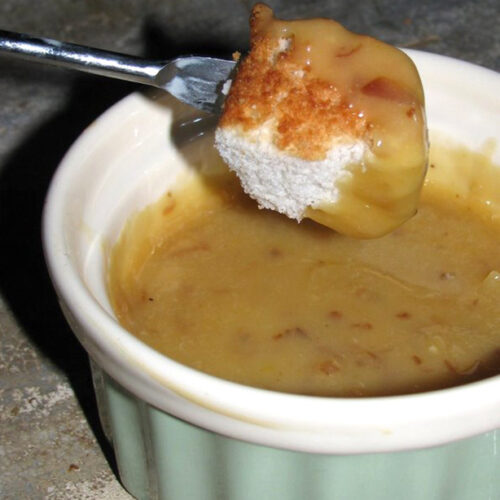 Toasted Coconut Cake Fondue
This dessert cake fondue tastes like silky buttery caramel with crunchy flakes of toasted coconut.
Ingredients
Cake
1

cup

flour

¾

cup

sugar

12

egg whites

1 ½

teaspoons

cream of tartar

1 ½

teaspoons

vanilla

¼

teaspoon

salt

¾

cup

sugar
Cake Fondue
1

stick butter

½ cup

1

cup

sugar

1

can

evaporated milk

12 oz

2

egg yolks

1

teaspoon

salt

1

teaspoon

vanilla

½

cup

toasted coconut
Instructions
Cake
Sift 1 cup flour and ¾ cup sugar

Set aside

In a large clean bowl, whip egg whites, cream of tartar, vanilla and salt until soft peaks

Add ¾ cup of sugar, 2 tablespoons at a time until stiff and glossy peaks are formed

Fold in sifted flour and sugar ½ cup at a time

Pour into ungreased 10″ angel food cake pan

Bake Fahrenheit 375° for 35-40 minutes

Invert cake in pan, let cool

Once cooled, cut Angel Food Cake into cubes for dipping
Cake Fondue
In a medium saucepan, melt butter over medium heat until melted

Allow to simmer until butter is brown and smells like toffee

Add evaporated milk and sugar and stir to combine

In a small bow, whisk 2 egg yolks

Slowly pour ⅓ of the butter mixture into the eggs to temper them

Then return the eggs and mixture back to the pan to finish cooking

Add vanilla and salt and bring to a boil

Cook for 3 minutes

Turn heat off and keep the mixture over the stove to continue cooking with residual heat

Serve after 15 minutes, or keep in the fridge until ready to serve

Heat up before serving

Dip cake bites into Toasted Coconut Cake Fondue
Is this the Same Filling as German Chocolate Cake?
Almost!
It is definitely inspired by my favorite cake and gravel filling! It has more milk, less sugar and eggs – and of course no pecans!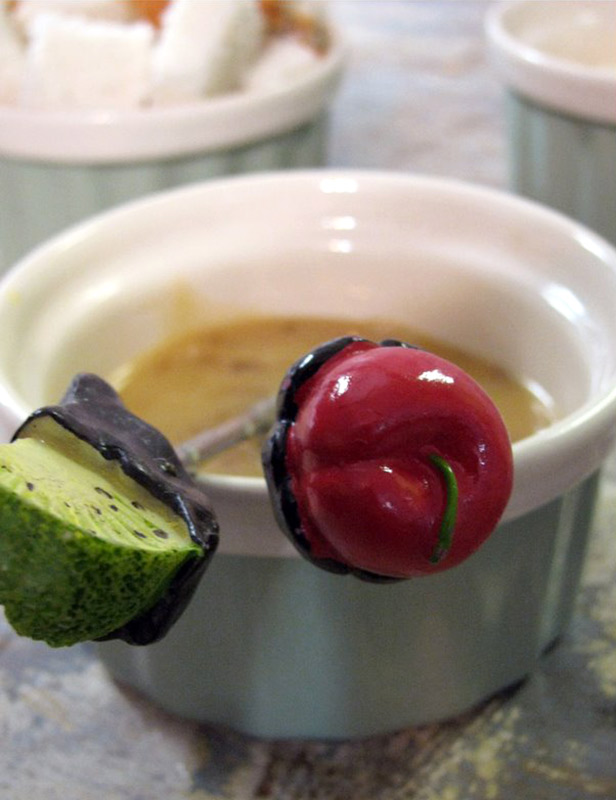 Can I Use a Cake Mix instead of the Angel Food Cake?
Yes, make it simple! The best part of this recipe is the cake fondue, and no one will be talking about anything else!
What Else Can You Dip in This Toasted Coconut Cake Fondue?
We are going to get a little bit nuts here, but pause and think about each of these with a sweet caramel coconut fondue and thank me later!
Bananas
Pineapple
Apples
Marshmallows
Brownies
Chocolate
All Cake
Cinnamon Roll Chunks
Pretzels
Popcorn
Donut Holes
Use a Spoon and Dip Ice Cream
Reese's Peanut Butter Cups
Cheese, Brie Anyone?
Granola
Bacon
Sausage
Nuts
Truffles
Fried Chicken
French Toast
Anything that tastes delicious with caramel – so everything…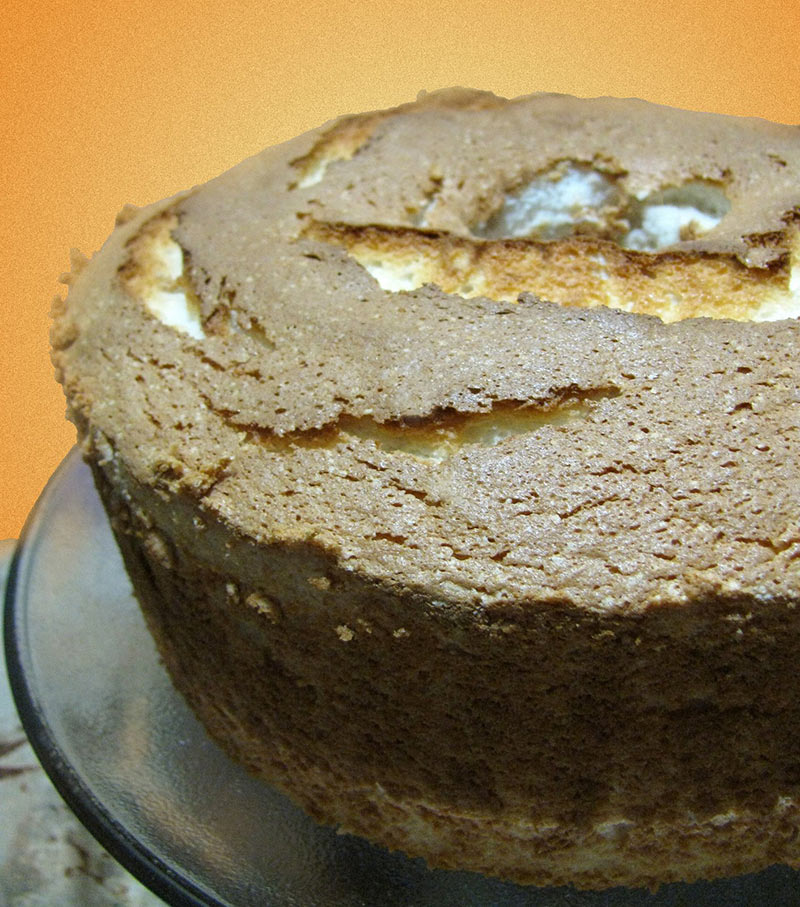 Can You Use This as a Topping Instead of a Fondue Dip?
Yes, see above for tons of fantastic ideas!
Recommended Fondue Sets
I am an Amazon affiliate. It costs you nothing to use these links, but it does pay me cents on the dollar to support my baking.
Make This Cake Fondue
If you make these cupcakes, tag @Fahrenheit350sweets on Instagram so I can see it! And I'd love it if you left a review and a comment below!
More Amazing Caramel Recipes to Bake at Fahrenheit 350°!