I have it on good authority that Santa is getting a little tired of chocolate chip cookies and milk! After a few millennia of the same treat, wouldn't you? This year he wants Frozen Chocolate Peppermint Pie Squares.
One year when I worked at See's Candies at the mall, I was visiting with Mrs. Claus during my break. She confided in me that Santa is desperate for a different treat. He has been trying for some time now to devise a way to deliver his secret wish to all the little munchkins of the world!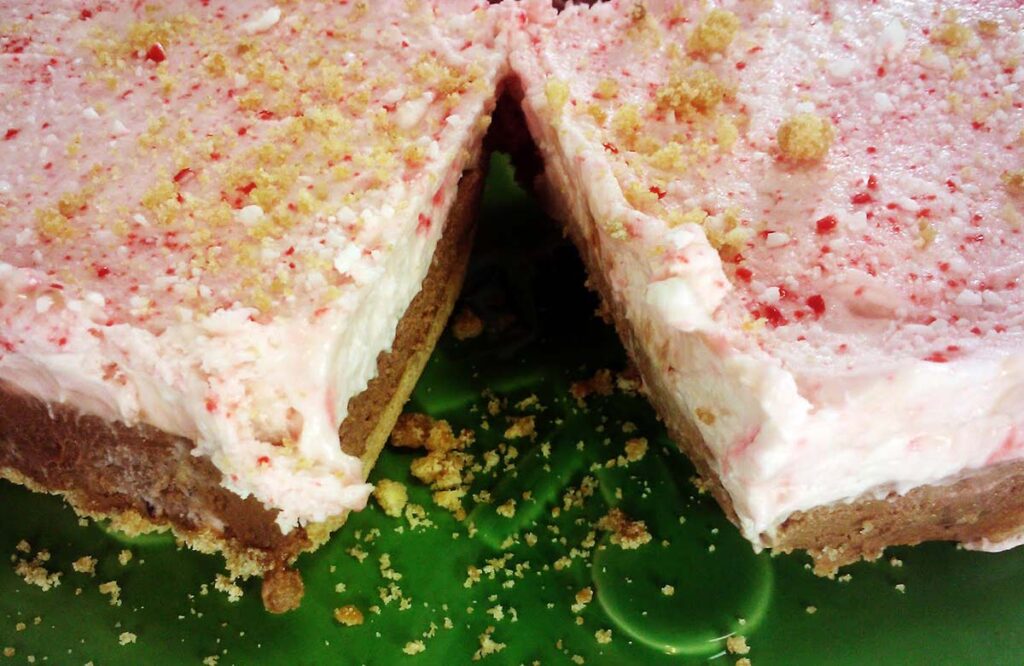 He tried inserting it into conversation during picture time at all the mall, but kids are just always so eager to spout off their own wish list. He found it impossible to get a single word in!
Would you believe me if I told you that two years ago, he spelled the word H.E.L.P. with candy canes in every single home across the world. Surely you remember the year your candy cane was on the floor instead of your stocking!
He even went so far as to disguise himself in early December to patronize nearly one million grocery stores in major metropolitan cities across the globe, in an attempt to buy up all the chocolate chips!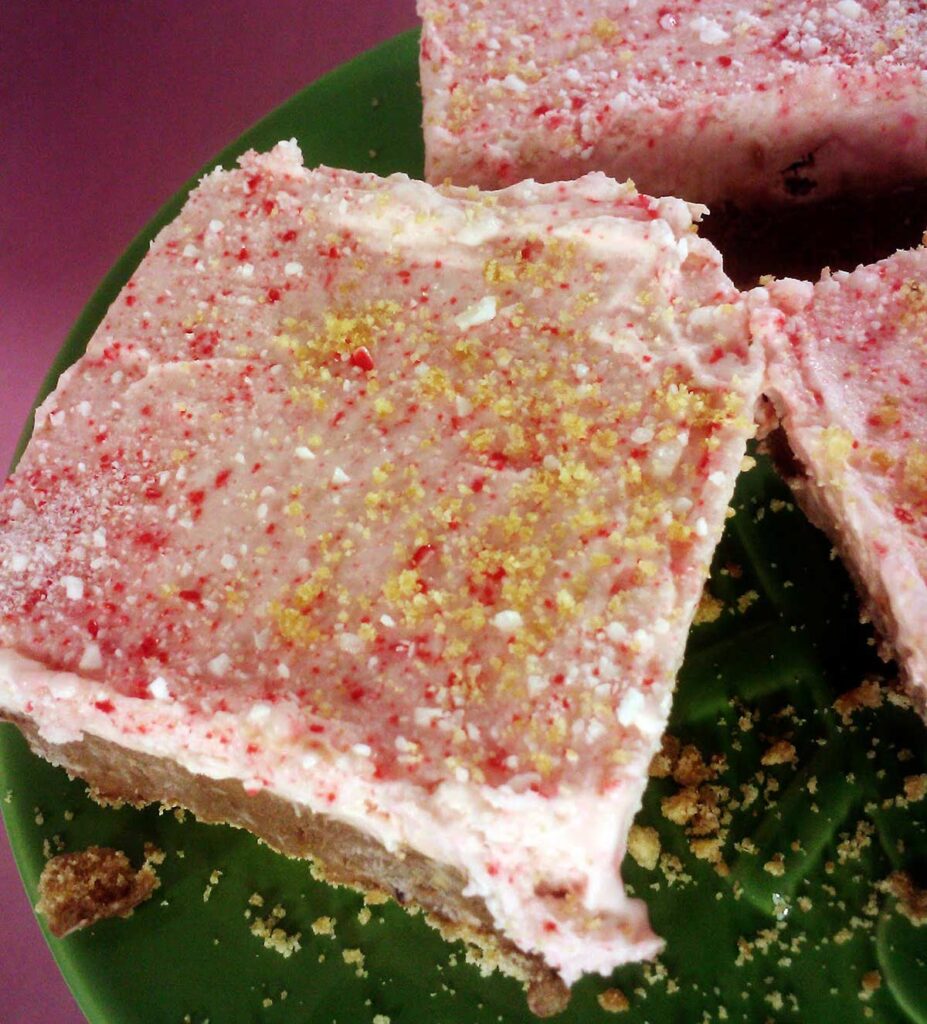 And this one might come as a shock, but for a split second he considered putting all the children who gave him chocolate chip cookies…. on the bad list!!!
Gasp! I know!
I have a solution!
Chocolate Peppermint Pie Squares
Stay on Santa's good list this year by whipping up this refreshing treat! He'll be so delighted, you will be sure to get an extra present or two under the tree!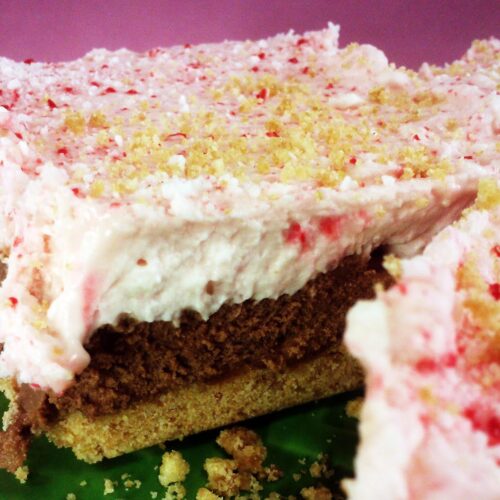 Frozen Chocolate Peppermint Pie Squares
These delicious square cookies have a wafer crust, a chocolate French silk middle and a marshmallow peppermint fluff top layer!
Ingredients
Crust
½

package of crushed Nilla Wafers

3

tbl

melted butter
Chocolate Layer
3

egg yolks

3

egg whites

1

cup

powdered sugar

½

cup

butter

1-2

oz.

favorite chocolate

melted

½

cup

walnuts

optional

1

cup

heavy cream + 1 tablespoon sugar
Peppermint Layer
1

cup

heavy cream + 1 tbl sugar

1

cup

marshmallow fluff

1

cup

crushed candy canes

1

tbl

crushed candy canes

for topping
Instructions
Crust
Mix wafer cookies and butter together until mixture will keep its shape when pressed together

Press onto bottom of 8″ square pan

Chill in freezer
Chocolate Layer
Mix eggs, sugar and butter together with hand held mixer until light and fluffy

Stir melted chocolate and nuts into sugar mixture

In a separate bowl, beat whites until firm then fold into chocolate mixture

Spread over crust until even and smooth

Chill in freezer
Peppermint Layer
Whip cream until soft and fluffy

Stir in crushed candy canes and marshmallow fluff

Spread over chocolate layer until even and smooth

Sprinkle remaining 1 tablespoon of crushed candy canes over top layer

Freeze until ready to serve
Notes
This recipe yields just enough for Santa and his 8 reindeer. Leave him a note to check for his treat in the freezer!
Can I Use Regular Marshmallows Instead?
Marshmallow fluff is the easiest way to incorporate marshmallows into this recipe, but yes, you can use regular marshmallows too!
This recipe has been handed down from my Grandma, and every person in my family makes it a little bit differently.
I like to use mini marshmallows and puff them up a little bit like you do in candied yams before stirring them into the cream. Other people in my family just stir them into the cream whole, like with marshmallow fruit salad.
No matter what you do, you can't go wrong!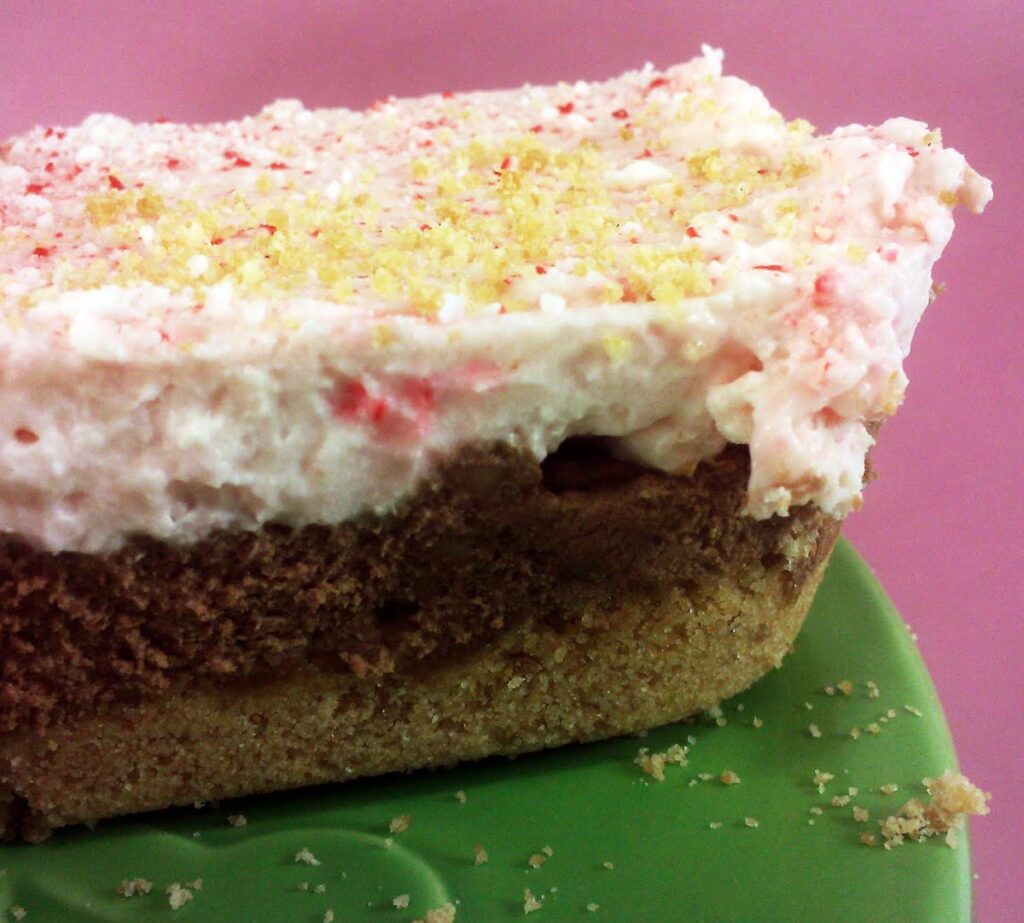 Raw Eggs
Please note that this recipe for Frozen Chocolate Peppermint Pie Squares uses raw eggs, so if you are concerned about this you may want to check out my Candy Cane Lane Cookies instead.
Like this recipe? Check out More Christmas and Peppermint Recipes to Make Your Home Merry and Bright this Season!