Sweet Potato Waffles are my favorite breakfast. They are made from paleo friendly raw sweet potatoes that are cooked to perfection in a waffle iron, but they don't taste like vegetables. They have an earthly yet sweet flavor that is packed full of delicious spices and heart healthy ingredients.
I'm sure you'll love them too!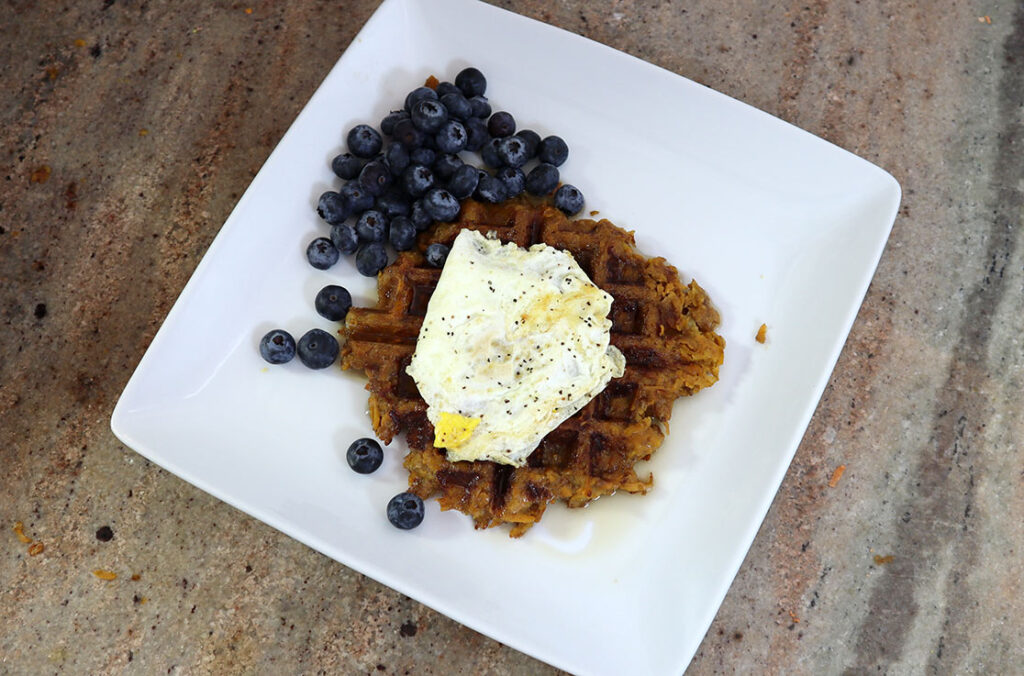 1. They are paleo! Everything in these sweet potato waffles can be found grown in the earth, or made my naturally occurring animals that roam the earth!
2. They are gluten free! Since they don't have any flour, these sweet potato waffles aren't carb heavy and won't leave you feeling bloated, heavy, or experiencing brain fog with wheat brain.
3. They are sugar free! I make them with a scant amount of maple syrup, also located naturally on the earth, but you can leave it out if you prefer.
Ingredients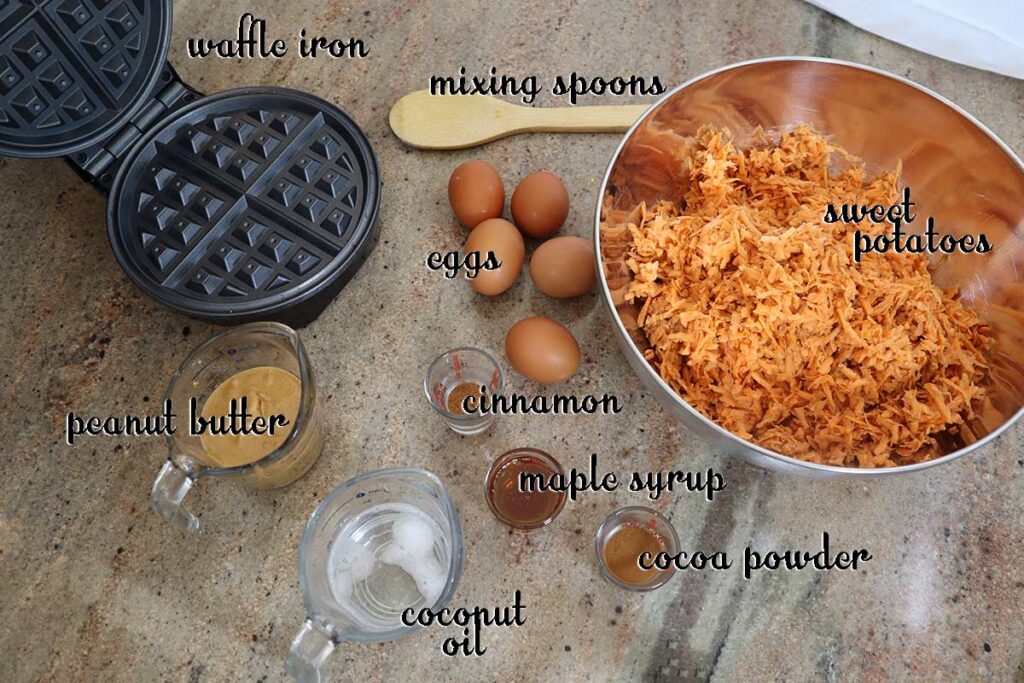 Pure Sweet Potato Waffles
These waffles taste just as sweet as regular pancakes, but what makes these so good is the fact that they are made from all natural, all whole, all really healthy ingredients!
You definitely won't miss the flour.
How to Make this Recipe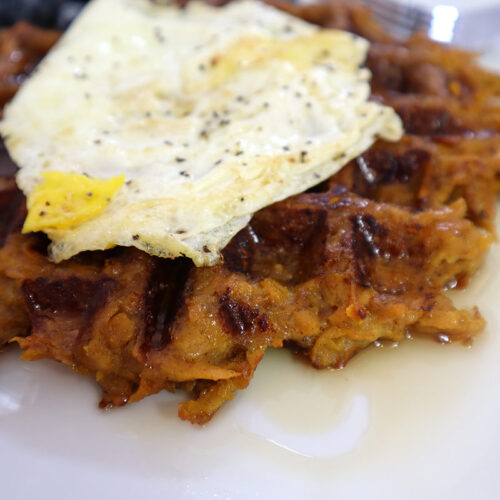 Paleo Sweet Potato Waffles
These waffles taste just as sweet as regular pancakes, but what makes these so good is the fact that they are made from all natural, all whole, all really healthy ingredients!
Ingredients
5

cups

shredded sweet potatoes

5

eggs

5

tablespoons

melted coconut manna or coconut oil

1

cup

peanut butter

optional

¼

cup

maple syrup

2.5

teaspoons

cinnamon

½

teaspoon

nutmeg
Instructions
Mix all ingredients together

Press ½ to ¾ cup of mixture into waffle iron

Cook until lightly browned, about 4-5 minutes

Top with a little bit pure Maple Syrup and a fried egg

Serve with fresh fruit
Notes
This recipe makes enough for my family of 4 kids and 2 adults. To adjust this recipe, plan for one cup of shredded sweet potatoes per person. Add 1 egg, and 1 tablespoon of coconut manna or oil, per cup of sweet potatoes. Add 1 teaspoon of cinnamon for every two cups of sweet potatoes. You don't need a lot of nutmeg to flavor, so add to your liking. The peanut butter is optional.
Coconut Manna vs. Coconut Oil
I just like the added nutrition in coconut manna. That, and I bought like a case of them on this sale, so I sub it in whenever I can.
Either one works just fine.
Spices for Sweet Potato Waffles
Yes, you want the cinnamon and the nutmeg in these delicious waffles. They compliment the sweet potatoes perfectly, but don't contribute to an overpowering taste.
In other words, they don't taste like Thanksgiving. However, this breakfast is great at Thanksgiving, or any time of year!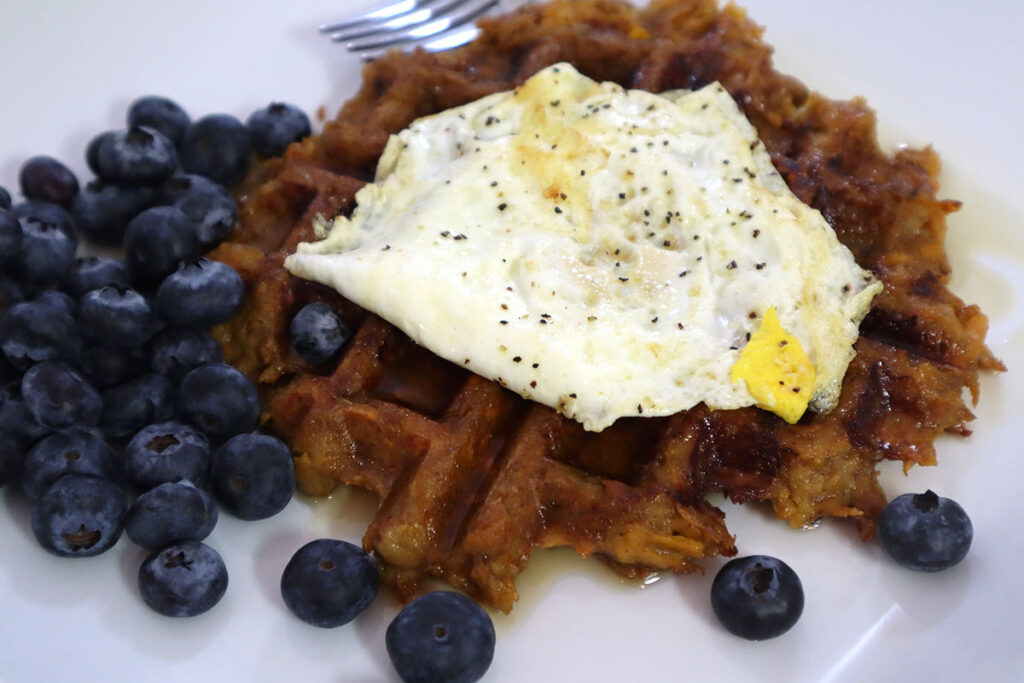 Peanut Butter Sweet Potato Waffles
I love peanut butter in everything, and you can definitely leave it out, but…
Peanut butter and sweet Potatoes are incredibly delicious together! The peanut butter really accentuates the rest of the ingredients in this recipe. It adds to the natural earthy flavor, it compliments the cinnamon, and it intensifies the sweetness of the maple syrup so you don't need as much!
Sweet Potato Waffles Paleo
I get a huge kick out of recipes that claim to be paleo. I mean all things considered, they fit the description. It's all about technicalities.
However, cavemen certainly didn't have coconut manna, though I suppose in tropical locations they could have gotten their hands on some coconut. What do I know, maybe they did!
But they most assuredly did not have a waffle iron. I will put money on that one.
And they probably hated shredding raw sweet potatoes with a rudimentary knife. I definitely feel like a caveman when I don't have my food processor.
Make These Even Better
Add mashed avocados on top of the waffle!! Trust me, you'll love it.
We also love these with fresh fruit, crispy bacon, sausage links, a fried egg, and a fresh pineapple banana orange smoothie!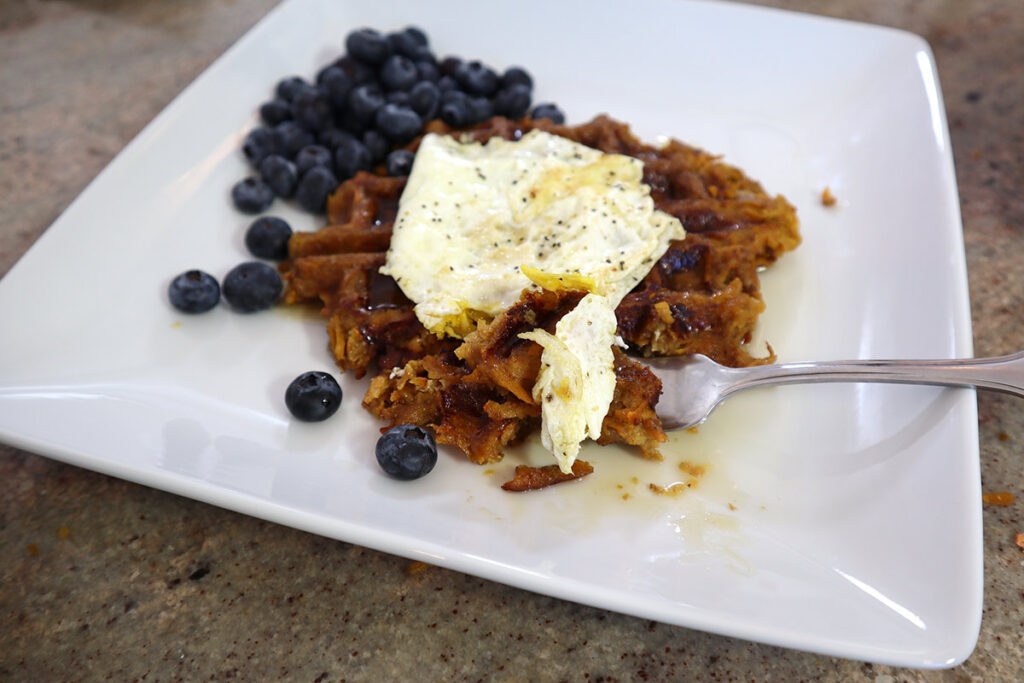 Make These Delicious Sweet Potato Waffles Paleo
If you make these waffles, tag @Fahrenheit350sweets on Instagram so I can see it! And I'd love it if you left a review and a comment below!
Waffle Irons on Amazon
Kickback, at no cost to you, is appreciated.
More Amazing Breakfast Recipes to Bake at Fahrenheit 350°!