When I first made this moon pie recipe, I belonged to a Daring Bakers Challenge group. Each month we challenged ourselves to make something completely new and out of our wheelhouse. At the end of the month, we'd all get together and talk about the techniques we learned and how we improved our baking skills.
Caramel Moon Pie
Sadly, this community has since dissolved but I learned how to make so many amazing desserts when I was part of this inspiring community!
Now, after living in South Korea for three months in 2019, this moon pie recipe has a special place in my heart! Moon pies are the official snack of the entire country, and one man who defected from North Korea was gifted moon pies for the rest of his life!
This moon pie recipe is made with cookies, caramel and marshmallow. It's a bit complicated, but no worries, I've got some great suggestions for making these the easy way too.
You choose! Either make everything from scratch, or simply make these delicious cookies and compile them into this moon pie recipe by using store bought caramels and marshmallows.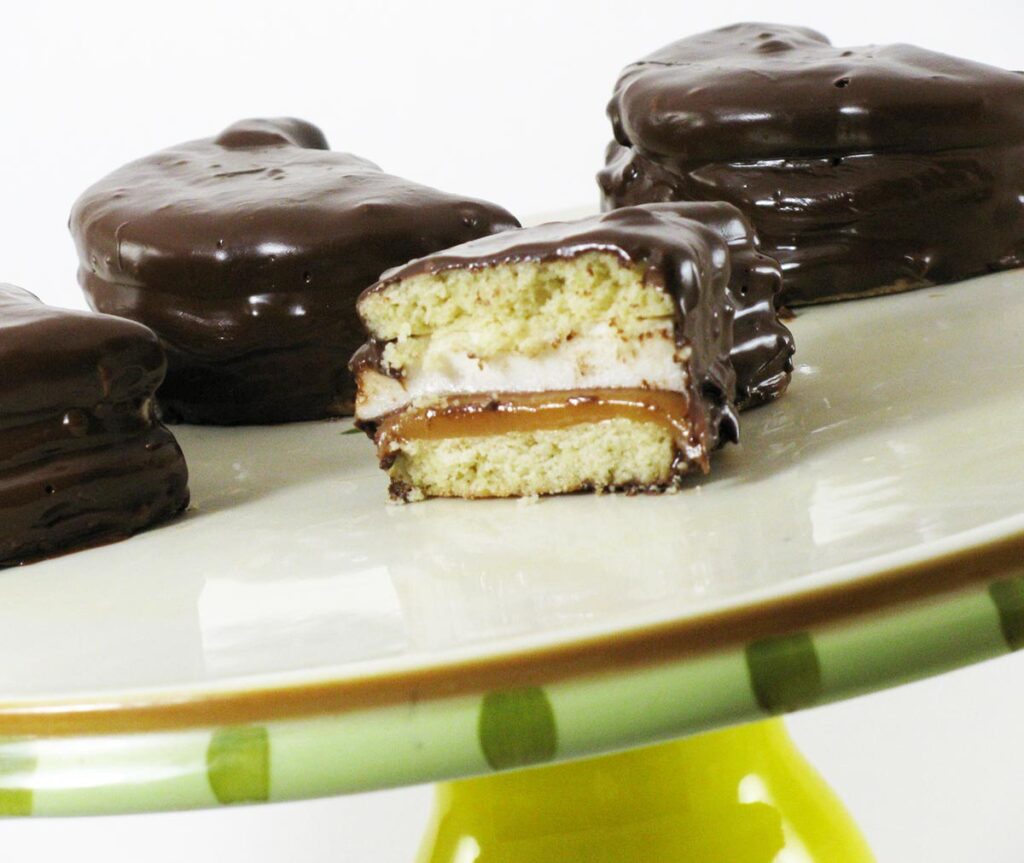 Moon Pie Ingredients
The cookies in moon pies are made from a shortbread or graham cookie then mashed together with marshmallows and covered in chocolate. The simple moon pie ingredients you need are flour, sugar, rising agents, a few spices, eggs and… butter of course!
Add some marshmallows, caramel and melted chocolate and you've got all the moon pie ingredients you need!
Traditional Moon Pie Recipe
A traditional moon pie recipe does not have caramel in it, but a lot has changed since the traditional version came out in 1917. Now there are all types of moon pie recipe flavors including banana, vanilla, strawberry and yes, caramel!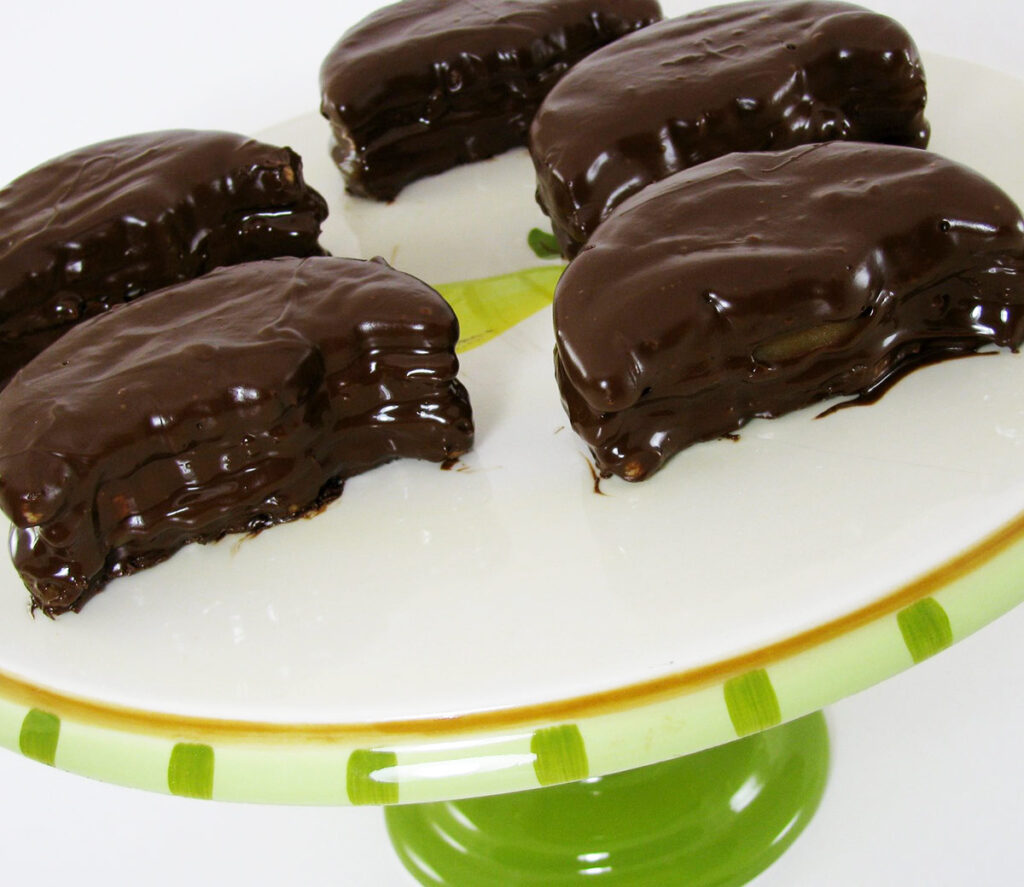 Why are Moon Pies are always shaped as a full moon? I decided to shake things up a bit and go for a crescent moon shape for this moon pie recipe.
Salted Caramel &
Marshmallow Moon Pie Recipe
Adding a bit of cinnamon spice lends extremely well to the combination of caramel and marshmallow! All put together this moon pie recipe makes a wonderful treat!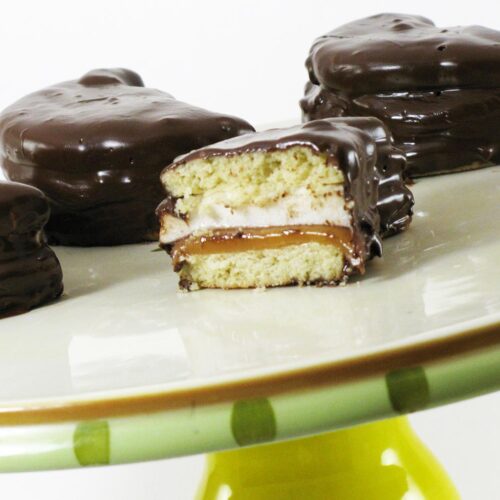 Salted Caramel & Marshmallow Moon Pie
Scratch made caramel + scratch made marshmallow + scratch made cookies make this moon pie out of this world! *Plus instructions for making these treats the easy way from store bought goods instead!
Ingredients
Cookie
3

cups

flour

½

cup

white sugar

½

teaspoon

salt

¾

teaspoon

baking powder

⅜

teaspoon

baking soda

½

teaspoon

ground cinnamon

16

tablespoons

butter

3

eggs

whisked
Marshmallow
1

tablespoon

powdered gelatin

2

tablespoons

cold water

¼

cup

water

¼

cup

light Karo syrup

¾

cup

sugar

2

egg whites

¼

teaspoon

vanilla
Caramel
2

cups

sugar

1

stick of butter

½

cup

of Karo syrup

1

can of evaporated milk

1 ¼

cup

of whipping cream

1

teaspoon

vanilla

1

teaspoon

salt

more or less to taste

2

cups

chopped and melted chocolate or chocolate chips
Instructions
Cookie
Blend all dry ingredients together until sifted

With mixer on low speed add butter one tablespoon at a time

Add eggs to mixture and mix to incorporate

Form dough into a ball and wrap in parchment paper

Refrigerate for a minimum of 1 hour

On a lightly floured surface, roll dough out to ¼ inch

Cut out with cookie cutters and place on an ungreased cookie sheet

Chill for an additional 15 minutes before baking

Bake for 7-10 minutes at Fahrenheit 375° until edges begin to brown

Transfer to cool on wire rack
Marshmallow
Sprinkle gelatin over water and set aside

Line a 9×13 high edge casserole dish with foil and grease with butter

Sprinkle foil with powdered sugar

In a small saucepan, bring water, karo syrup and sugar to a boil and cook to soft-ball stage (235°)

Remove from heat

Add gelatin mixture and let dissolve

In a separate bowl, beat egg whites until soft peaks

Add syrup mixture and vanilla and continue to beat egg whites until hard peaks

Pour mixture into to casserole dish and leave to cool and firm
Caramel
Bring sugar, karo syrup, salt and cream to a boil in a large saucepan

Over medium high heat, stir constantly and cook to hard ball stage or 264° on a candy thermometer

Add evaporated milk, butter and vanilla

The mixture will boil and sputter, so take care not to burn yourself

Cook to soft ball stage or 238° on a candy thermometer

Pour into a full sized greased cookie sheet and allow to cool completely
Finalè
Place one cookie shape face up

Using the same cookie cutter as the cookies, cut out the same shapes for both the caramel and the marshmallow

Place a layer of marshmallow over the bottom cookie

Place a layer of caramel over the marshmallow

Top with a second cookie over the caramel

Place cookies onto a wire rack set over a cookie sheet

Spoon melted chocolate over tops and sides of cookie allowing the chocolate to drip over the sides of each cookie

Tap the wire wrack to smooth the chocolate as needed

Let set until dry
Do You Want More Delicious Salted Caramel Baked Goods?
Check out this Cheesecake Factory Salted Caramel Cheesecake, this Salted Caramel Bundt Cake with a secret ingredient and double caramel topping Pineapple Upside Down Cake.
Make this Moon Pie Recipe the Easy Way
Make the cookies same as the recipe calls for, but swap out the scratch made marshmallows and caramel for store bought versions.
For the marshmallow: Buy a marshmallow sheet and cut out shapes as directed above. Follow the same instructions above for assembly.
For the caramel: Unwrap 24-36 oz of wrapped caramels and melt in a saucepan over low heat until melted. Pour into a full sized greased cookie sheet and allow to cool. Follow the same instructions above for assembly.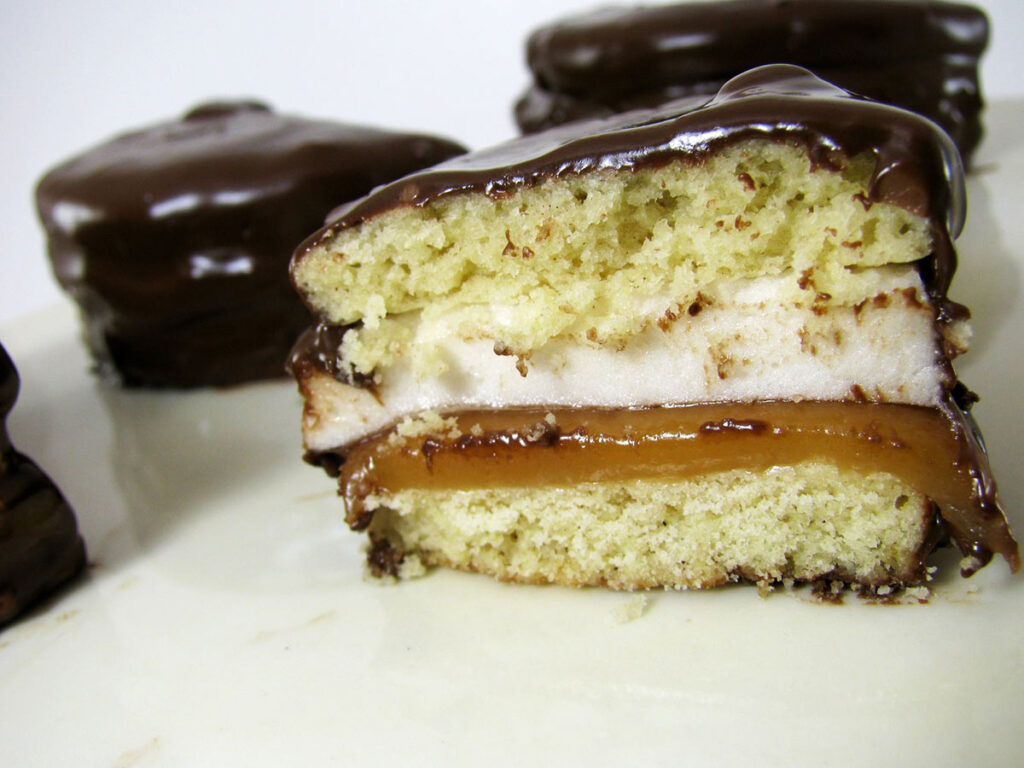 Even Easier Moon Pie Recipe
Swap out the cookie for graham crackers!
Where Can I Get a Marshmallow Sheet?
Amazon would be the easiest way, but every time I check the item is unavailable.
World Market claims to sell them locally, but I've never gone to one to scope it out.
Online, however, you can purchase them from World Market or direct from the source from Melville Candy.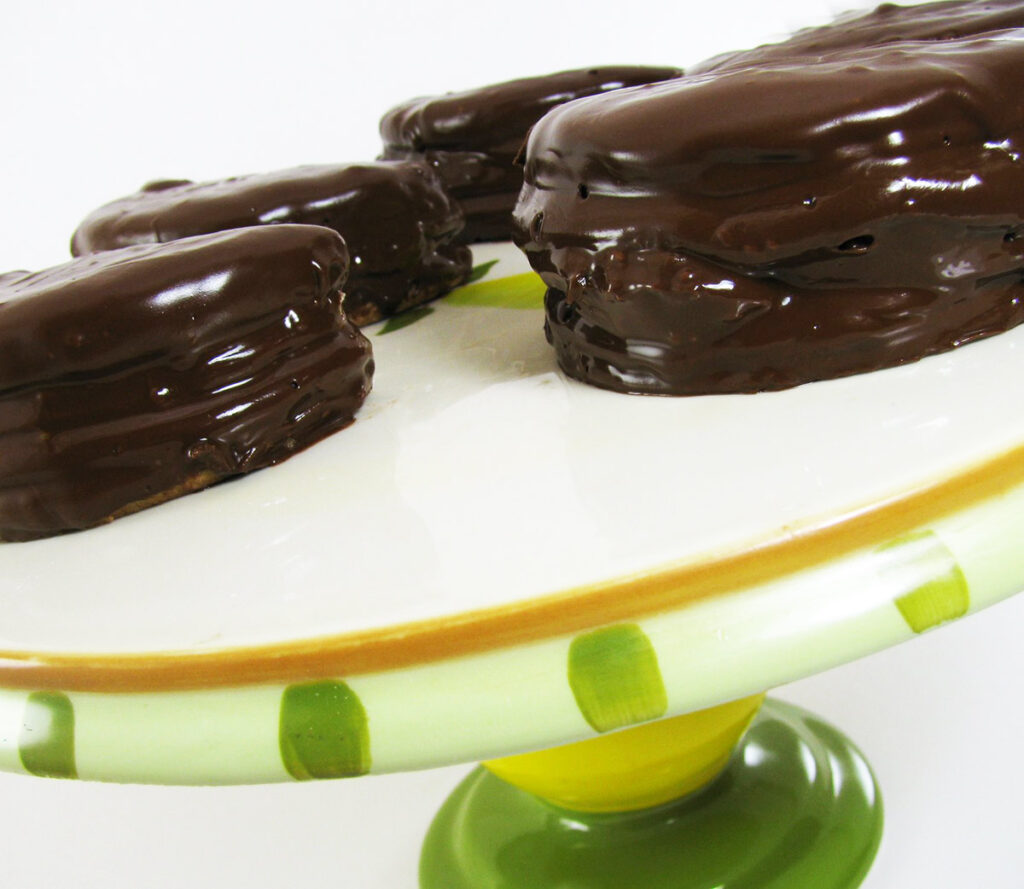 Where Can I Get Wrapped Caramels?
Every local grocery store will have a bag of wrapped Kraft caramels, or chewy Werther's caramels.
Ross, TJ Maxx, and Home Goods all typically sell multiple different types of gourmet wrapped caramels.
And Amazon of course!
Not to mention, your local bakery or candy store will likely sell them by the dozen.
What is the Difference Between a Moon Pie and a Whoopie Pie?
Moon pies are cookie sandwiches with marshmallow in the middle, whereas whoopie pies are cake sandwiches with marshmallow frosting in the middle.
Like this recipe? Check out more sweet treats baked at Fahrenheit 350°!