Do you have blackberry bushes in your backyard? Blackberry rose buns are perfect for a midsummer breakfast because they utilize natural resources and they can be made fresh from your own backyard!
Not to mention, they are so beautiful!
Blackberry Rose Buns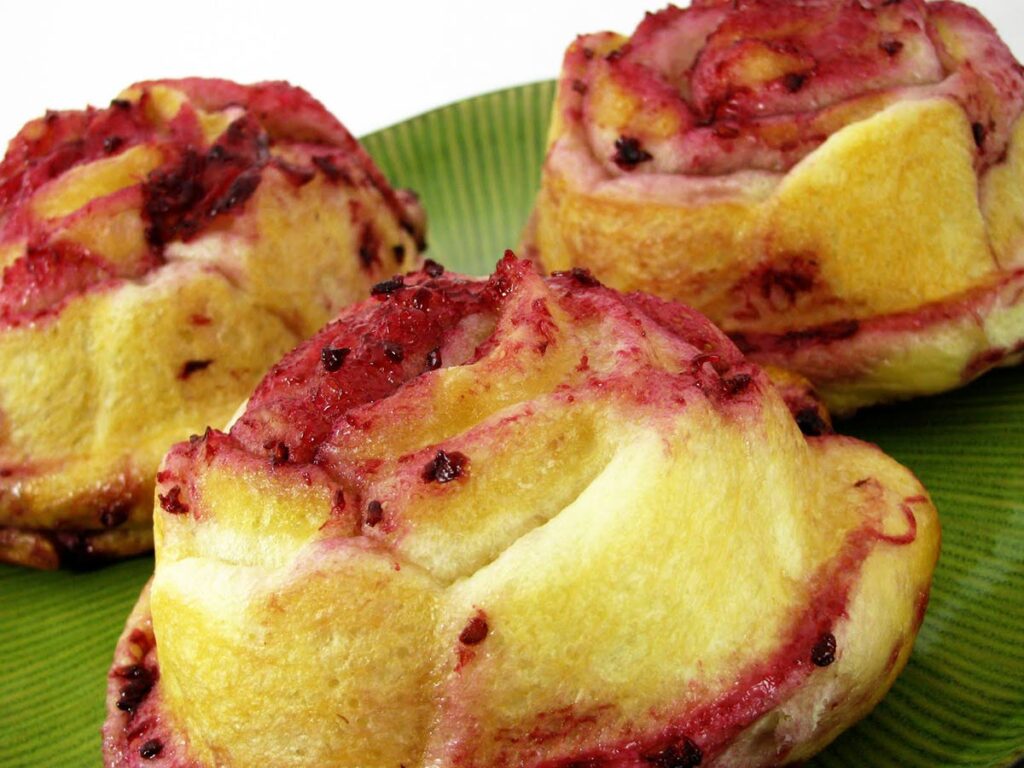 Rose Buns are the most beautiful recipe you'll ever make with fresh blackberries!
Where do Blackberries Grow Wild?
Blackberries grow abundantly in my home city of Portland, Oregon and I often found myself inundated with buckets full of plump, juicy, delicious blackberries. In fact, Oregon is the leading commercial blackberry producer, producing 42,600,000 pounds a year. Yes, that's 42 million!
Humid climates are essential for blackberry growth and can be found in multiple states throughout the US. Not just in Oregon, but even south in North Carolina, and in the midwest in Missouri!
My blackberry rose buns are also a perfect tribute to Portland, the city of roses.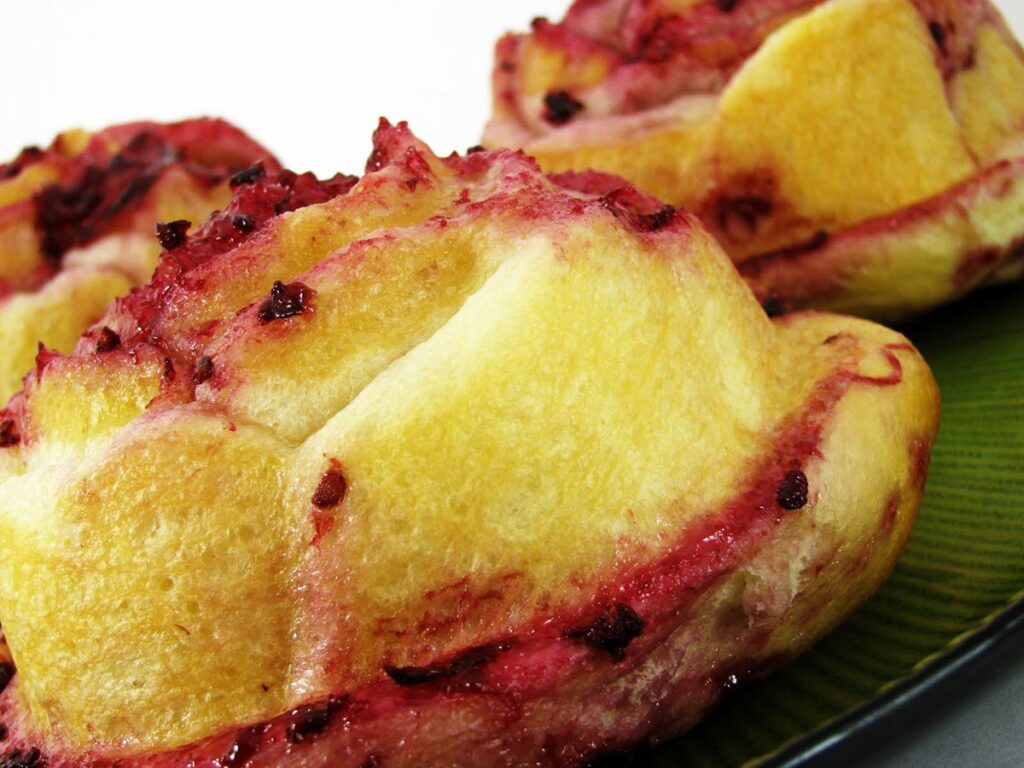 What if I Don't Have Blackberries in my Backyard?
Of course you can make these from fresh blackberries store bought as well!
What Else Are Blackberry Rose Buns Perfect for?
Summer Picnics
Thanksgiving
Christmas
Easter
Breakfast
Lunch
Dinner
Brunch
Midnight Snack
Dinner Rolls or Dessert
I think you get it. These blackberry rose buns are a perfect food. Just look at them, they are gorgeous!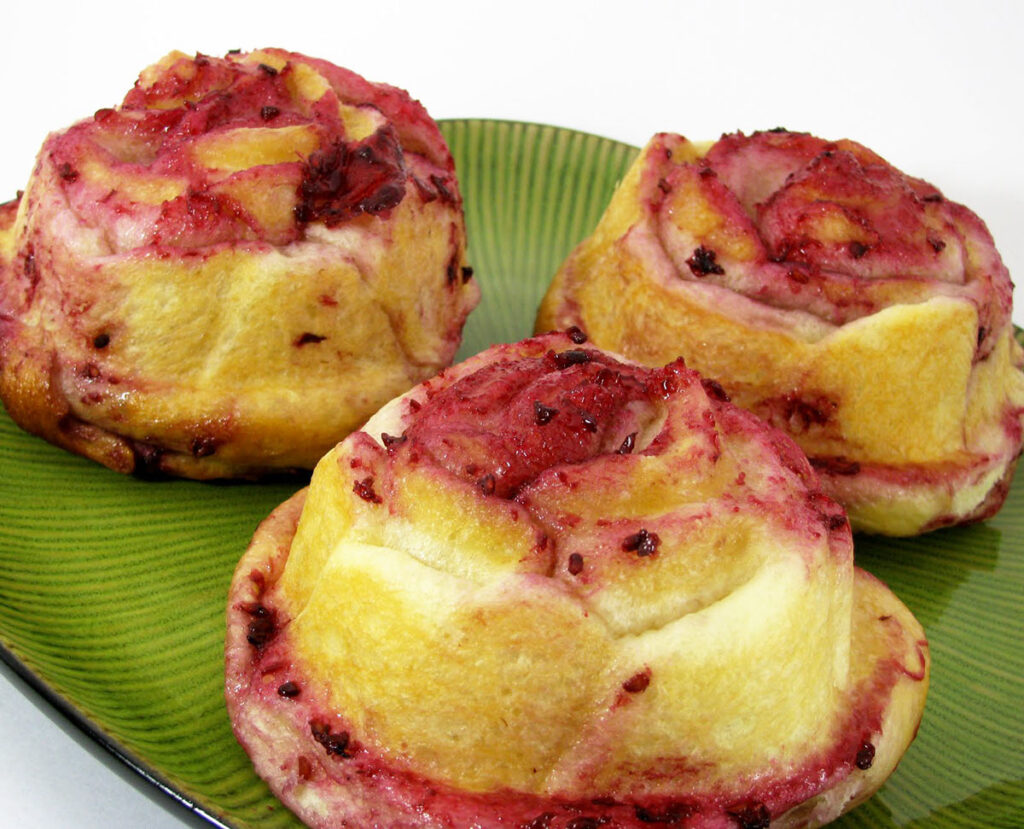 How to Make Blackberry Rose Buns
You make this recipe the same as you would cinnamon rolls!
You just knead to make the dough, let it rise, roll it out and cover it with the blackberry filling, and let it rise again inside the rose shaped pans!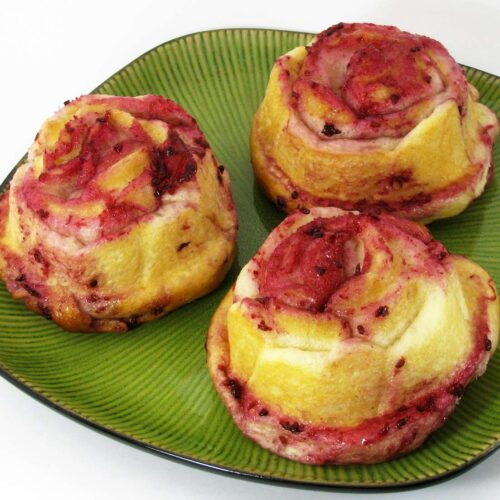 Fresh Blackberry Rose Buns
Rose Buns are the most beautiful recipe you'll ever make with fresh blackberries!
Ingredients
Blackberry Rose Buns
½

cup

lukewarm water

4

teaspoons

dry active yeast

1

cup

hot water

1

cup

ice

1

tablespoon

salt

4

eggs

1

cup

sugar

1

cup

butter

6-7

cups

flour
Blackberry Rose Bun Filling
1

cube butter

room temperature

1

cup

sugar

8

oz

whole blackberries
Instructions
Blackberry Rose Buns
Proof the yeast in water

Set aside until bubbly

Heat 1 cup of hot water with butter, sugar and salt

When butter is melted, remove from heat

Add 1 cup of ice

When mixture has reached room temperature add to a stand mixer fitted with a dough hook

Add 2 cups of flour and turn on low to knead

Add yeast mixture and 1 cup of flour

Add eggs and knead until well combined

Add flour 1 cup at a time until dough is combined and pulls away from the sides of the bowl, but does not form into a ball

You may not need all the flour

Transfer to a large well buttered bowl and leave to rise in a warm room covered (I use my garage) until doubled

Grease your pans with either spray oil, or using a pastry brush paint the cavity of your rose pan with butter

Deflate dough and separate into thirds

Flatten dough into a large rectangle and spread blackberry rose bun filling mixture on top of the dough

Roll out from the top down and seal the ends, just like you would with cinnamon rolls

Cut 6 equal sized pieces and depress into rose pan making sure to fill in the creases

Leave to rise for 2 hours

Bake at Fahrenheit 350° for 20-25 minutes until just golden on the edges

Immediately remove from pan, invert onto serving dish and serve warm
Blackberry Rose Bun Filling
Mix together until berries are incorporated, and sugar dissolved
Where Can I Find a Rose Bun Shaped Pan?
Amazon, of course!
Do I Have to Have a Rose Pan to Make These Rolls?
You can also make these in muffin tins, or in a casserole dish.
Muffin Tin
If making Blackberry Rose Buns in a muffin tin, separate dough into thirds and cut 12 equal sized pieces for each section of dough.
Bake at Fahrenheit 350° for 10-12 minutes. Recipe will make 36.
Casserole Dish
If making in a casserole dish, complete the above steps, but place 12 equal sized pieces in a casserole dish 3 across by 4 down. Make sure to leave space between for the rose buns to rise.
Bake at Fahrenheit 350° for approximately 20 minutes. Recipe will make 36.
Can I Substitute Other Filling Mixtures?
This recipe originally comes from my Bammieroo. Her favorite filling was an orange marmalade filling.
I've also made these with a raspberry filling, a cinnamon filling, and a chocolate filling.
The bread dough in this recipe is unparalleled. It's delicious with any type of filling, or plain for regular sweet dinner rolls!
Things You Need to Make Rose Buns on Amazon
I am an Amazon affiliate and Amazon sometimes pays me an incredibly small stipend from the sale of these items, and it does not cost you anything to click on them!
In addition to the rose shaped pans above, you need a nice French rolling pin. These are so versatile for any recipe!
That's really it, it's a fairly simple recipe.
If you prefer silicone over metal, Amazon offers these rose bun pans also.
Make Rose Buns
If you make Blackberry Rose Buns, tag @Fahrenheit350sweets on Instagram so I can see it! And I'd love it if you left a review and a comment below!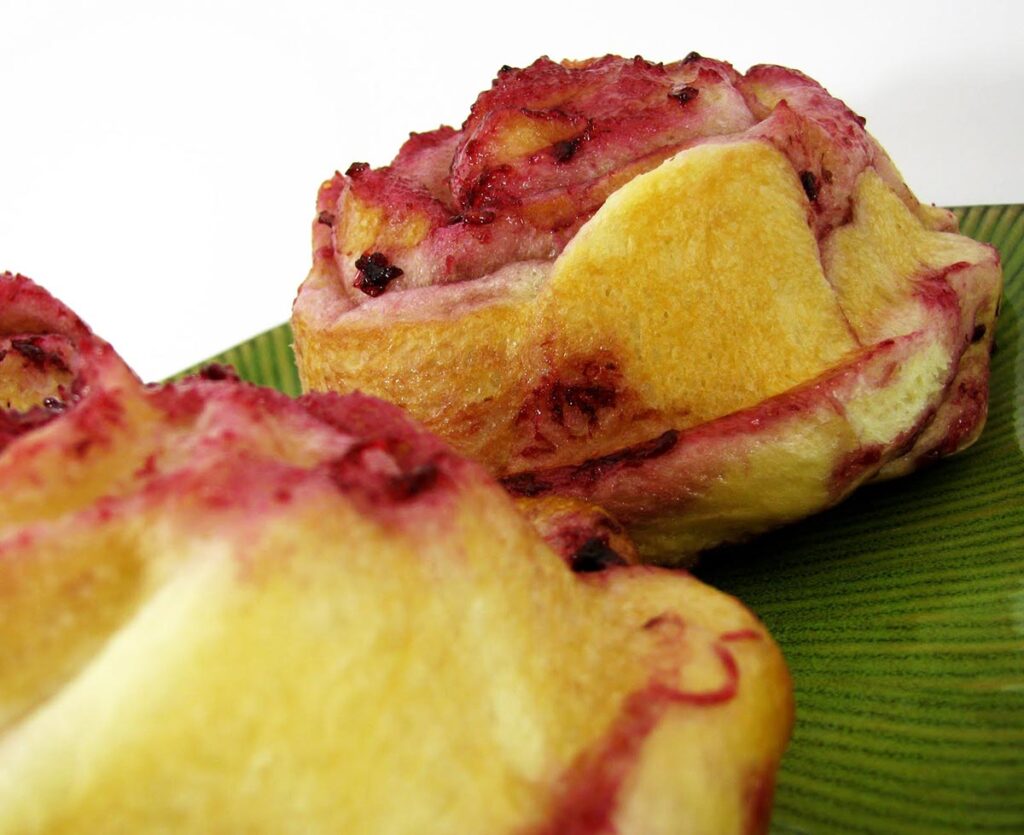 More Yummy Blackberry Recipes to Bake at Fahrenheit 350°!