Is this not the most gorgeous color you've ever seen in your entire life? This marshmallow ice cream is made complete with fresh blackberries and a drizzle of orange syrup!
small break
When Gabriel and I were in our 20's we lived at this apartment complex that backed up to this resplendent briar patch. Every year, the thorny green stems would produce the most incredible harvest of rich blackberries.
They were completely wild and unkept, and as such they grew with reckless abandon. We would head out to this little patch of heaven every day as we claimed and picked more than our fair share of berries until we were bleeding.
It pained me to leave so many unplucked.
We were up to our knees in these luscious blackberries. We made pies and crepes and muffins and sweets rolls and jams and this perfectly purple blackberry marshmallow ice cream.
Perfectly Purple Marshberry Ice Cream
This ice cream is perfection with marshmallows and blackberries. The marshmallows add a creamy base, so all you need to make this is a blender, a sauce pan, and an ice cream maker.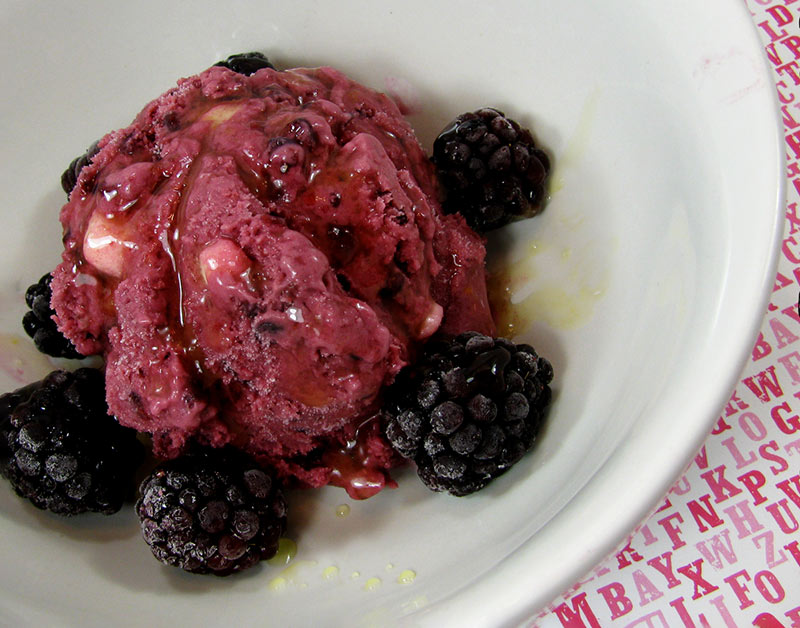 We've since moved from Oregon, but no matter where we live we make sure to spend all summer long finding a berry patch to satiate our craving for fresh blackberries picked out of the wild earth.
And then spend every moment thereafter enjoying every sweet and tender orb bursting with flavor.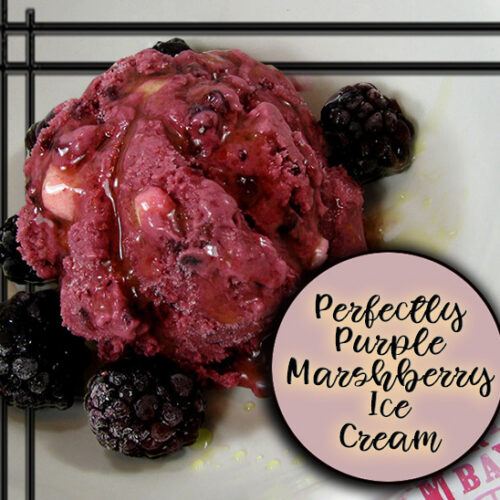 Perfectly Purple Marshberry Ice Cream
Marshmallow Ice Cream base with lots of heavy cream and succulent fresh blackberries!
Ingredients
½

pint

blackberries

½

cup

sugar

1

cup

brown sugar

2

eggs

½

cup

mini marshmallows

2 ¼

cups

heavy cream

¼

cup

water

½

pint

blackberries

½

cup

mini marshmallows

¼

cup

fresh squeezed juice from a whole orange

optional

¾

cup

powdered sugar

optional
Instructions
Ice Cream Base
Add all ingredients except ½ pint of blackberries & ½ cup mini marshmallows into a blender and purée until smooth

Transfer to a sauce pan and bring to a boil over medium heat

Cook for 5 minutes then remove from heat

Let cool for 10 minutes

Stir in remaining ½ pint of blackberries & ½ cup mini marshmallows and stir to melt slightly

Churn according to maker's manufacturers instructions.

For an extra burst of goodness, pour orange syrup over the scoop(s)!
Orange Syrup (Optional)
In a small bowl whisk ¼ cup of fresh squeezed orange juice and ¾ cup of powdered sugar until dissolved

Pour over ice cream scoops
Why is my Ice Cream Hard?
Most homemade ice cream has a very high water content due to the nature of its ingredients.
David Lebovitz swears by using a few tablespoons of vodka in every ice cream recipe. Just enough to keep it from completely freezing and hardening. I haven't tried it yet, but I'm definitely going to!
Can I use a Different Type of Berry?
Of course! Raspberry would be delicious. However, we actually love a different ice cream recipe for raspberries mixed with mineolas. Once we can get our hands on some fresh fruit, we'll be sharing this amazing recipe with you!
If you are thinking strawberry, we recommend our strawberry mint ice cream!
Is Brown Sugar in this Recipe a Typo?
It's interesting isn't it?
We love the addition of brown sugar. It melts into the cream and offers such a deep richness to this marshmallow ice cream. It's buttery and complements the other ingredients perfectly!
Let us know what you think of it!
Why Orange Syrup?
I love orange on everything, so while other people might think it's a bit extra – I can't get enough of it. It's delicious!
Plus, orange and berries are such a great pairing!
Make Marshberry Ice Cream
If you make this Blackberry Marshmallow Ice Cream, tag @Fahrenheit350sweets on Instagram so I can see it! And I'd love it if you left a review and a comment below! 
Like this recipe? Check out more of these delicious blackberry inspired recipes!