This amazing French Crepe Recipe will produce the most delicate, buttery soft, delicious crepes you can imagine. With this recipe can create any type of crepe that you dream of. And it's so easy. You can stir them, whisk them, or mix them up in your blender.
You can fill these crepes or stuff them, you can roll them or fold them; enjoy them sweet or savory.
You can add butter, cream or cheese!
Cheese
Cheese! We are talking French crepes after all. Just take this French Crepe Recipe plus any type of cheese you can find and you'll automatically have mouth watering results.
French Crepe Recipe
I've tried several French Crêpe recipes, but I always come back to this favorite passed down through my family due to its simplicity.
It has a simple core recipe of eggs, milk and flour. That is literally all you need to make a delicious crêpe! Then you can add whatever filling, whether sweet or savory, filling or light, healthy or indulgent.
The other great thing about this recipe is that it's an excellent base. Have you ever heard of orange crepes, or chocolate crepes? With this French crepe recipe you can make countless variations!
The Perfect Food
Crêpes are the perfect food. They can be a simple breakfast, a hearty brunch, or a savory dinner. They are beautiful and versatile, accommodating and gratifying, and lest we mention, culturally significant.
They are loved the world over, and are celebrated nationally in France on February 2: Jour des Crêpes!
In my house, we celebrate them as often as possible. Which is why I have so many recipes to share with you today.
Make this one simple French crepe recipe, and then offer a buffet of delicious ingredients to fill your crepes with for the most amazing brunch! 
14 Different Ways to Make This Amazing French Crepe Recipe
How to Make French Crepes [Video]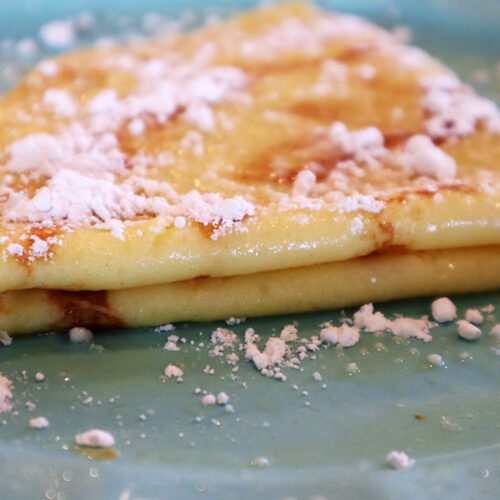 French Crepes
This amazing French Crepe Recipe will produce the most delicate, buttery soft, delicious crepes you can imagine.
Ingredients
3

eggs

1 ¼

cup

milk

1

teaspoon

sugar

3/4

cup

flour

Pinch

of salt
Instructions
Beat with hand mixer or mix in a blender until smooth

Allow batter to sit for 5 to 10 minutes

Melt 1/2 tablespoon of butter in an 8″ nonstick pan before each crepe

Swirl to coat

Pour a thin layer of batter to fill the center

Swirl the batter around the pan until it fills the edges

Allow to cook until the crepe will slide out of the pan on its own

Slide the crepe onto a rubber scraper and flip over to cook for another minute

Plate and serve
1. Raspberry Orange Crêpes
You can make any fruit flavored crepe batter by adding a little bit of fruit juice to the batter!
Make orange crepes by adding juice from half an orange when you add the milk
Fill crepes with raspberry purée, and freshly whipped orange cream to serve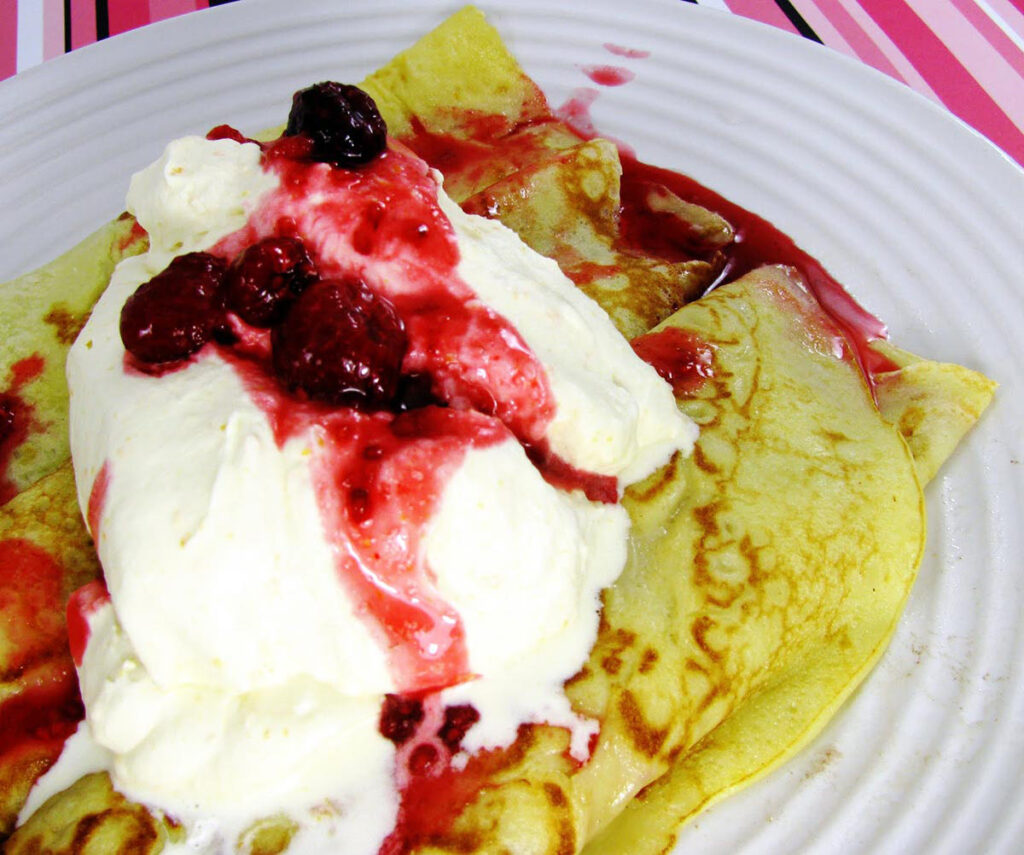 2. Chocolate Pear Crêpes
Chocolate Crepes can be paired with any fruit! Pears are one of my personal favorites!
You can make chocolate crepes by either:
Adding a tablespoon of chocolate syrup to the batter
Adding a tablespoon of cocoa powder to the batter
Thinly slice pears and toss in a teaspoon of sugar to bring out the juice
Fill chocolate crepes with sliced pears and roll crepe up tight
Top with freshly whipped whip cream to serve!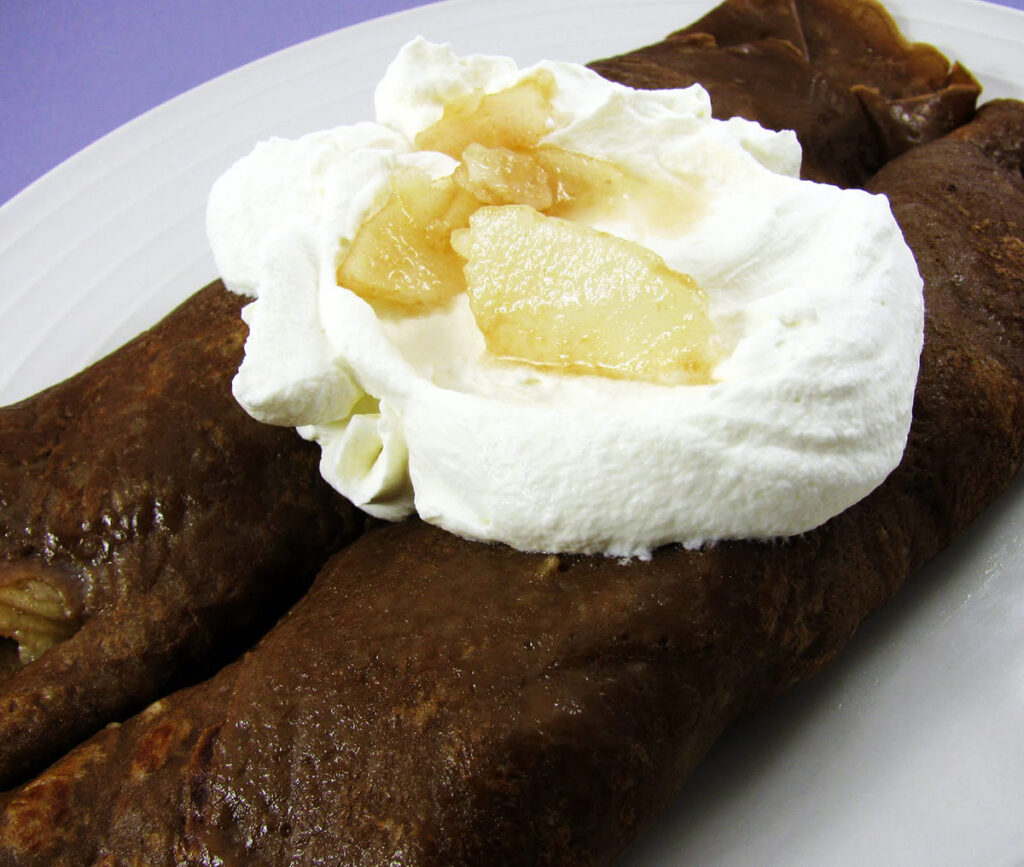 3. Apple Bacon Brie Crepes
This is my personal favorite type of savory breakfast crepe! It's so simple and yet the combination of flavors is so perfect!
Immediately out of the pan, while still hot, layer crepe with several slices of brie cheese
Add thin slices of apples, peel on
Cover with bacon strips
Roll crepe up tight to serve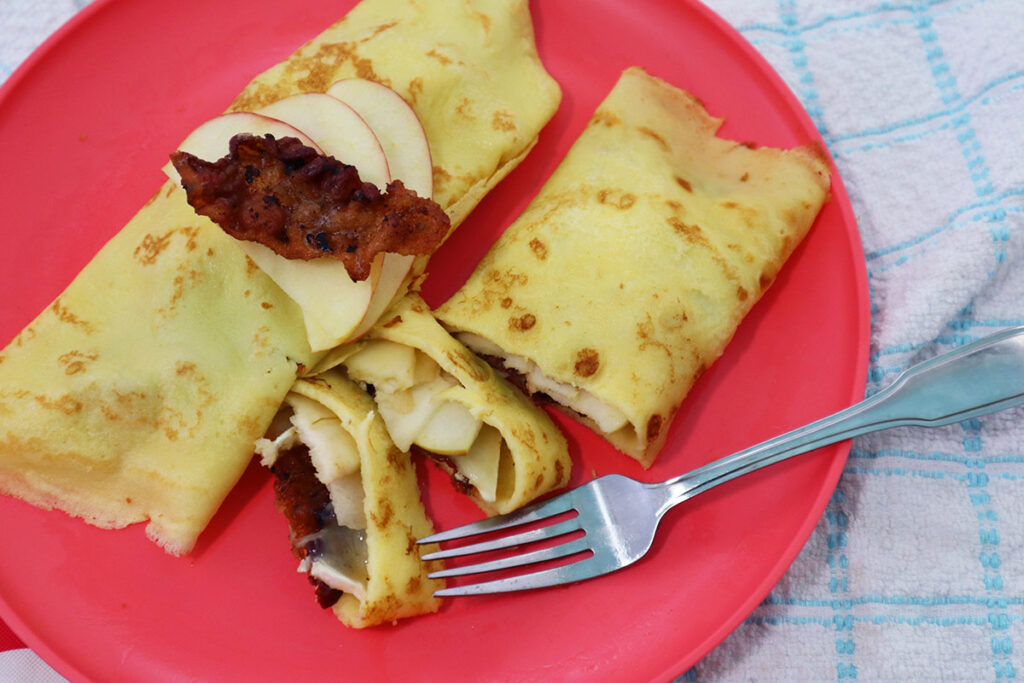 4. Banana Nutella Crêpes
This is the classic French Crepe Recipe filling. No fuss, no advance preparation, no pre-planning. Just open the cupboard and indulge.
Slather an open faced crepe with Nutella
Cover with sliced bananas
Complete crepe fold to serve
5. Ricotta Almond Crepes
A simplified version of Cheese Blintzes where you whip up ricotta cheese with whipped cream!
Mix ⅓ cup of whipped heavy cream
Add ½ cup of ricotta cheese
Add 2 teaspoons of sugar
Whip together
Spoon into crepe and cover with crushed or sliced almonds to serve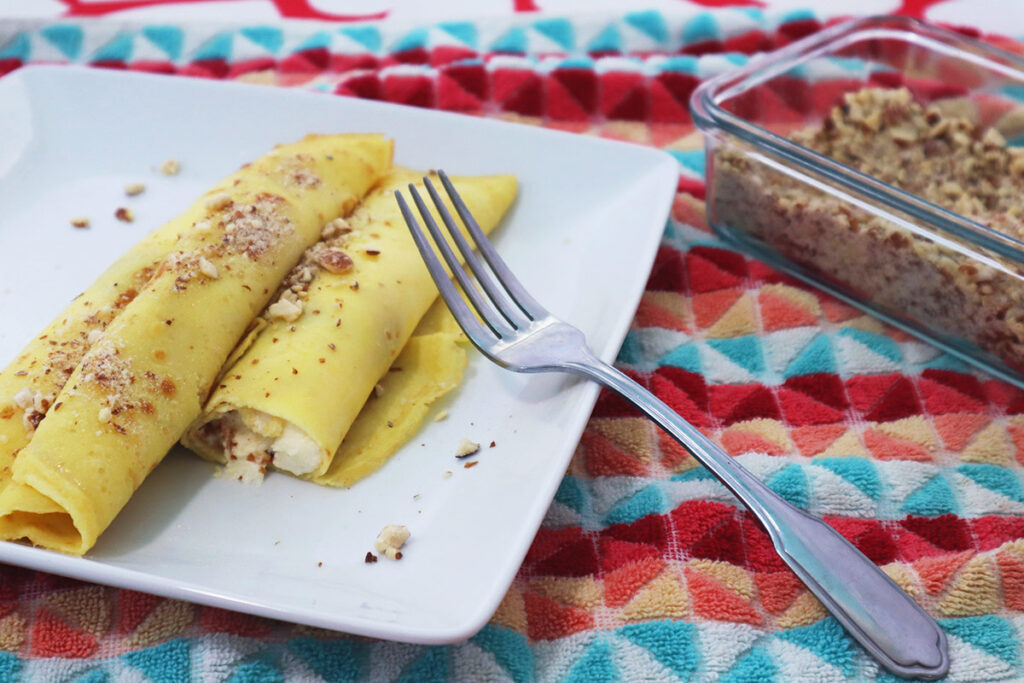 6. Salmon Asparagus Crêpes
Crepes for dinner are always a great idea. One part carbohydrate + one part protein + one part vegetable.
Make this extra French by making a salmon tartare instead of grilled salmon.
Violà!
Prepare crepes as directed, cooking one by one
Stack on a plate and set aside
In another small sauce pan, prepare dill sauce

1 tablespoon minced onions
¼ cup mascarpone cheese
¼ cup shredded mozzarella cheese
¼ cup brine from dill pickles
Caramelize onions in a small saucepan over low heat
Add remaining ingredients and whisk together until combined and cheese is melted
Leave on low heat to keep warm

Grill an 8 oz. salmon steak in a tablespoon of butter
Steam asparagus
Fill crepes with shredded salmon, and 2-3 stalks of asparagus
Roll crepes to close, and cover with dill sauce to serve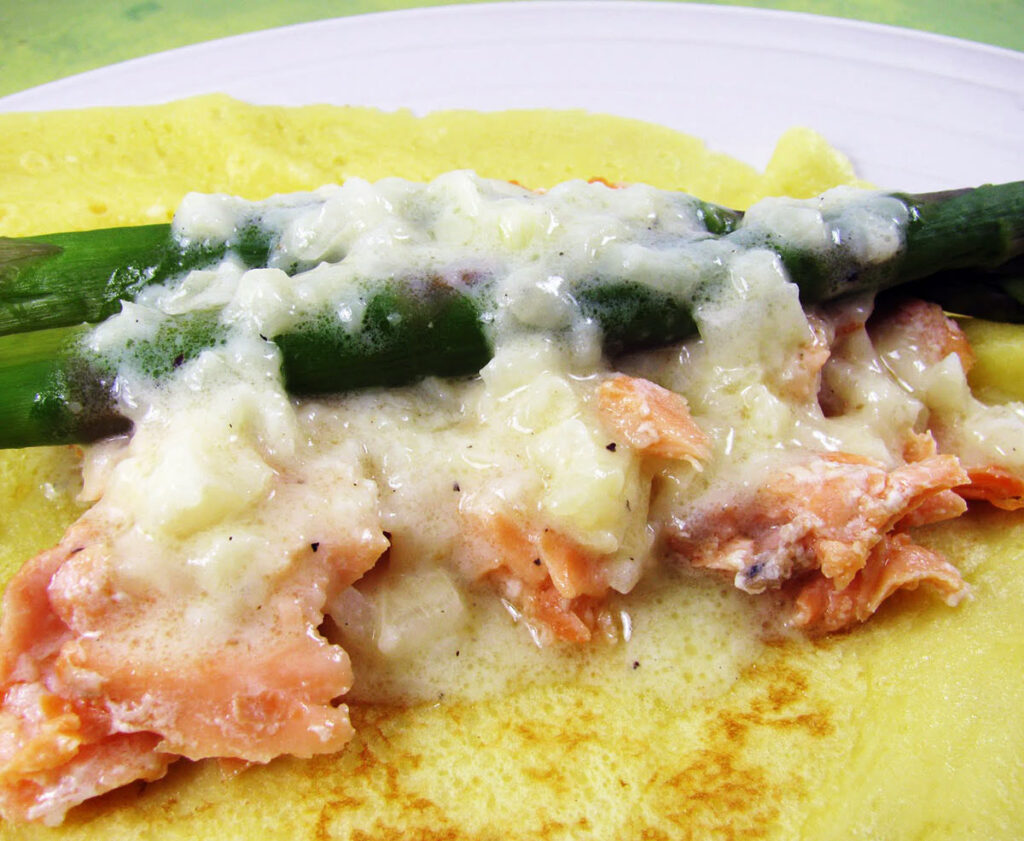 You could substitute any fish in this recipe.
7. Peanut Butter and Jam Crêpes
Why have a sandwich when you could have a crepewich instead?
Fill crepes with a spoonful of peanut butter and lather on like a piece of bread
Top with a second layer of fruit preserves, jelly or jam
Complete crepe fold to serve
My kids love to add bacon to their crepe sandwiches!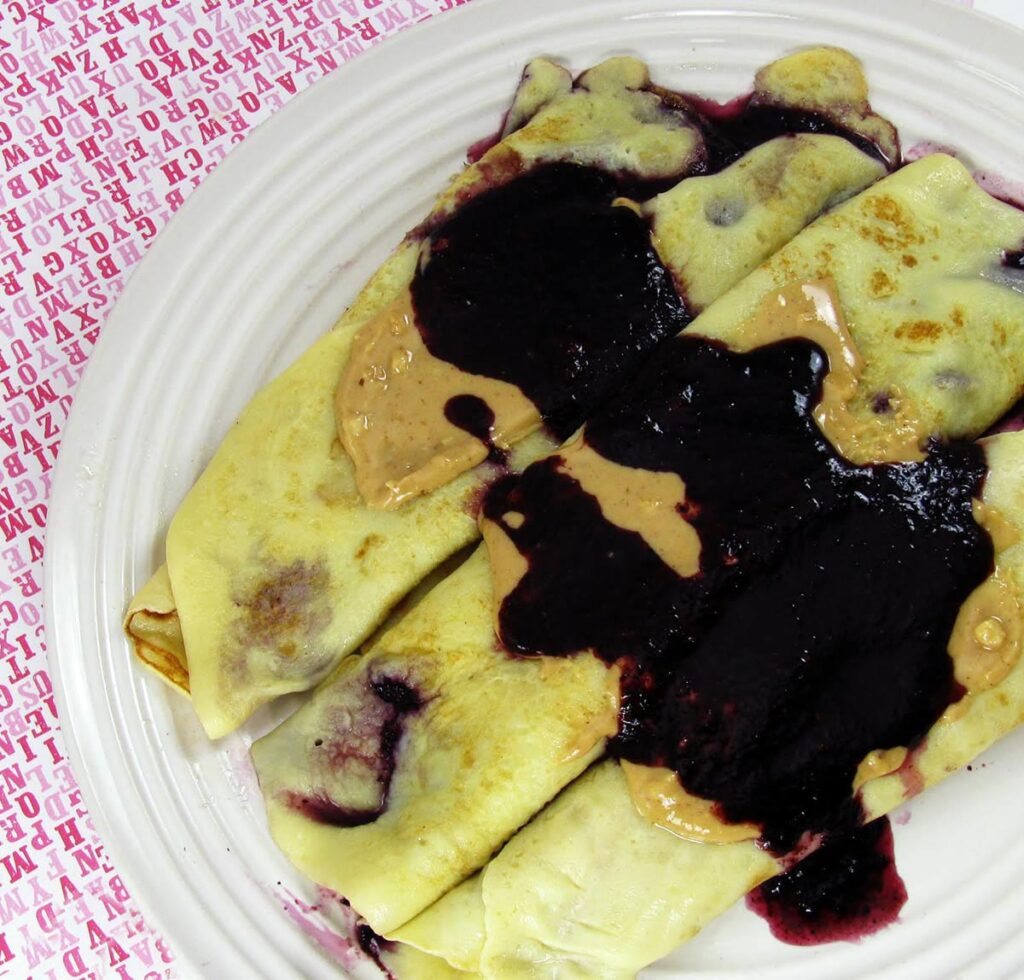 8. Avocado Corn Crêpes with Onion Reduction Sauce
Vegetarian dinner crepes everyone will love!
Prepare onion reduction sauce

In a blender add ¼ cup of caramelized diced sweet onion
1 tablespoon sour cream
1 teaspoon lemon juice
1 tablespoon of heavy whipping cream
Puree until smooth
Add salt and pepper to taste
Transfer to a saucepan over low heat and cook until mixture comes to a boil
Set Aside

Fill crepes with a spoonful of cubed avocado
Add a spoonful of whole corn kernels
Cover with fresh sprouts
Top with shredded mozzarella cheese
Fold over both ends of crepe and top with onion reduction sauce to serve
9. Lemon Powdered Sugar Crepes
This simple French Crepe Recipe filling is even easier than Nutella and Bananas!
Sprinkle open faced crepe with powdered sugar
Squeeze juice from half a lemon over crepe
Complete crepe fold to serve
10. Blackberry Lemon Crêpes
I could find a reason to put Lemon Curd on anything and everything!
Fill crêpes with a large spoonful of blackberry purée
Add one spoonful of lemon curd
Complete crepe fold to serve
Top with whipped cream to serve
11. Strawberries & Cream Crepes
The more cream the better!
Fill crêpe with sliced, quartered or diced fresh strawberries marinated in a bit of sugar
Fold over both ends of crepe and top with a generous dollop of whipped cream to serve
12. Peaches & Cream Crepes
You can't go wrong with fresh peaches tossed in sugar!
Fill crêpe with sliced, quartered or diced fresh peaches marinated in a bit of sugar
Fold over both ends of crepe and top with a generous dollop of whipped cream to serve
13. Bell Pepper Brie Crêpes with Garlic Hollandaise Sauce
Another vegetarian French Crepe recipe that makes a hearty brunch. A Garlic Hollandaise is the perfect answer to pull out the flavor of the vegetables.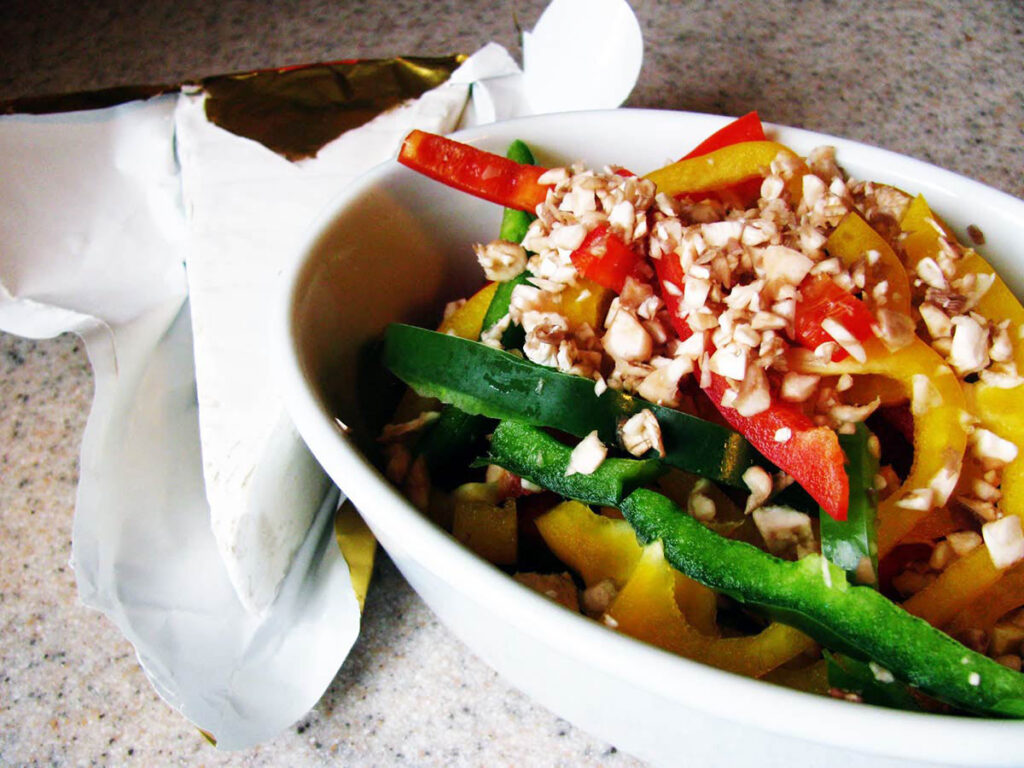 Sauté 3-4 diced mushrooms in butter
Add 1 cup of thinly sliced bell peppers
Cook until soft
Set aside
Prepare Garlic Hollandaise

Whisk 2 egg yolks
1 tablespoon water
Pinch of salt
Cook egg mixture over a double boiler
Stir constantly until it coats the back of a spoon
Remove from heat
Add 1 finely minced clove of garlic
Add 4 tablespoons butter
Whisk egg mixture until butter has melted
Cover bowl with foil to keep warm

Cook crepes one by one
Immediately out of the pan, while still hot, layer crepe with several slices of brie cheese
Add a spoonful sautéed vegetables
Roll up crepe and top with garlic hollandaise to serve
14. Cheese Omelet Crepes
Can you really call it a French Crepe recipe if you don't fill it with cheese?
Fill crepes with scrambled eggs
Add your favorite cheese
Plus potatoes if you're extra hungry
Complete crepe fold to serve
What is French Crepe Batter Made of?
There are dozens are French Crepe Recipes, but the only thing you really need is eggs, milk and flour. They are nothing more than a perfect simple thin pancake canvas that can be painted on in whatever way you desire!
How Do I Make A Fruit Purée?
It's so easy!
All you have to do is mash ½ cup of fruit plus 2 tablespoons sugar. Stir to blend.
How Do I Make Flavored Whipped Cream?
Add zest and fruit juice from fresh fruit during whipping.
Oranges and lemons are the easiest fruit to flavored whipped cream with, but if you use some of the juice you create by marinating strawberries, raspberries, pears, or peaches, you can create other flavors as well.
You could also use a 1/2 teaspoon of flavored extract or liquor as well, but I'm more of a purist.
Do I Need a Special Crepe Pan?
I've never used a special crepe pan, and frankly, I like my crepes more buttery than paper thin.
I also like them big. I use a 10″ round nonstick sautee pan, but you could use any size you want. You just want to make sure that the pan is nonstick so your crepe will slide right off!
My favorite pan:
Do I Have to Flip My Crepe?
When I hear flip, I think throw wildly in the air and catch. If that's what you mean, than definitely not. It sure would be cool to master though!
But if instead you mean simply cook both sides, then yes. Check out my video above for the easiest way to cook and flip crepes.
More Fahrenheit 350° Breakfast Recipes You Can't Live Without