Bubblegum Macarons
The first successful macarons I ever made were these Bubblegum Macarons. I think I went through two giant sized bags of Almond Flour producing nothing but flat footed macarons before I pulled these cute little pink Bubblegum Macarons cookies with perfect feet out of the oven.
I mean I did make a lot of really yummy soft cookies, but they were more like whoopie pies than proper French macarons.
After multiple failed attempts, a Daring Bakers challenge and a lot of wasted almond flour; back when I called them macaroons, and not their proper name, macarons, I finally reached out to Barbara of Barbara Bakes, and solicited her help to coach me on what I was doing wrong.
She graciously took me under her wing to teach me step by step how to make the perfect Bubblegum Macarons!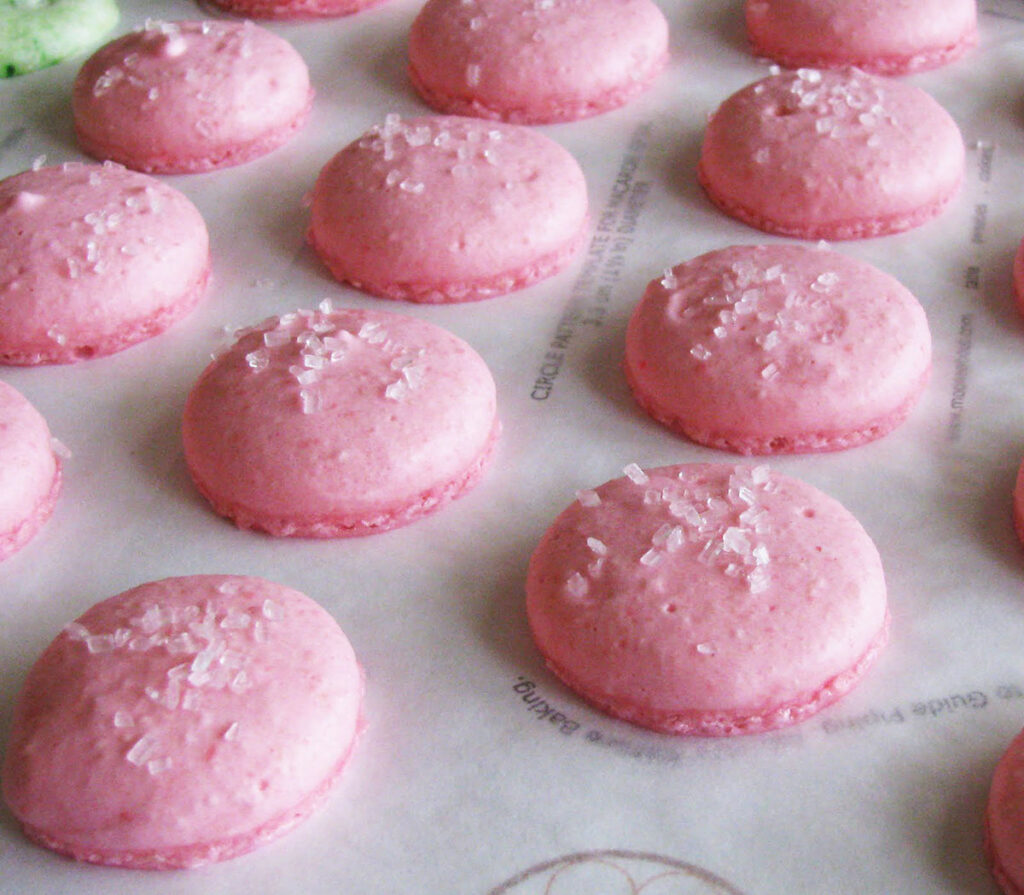 Bubblegum Macarons
Originally Posted 2010 | Updated 2021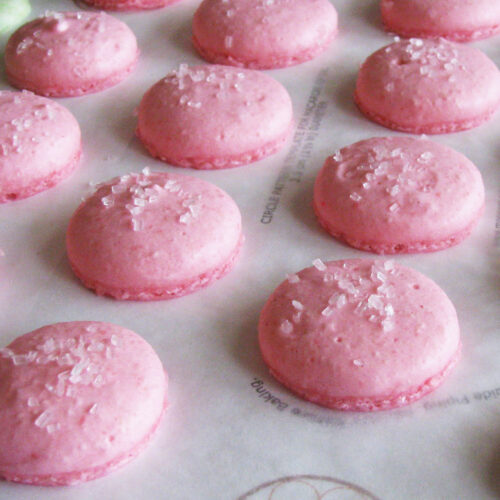 Bubblegum Macarons
Sugary sweet bubblegum macarons are adorable in this pretty shade of pink and taste as good as they look! Perfect for baby showers, fairy, Barbie or princess parties, or just as a yummy treat!
Ingredients
110

g

powdered sugar

60

g

finely ground almond flour

1

tablespoon

powdered flavoring

60

g

egg whites

approximately 2 eggs

40

g

granulated sugar

Food coloring
Instructions
Sift together powdered sugar and almond flour

Remove 1 tablespoon flour/sugar and substitute flavoring

If you are using powdered food coloring – add it now

Set aside

In a separate clean bowl, whip egg whites to soft peaks

If you are using liquid food coloring – add it now

Add granulated sugar and whip to stiff peaks

Fold half of the flour mixture into the into the egg whites until combined

Stir just until whites are incorporated, but fully incorporated is key

Scrap around the bowl with one fold, and underneath the batter on the next fold

Repeat with the remaining half of the flour/sugar mixture

Fold until mixture falls back onto itself and disappears after 5 seconds

The batter should be smooth, but quite thick

Spoon batter into piping bag, minus the tip

Pipe even circles onto baking sheet lined with parchment paper

Tap the baking sheet onto the counter to smooth out the tops of the macarons

Let rest at room temperature for at least 1 hour

Bake at Fahrenheit 310° for 11-13 minutes

Remove from oven and allow to cool completely before removing from pan

Top with filling and match with same size macaron
Are Macarons Really That Hard?
Yes, macarons are hard. They require technique, precision, and exactness. But honestly, once you know what you are doing, you can make these too!
And if you don't have a Barbara in your life, check out YouTube. There are some great tutorials on there! Maybe I'll make one myself now that I've mastered this delectable little hamburger cookie!
Indeed! Check out my newly minted Fahrenheit 350° YouTube channel for How To Make Delicious Desserts in under 1 minute!
Can You Substitute Almond Flour in Macarons?
Purists will tell you absolutely not, but I defied them all and made these S'more Macarons which turned out perfectly and are super tasty!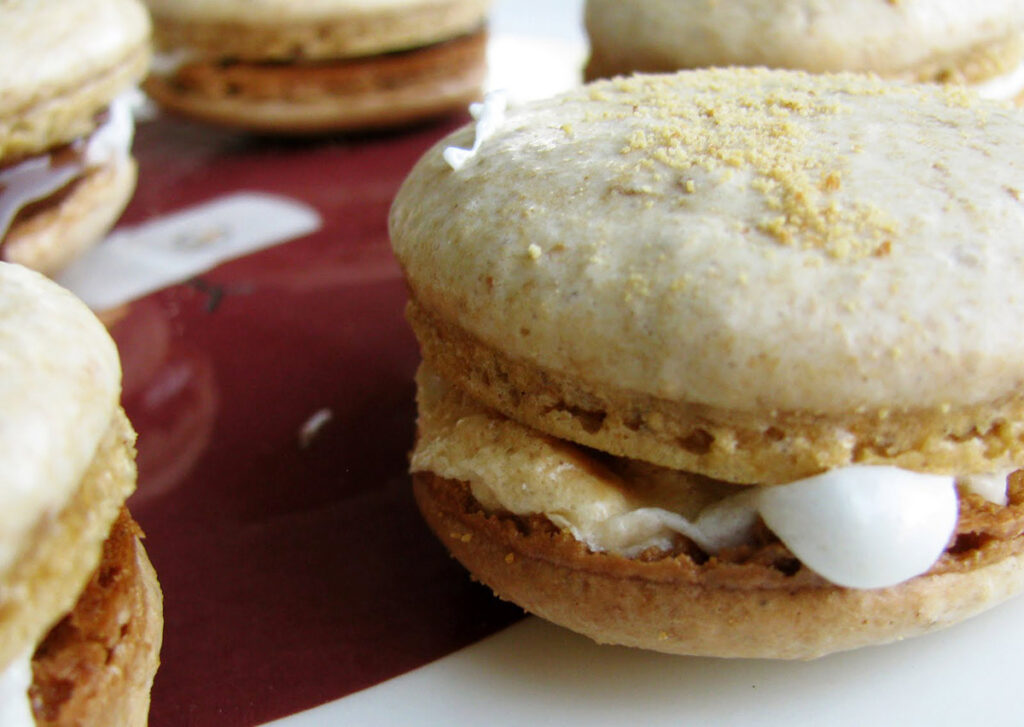 So the correct answer is yes!
How to Add Food Coloring
If you are using powdered food coloring, add it to the flour mixture.
If using liquid food coloring, add to egg whites once whipped to soft peaks.
What is Bubblegum Powdered Sugar?
Every year, during the after Christmas holiday sales at the grocery store, I can't resist the magnetic lure of discounted candy canes in strawberry, raspberry, tangerine and bubblegum flavors!
Pulverized in your blender, they make deliciously flavored powdered sugar! You can add them to macarons, stained glass cookies, toppings on cupcakes, and so much more!
But if you don't obsessively shop after Christmas, there is also such a thing as Bubblegum flavoring!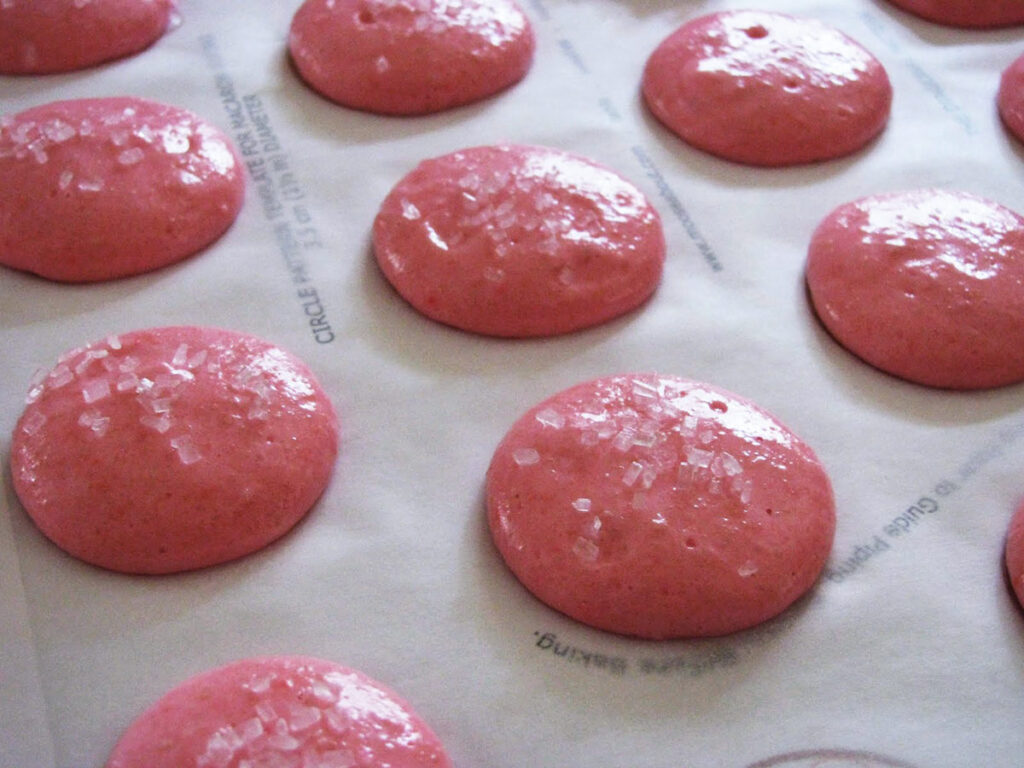 Liquid form – start with 4 drops and increase depending on how strong you want your flavor.
Powder form – add 1 tablespoon as indicated in the recipe above.
What if I Don't Have a Piping Bag?
You don't even need one! I don't own a single piping bag.
Just use a gallon sized ziploc bag.
What if I Don't Have a Scale?
Again, the purists will tell you your macarons will fail. Then again, the purists will tell you your macarons will fail if it's raining, if you breathe on them, if you don't blink twice and pat your head… and so on and so forth.
The real secret to perfect macarons is all in the folding of the egg whites. That's it! Once you have that down, you can make perfect macarons.
I do own a scale, but in my recipe book, I've just hand written the conversion in cups in the margins. I also use measuring cups, and you can too!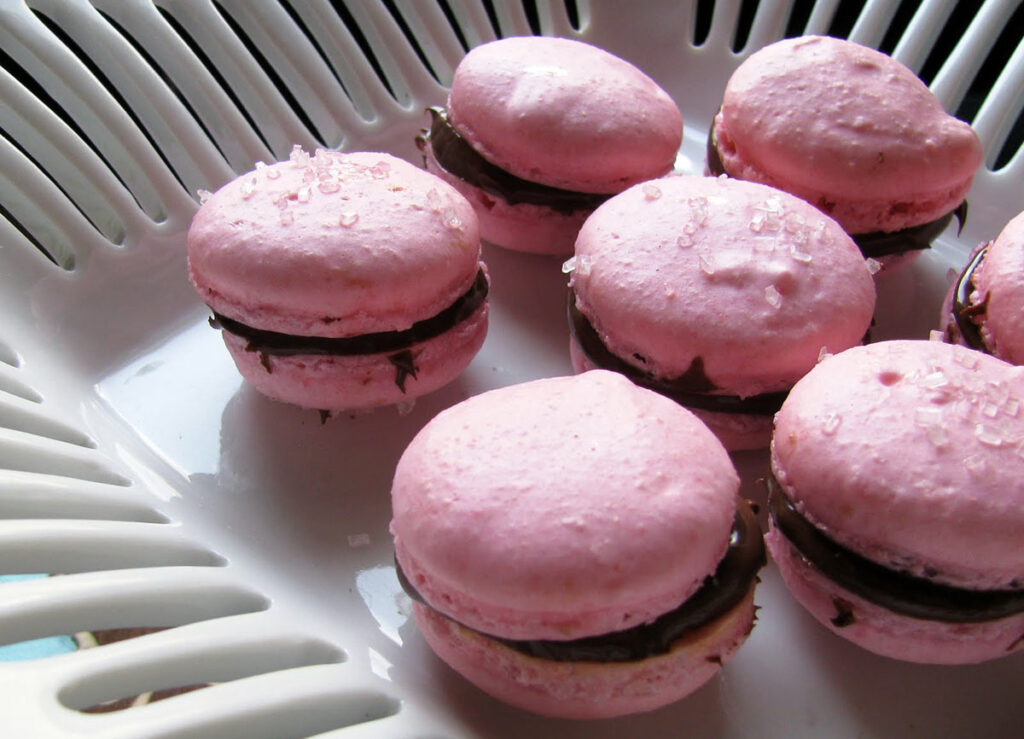 There are so many different recipe variations with different measurements, that there is no conceivable way that you will make or break your macarons simply by not having a scale. You can definitely ruin them other ways, but not because you don't have a scale.
Bake More Treats at Fahrenheit 350°