I'm not a morning person. I don't jump out of bed ready for the day. I don't wake up with a smile on my face. I don't feel like I could run a marathon, but I will always jump out of bed for these banana oatmeal chocolate chip muffins.
I toss and turn and pull the covers up tightly over my shoulders and stretch. I lament having to get up and out of bed casting off those heavy comforting blankets. I try and fall back asleep. I will my brain to lull me into another tantalizing dreamscape.
It rarely works.
What does work is knowing I've got a super yummy breakfast to wake up to! And these banana oatmeal chocolate chip muffins will always do the trick.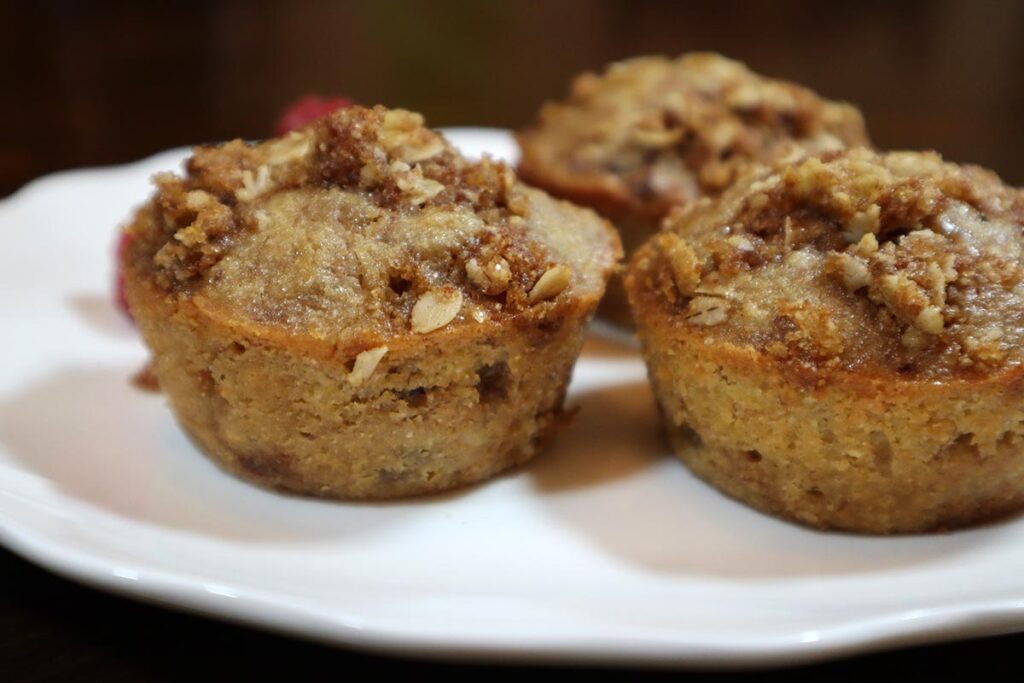 Not only are they super easy to whip up, but these are actually ancient grain muffins made with Kamut – an ancient organic wheat grain. You can make them with traditional flour too, but if you want an extra burst of goodness and muffins that are actually healthy for you, this recipe is perfect!
Khorasan Kamut Flour
Kamut flour is my favorite ancient grain to work with.
It's loaded with protein and it's always grown organically. No pesticides, herbicides or GMO's guaranteed no matter what brand you buy. Plus, it's got such a rich buttery flavor that it makes every bread you bake taste that much more flavorful.
Kamut flour doesn't have much gluten, but it still makes breads that are soft and chewy. Most people with gluten sensitivity can eat it without any problems! It doesn't spike blood sugar and it's loaded with magnesium and fiber.
But my very favorite thing about Kamut flour is that when you combine it with coconut flour or brown rice flour, you can trick everyone into believing you made it with standard regular white flour!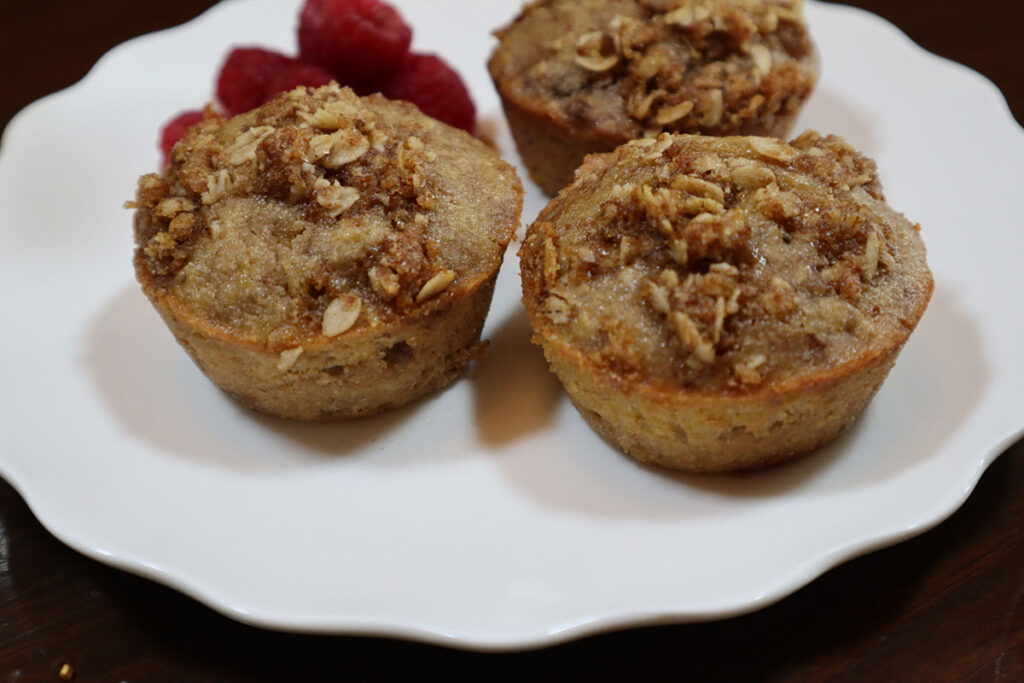 Berries or Ground Flour
Personally, I love grinding my own wheat. Mostly because I can keep the berries almost indefinitely – they make excellent food storage. This goes for all wheat berries in fact. We've got rye, spelt, einkhorn and kamut in our basement and make breads with a combination of these flours regularly.
And, the berries are cheaper than flour.
Kamut berries will keep for years in secure cold storage and can be milled on the spot. Grinding your own wheat also ensures the wheat is fresh and yields higher nutrition. It doesn't lose any of its benefits from being separated, sifted or stored.
I grind my wheat berries on the Mockmill, and I love it. It's got 10 different settings (even though I only use 1) and we grind brown rice and flaxseed in it too.
KitchenAid mixers also have a wheat grinder attachment, but I can't attest to how it works.
And don't even get me started on how great whole wheat berries are for sourdough!
Banana Oatmeal Chocolate Chip Muffins
These muffins are a moist morning cake with a sweet, salty and crunchy texture. Served warm with a dab of butter, this breakfast will get you rocking and rolling.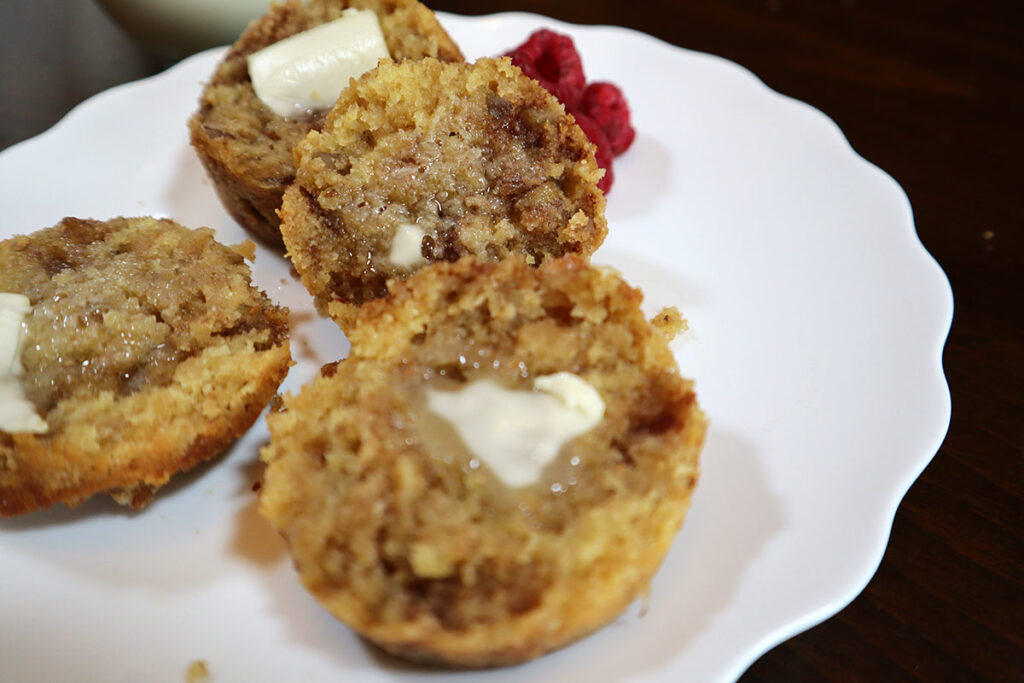 Plus, we've got a secret that will turn these from chocolate chip muffins, to chocolate marbled muffins and increase the chocolate flavor and distribution.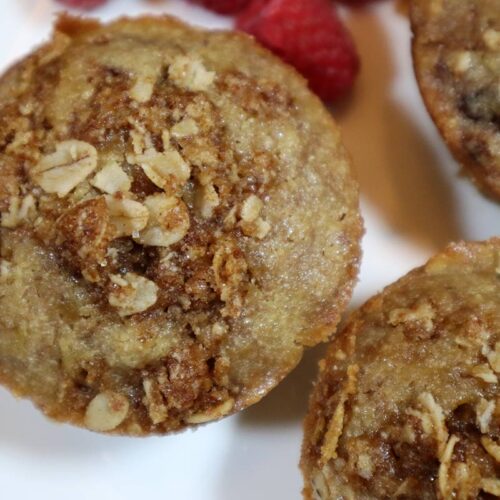 Banana Oatmeal Chocolate Marbled Muffins
Melt in your mouth, buttery, and chocolaty muffins that are super healthy for you!
Ingredients
Muffin Batter
½

cup

butter

½

cup

of safflower oil

½

cup

sugar

½

cup

of maple syrup

2

ripe bananas

1

tsp

vanilla extract

1

cup

Kamut flour

½

cup

of brown rice flour

½

cup

of rolled oats

1

tsp

baking powder

¼

tsp

salt

2

eggs

½

cup

sour cream

½

cup

crushed pecan or walnut bits

½

cup

chocolate chips
Strudel
¼

stick butter

½

cup

brown sugar

¼

cup

rolled oats

¼

cup

Kamut flour

2

tsp

cinnamon

¼

tsp

ground ginger
Instructions
Muffin Batter
In a saucepan over medium heat melt butter, oil, sugar, syrup, vanilla and bananas

Bring to a low boil and remove from heat

Stir in flours, rolled oats, soda and salt

Let rest for 5 minutes

Add eggs, sour cream, and nuts

Stir to combine

While still warm add chocolate chips and fold batter 2x

The chocolate chips will melt in the batter and marble the muffin while baking

Pour batter into greased cupcake tins and fill to the top

Cover with strudel

Bake at Fahrenheit 350° 22 minutes
Strudel
Mix all ingredients together until crumbly

Sprinkle evenly over top of muffins
Notes
Alternately you can bake in a greased loaf pan for 45 minutes 
Can I Make This Recipe with Regular White Flour?
Yes, absolutely!
You can sub the flour out 1 for 1, however, only fill your muffin tins ¾ of the way full.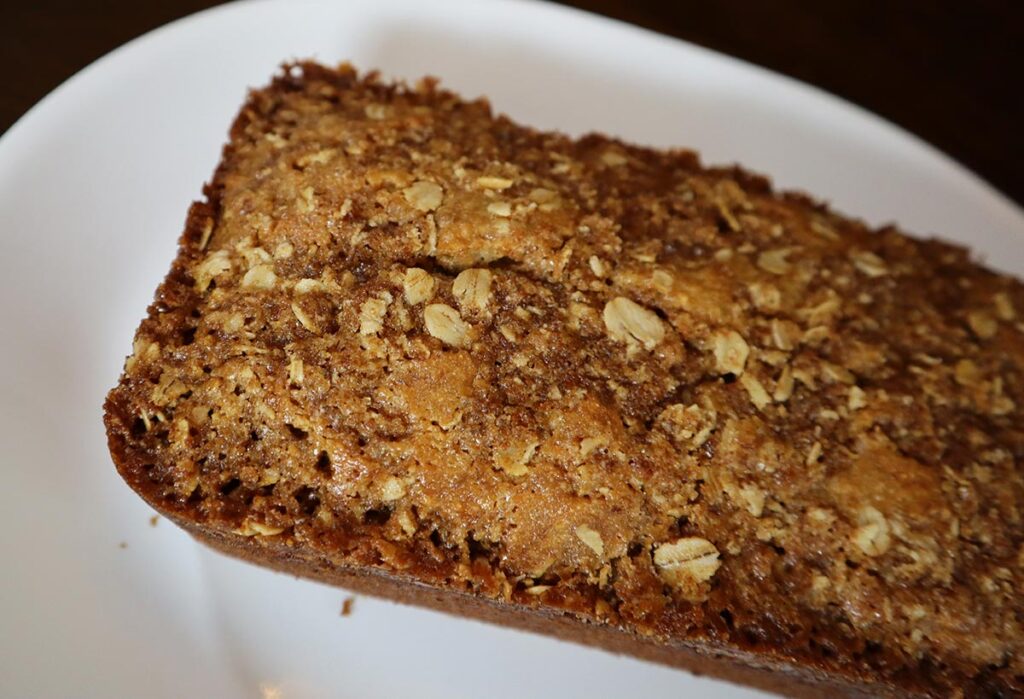 Can I Make a Loaf Bread with this Instead?
Yes, absolutely, and it's so good!
I mean it tastes exactly the same, but it's better because you get more with each serving.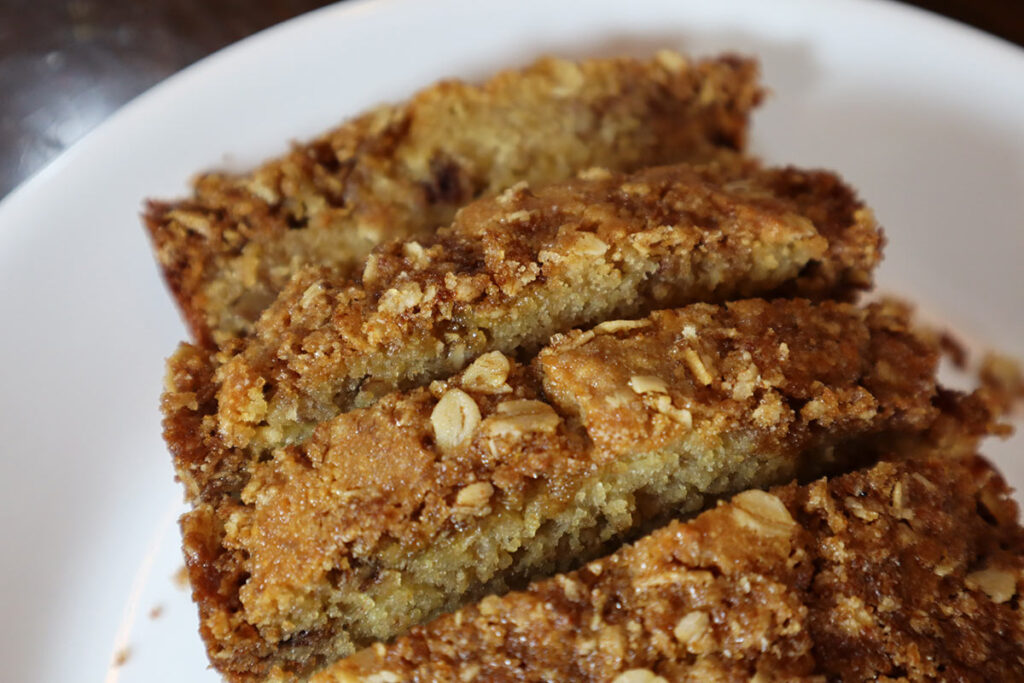 Are These Good for Kids?
Kids will not only love eating these, but they'll love making them too!
I have my oldest son manning the stove to melt the butter and sugar. I have my 6 year old on the Mockmill grinding the flour, while my other daughter loves to make the strudel. Everyone does their part and they are finished in no time!
You'll love giving your kids these banana oatmeal chocolate chip muffins knowing they are full of so many good and healthy nutrients.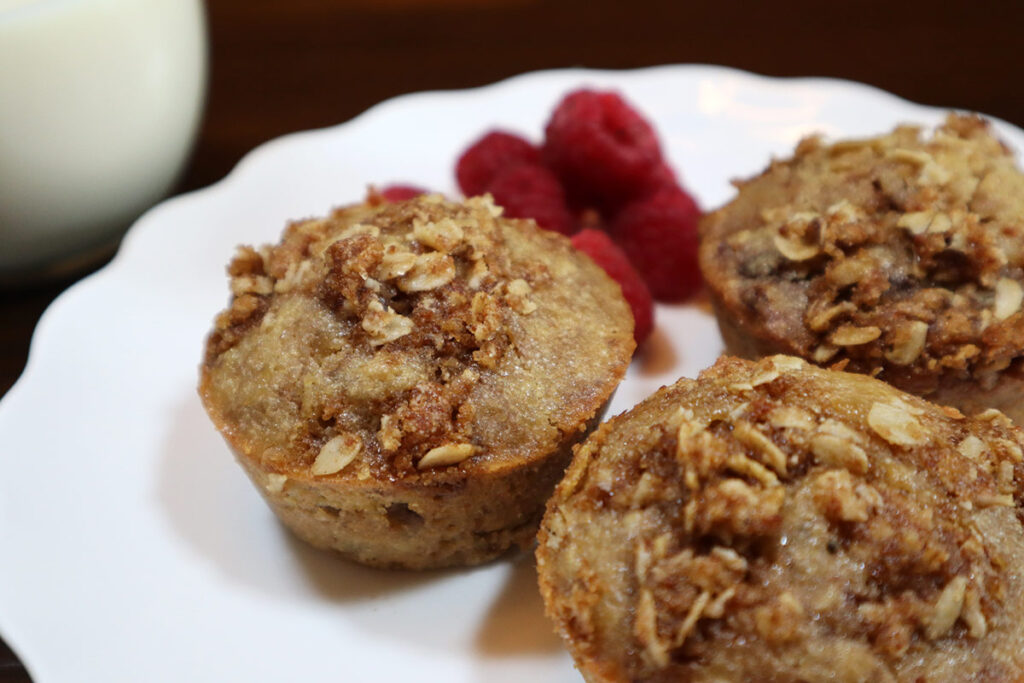 Like this banana oatmeal chocolate chip muffin recipe? Check out more muffin and bread recipes!