Hot chocolate cupcakes are perfect for cold winter days! Let's be honest, chocolate cupcakes are sure to hit the spot all year long, but when there is a blanket of snow on the ground these will be extra special. Especially on those extra cold winter afternoons when you are stuck inside!
small break
Hot Chocolate Cupcakes
These hot chocolate cupcakes are a one bowl recipe and produce perfect results every single time!
We've celebrated Christmas all over the world! From Norway to Panama to Utah, and if there is one thing we can agree on – it's that Christmas just doesn't feel like Christmas if there isn't snow.
We want to be covered in blankets, sipping on hot chocolate and listening to Christmas music all day long. Add a few twinkling lights, red poinsettias, a festively decorated pine tree and that is all I need for a perfect Christmas.
Or even better, after a long day of sledding down the neighborhood hill.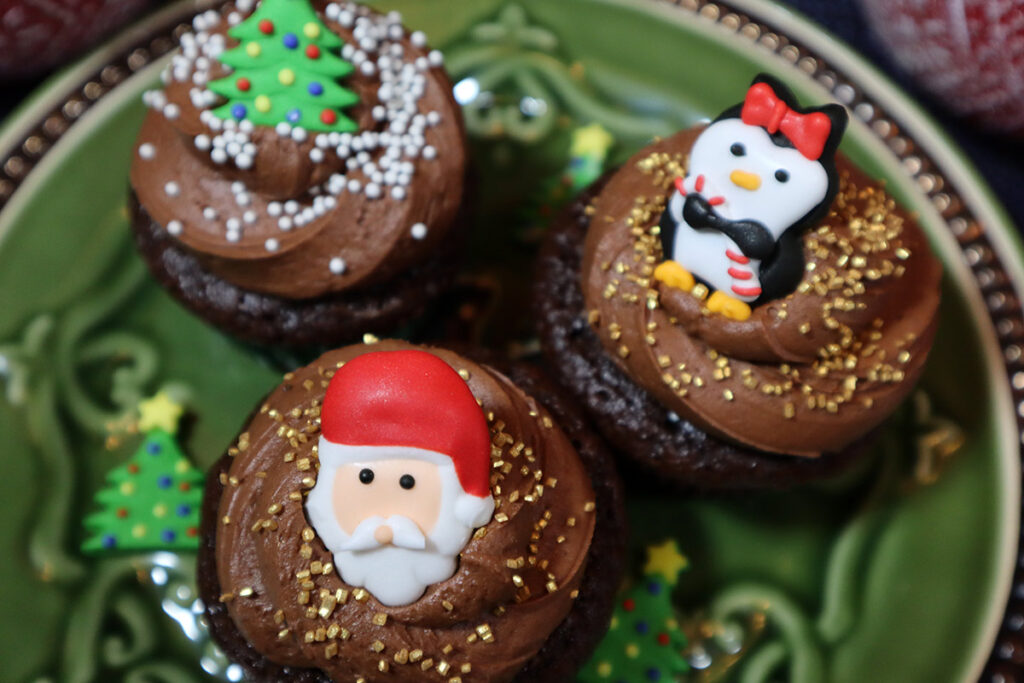 These cute little snow clad Santa's will put a smile on everyone's face. Add some white, gold, green or blue sprinkles, or go one step further and sprinkle with crushed peppermint.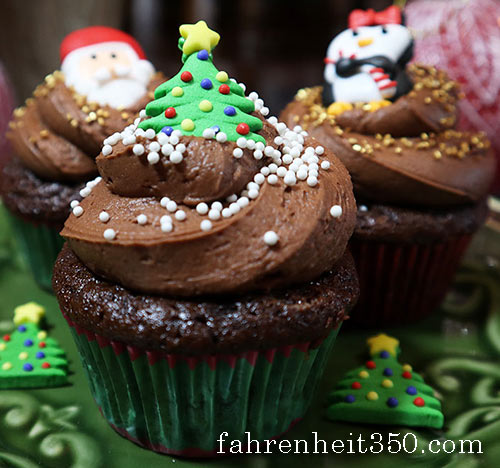 Hot Chocolate Cupcakes
These cute little cupcakes are made with actual hot chocolate in the recipe and are so easy to make with one bowl and one spoon!
Ingredients
Cupcake Batter
¾

cup

flour

½

cup

hot chocolate powdered mix (approx 3, 1.38oz packets)

¾

tsp

baking powder

½

tsp

baking soda

¼

tsp

salt

½

cup

sugar

½

cup

brown sugar

2

large eggs

⅓

cup

melted butter

2

teaspoons

vanilla extract

½

cup

of milk

6-7

jet puffed marshmallows
Frosting
½

cup

softened butter

2 ½

cups

powdered sugar

⅓

cup

cocoa powder

1

hot chocolate powdered mix packet

¼

cup

half & half

½

tsp

vanilla extract
Instructions
Cupcake Batter
Whisk together all dry ingredients

Add all wet ingredients and stir to combine

Cut 6-7 jet puffed marshmallows in half

Fill cupcake liners no more than half full

Place half a marshmallow inside cake batter

Bake at Fahrenheit 350° for 18 minutes
Frosting
Add all ingredients into a bowl and mix on high until smooth

Makes 12-14 cupcakes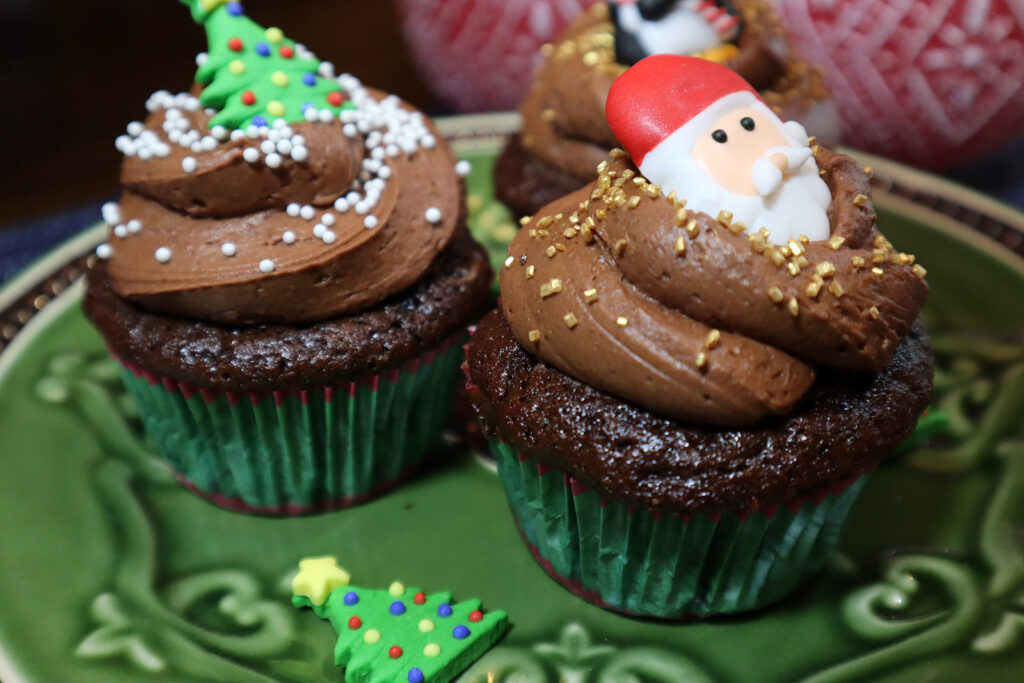 What is Your Favorite Hot Chocolate Mix?
I'll take Swiss Miss every time.
I mean the Swiss are no strangers to snow, so they've got to be able to get it right!
Can I Use Regular Cocoa Powder Instead?
Sure if you want to be a big giant party pooper!
Just kidding, of course you can. The hot chocolate packets are a fun addition, and super unique. The hot chocolate portion of the cupcakes make for great neighbor or friend gifts too.
If you promise not to tell anyone, most of the time I actually just heat up milk for my kiddos and swirl in some chocolate shavings after they've spent the afternoon sledding.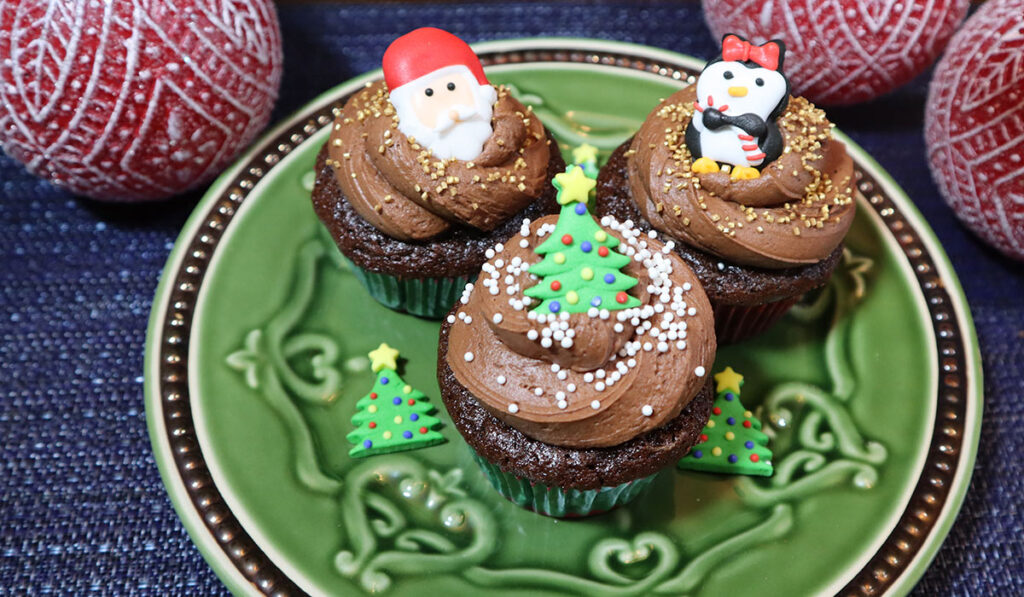 Can I Use Oil Instead of Butter?
Yes! Butter offers a better flavor, but oil will make these hot chocolate cupcakes that much more moist and fluffy. I usually opt for safflower or sunflower as I'm not a canola/vegetable oil fan.
How Can I Make My Cupcakes More Moist?
As mentioned above, oil will lend to a more moist cupcake, but you can get moist cupcakes with butter just as easily.
It all comes down to your fat/flour ratio. You want to have no more than twice as much flour as butter or oil. If you add extra cocoa powder, you want to balance it out with equal parts milk.
Cheesecake Making Supplies on Amazon
I am an Amazon affiliate and Amazon sometimes pays me an incredibly small stipend from the sale of these items, and it does not cost you anything to click on them!
Want more frosting? Core your cupcakes first and fill them with frosting before coating the top with a decorative swirl.
Look at this cute tiered cupcake display for under $10!
And of course, a perfect cupcake pan.
Make Hot Chocolate Cupcakes
If you make hot chocolate cupcakes, tag @Fahrenheit350sweets on Instagram so I can see it! And I'd love it if you left a review and a comment below! 
Like this recipe? Check out more chocolate cake recipes like this!