These Red White and Blue Macarons are so fun to make for the 4th of July! They are so bright and festive and full of every American's favorite colors: red, white and blue! They are the perfect dessert to celebrate America's Birthday!
Not to mention, they totally look like Captain America's shield to me. And who doesn't love Captain America?
Red, White and Blue Macarons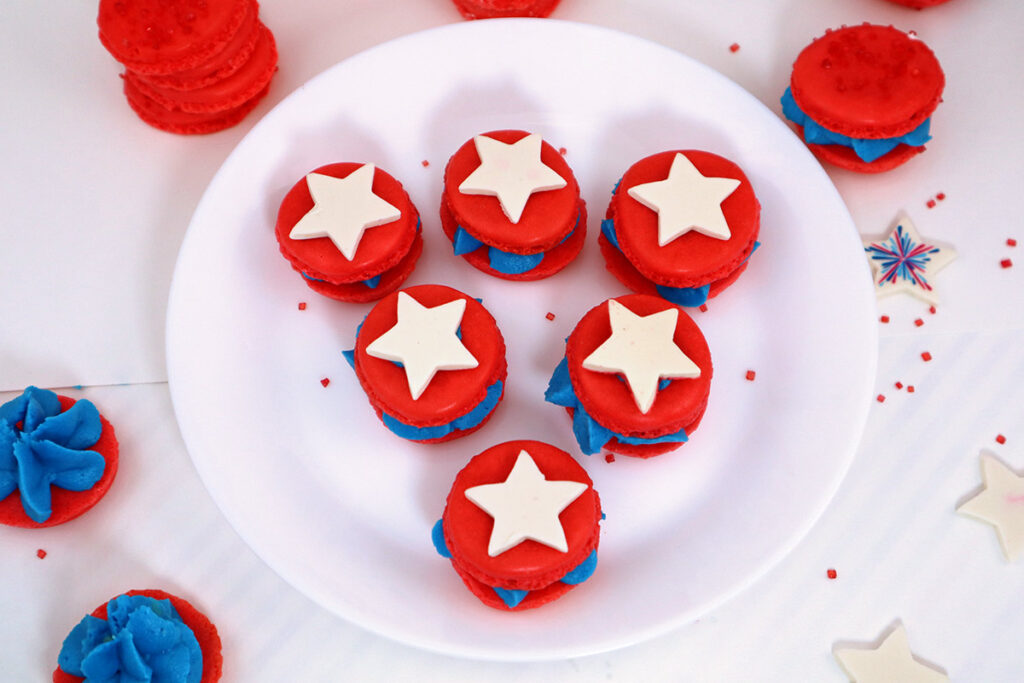 Bright red macarons filled with a blueberry blue frosting and topped with a giant white sugar icing star are the perfect way to celebrate the 4th of July.
What Flavor Are These Macarons?
These red, white and blue macarons are flavored blueberry!
Not only are blueberries blue, of course, but they are wonderfully ripe and in season every July. Not to mention, blueberries are one of America's most iconic fruits and easily recognizable. They were an obvious choice for this patriotic cookie!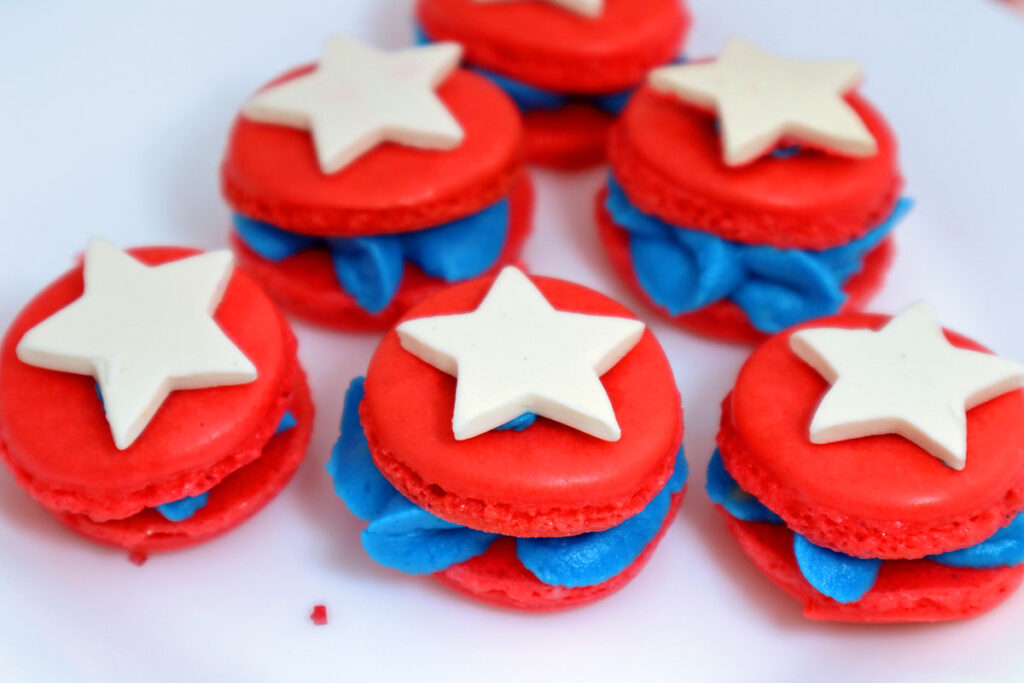 How Do I Make Red, White and Blue Macarons?
That is a huge question, and one that I couldn't possibly answer in this post! Macarons are such a beautiful treat, but they are not for the impatient, nor for the apathetic. It takes time, dedication and especially trial and error.
Helene Mcsweeney of the blog Tartelette is the absolute master at macarons. She has an ebook called Demystifying Macarons, and has numerous blogs about each of her flavor creations.
Bakerella learned from her, and also offers a great tutorial.
Many have come after, but she is the original – and the best!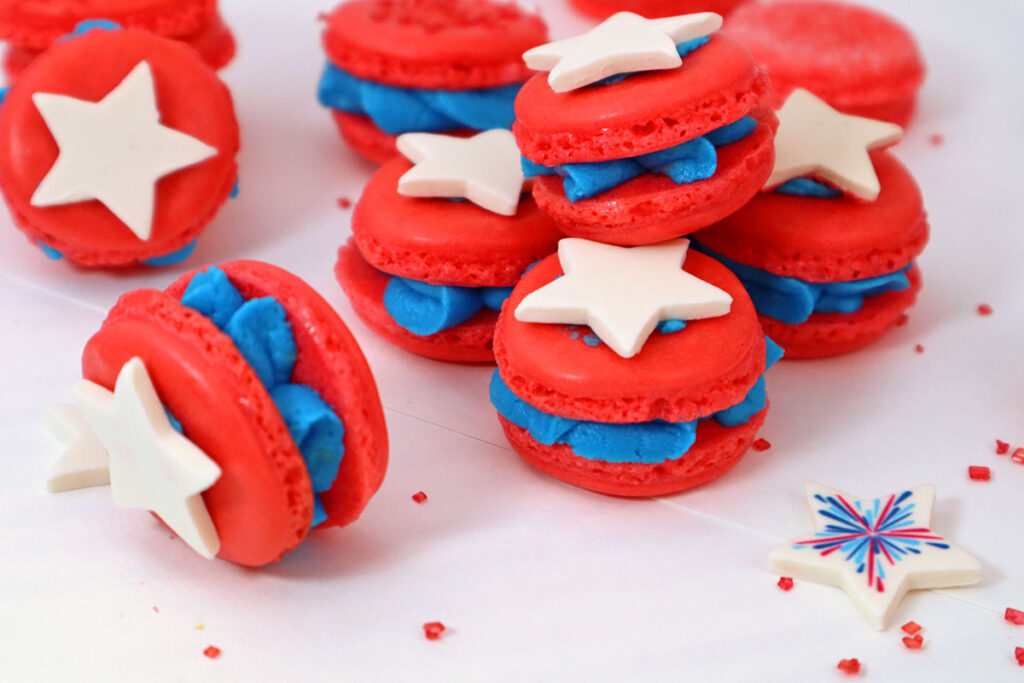 Extra Tips for Making Macarons
Watching several YouTube videos is the next best place to learn when exactly to stop whipping your egg whites, and how exactly to fold your macronage.
Always double up on your cookie sheets to prevent the bottom from burning, and also place a cookie sheet on the top rack of your oven to mitigate the browning on the top of your cookie as well.
And lastly, get to know your oven. That's the last step to the puzzle. Bakerella stays to bake at 280° Fahrenheit for 18-20 minutes, but after bags of wasted almond flour I figured out that was way too low for my altitude, humidity and oven. I have to bake at 325° Fahrenheit for 18-20 minutes.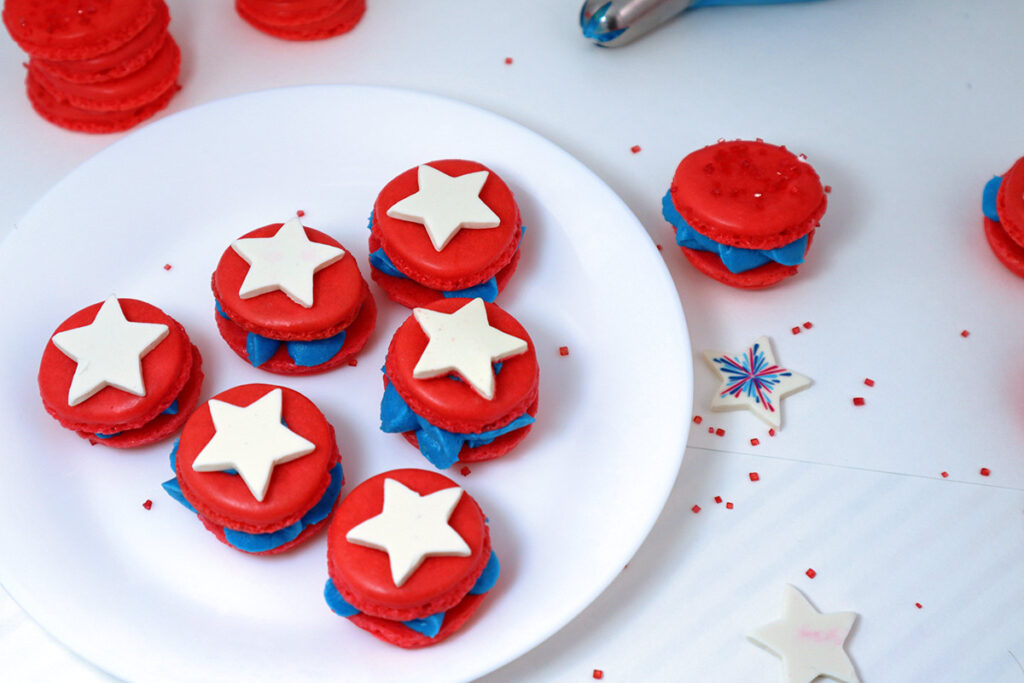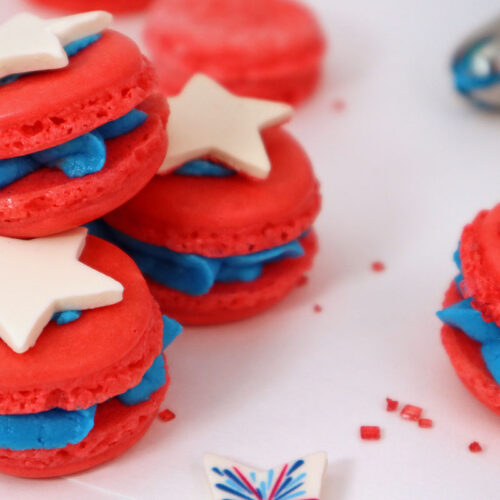 Red White and Blue Macarons
Bright red macarons filled with a blueberry blue frosting and topped with a giant white sugar icing star are the perfect way to celebrate the 4th of July.
Ingredients
Macaron
200

g

powdered sugar

110

g

almond flour

100

g

egg whites

50

g

white granulated sugar

½

teaspoon

cream of tartar

Pinch

of salt

Wilton's Red Food Gel

to preferred color
Blueberry Frosting
8

oz

powdered sugar

¼

cup

butter

2

tablespoons

half and half

1

tablespoon

Lorain's Blueberry Oil

Wilton's Royal Blue Food Gel

to preferred color
Instructions
Macaron
Separate your egg whites and leave out overnight

Sift powdered sugar and almond flour together until fine and airy

Discard any big chunks

Whip egg whites until ribbons start to form in the bowl

Slowly add granulated sugar, cream of tartar and salt while mixing

When you've reached soft peaks, add food coloring

Continue to whip until stiff peaks

The tip of the egg white should not bend over at all at this stage

Pour half of your sugar and almond flour mixture into the egg whites and gently fold

When you can no longer see the sugar and almond flour mixture, add the rest of the flour

Continue to gently fold into the egg whites until you can no longer see the flour

Then begin to scrape the egg whites against the side of the bowl, making sure to incorporate more of the batter with each turn

Continue to fold until batter is smooth and thick and runs off your spoon like thick lava

Transfer to a piping bag with a round #1A tip

Pipe uniform circles onto parchment paper until batter is gone

Tap sheet against your counter top to release any bubbles

Preheat oven to 325° Fahrenheit

Let macaron rounds sit out for 30-60 minutes before baking

Bake at 325° Fahrenheit for 18 minutes

Allow to cool completely before removing from pan

Match similar sized cookies an place frosting on one side of the flat side of the cookie

Sandwich frosting between cookies

Store in the fridge overnight for the best results
Blueberry Frosting
Whip all ingredients until smooth and delicious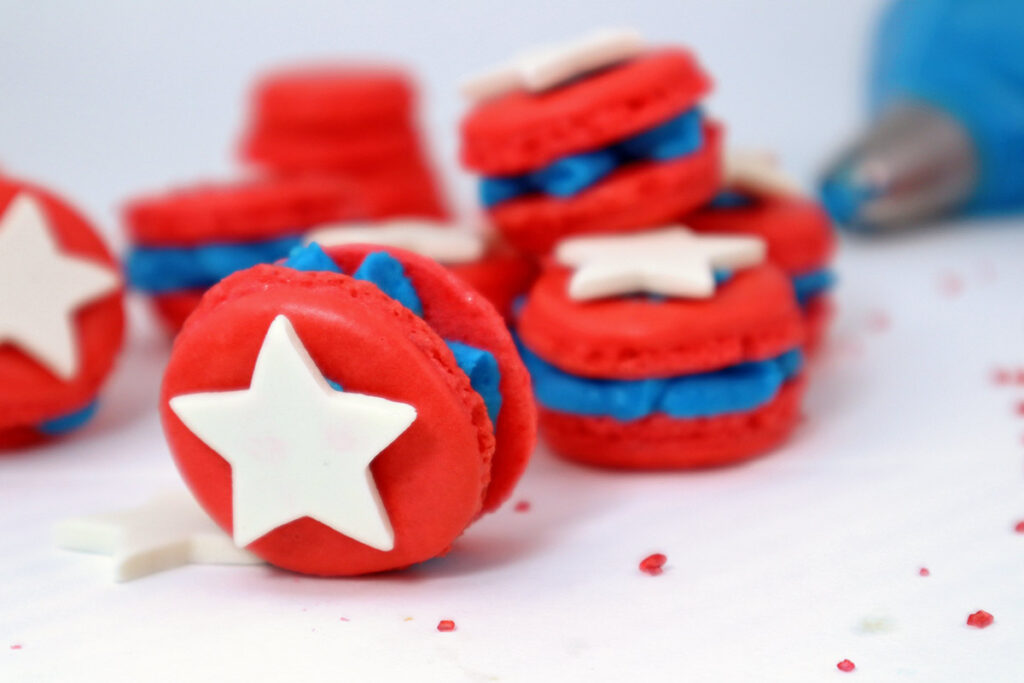 What Food Coloring Did You Use?
I really love how Wilton food gel doesn't react or taste, no matter how much you use.
For the macaron cookie I used some of Wilton Color Right, and some of Wilton Red Gel. The Color Right was a waste of money – all you need is the gel.
And, for the frosting I used Wilton Royal Blue Gel.
How Much Red Food Coloring Do You Need?
So much.
I added one drop of Wilton crimson, and 1 drop of Wilton red to my egg whites. That did nothing but turn everything bright pink! So then I just dropped a big dollop of Wilton red food gel into the macronage.
That did it!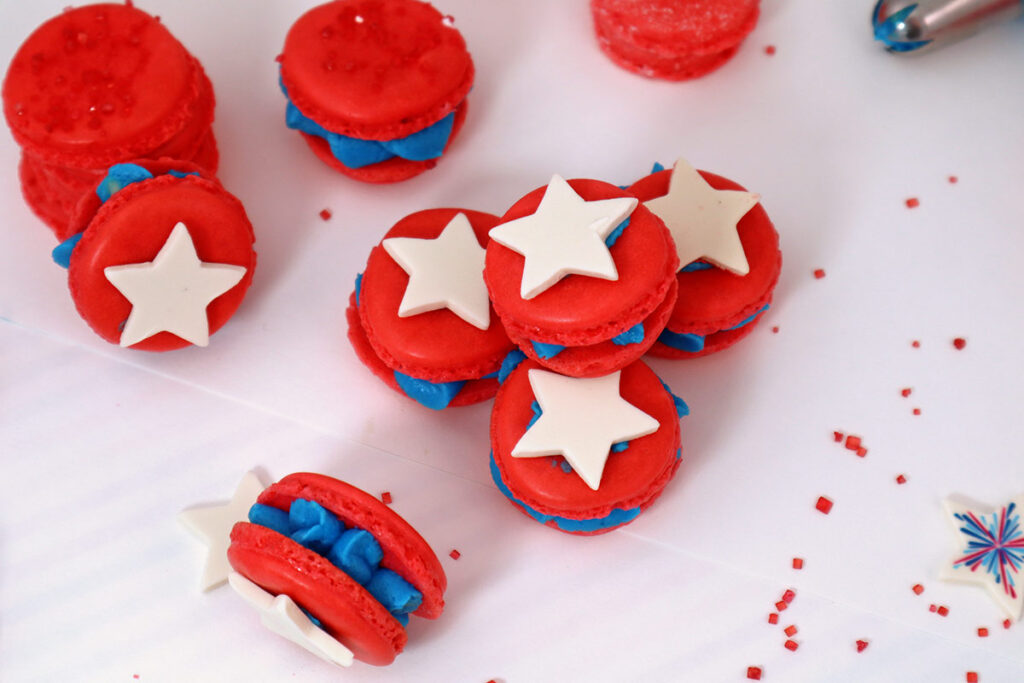 It's a lot, which I know isn't precise, but if you are looking for an exact measurement go with more than you think you need! They are so vibrant and perfect!
Where Did You Get The Sugar Stars?
I thought sugar stars would be so easy to find, but in my small little town I almost resorted to buying cupcakes from Target and peeling off the white stars in the frosting.
That's dedication.
But instead, my husband suggested I try the local grocery bakery section. That is exactly where I found these beautiful sugar icing stars! Except they weren't for sale, they were actually decorating the cakes they were trying to sell for the 4th of July.
I asked if I could buy some, and they agreed! They came in red, white and blue, and they had fireworks painted on them. I just purchased the white and flipped them upside down for $.20 each!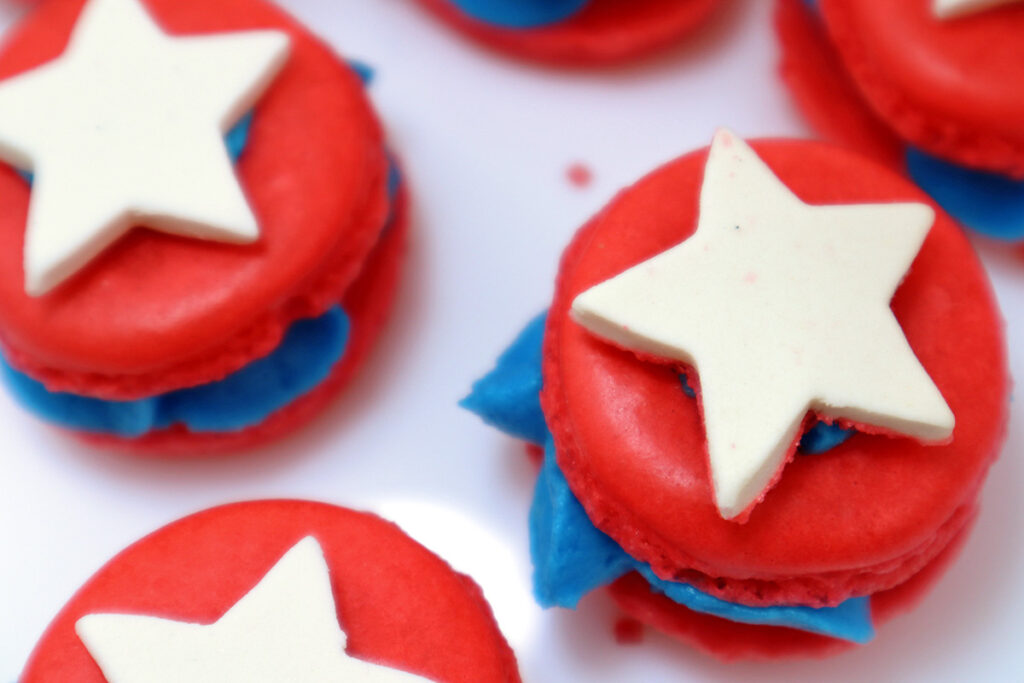 The best I could find online were these:
What Blueberry Flavoring Do You Use?
My kids literally licked the frosting bowl, it was so good. These extra strength oils pack a lot of flavor and taste really authentic!
Make These Captain America Macarons!
If you make these Red, White & Blue Macarons tag @Fahrenheit350sweets on Instagram so I can see it! And I'd love it if you left a review and a comment below!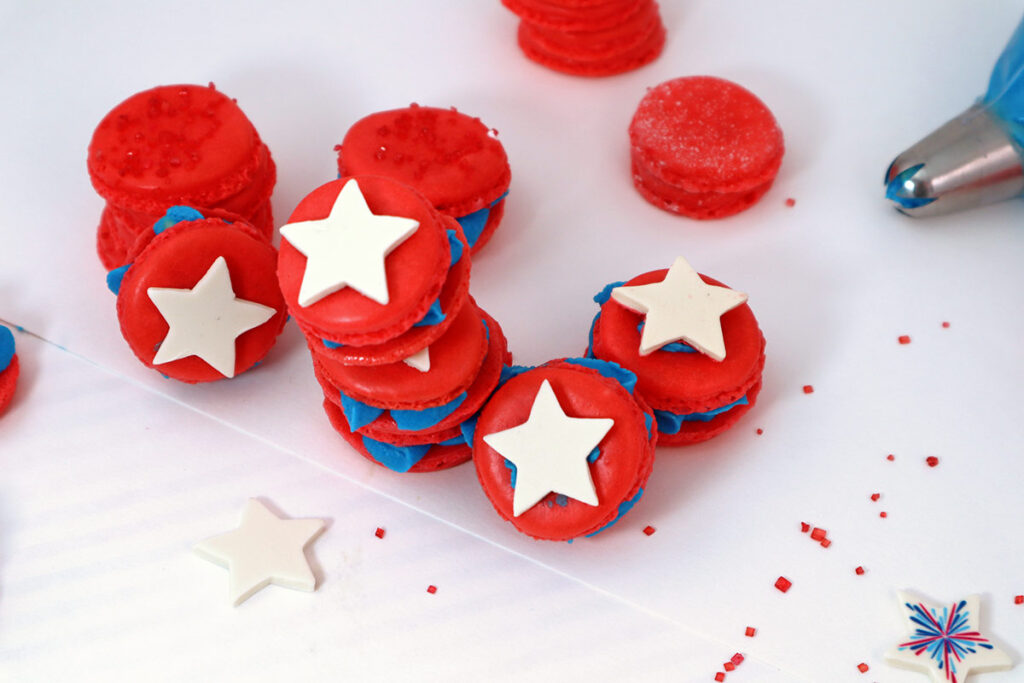 More Festive 4th of July Recipes to Bake at Fahrenheit 350°!