White Velvet Cake with Maple Cinnamon Swiss Meringue Buttercream and Chocolate Ganache. Yummy right?
I mean, it just sounds expensive. It sounds expensive, luxurious and delicious.
white velvet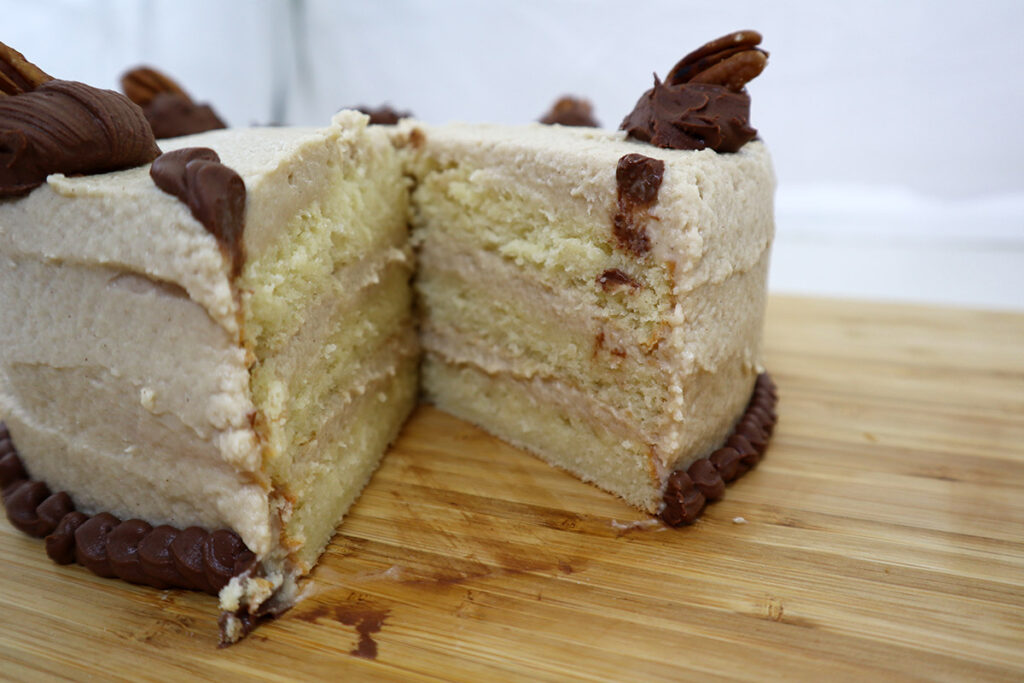 Did you know the suffix 'ous' means full of, or having. This White Velvet Cake is definitely full of delish, and full of luxury, and full of expense – at least in the way it sounds. The description alone sounds like you spent a fortune on this cake, and it tastes like it too.
White Velvet Cake with Maple Cinnamon Swiss Meringue Buttercream and Chocolate Ganache
The frosting is smooth and creamy with a depth of flavor that is so rich and flavorful you cannot resist it.
The cake is moist, fluffy and creamy. It pairs so wonderfully with this frosting! Being White Velvet, the cake flavor is just mute enough to allow the frosting to really shine – and that is the star of this recipe.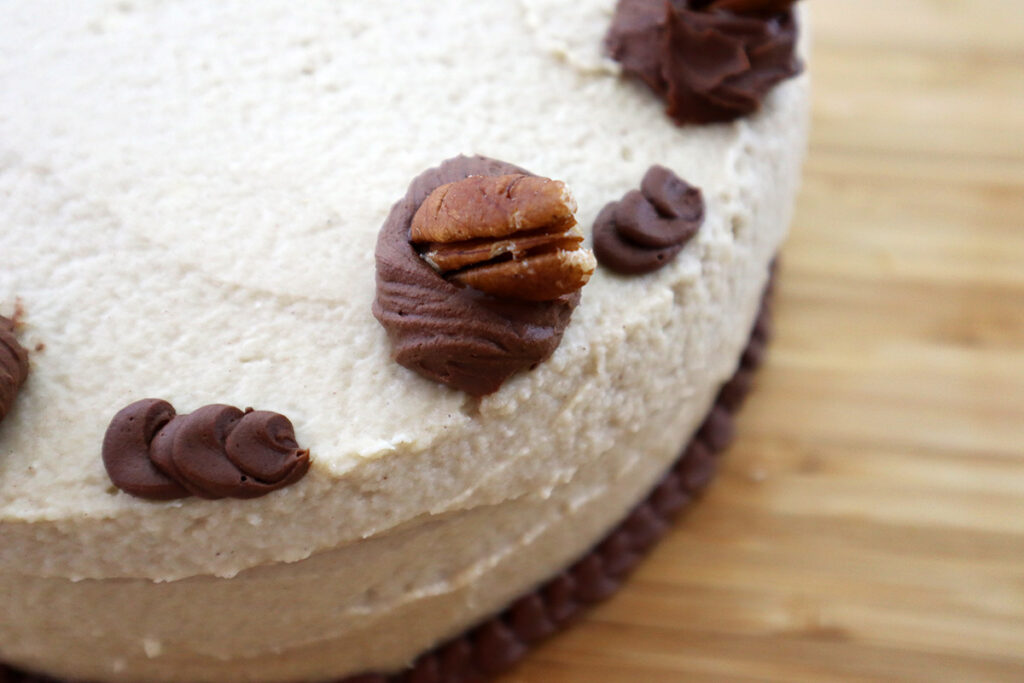 Adding a few dollops of chocolate ganache adds a savory element to this cake. Chocolate is always a comforting flavor, and although it's sweet, when combined with the white cake and cinnamon it intensifies the spices in the frosting and is a truly excellent addition.
Everything comes together flawlessly in this White Velvet Cake.
White Velvet Cake with Maple Cinnamon Swiss Meringue Buttercream and Chocolate Ganache
A beautiful cake with a frosting that is so rich and flavorful you won't be able to resist it.
Equipment
Sauce pan

Metal Mixing Bowl

Hand Mixer
Ingredients
White Velvet Cake
½

cup

sunflower oil

1

cup

butter

1 ½

cups

sugar

1

egg

1 ½

teaspoons

vanilla

2 ¼

cups

flour

1

teaspoon

baking soda

1

teaspoon

salt

1

cup

buttermilk

1

tablespoon

vinegar

4

egg whites

beaten to soft peaks
Maple Cinnamon Swiss Meringue Buttercream Frosting
6

egg whites

1

cup

white sugar

½

cup

maple syrup

1 ½

cups

butter

1

teaspoon

vanilla extract

1

tablespoon

cocoa powder

2

tablespoons

cinnamon

⅛

teaspoon

ginger

Pinch

cloves
Chocolate Ganache
¼

cup

whipping cream

¾

cup

chocolate chips
Instructions
White Velvet Cake
Beat oil and butter together until smooth and creamy

Add sugar and mix with beaters until fluffy

Add 1 whole egg and mix again with beaters until incorporated

Add baking soda, salt, and 1 cup of flour

Mix just until combined

Add buttermilk and vinegar and mix until smooth

Add remaining 1 ½ cups of flour and stir until combined

In a separate bowl, whip 4 egg whites until soft peaks

Fold into cake mixture

Pour batter evenly into 3 prepared 9" cake pans

Bake at Fahrenheit 350° 15-17 minutes

Remove from oven and allow to cool for 10 minutes

Invert onto a wire rack and remove parchment paper

Allow to cool until room temperature
Maple Cinnamon Swiss Meringue Buttercream Frosting
Whisk egg whites with white sugar until combined in a medium sized metal bowl

Fit bowl over a pot of 1 cup of simmering water (do not let water touch bowl)

Heat egg whites and sugar whisking constantly

You can use a hand mixer to increase volume and ease stress on your wrists

If using a thermometer, cook until 160°

If not using a thermometer, cook mixture until eggs and sugar have doubled in volume and thickened to a creamy base

Remove mixture from heat and allow to cool to room temperature

Once mixture has cooled, whip mixture with a hand mixer or stand mixer until soft glossy peaks have formed

Continue mixing and add butter, one tablespoon at a time

Butter should be softened, but not room temperature

When the butter is fully incorporated, the mixture should be thick and creamy

Slowly add maple syrup to mixture, while continuing to beat with mixer

Finish with vanilla extract, cocoa powder, cinnamon, ginger and cloves

Mix until well combined
Chocolate Ganache
Bring cream to a boil over med-high heat

Pour over chocolate and stir to melt

Chill in fridge for 6+ hours

Whip with beaters until smooth
Finalè
Spread layers of maple cinnamon swiss meringue buttercream between each layer of cake and over top and sides

Smooth to finish

Use ganache to add decorative embellishments to the top of the cake
Is It Worth It?
Despite how luxurious this White Velvet Cake sounds, it's fairly simple. The details and spices are what make it so show stopping, not necessarily the time or effort.
Even though Swiss Meringue Buttercream can be tricky, it's not that hard when it comes down to it. The most technical part of it is having the patience to see it through from start to finish.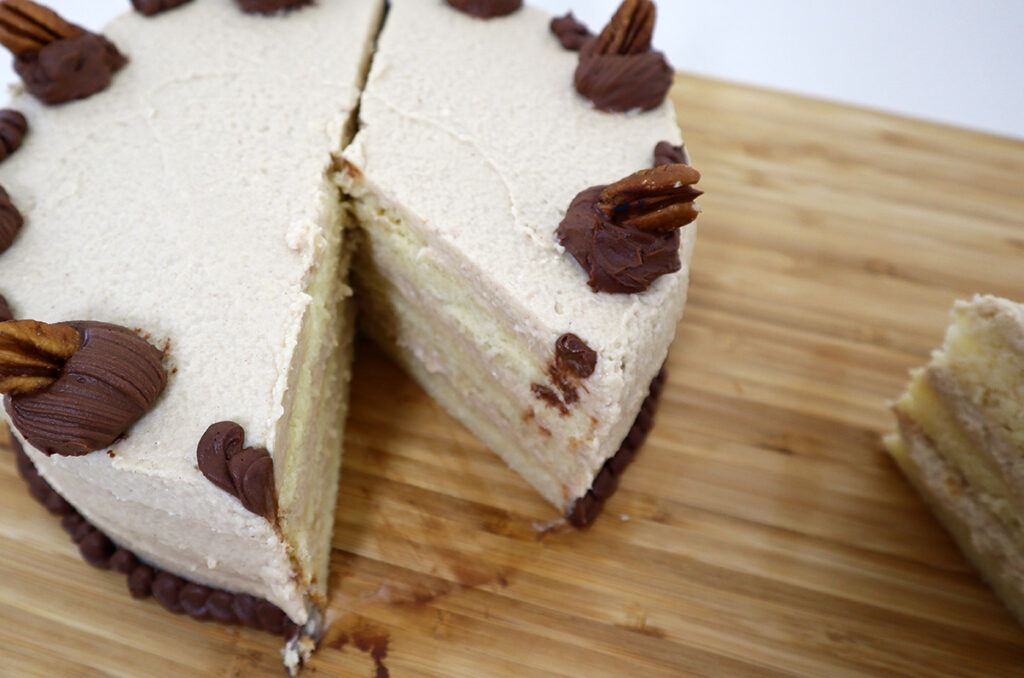 Also, you should definitely invest in a stand mixer.
This Cake has 1 Egg Yolk – Is this Really a White Cake?
It's 1 egg yolk. One.
Really it comes down to how serious you are about the definition of a white cake.
I suppose technically, it wouldn't qualify as a white cake.
Technically, the cake doesn't require the sole egg yolk to turn out.
Personally, I like it. It ever so slightly adds to the flavor.
You do you.
Is the Frosting Chocolate? Why Does this Frosting Have Cocoa Powder?
No, the frosting is not chocolate! Adding cocoa powder to the frosting acts as an intensifying agent. It bumps up all the existing flavors and enriches the spices.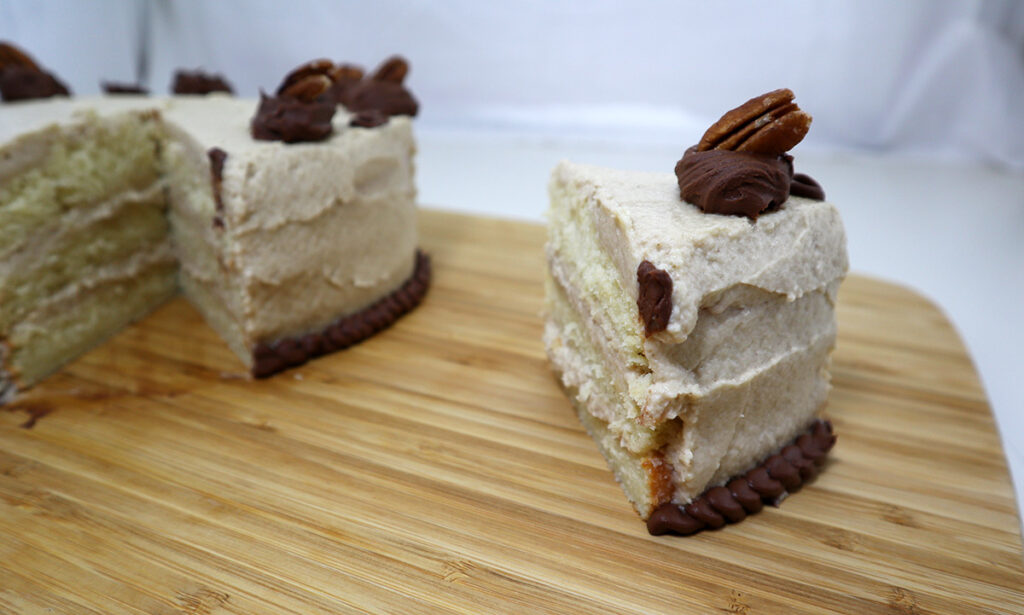 Yes, You Should Put this Frosting on Cinnamon Rolls!
This frosting is so amazing, you could pair it with all sorts of delicious goodies!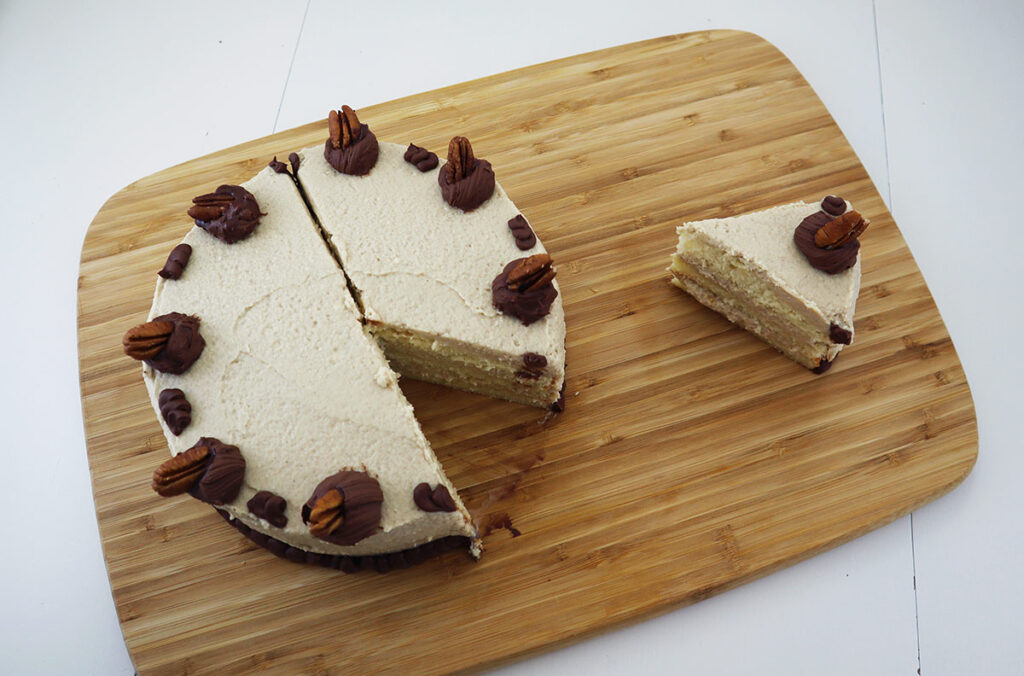 Flavor Alterations to this Cake
What I wish is that I'd added some candied cranberries to adorn the chocolate ganache.
The color alone would be gorgeous, but can you imagine how great it would taste too? The slight bitterness of the cranberries will cut through the sweet frosting with absolute perfection!
It would become a winter wonderland cake, reminiscent of a flocked Christmas tree with holly berries. We are definitely out of the season for this variation, but I have inspiration 8 months from now.
If you want to try this, I recommend Damn Delicious' recipe for candied cranberries.
For the top of the cake, decorate each dollop of chocolate ganache with 2 or 3 sugared cranberries. For the base of the cake line the bottom by piping a large scallop border, or a rose border and dot with a ring of cranberries.
Make This White Velvet Cake with Maple Cinnamon Swiss Meringue Buttercream and Chocolate Ganache!
If you make this cake, tag @Fahrenheit350sweets on Instagram so I can see it! And I'd love it if you left a review and a comment below!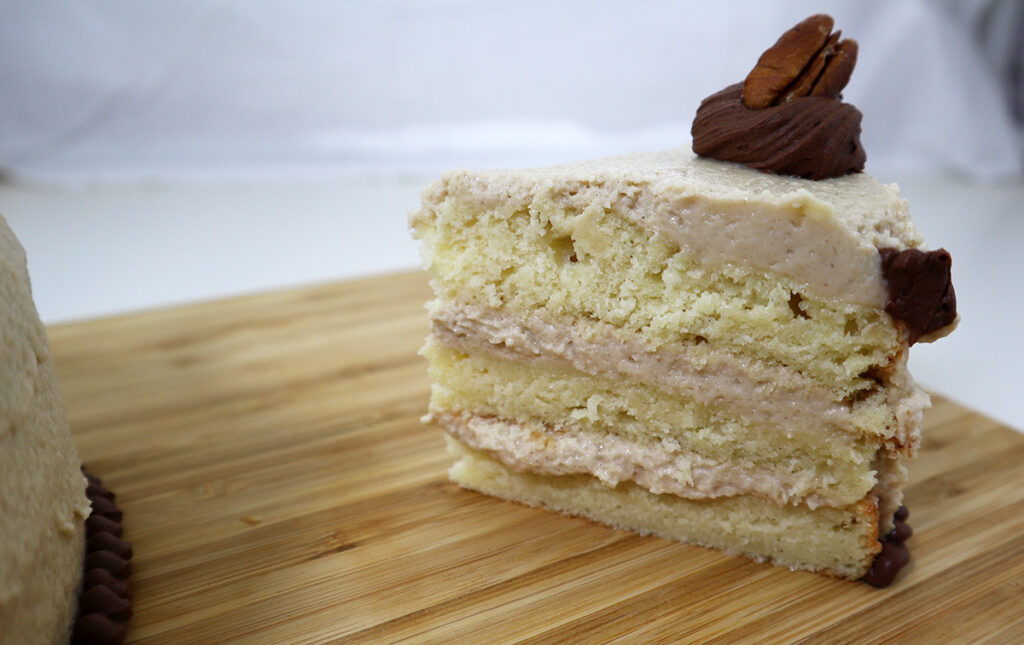 More Amazing White Cake Recipes to Bake at Fahrenheit350°!