These Pina Colada macarons will remind you of fresh salt water, smooth sand beaches, tan lines, the lapping waves of the ocean, combing the shoreline for seashells, sunsets mixed with the taste of salt in the air, and falling asleep under the summer blanket of the sun.
Pina Colada Macarons
If you like Pina Coladas, you'll love these Pina Colada macarons made with a coconut cookie shell and filled with a delicious pineapple, coconut, rum frosting.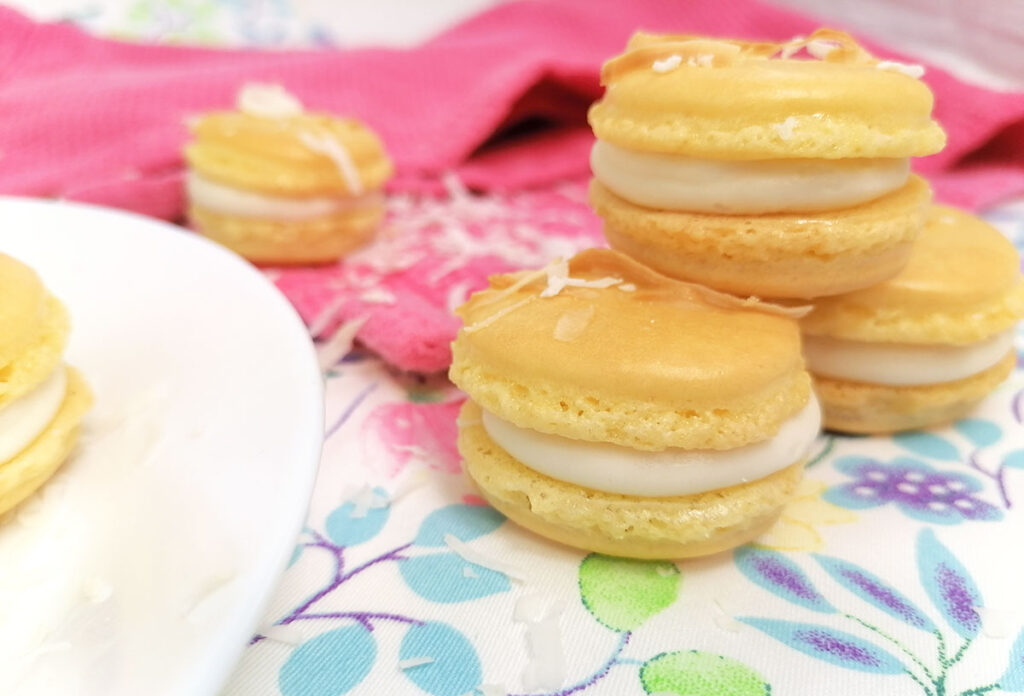 How to Make Pina Colada Macarons
These macarons are so easy. You take a normal macaron recipe and add a tablespoon of coconut flour.
The hard part is the frosting.
To get that classic Pina Colada flavor you first have to thicken the pineapple juice. You'll do that by heating it over the stovetop with a couple teaspoons of cornstarch. Then you'll add that directly to the frosting so it isn't just solid liquid.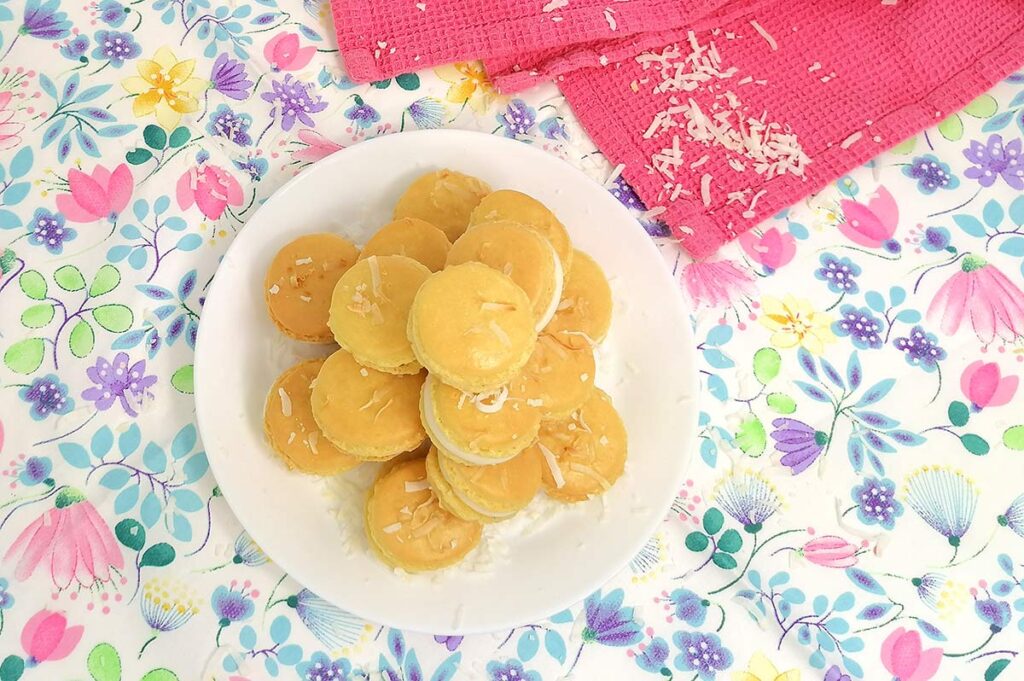 The second difficult part is adding enough powdered sugar to make it thick enough. I actually recommend letting your frosting sit out overnight to dry out a little bit. It will cut down immensely on the amount of powdered sugar you need and let the flavors come through.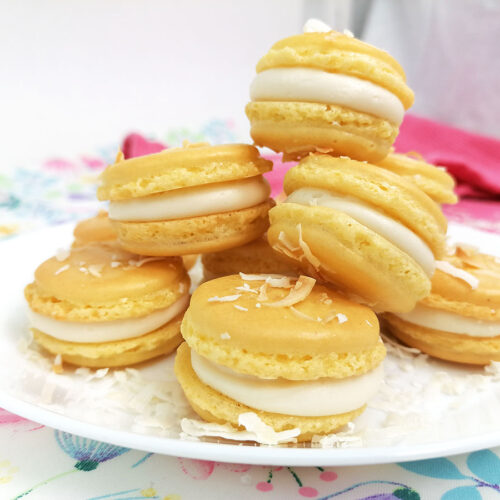 Pina Colada Macarons
If you like pina coladas, you'll love these pina colada macarons made with a coconut cookie shell and filled with a delicious pineapple, coconut, rum frosting.
Ingredients
Coconut Macaron
200

grams

powdered sugar

110

grams

almond flour

100

grams

egg whites

50

grams

white granulated sugar

½

teaspoon

cream of tartar

Pinch

of salt

1 ½

tablespoons

coconut flour

Wilton's Yellow Food Gel to preferred color

Shredded coconut flakes
Piña Colada Frosting
16

oz

powdered sugar +/-

2

tablespoons

butter

2

tablespoons

coconut cream

¼

cup

pineapple juice

2

teaspoons

cornstarch

2

teaspoons

rum extract
Instructions
Piña Colada Macaron
Separate your egg whites and leave in fridge overnight

Bring egg whites to room temperature before whipping

When preparing macarons sift powdered sugar, coconut flour, and almond flour together until fine and airy

Discard any big chunks

Whip egg whites until ribbons start to form in the bowl

Slowly add granulated sugar, cream of tartar and salt while mixing

Beat until soft peaks and then add food coloring

Continue to whip until stiff peaks

The tip of the egg white should not bend over at all at this stage

Pour half of your sugar and almond flour mixture into the egg whites and gently fold

When you can no longer see the sugar and almond flour mixture, add the rest of the flour

Continue to gently fold into the egg whites until you can no longer see the flour

Then begin to scrape the egg whites against the side of the bowl, making sure to incorporate more of the batter with each turn

Continue to fold until batter is smooth and thick and runs off your spoon like thick lava

Transfer to a piping bag with a round #1A tip

Pipe uniform circles onto parchment paper until batter is gone

Sprinkle coconut flakes on top of each macaron cookie

Tap sheet against your counter top to release any bubbles

Preheat oven to Fahrenheit 325°

Let macaron rounds sit out for 30-60 minutes before baking

Bake at Fahrenheit 325° for 18-20 minutes

Allow to cool completely before removing from pan
Piña Colada Frosting
Add cornstarch to pineapple juice and cook over medium heat until thickened

Add to remaining ingredients, and beat with a hand mixer until smooth and creamy
Finalè
Match similar sized cookies and place frosting on the flat side of one cookie

Sandwich frosting between cookies

Store in the fridge overnight for the best results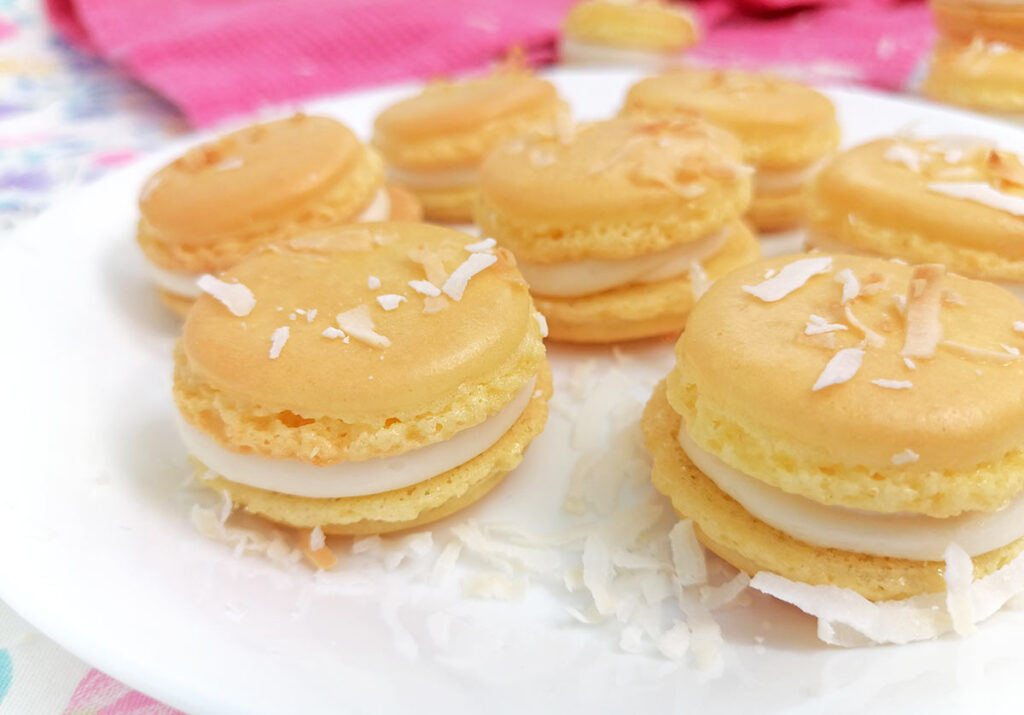 How to Prevent Piña Colada Macarons from Browning
These are such a light color, it's hard to prevent them from turning brown in the oven.
You have two options.
Cook at a lower temperature for a longer period of time. Try 25° lower for an extra 10 minutes. Keep a close eye on them because all ovens are different.
Decrease the time to bake them by 4 minutes, and after turning the oven off, leave the shells in the hot oven for an extra 10 minutes after the timer goes off.
Neither option is super technical, but I tried them both, and they seemed to work. You will still get some browning, but in my opinion they just look a little toasted.
The shell is also a little bit softer, so just be aware of that.
Can I Use Real Rum in the Frosting?
You betcha! You'll want to use White Rum, as that is what is used in the classic drink!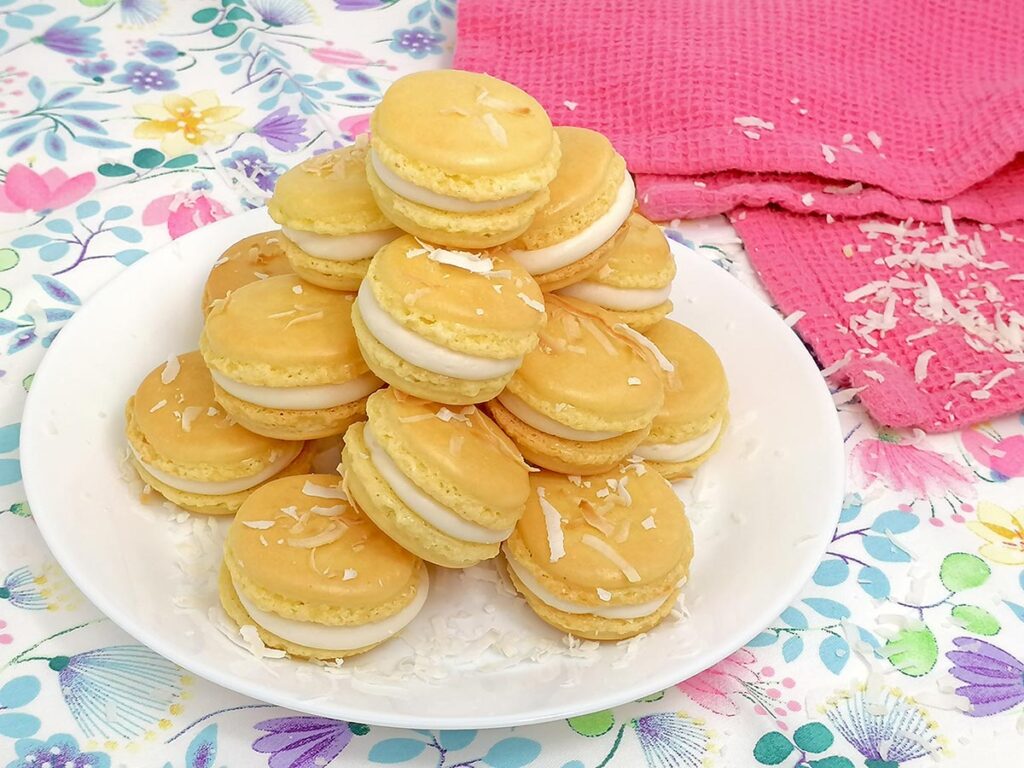 Where Does the Name Piña Colada Come From?
In the Spanish language, Pina Colada means strained pineapple. Fitting, as a Pina Colada is precisely pineapple juice, rum and coconut! Just like these pina colada macarons!
The drink originated on the island of Puerto Rico by Ramón "Monchito" Marrero, a bartender at the Caribe Hilton in 1954.
Fun fact! Gabriel and I stayed at this very same, but newly remodeled and renovated Caribe Hilton in 2009! It was very swanky, we had a gold phone in our bathroom.
Do I Need to Go to Culinary School to Make Macarons?
Almost!
Definitely, truly, you can make them at home, but it takes a few tries to get them right. Be prepared to make a lot of ugly batches of macarons.
I highly recommend looking up videos about how to whip your egg whites, and exactly when to stop whipping your egg whites, and how exactly to fold your macronage. This is vital to making good macarons.
But even if you whip and fold them just right, if you undercook them, they will be ruined. The shell will be soft and the flat underside might stick to your cookie sheet. No matter what recipe you follow, your oven might not like the baking time. You'll have to sort that one out on your own!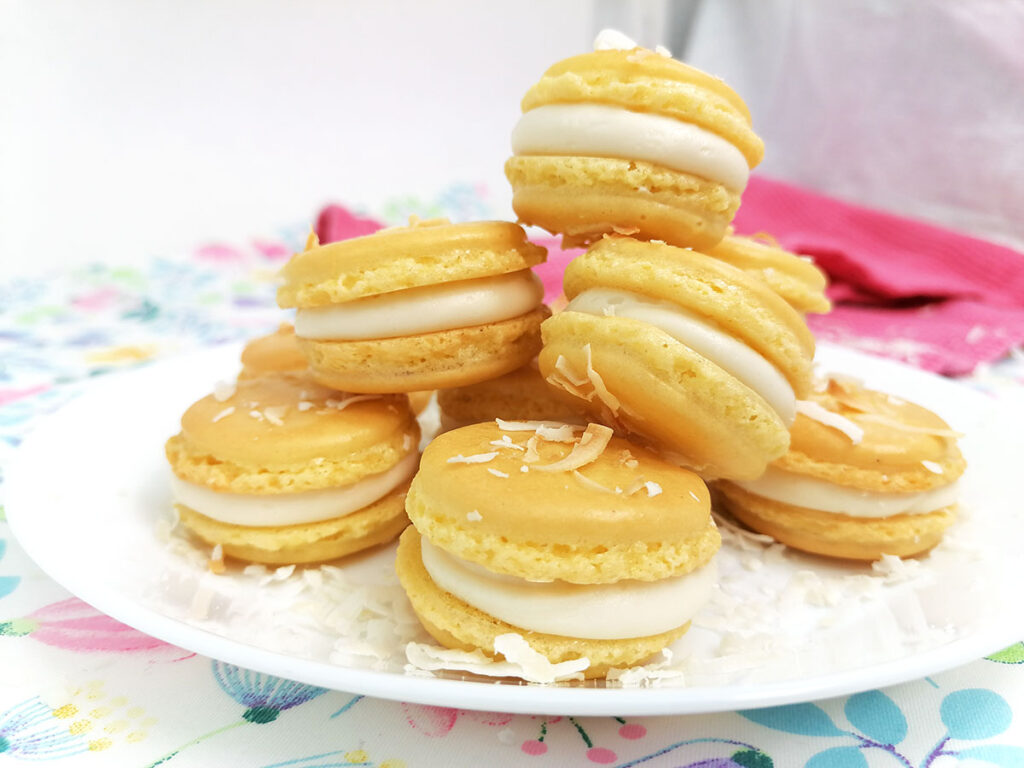 Making macarons takes dedication, but it's worth it!
Macaron Making Supplies on Amazon
I am an Amazon affiliate and Amazon sometimes pays me an incredibly small stipend from the sale of these items, and it does not cost you anything to click on them!
You can't make macarons without an electric mixer. If you don't have a Bosch or a Kitchen Aid, a hand mixer is the next best thing.
This cheap Hamilton Beach is my favorite brand.
I really like silicone baking mats for baking. The baking community is split for macarons, Some prefer parchment paper, but for me I find that it has a tendency to make my macarons turn oval rather than stay round because the paper doesn't always lay perfectly flat.
Always use gel for distinctive colors in your baked goods – especially macarons.
Make Pina Colada Macarons
If you make Pina Colada macarons, tag @Fahrenheit350sweets on Instagram so I can see it! And I'd love it if you left a review and a comment below!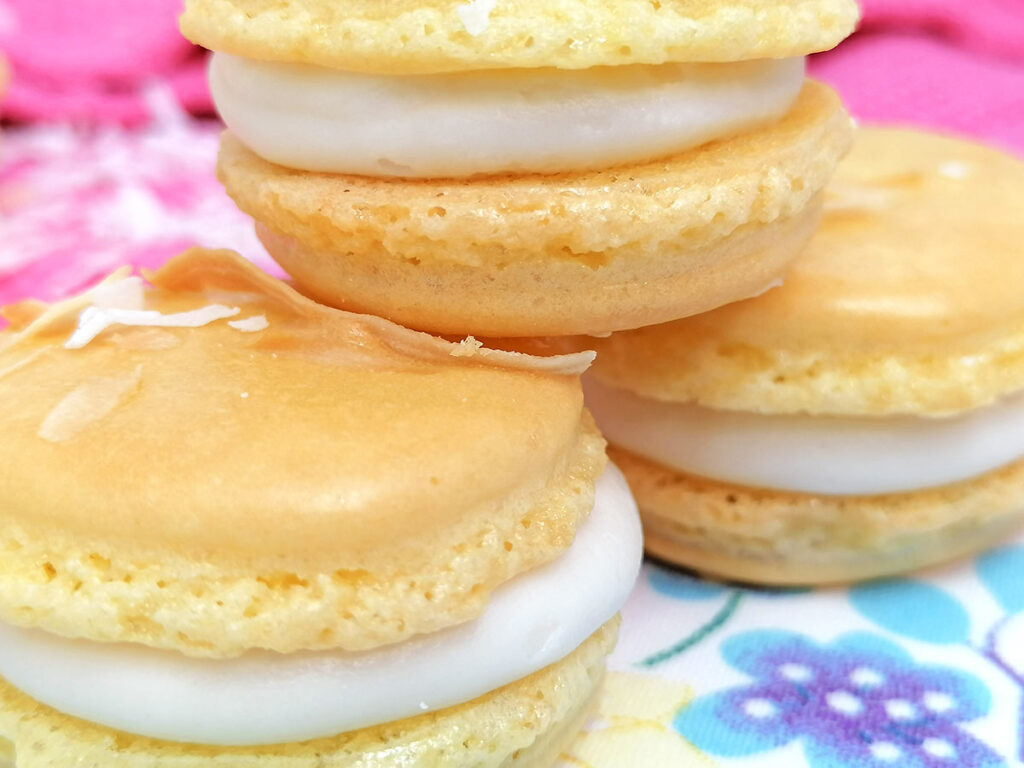 More Yummy Macaron Recipes to Bake at Fahrenheit 350°!