Macarons are notorious for using bottled flavors and extracts, so I love when I get a chance to incorporate real fruit whenever I can! These Strawberry Lemon Macarons do just that. There is pure lemon zest in the shell and pure lemon juice in the frosting, plus there is a real strawberry right on top of the macaron!
These are some of the prettiest macarons I have ever made. I love the look of the swirled pink shell with a bright red strawberry perched on top with the stem still attached, and bright lemon frosting peeking out of the middle.
Not to mention the flavor. These macarons will make you swoon.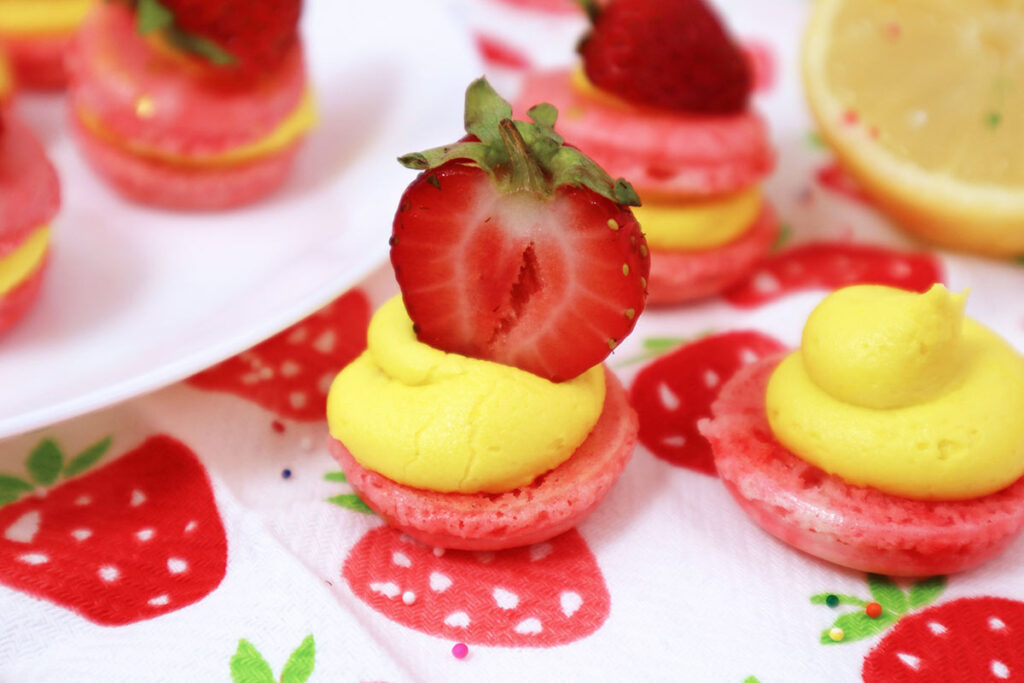 There is a hint of tart lemon zest, first dried and then sifted, added to the almond flour and powdered sugar. Then a tiny strawberry is sliced and placed on top of the macaron, secured with a tiny dot of lemon frosting.
Biting into this macaron gives you a taste of both lemon and strawberry mixed together, and it is a match made in heaven. These two flavors are soul mates.
Strawberry Lemon Macarons
Strawberry lemon macarons are perfect on a summer day encompassing all the colors and flavors of summer into one perfect bite.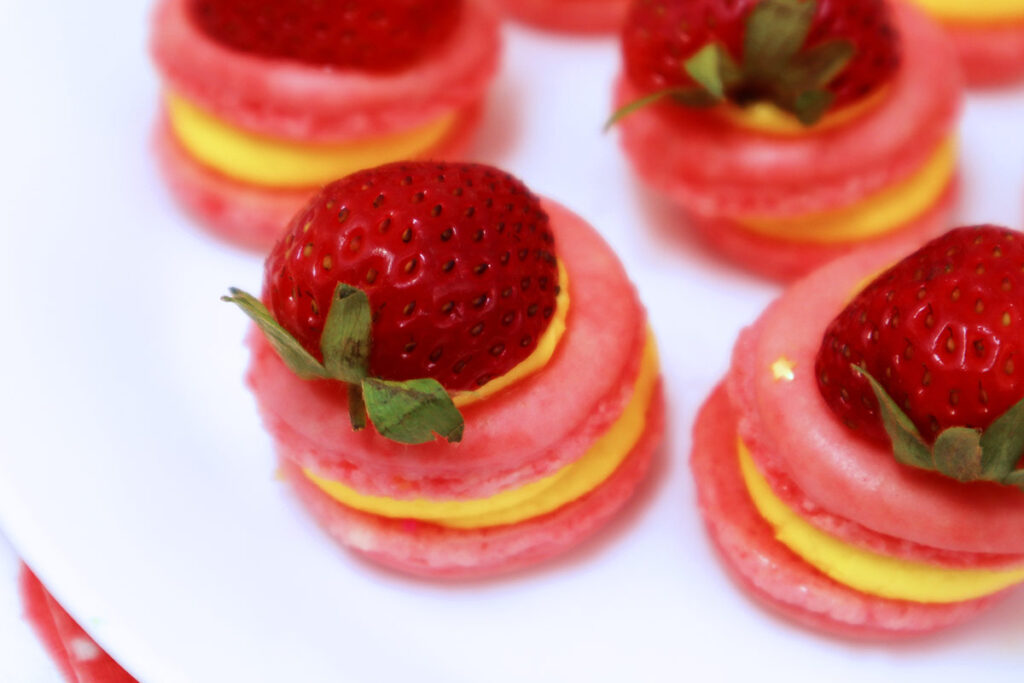 How to Make Strawberry Lemon Macarons
At least one day ahead of making these macarons, you'll want to zest one lemon entirely. Place the zest on a piece of parchment paper and let it dry out in the sun. Add it to your powdered sugar and almond flour mix, and be sure to sift it through a fine mesh sieve.
I actually like to add it the sugar/flour mixture and pulse it in my blender for a little bit before sifting it. It ensures there are no lumps, and the flavor sticks to the sugar and flour adding to the intensity.
The rest of the macaron shell recipe and technique are going to stay the same.
I opted for a pink colored swirl effect for the shell. To do this, you add two drops of Wilton Red Color Right to the macronage just before piping. Using a long toothpick I swirled the color in the bowl and then transferred it to my piping bag.
Doing this gives each macaron a slightly different pattern, but with the same uniform familiar pink shell.
Lemon Frosting
The frosting is a typical buttercream frosting, but with fresh squeezed lemon juice added alongside the half and half.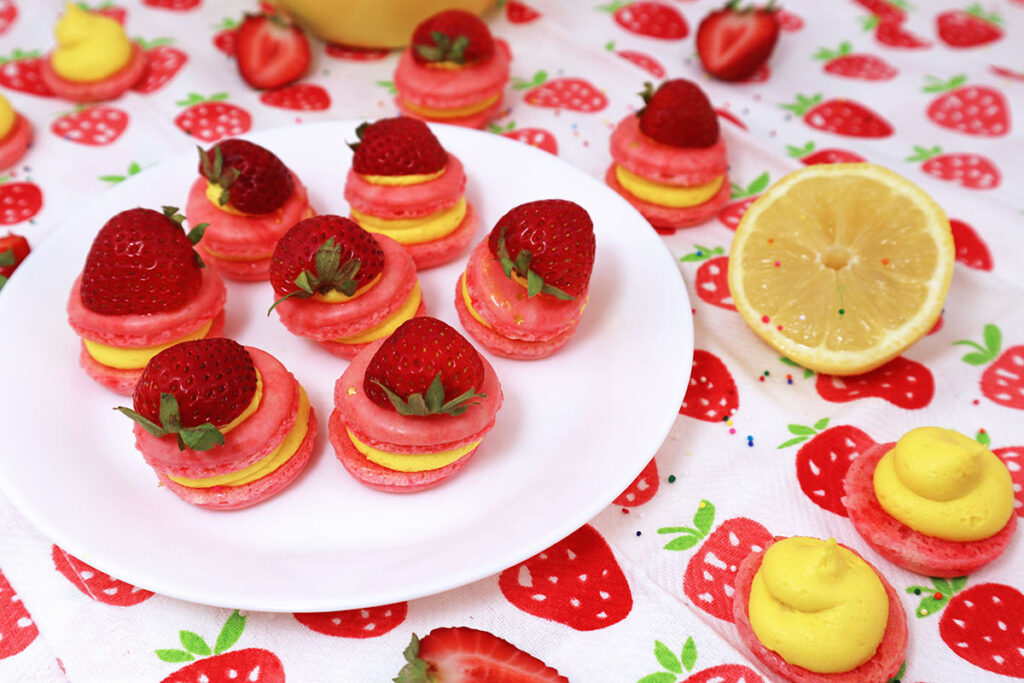 Strawberry Flavor
The only strawberry flavor comes from the strawberry atop the macaron, but it's just the perfect amount for the size of a macaron cookie. Using an actual strawberry allows the juice to remain intact, and as you bite into the cookie, it is released and mixes with the lemon flavor of the frosting and the shell.
It's so incredibly yummy!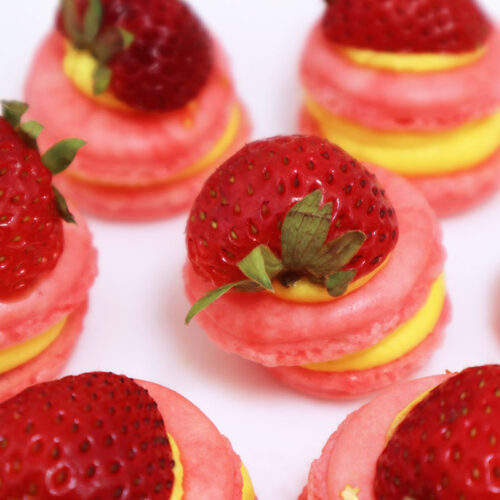 Strawberry Lemon Macarons
Strawberry lemon macarons are perfect on a summer day encompassing all the colors and flavors of summer in one perfect bite.
Ingredients
Lemon Macaron
200

g

powdered sugar

110

g

almond flour

100

g

egg whites

50

g

white granulated sugar

½

teaspoon

cream of tartar

Pinch

of salt

Dried zest from one lemon

1

drop Wilton Color Right Red Food Coloring
Lemon Frosting
8

oz

powdered sugar

¼

cup

butter

2

tablespoons

half and half

1

tablespoon

freshly squeezed lemon juice

Wilton's Yellow Food Gel to preferred color

20

small sized whole strawberries
Instructions
Lemon Macaron
Separate your egg whites and leave out overnight

Also the day ahead (or more) zest one lemon and leave to dry in the sun on parchment paper

When preparing macarons, add lemon zest, powdered sugar, and almond flour together and sift until fine and airy

Discard any big chunks

Whip egg whites until ribbons start to form in the bowl

Slowly add granulated sugar, cream of tartar and salt while mixing

Continue to whip until stiff peaks

The tip of the egg white should not bend over at all at this stage

Pour half of your sugar and almond flour mixture into the egg whites and gently fold

When you can no longer see the sugar and almond flour mixture, add the rest of the flour

Continue to gently fold into the egg whites until you can no longer see the flour

Then begin to scrape the egg whites against the side of the bowl, making sure to incorporate more of the batter with each turn

Continue to fold until batter is smooth and thick and runs off your spoon like thick lava

Add one drop of Wilton Color Right Red Food Coloring and swirl with a large toothpick once or twice

Transfer to a piping bag with a round #1A tip

Pipe uniform circles onto parchment paper until batter is gone

Tap sheet against your counter top to release any bubbles

Preheat oven to Fahrenheit 325°

Let macaron rounds sit out for 30-60 minutes before baking

Bake at Fahrenheit 325° for 18 minutes

Allow to cool completely before removing from pan
Lemon Frosting
Whip all ingredients until smooth and delicious
Finalè
Match similar sized cookies and place frosting on the flat side of one cookie

Sandwich frosting between cookies

Store in the fridge overnight for the best results

Just before serving, slice a small strawberry in half and place on top of the macaron with a dot of lemon frosting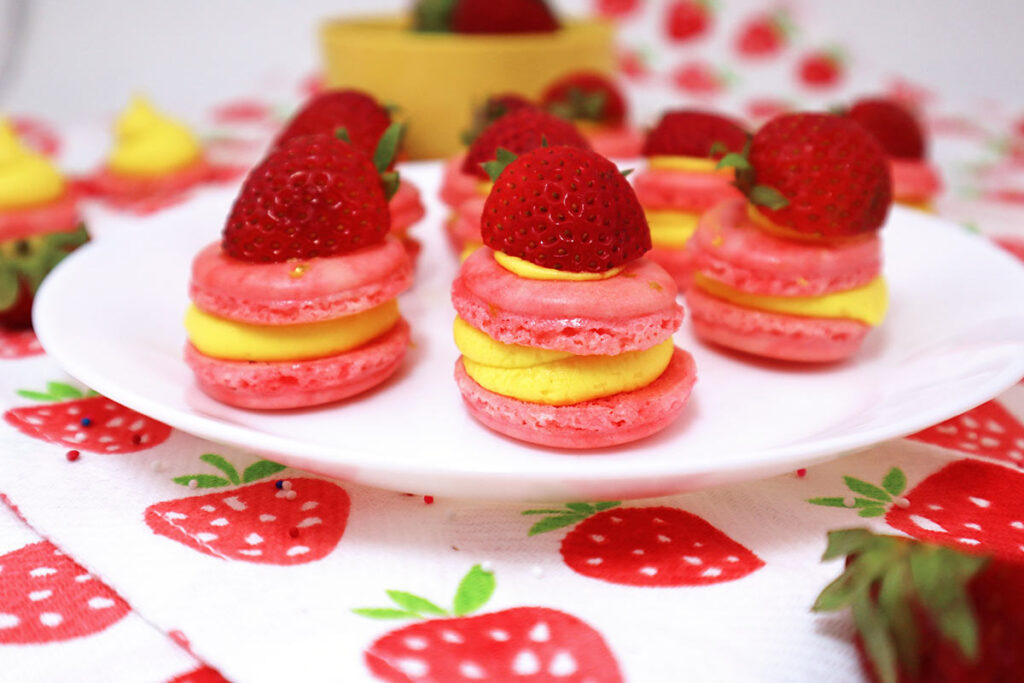 Raspberries, Blueberries and Blackberries, Oh My!
Just by changing the color of the shell, and adding a different fruit on top, you've got a very versatile macaron recipe on your hands!
The Almighty Perfect Bite times however many combinations you can think of!
If it goes with lemons, you can substitute it for the strawberries in this recipe.
Blueberries
Blackberries
Raspberries
Cherries
Ginger
Dark Chocolate
White Chocolate
Ricotta Cheese
Poppyseed
Mint
What else can you think of?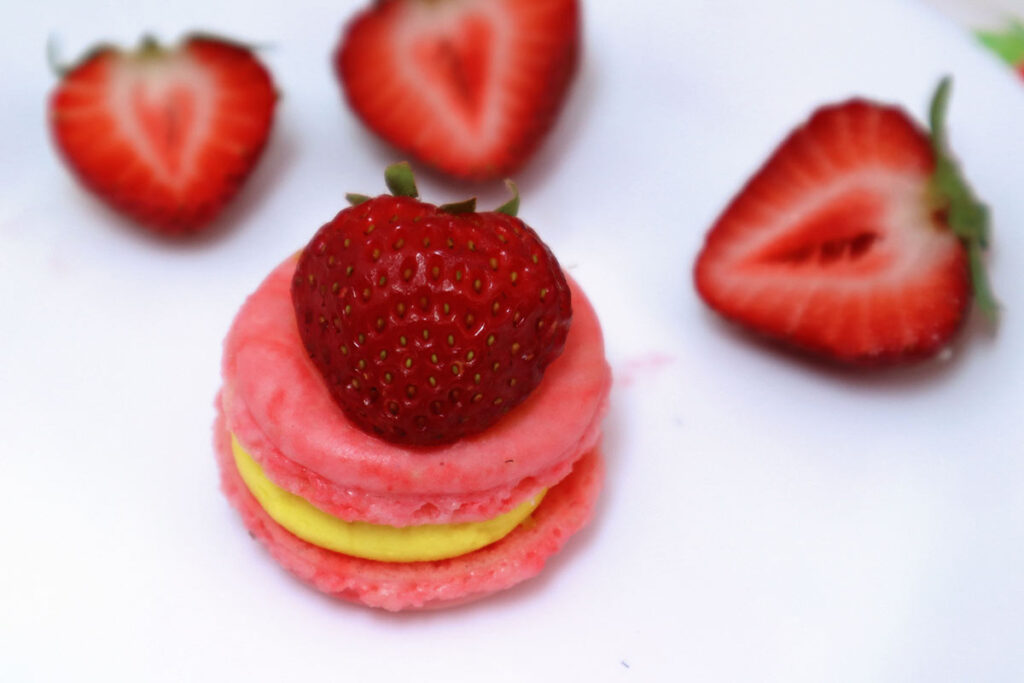 Extra Tips for Making Macarons
Watching several YouTube videos is the best place to learn exactly how to whip your egg whites, and exactly when to stop whipping your egg whites, and how exactly to fold your macronage.
Never forget to double up on your cookie sheets to prevent the bottom from burning, but also place a cookie sheet on the top rack of your oven to mitigate the browning off your cookies as well.
Finally, get to know your oven. No matter what anyone else says is the perfect temperature, your oven will work differently. You'll have to experiment with temperatures and the best time to cook them.
Every oven I've used works differently.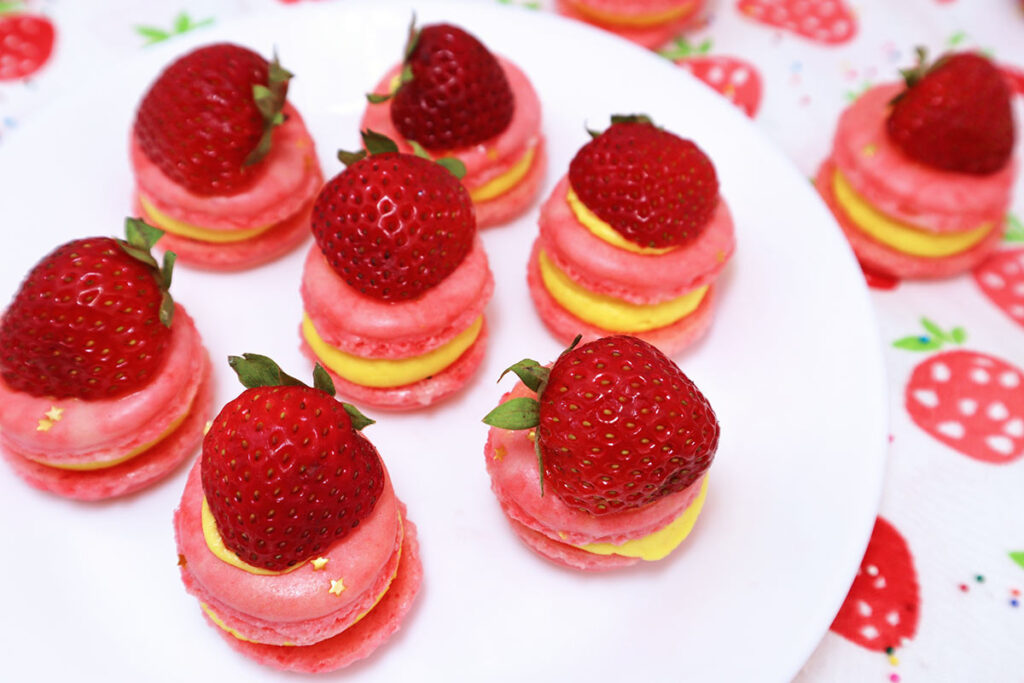 Macaron Making Supplies on Amazon
I am an Amazon affiliate and Amazon sometimes pays me an incredibly small stipend from the sale of these items, and it does not cost you anything to click on them!
You can't make macarons without an electric mixer. If you don't have a Bosch or a Kitchen Aid, a hand mixer is the next best thing.
This cheap Hamilton Beach is my favorite brand.
I really like silicone baking mats, but for macarons, I prefer parchment paper. Sometimes macarons have a tendency to stick to parchment paper and require a longer baking time.
Always use gel for distinctive colors in your baked goods – especially macarons.
Make The Almighty Perfect Bite Strawberry Lemon Macarons
If you make these perfect bite macarons, tag @Fahrenheit350sweets on Instagram so I can see it! And I'd love it if you left a review and a comment below!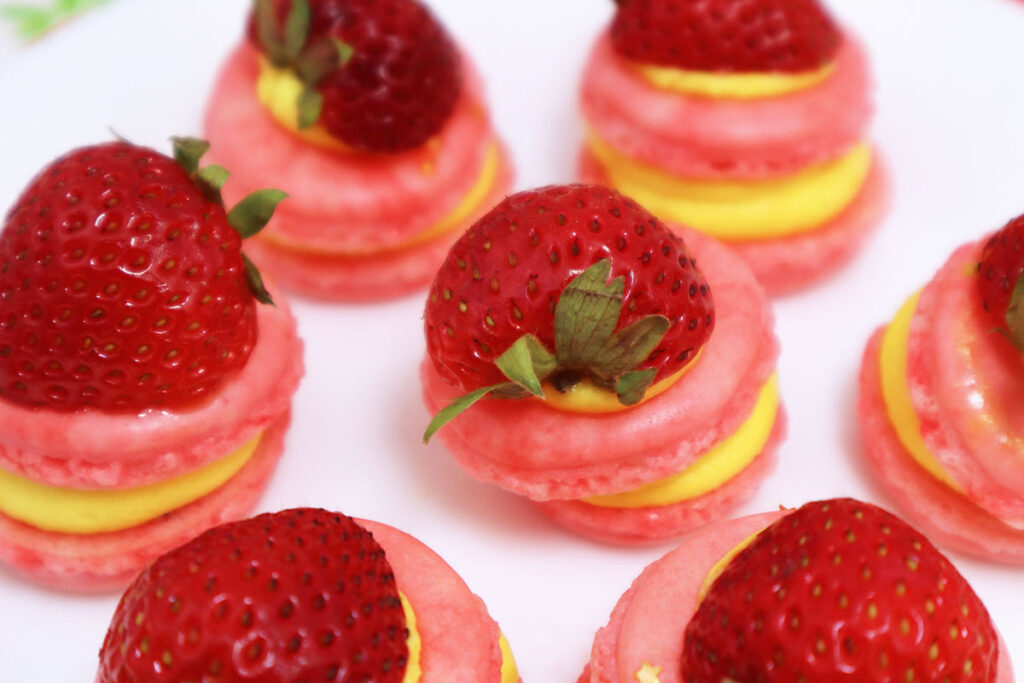 More Yummy Macaron Recipes to Bake at Fahrenheit 350°!