S'mores Macarons are the grown up version of campfire treats you can enjoy all year long.
S'mores
Growing up, I loved the movie Stand By Me and this recipe for s'mores macarons are totally inspired by that movie.
I grew up in a house full of girls, so watching a movie about a bunch of adventurous boys exploring the woods was a totally foreign experience to me.
Also, I grew up in Oregon so I immediately feel an instant connection to the forest and camping, even if I can't relate to the leeches, the rough housing and insulting my friends relentlessly.
Especially the swearing. Swear words were not allowed in our house, and I still don't know how I got away with watching this movie as a kid.
But I love the world "sincerely". It's still my favorite word, sincerely. It definitely stands the test of time.
I cannot help but think of this movie when I am camping, exploring back woods and ghost towns, or just roasting marshmallows in my backyard. The exploration of innocence combined with adolescent egotism in this film is extraordinarily compelling.
But enough about that!
S'mores Macarons
This is the perfect summer cookie. Graham cracker cookie with a toasted marshmallow inside and melted Hershey's chocolate.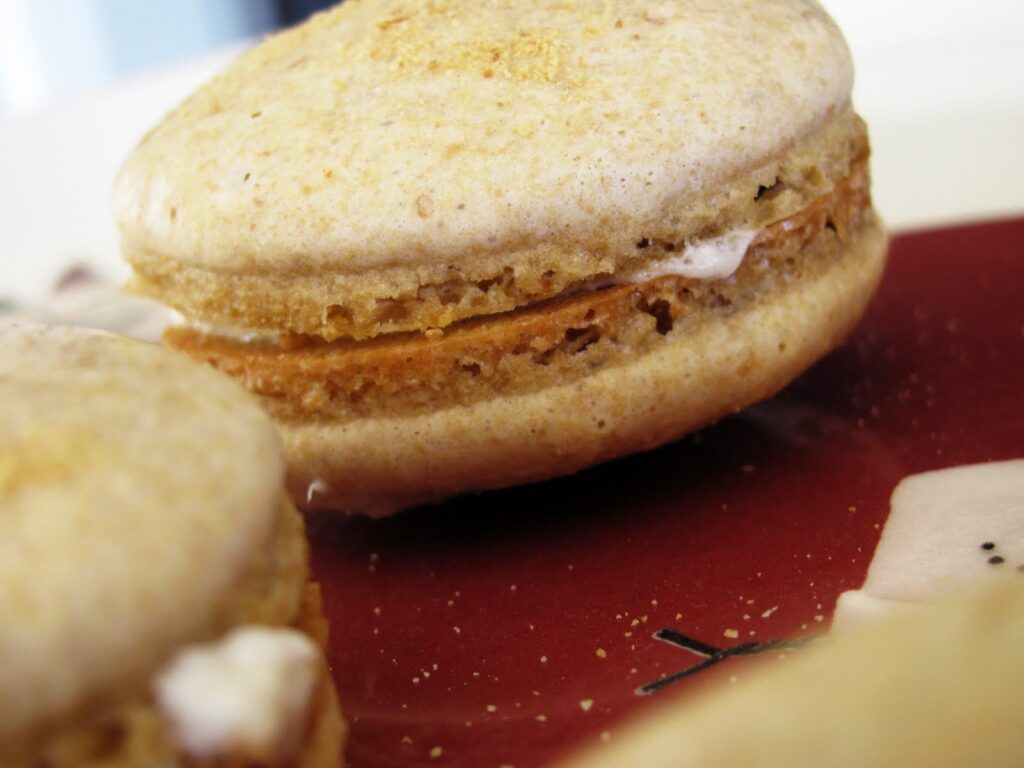 How to Make These S'mores Macarons
Just like with any other macaron recipe, follow the same instructions.
First, sift the powdered sugar with the graham cracker flour.
Twice to be doubly sure.
Make sure your egg whites are at room temperature.
Whip them to stiff peaks.
Fold the flour into the egg whites in two steps.
Your macronage should be thick. Definitely don't over mix your flour with your egg whites.
t's a hard gauge it perfectly, but err on the side of under-mixing rather than over-mixing. The piping process will continue to incorporate the egg whites and the flour even more.
Let cool before removing from your baking sheet.
Fill with a marshmallow and toast under a broiler oven.
Melt chocolate on top of melted marshmallow immediately and top with second macaron cookie.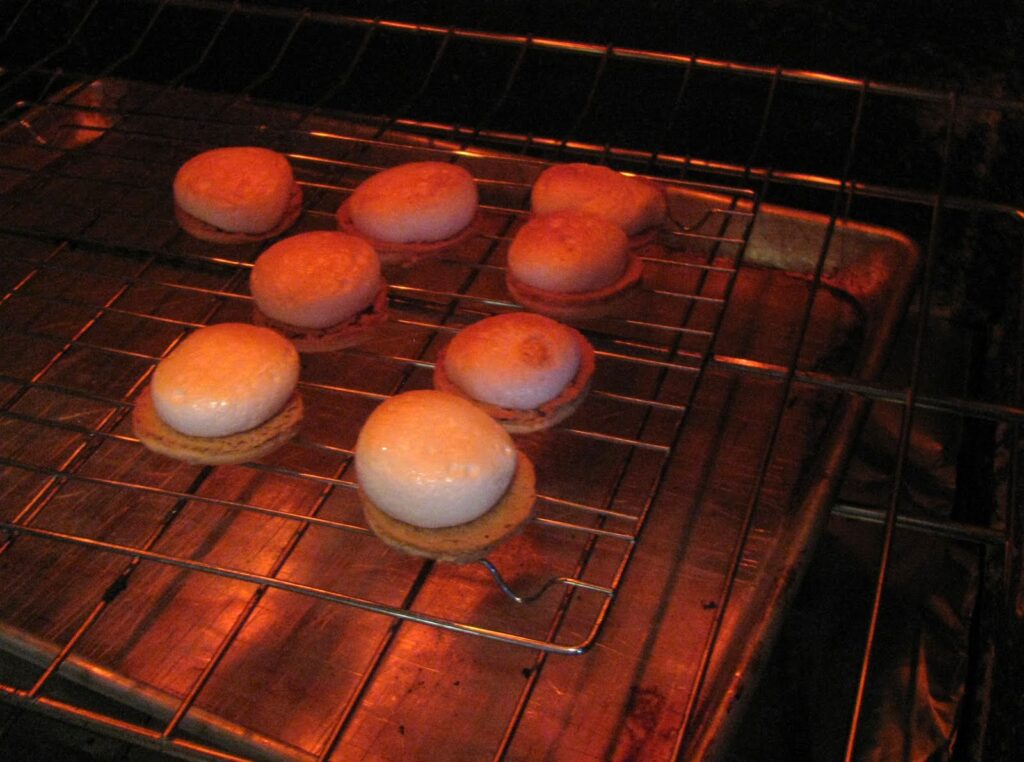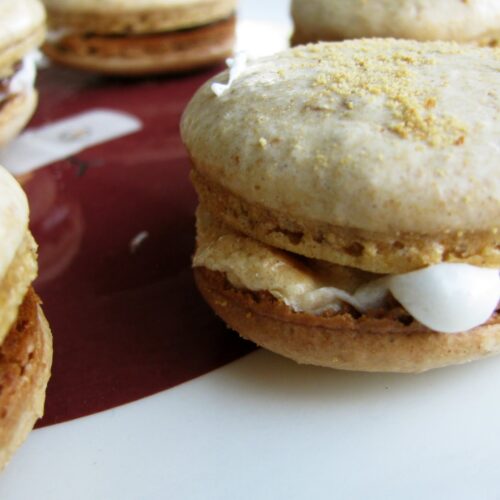 S'mores Macarons
This is the perfect summer cookie. Graham cracker cookie with a toasted marshmallow inside with melted Hershey's chocolate.
Ingredients
110

grams

powdered sugar

60

grams

finely ground graham cracker crumbs

60

grams

egg whites

room temperature

40

grams

granulated sugar
Instructions
Sift together the powdered sugar and finely ground graham cracker crumbs into a medium sized bowl

In a separate bowl whip the egg whites to soft peaks

Add the granulated sugar, and beat to stiff peaks

Fold powdered sugar and flour mixture into egg whites in two steps

Stir just until whites are incorporated, and the macronage flows like lava

Spoon batter into piping bag, minus the tip, and create even circles onto baking sheet lined with parchment paper

Let rest for 15 minutes – 1 hour

Bake at Fahrenheit 310°, 10-15 minutes until feet have puffed and outer shell is hard

Remove from oven and let cool

Peel off parchment paper once cooled

Match tops and bottoms and place ½ large marshmallow on one macaron cookie, flat side up

Place under broiler in oven until toasted (watching closely)

Immediately top with one square of Hershey's Chocolate and second macaron cookie
No Almond Flour
Almond flour is used when making macarons because of the sweet signature almond flour. It's not necessary to the overall success of the cookie.
The reason macarons are macarons is because they are a meringue cookie; they puff and establish feet because of whipped egg whites.
You can substitute any flour you want, really. For this recipe, I used graham cracker flour.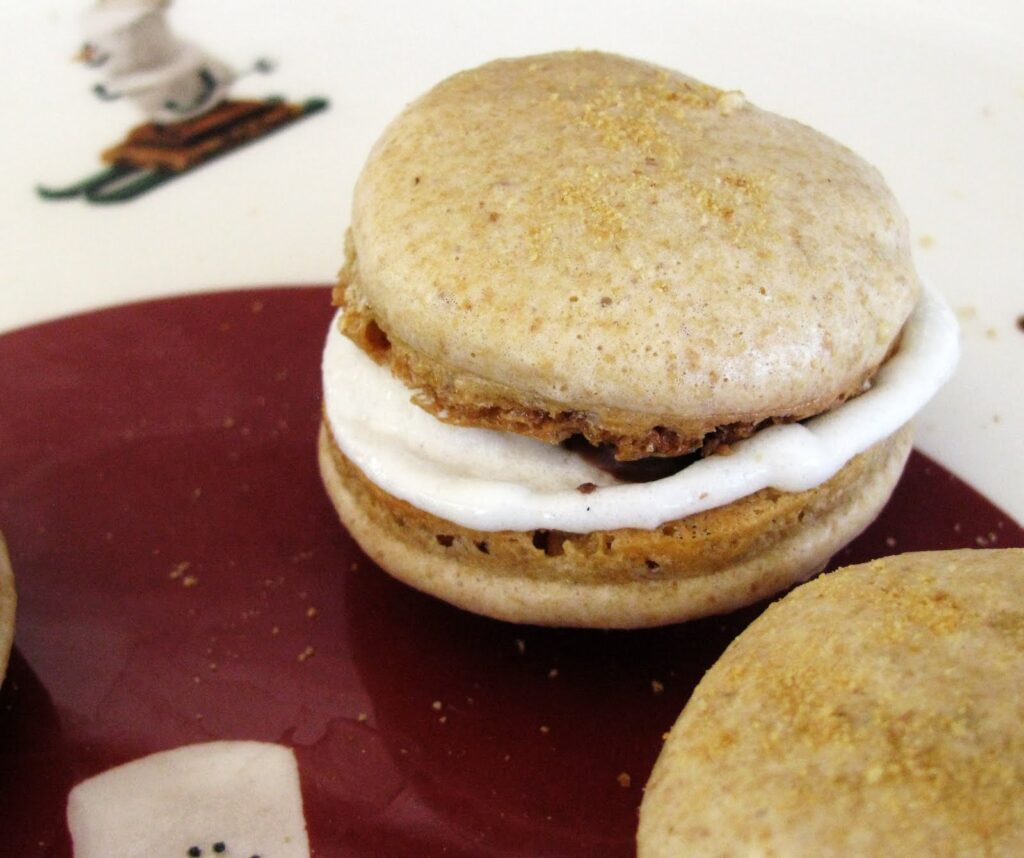 Where is the Frosting?
These are truly unique macarons. S'mores macarons don't use almond flour and they don't have frosting. Instead they are sandwiched with toasted marshmallows and chocolate.
I really wanted to capture as much of a s'more as I possibly could.
Graham cracker cookie, toasted marshmallow and Hershey's chocolate square. You can't get any more authentic than that!
My Favorite Macaron Accessories on Amazon
I am an Amazon affiliate and Amazon sometimes pays me an incredibly small stipend from the sale of these items, and it does not cost you anything to click on them!
I love my baking scale. (I actually have several.) They are so useful, and these digital scales converts your weights into grams, ml or pounds. This one is particularly nice because you don't have to tare out the bowl (which I always forget).
These macaron mats so helpful for getting the same size cookie every time.
And these are cute! Perfect little boxes to give to friends, family and neighbors.
Make These Perfect Summer S'mores Macarons
If you make these macarons, tag @Fahrenheit350sweets on Instagram so I can see it! And I'd love it if you left a review and a comment below!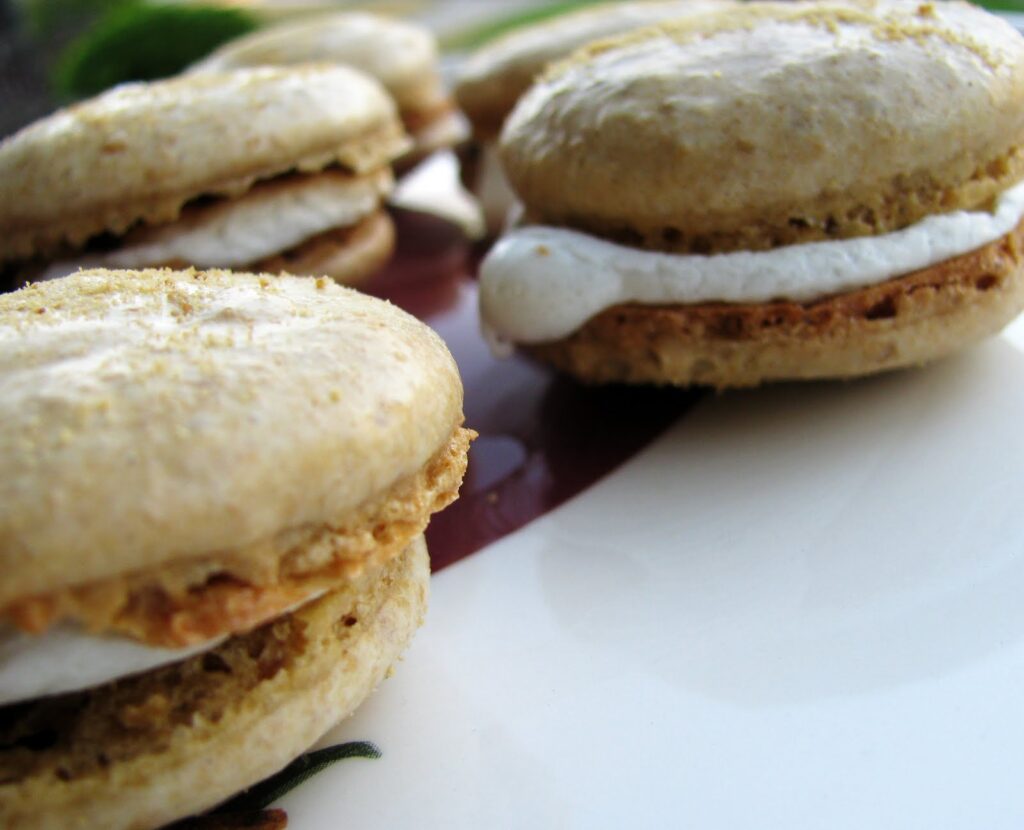 S'more Recipes to Bake at Fahrenheit 350°!