Nothing says summer like a Rootbeer float. The ice cream cools you down, and the rootbeer quenches the unavoidable thirst brought on by a warm summer day when not even a breeze can make its way through the thick foliage of the trees.
But what's even better than that? This Rootbeer Ice Cream.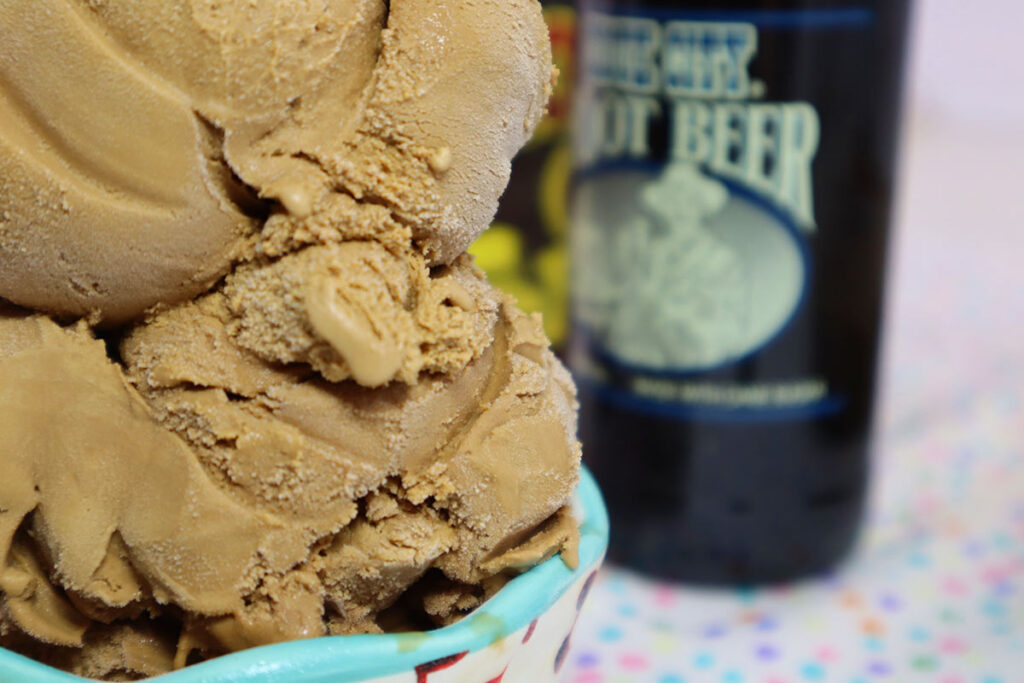 Rootbeer Ice Cream
Summer Rootbeer Floats
Growing up every summer my church had a picnic at Oxbow Park. I vividly remember sliding down the sand dunes and then wading knee high in the river at the bottom of the mountain. There were always hot dogs stacked high with towers of ketchup and Jack Powell at the end of the picnic table brewing up some of his famous homemade Rootbeer for everyone to enjoy.
Someone always brought ice cream, and we always filled our red plastic solo cups to the brim with both.
Everyone loves summer. No matter how old you are, or where you live in the world. Summer is synonymous with fun; and this Rootbeer ice cream is fun. It's both soda and ice cream all wrapped up into one!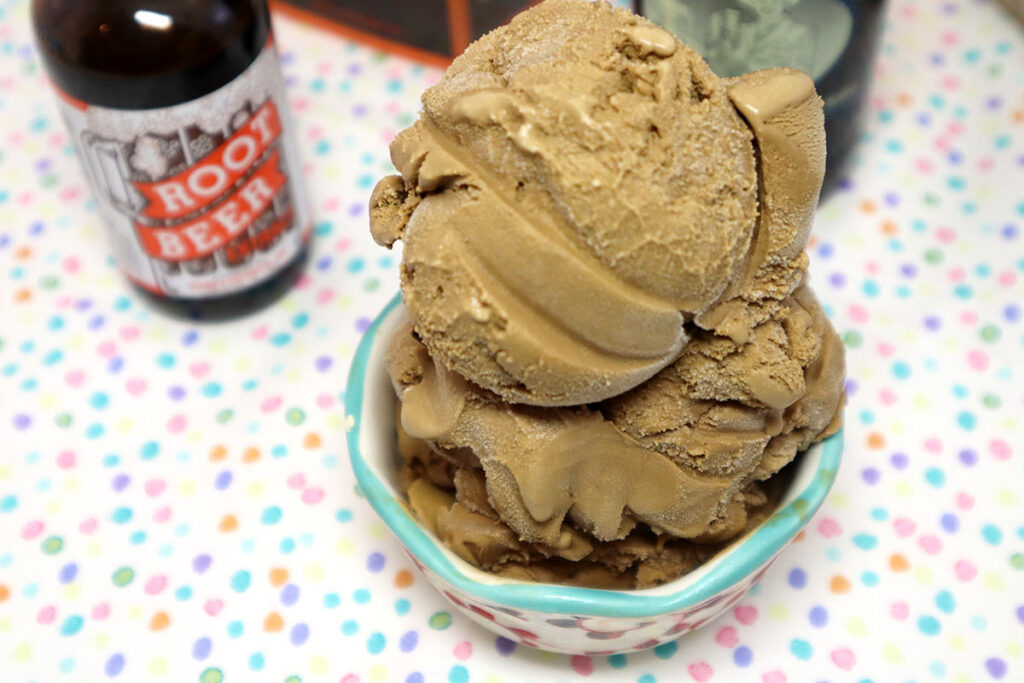 Summer Memories
This Rootbeer ice cream takes me back to my favorite summer memories. Memories when I was a kid sleeping on the trampoline under the stars, and memories we are now making with our own kids.
Ice cream is included in nearly every single one whether it's playing at Oxbow Park, or meeting the ice cream truck every Wednesday night in Florida as he made his promised delivery or even walking from the train station in Livorno, Italy to climb the Leaning tower of Pisa.
Homemade Rootbeer
As promised, this is an easy recipe! Fortunately you don't have to make your own homemade Rootbeer to indulge in this Rootbeer ice cream.
You just need to have a little sugar, a couple of eggs, and of course, rootbeer extract.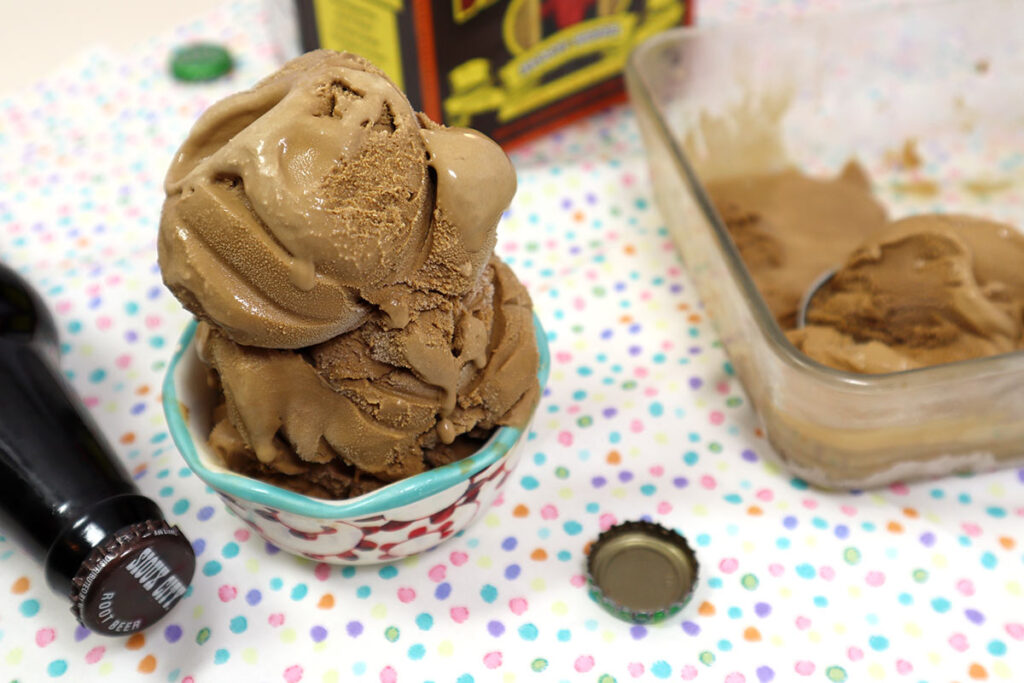 How to Make This Easy Rootbeer Ice Cream Recipe
Notice in this video, I didn't include ½ cup of brown sugar. However, after I made this recipe I decided it wasn't quite sweet enough, and added the brown sugar in the next batch.
It definitely improved the flavor, so I highly recommend the extra sugar.
Not to mention, the molasses in the brown sugar is an amazing compliment to the licorice in the Rootbeer!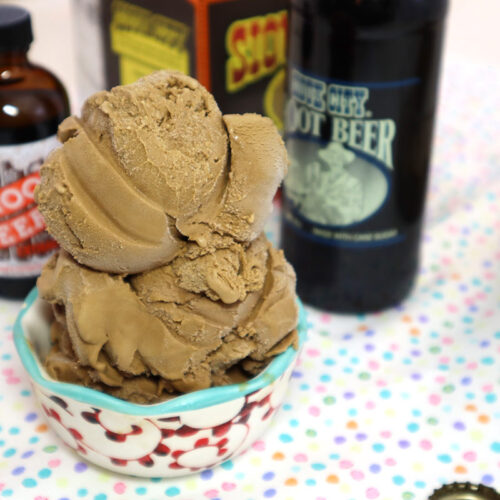 Rootbeer Ice Cream
Indulgent Rootbeer Ice Cream that is the perfect treat for hot summer nights.
Ingredients
14

oz

sweetened condensed milk

½

cup

brown sugar

2

cups

heavy cream

1

cup

whole milk

2

tablespoons

Rootbeer extract

2

teaspoons

vanilla

½

teaspoon

vanilla

2

egg yolks
Where Can I Find RootBeer Extract?
It should be located in the spices section of your grocery store, but I was never able to get my hands on some.
So of course, I turned to Amazon. Voila!
Also, don't lick the spoon after pouring in the extract. Just trust me.
Can I Make This Ice Cream Without an Ice Cream Maker?
Yes!
You'll make the recipe according to the instructions.
Once chilled, transfer the cream base to a large mixing bowl and place in the freezer. Mix with an electric hand beater for 1 minute, every 30 minutes until frozen completely.
Make sure to set a timer! If you forget, your ice cream will completely freeze and you won't be able to get it as smooth as you want.
Make Your Own Rootbeer Ice Cream
If you make your own Rootbeer Ice Cream be sure and tag @Fahrenheit350sweets on Instagram so I can see it! And I'd love it if you left a review and a comment below!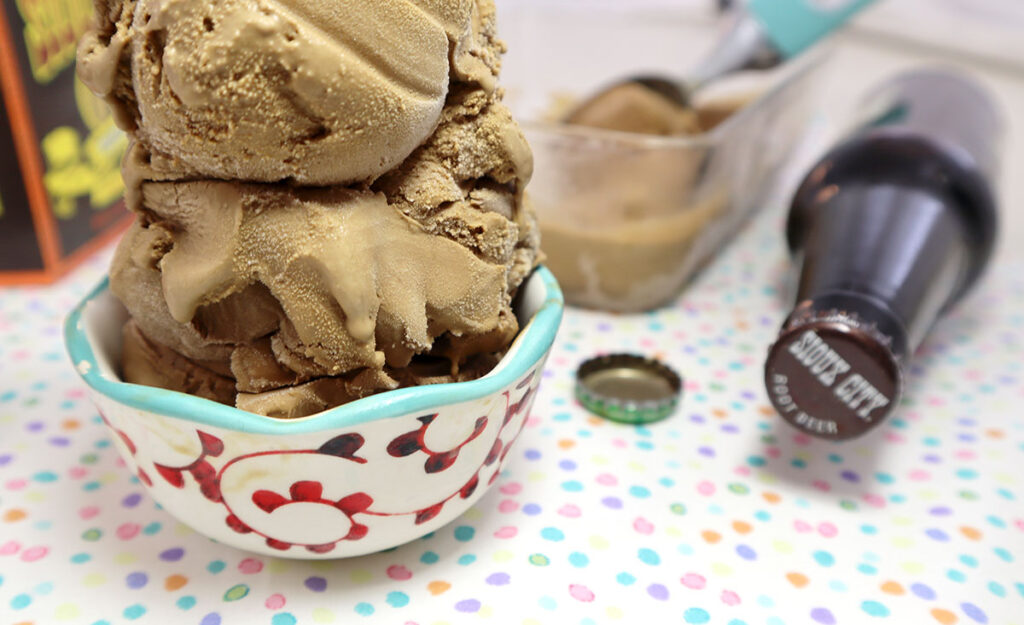 More Ice Cream Recipes to Bake at Fahrenheit 350°!