I survived off a single pint of chocolate milk and lunch lady peanut butter bars for the entirety of my four year high school career.
I kid you not.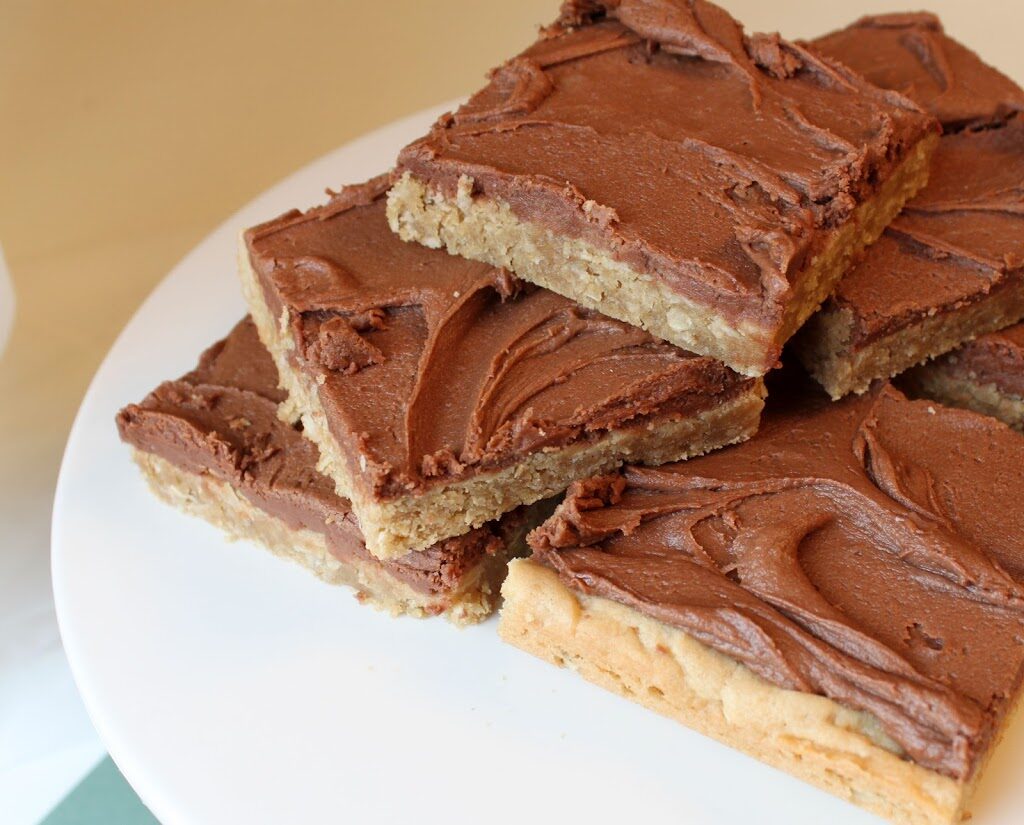 Well, these and a healthy dose of obsessing over cute boys and how to avoid doing homework.
But when lunch time came, and with it a break from sitting in class trying not to gossip with my girlfriends, these peanut butter squares were the reason I could make it through the rest of the day.
Smooth thick peanut butter cookie crust layered with creamy chocolate frosting.
Old School Recipe:
Lunch Lady Peanut Butter Bars
This Peanut Butter Squares School Recipe is so easy to recreate at home. With 30 spare minutes and a few ingredients you've already got on hand, you are ready to indulge in a trip down memory lane.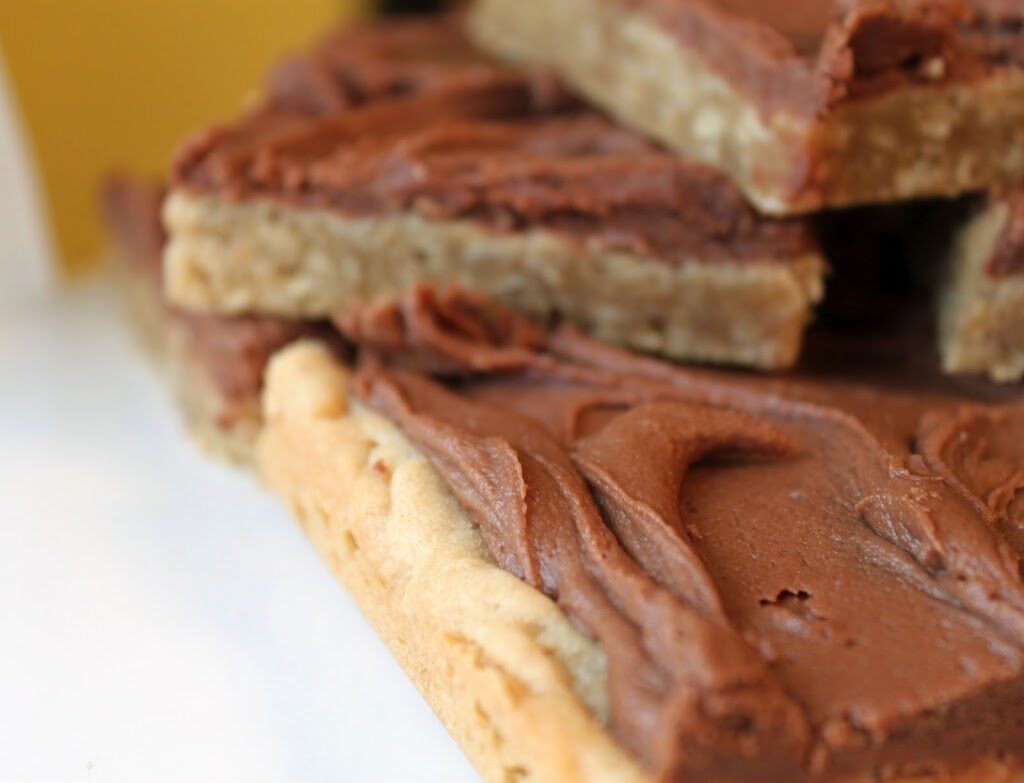 I'm not sure how I survived the next ten years, because that is how long it took me to discover the lunch lady peanut butter bars recipe and perfect it.
I mean, I actually considered going back into those dreaded halls a few times over the years — that is how serious my craving is for these cookies.
This is it.
These lunch lady peanut butter bars are chewy while not being overly sweet, and the perfect treat for any time of year.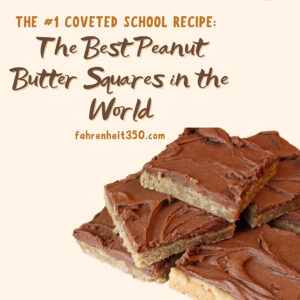 Lunch Lady Peanut Butter Bars
Peanut Butter Squares School Recipe from your Childhood Primary Days
Ingredients
Cookie Dough
¾

cup

butter

¾

cup

peanut butter

¾

cup

brown sugar

¾

cup

sugar

2

eggs

2

tsp

vanilla extract

1 ½

cups

flour

1 ½

cups

rolled oats

½

tsp

salt

¾

tsp

baking soda
Frosting
2

cups

powdered sugar

¼

cup

butter

¾

cup

peanut butter

1 ½

cups

melted chocolate chips

1

tsp

vanilla

⅓-½

cup

milk
Instructions
Cookie Dough
In a large mixing bowl cream butter and sugars together until light and fluffy

Add eggs and vanilla and continue mixing until well combined

Add dry ingredients and stir together until a dough forms

Drop onto a well greased 15×10 sheet pan and spread evenly throughout

Bake at 325° Fahrenheit for 15-20 minutes until lightly browned

Remove from oven and let cool
Frosting
Add all ingredients into a large mixing bowl and use a handheld mixer to combine

Spread evenly over cooled cookies
I'm Allergic to Peanuts. Can I Substitute a Different Type of Nut Butter?
Now I'm imagining this recipe with almond butter! Almond butter is my favorite!
Just promise me you won't use Nutella. There is a time and a place, and this is neither the time nor the place.
You could use any type of nut butter in this recipe – just pretty please share your results and tag us on Instagram using #bakewithfahrenheit350!
Can I Omit the Rolled Oats?
No. If you omit the oats these will not be authentic Lunch Lady Peanut Butter Bars!
Can I Use Shortening Instead?
Can you? Yes.
Should you? Shortening is not made from vegetables because vegetables don't produce oil. Shortening is made from grains and is mostly a trans fat. I grew up on Crisco, as did most late century babies, but now I choose butter.
We always use butter. Butter tastes good, and comes from milk.
Make These Lunch Lady Peanut Butter Bars
If you make these old fashioned peanut butter squares, tag @Fahrenheit350sweets on Instagram so I can see it! And I'd love it if you left a review and a comment below!
Like this recipe? Check out some of our other favorite peanut butter recipes.