For the longest time, I thought I lost this recipe. I was so devastated! It is an Apple Cream Cake from my favorite little specialty bakery in Gresham, Oregon: CloudTree & Sun Inc.
The bakery doesn't exist anymore, but it was the prettiest little boutique I used to love going to when we lived in Oregon. They sold all sorts of unique little trinkets, and the bakery had the most gorgeous and decadent desserts you've ever seen.
I was beyond sad when I thought I'd lost this recipe! Especially since the boutique is no longer in business. I was thrilled when I discovered it tucked away in a secret recipe binder I keep stashed away.
Apple Cream Cake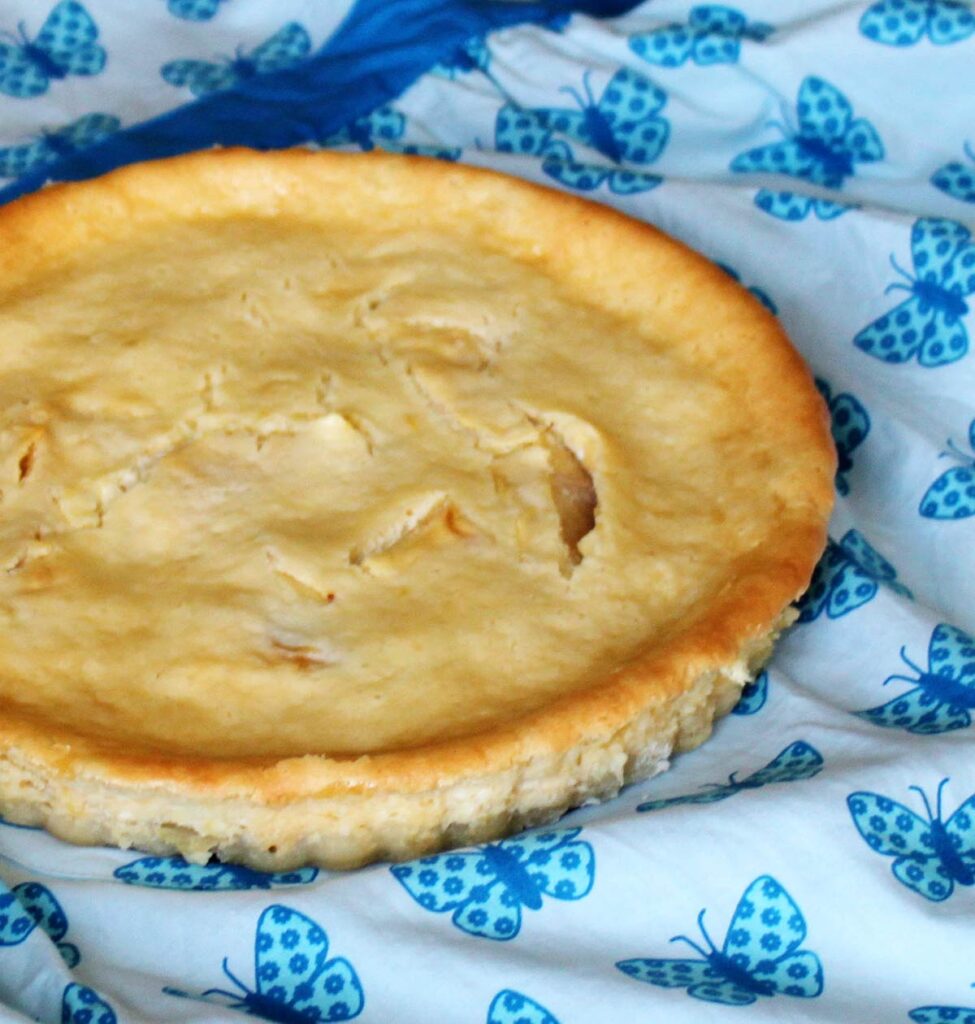 This Apple Cream Cake is a mix between a flan, a cheesecake, a cream cake and an apple pie all mixed up into one!
This is how food is meant to be created. This little bakery is what initiated me on my journey down the study of gastronomy. CloudTree & Sun. also created one of my other favorite desserts, a Caramel Walnut Flan. It's like a sister dessert to Pecan Pie.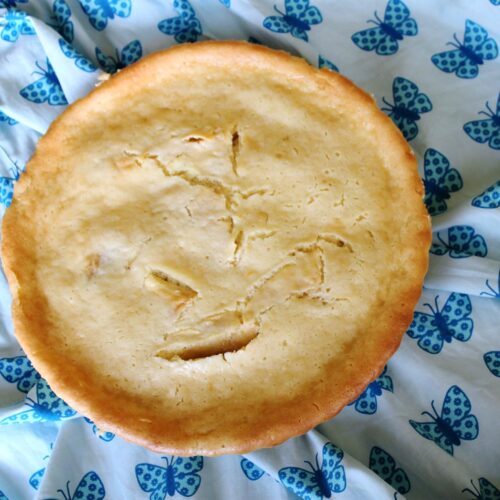 Apple Cream Cake Flan
This Apple Cream Cake is a mix between a flan, a cheesecake, a cream cake and an apple pie all mixed up into one!
Ingredients
Crust
1 ½

cups

flour

½

cup

butter

½

cup

powdered sugar

⅛

cup

water

+/-
Cake
8

oz.

cream cheese

2

tablespoons

lemon juice

2

eggs

½

cup

sugar

2

sliced and cored apples
Instructions
Crust
Mix flour, butter and sugar together with a pastry blender until mixture resembles pebbles

Add just enough water until mixture comes together into a ball

Chill dough for 10 minutes

Roll dough out to ¼ inch thick

Fold in half and lay in a 8" fluted tart pan

Unfold and form to pan

Set aside
Cake
In a medium bowl beat cream cheese until light and airy

Add lemon juice, eggs and sugar

Mix until light and fluffy

Set aside

Arrange sliced apples on the bottom of the crust in a circular pattern

Pour cake mixture over apples

Bake at Fahrenheit 350° for 30-40 minutes

Allow to cool in pan until room temperature

Remove base of pan

Chill and enjoy
Can I Substitute Another Fruit?
I've never tried it, but I would suspect the water content of most fruit would be too high. You might need to adjust the baking time, or add additional sugar or ¼ cup of flour to offset the fruit juice.
Mangoes or peaches might work the easiest, but I've never tried it.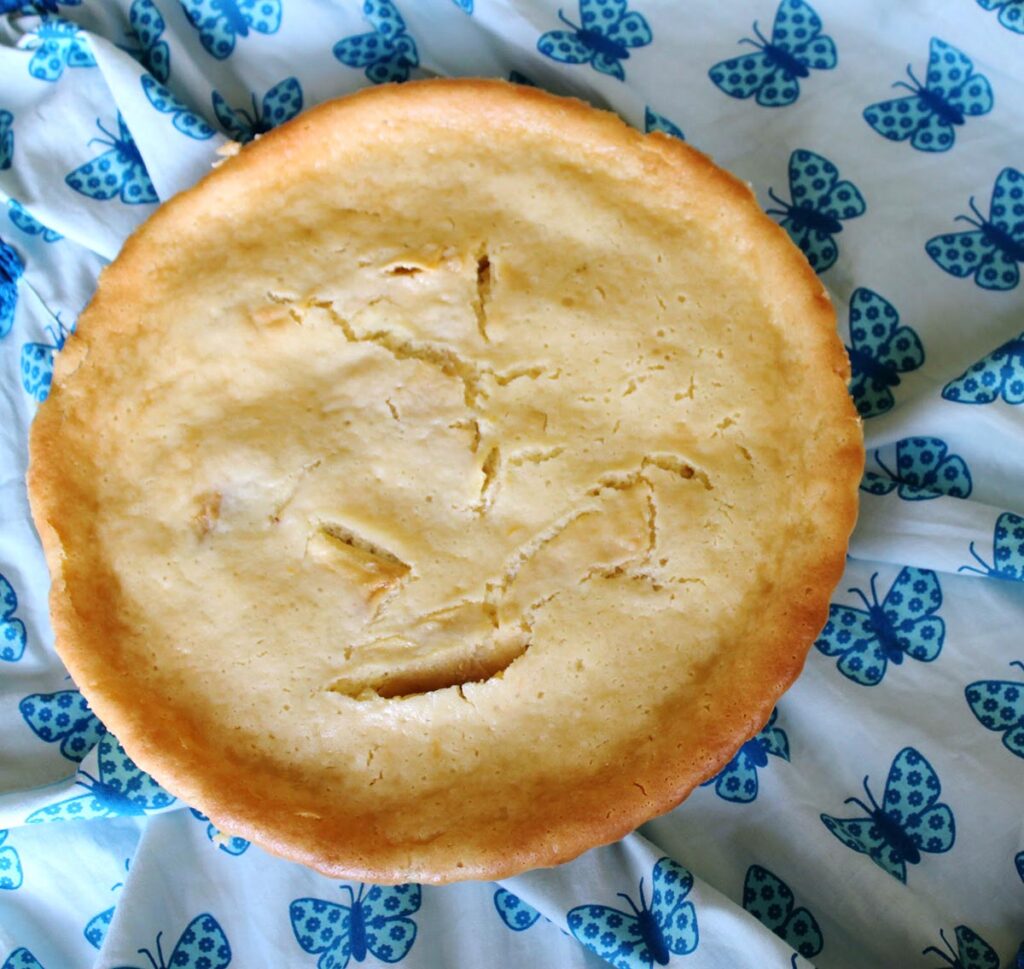 Can I Add More than Two Apples?
Yes! Two is the minimum. Two creates an even distribution of cake to apples.
If you add more than two, you'll err on the side of the French. You'll have a fruit filled tart, but without the pastry cream you'll have created more of a flan.
Should I Peel the Apples?
I prefer them that way, but it's not required.
It's delicious either way!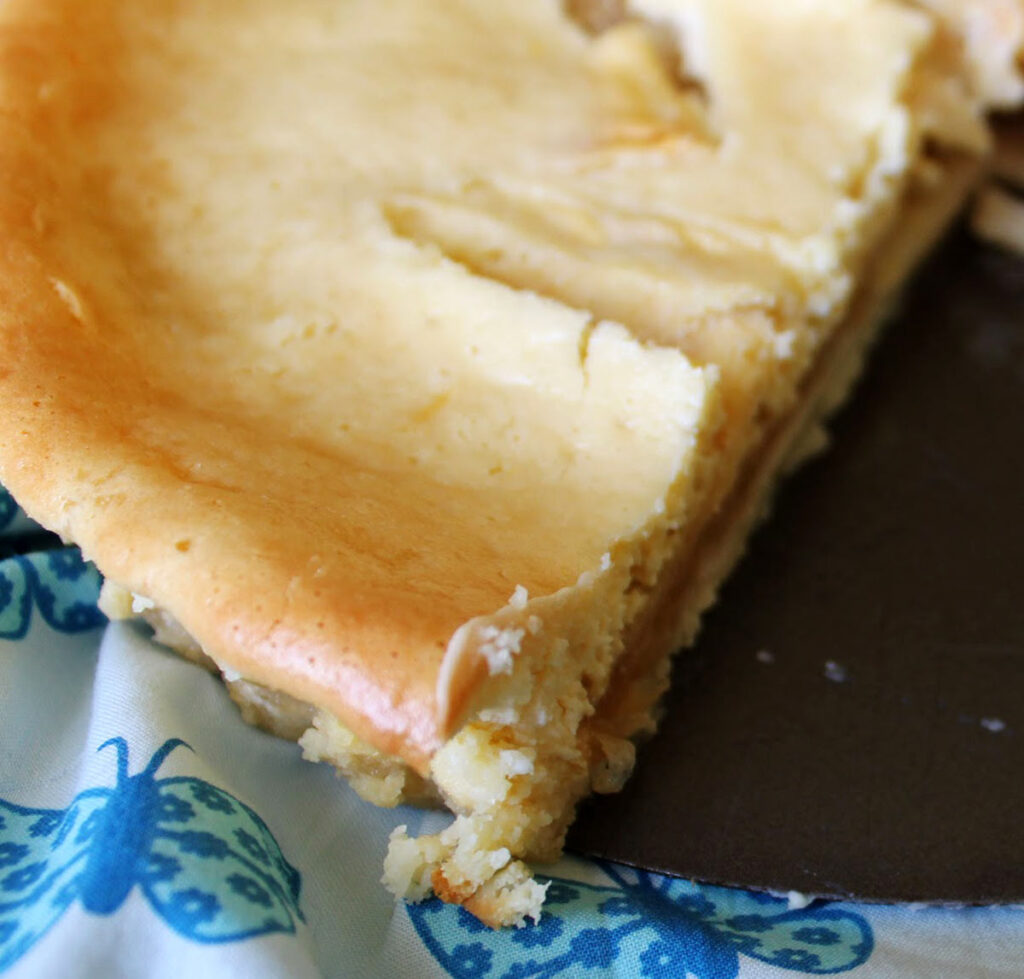 My Favorite Fluted Tart Pans on Amazon
Everyone needs a fluted tart pan. They make every dessert instantly beautiful!
Amazon pays me an incredibly small stipend from the sale of these items, and it does not cost you anything to click on them! The sale of items you and I love help support this webpage.
Make This Apple Cream Cake Flan
If you make this cake, tag @Fahrenheit350sweets on Instagram so I can see it! And I'd love it if you left a review and a comment below!
More Apple Recipes to Bake at Fahrenheit 350°!