We celebrated my husband's birthday this week with a Peanut Butter Oreo Cheesecake made with Peanut Butter Oreos. Have you tried these Oreos? Oh. My. Goodness. I've never been a huge fan of Oreo's, but I can eat an entire package of these all by myself.
And, it wouldn't take long.
I knew they would make a super yummy Peanut Butter Oreo Cheesecake! Peanut butter and chocolate is one of my hubby's favorite flavor combos, and the Oreo's give this dessert an extra bit of goodness.
Added texture, plus that signature oreo flavor.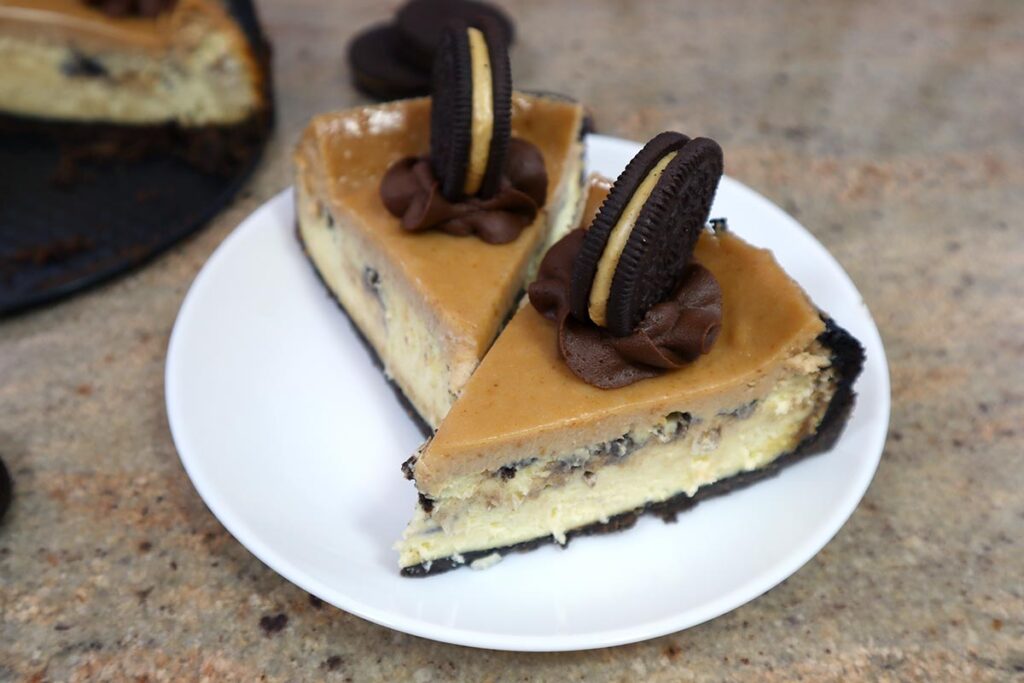 Peanut Butter Oreo Cheesecake
Classic cheesecake with a twist! Peanut Butter Oreos are an awesome pairing in this classic dessert combining chocolate and peanut butter.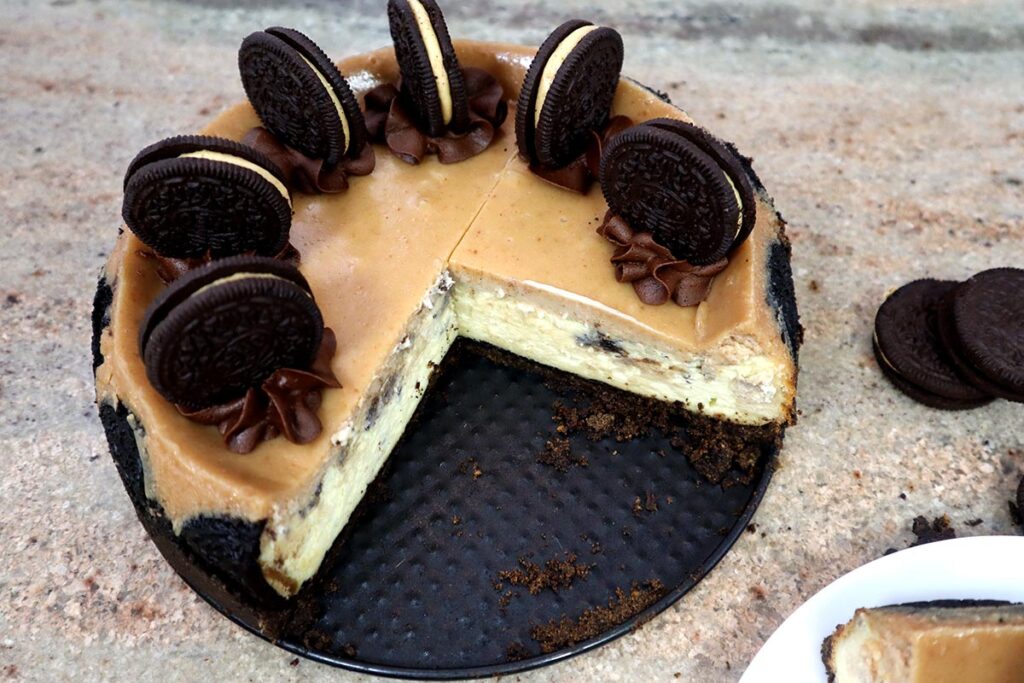 How to Make Peanut Butter Oreo Cheesecake
Cheesecake is such an easy and great dessert to make. All you have to do is whip the cream cheese with sugar and eggs. It practically makes itself.
The added flour increases the structure of the cake.
Video Tutorial Making this Cheesecake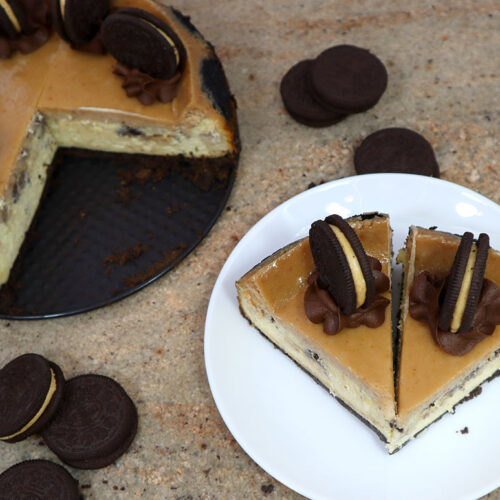 Peanut Buter Oreo Cheesecake
Classic cheesecake with a twist! Peanut Butter Oreos are an awesome pairing in this classic dessert combining chocolate and peanut butter. 
Ingredients
Crust
22

Peanut Butter Oreos

¼

cup

peanut butter
Cheesecake
24

oz.

cream cheese

room temperature

2

cups

sugar

3

eggs

1

teaspoon

vanilla

¼

cup

flour

¼

cup

Oreo crumbs
Sour Cream Topping
12

oz.

sour cream

2

teaspoons

vanilla

¾

cup

peanut butter

¼

cup

chocolate sauce

1

cup

sugar
Instructions
Crust
Add 12 Oreos to a blender or food processor and mix until cookies have turned into fine crumbs

Reserve ¼ cup of oreo crumbs

Transfer to a bowl and add peanut butter

Using a fork, press the peanut butter into the crumbs until fully mixed in

Line the bottom of a 9" spring form pan with crumb mixture and press flat

Carefully separate remaining Oreos and arrange alongside the outer rim of the springform pan with the frosting center facing inward
Cheesecake
Preheat oven to Fahrenheit 300°

In a medium size bowl beat 24 oz. of cream cheese until thick and creamy

Add sugar and beat until smooth

Add eggs one at a time, until mixture is well combined

Stir in vanilla and flour

Pour into springform pan over oreo crust

Sprinkle reserved cup of oreo crumbs over the top of the cheesecake batter

Using a knife, gently swirl in the crumbs

Bake at Fahrenheit 300° for 1 hour until cake is set, but still wobbles when pan is tapped

Remove from oven and slowly pour sour cream topping over cake

Gently smooth to edges and place back in oven

Cook for additional 10 minutes

Remove from oven and let cool to room temperature

After cooled, store in fridge until ready to eat
Sour Cream Topping
Place all ingredients in a small bowl and whisk until smooth

Set aside until cheesecake has baked for 1 hour

Whisk again just before pouring over cheesecake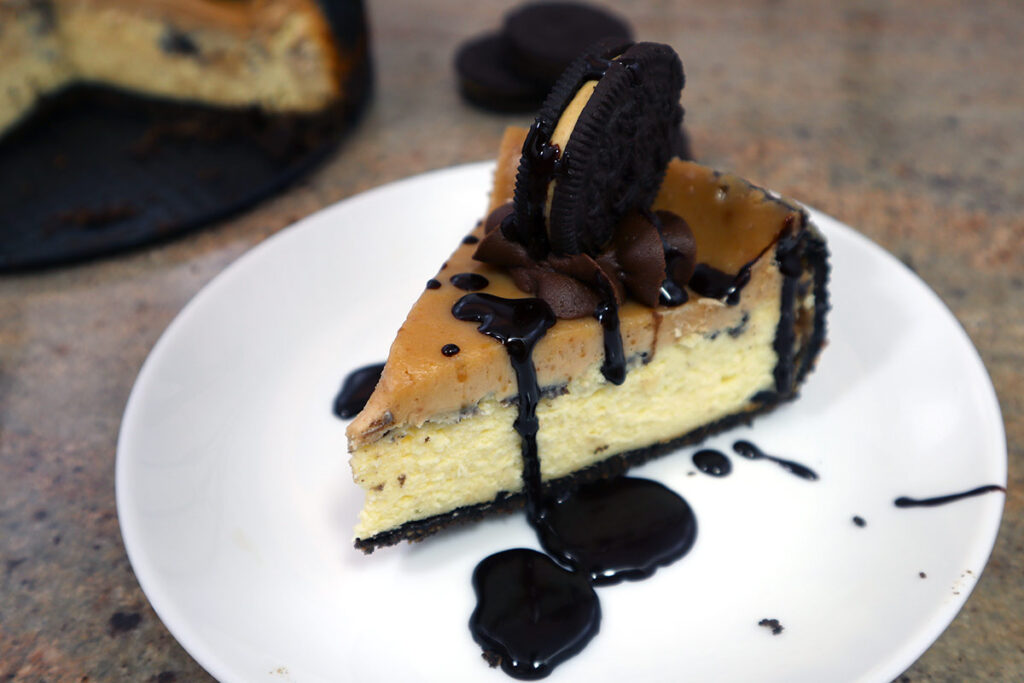 Can I Make This with Regular Oreos?
Yes! You'll just need to make 2 alterations.
Simply sub out the peanut butter in the crust with melted butter.
Omit the peanut butter from the sour cream topping.
Easy Peasy!
Baking Cheesecake
The hardest part about making cheesecake is baking it. There is a sweet spot for taking it out of the oven and allowing the residual heat to finish baking it all the way through.
I like to bake my cheesecake for a longer period of time at a lower temperature. This method creates less of a rise, and fewer potential for cracking.
Fahrenheit 300° is my favorite temperature, and I usually bake it for about 60 minutes. You want to jiggle the outside of the pan and watch for the entire cake to be uniform.
You want it to look uniform in color, rise, and movement.
When you jiggle the pan, you want the cake to move as a whole. You don't want the cake in the center to wobble independently of the outside. If the cake doesn't jiggle, it's overcooked. But don't throw it out! Overcooked cheesecake is still super yummy! Just make a note to cook it less next time.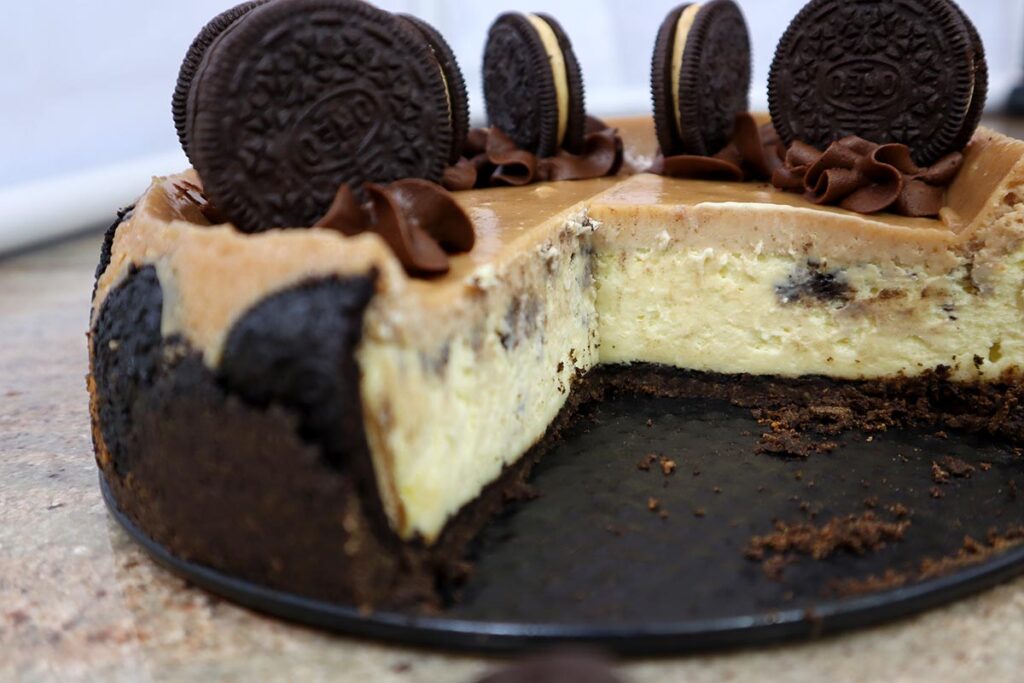 What is A Bain Marie?
A bain marie is a water bath, and many bakers swear by a water bath for cooking a cheesecake.
Essentially, the process involves baking the cheesecake inside a springform pan, but placing that springform pan inside a casserole dish filled with water. Because the springform pan is submerged in water, first you have to cover your springform pan in a layer of tin foil to ensure no water leaks into the pan.
For me, personally, It's too much work for me for practically the same results. A lower temperature works great. Just look at the pictures on this post!
Unlike cheesecake, a bain marie is the only way to bake Crème Brûlée.
How Did you Get the Oreos on the Outside of the Cake?
It was easier than I thought it would be! After pressing the crust into the pan, the half cookies of the Oreo stood right on top of the crust. Make sure to keep the frosting facing the batter.
Slowly pour the batter into the pan, and work your way from the inside of the pan out. Pour the batter directly into the center and allow it to naturally settle towards the rim. It will distribute evenly, but you can also gently nudge it to the outsides. Once the batter is poured in, the cookies will stick to the cake itself.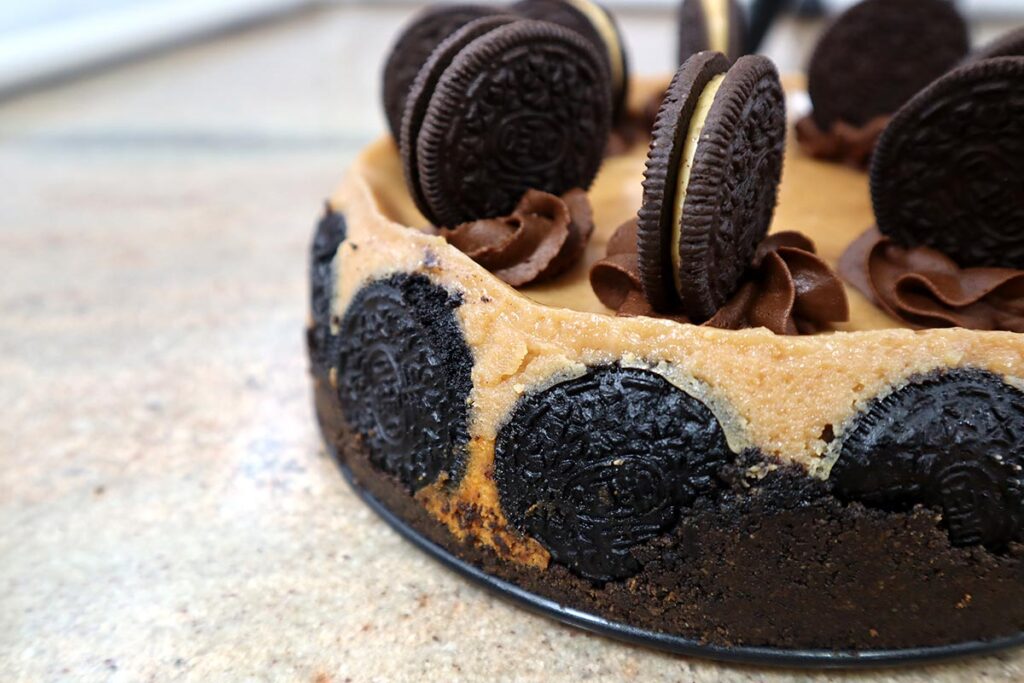 Insider Ranks Oreos all Wrong
I'm definitely not an Oreo aficionado, but I know wrong when I see it!
Insider ranks Peanut Butter Oreos #15 out of 31 flavors! I'm not cool with that.
I agree the original double stuff Oreo deserves the #1 spot, but Peanut Butter Oreos should at least fall closer to #6. What do you think?
My Favorite Bundt Cake Pans on Amazon
Springform pans are a must for any baker or home cook. Plus, they are so cheap there is no reason not to have a set in your kitchen.
These are Amazon affiliate links, and it does not cost you anything to click on them!
Make life easy with this even cake slicer. No one will be fighting over the biggest piece!
Make This Yummy Peanut Butter Oreo Cheesecake
If you make this yummy cheesecake, tag @Fahrenheit350sweets on Instagram so I can see it! And I'd love it if you left a review and a comment below!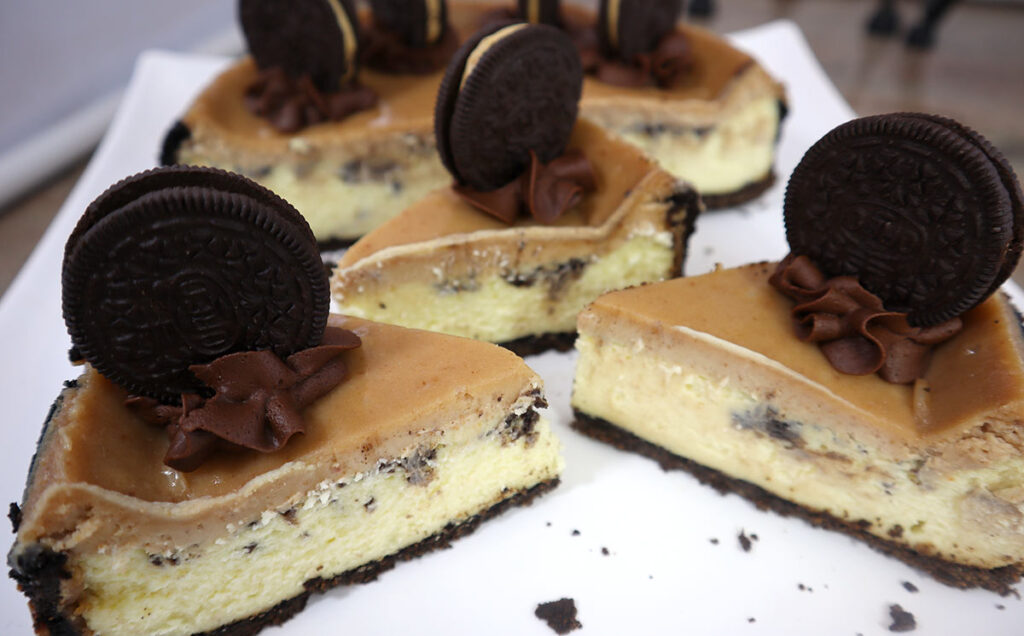 More Delicious Cheesecake Recipes to Bake at Fahrenheit 350°!