You've never had a ham sandwich quite like this! A baked brie croissant filled with garlic aioli, fig jam, shredded ham and baked brie inside a freshly cooked croissant.
This baked brie croissant is packed full of so much flavor! The bottom layer of the croissant melts around the baked brie, and the top layer of the croissant puffs into a magical dome of butter filled air pockets.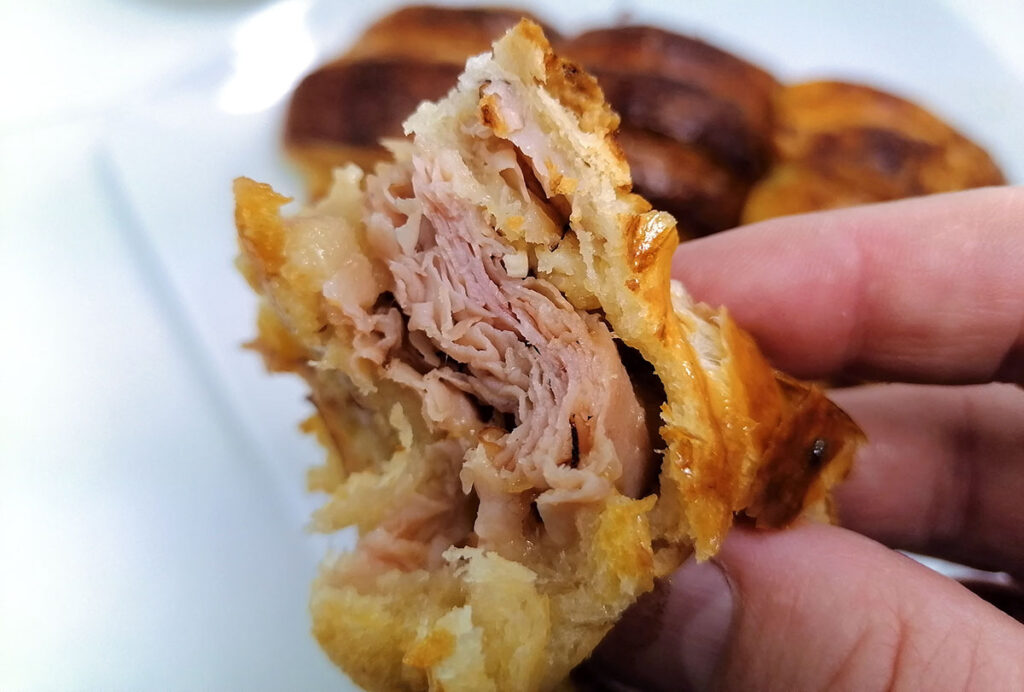 Like I said, you've never had a sandwich quite like this one before.
Baked Brie Croissant
Baked brie croissants may take 3 days to make,
but they are worth every second of wishing and waiting.
How to Make a Baked Brie Croissant
Once you've mastered making croissants, which are truly not all that hard to make, a baked brie croissant consist of merely layering the ingredients on top of the dough and rolling them up!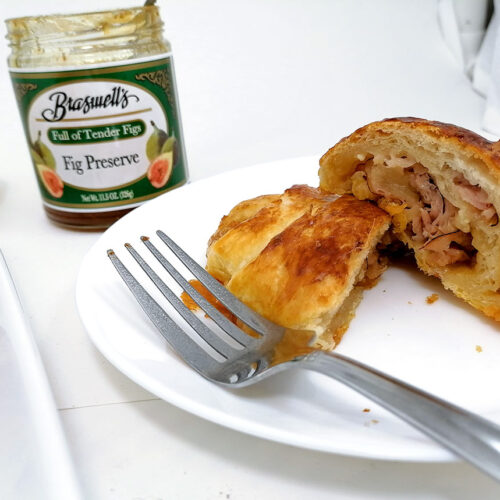 Baked Brie Croissant
The best sandwich croissant you'll ever have!
Ingredients
Croissant Dough
1

cup

water warmed

4

teaspoons

dry active yeast

½

teaspoon

sugar

3 ½

cups

flour

4

teaspoons

salt

¼

cup

sugar
Filling
2

oz

Garlic Aioli

12

thick rectangular slices of Brie Cheese

12-24

slices

of Shredded Ham

2

oz

Fig Jam
Instructions
Croissant Dough
Proof yeast with sugar

Let sit until bubbly and rising

In a large mixing bowl add flour, salt and ¼ cup of sugar

Whisk until incorporated and make a well in the center

Add in yeast proof

Mix with hands and then add

6.5 tablespoons softened butter

Mix again with hands until combined and continue to knead on un-floured surface until soft and smooth

If using a stand mixer, mix on low speed just until combined

Transfer to a clean bowl and let rise for several hours, at least until doubled

Remove from the bowl and deflate the dough.

Roll into a long rectangle and fold over like an envelope

Wrap in plastic and place in the fridge overnight

Make a tourrage with 16.5 tablespoons of butter by smashing and rolling the butter inside a quart ziploc bag

When the butter is flat and square, place it in the fridge to harden

Cut it out of the ziploc bag so it remains the same shape

Allow to thaw just until you can create a light indent in the top with your finger

Remove the dough from the fridge and roll out to double the size of your butter square

Place the square of butter on one side of the dough and fold the other side of the dough to cover the butter

Roll the dough out again, until double the length,

Fold the dough over itself like a letter, in three folds

Place back in the fridge for at least an hour

You want to keep the dough cold so the butter stays laminated between the layers of dough

Repeat the rolling and folding process three times

Each time, make sure to turn the dough, so you are rolling in the opposite direction of the folds

Refrigerate between turns, and overnight after the last fold

After the dough has chilled, split dough in half and work with half the dough at a time

Roll out dough to 1/2 to 1/4 inch thickness

Cut out triangles and using a butter knife spread a layer of garlic aioli and fig jam over the entire croissant

Then place a slice of ham or two on top of that depending on your preference and cover with a thick slice of brie cheese

It's okay if the brie or ham oozes out the sides of the croissant

Roll up and cover with egg wash and let rise for a minimum of 2 hours

Preheat oven to Fahrenheit 400°

Wash the croissants again with egg wash as the oven heats to temperature

Cook at Fahrenheit 400° for 15 minutes, lower temperature to Fahrenheit 375° and cook for additional 10 minutes
Tips for Making Croissant Dough
Like I said, croissants actually aren't that hard!
The dough itself is made from just a few ingredients and left to rise overnight
The next day you'll make a square of butter and fold it in between the dough and roll it out
Keep cold and repeat 3 times
Let dough rest again in the fridge overnight
Roll the dough out and layer with love, I mean ham
The most important part of making croissants is taking care not to over knead your dough, and never let your dough get too warm during the laminating process.
Check out master French patisserie Bruno Albouze on YouTube for tips on making the perfect croissants!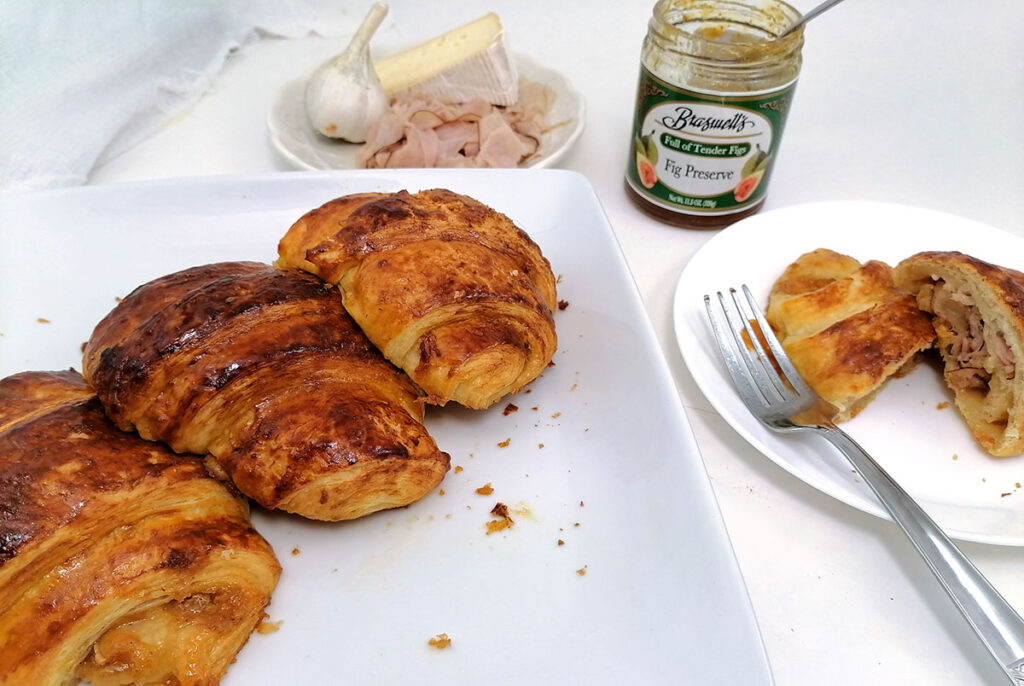 Can I Just Buy Croissants and Put the Filling Inside Them and Toast them under the Broiler?
Can I just say, if you want to do this, you're no fun.
Do you Take the Rind off Brie Before Baking?
No! The rind is part of the cheese and it's super yummy!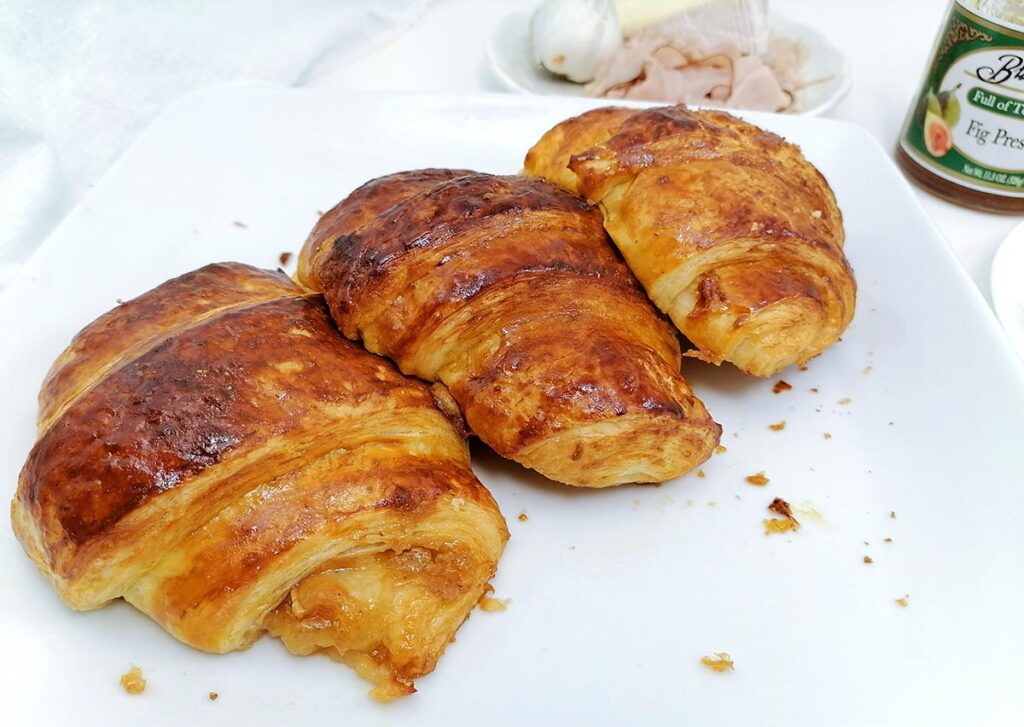 How to Store Leftover Brie?
Store it in an airtight container, and it'll last much longer without developing an off flavor or smell.
Croissant Making Supplies on Amazon
As an Amazon affiliate, sometimes pays me an incredibly small stipend from the sale of items you click on, but it most definitely does not cost you anything to click on them!
Truly, it's not that hard to cut out a triangle out of dough, however, when it comes to making uniform croissants every time, it can get a bit tedious. This little gadget takes care of all the hard work!
And if you want itty bitty croissants, this is perfect for dollhouse croissants.
Make a Baked Brie Croissant Sandwich
If you make a baked brie croissant, tag @Fahrenheit350sweets on Instagram so I can see it! And I'd love it if you left a review and a comment below!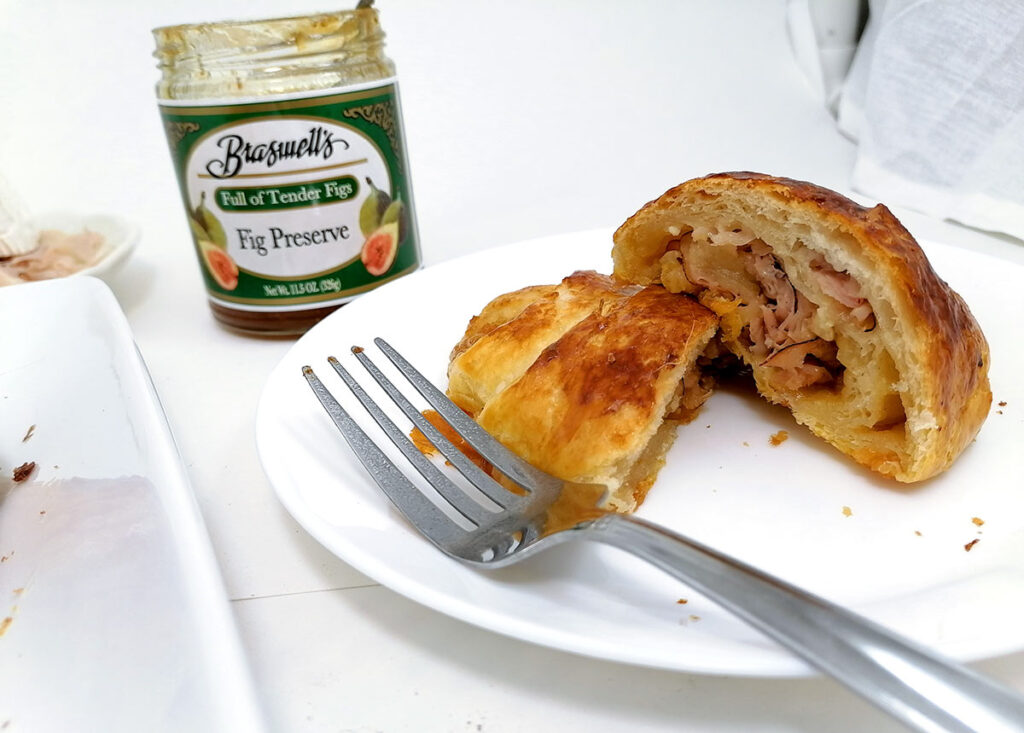 More Yummy Recipes to Bake at Fahrenheit 350°!