Carrot and Banana Cake is Spring's perfect dessert. It's three layers of banana cake and three layers of carrot cake surrounded by a brown butter maple buttercream frosting. Since it's full of beautiful pastel colored fruits and vegetables, including coconut, pineapple and bananas, you could even claim it's mildly healthy.
Carrot cake is my favorite cake in the entire world! So a carrot and banana cake is an extra special rendition of the best cake that has ever been created.
Carrot and Banana Cake
with Brown Butter Maple Buttercream Frosting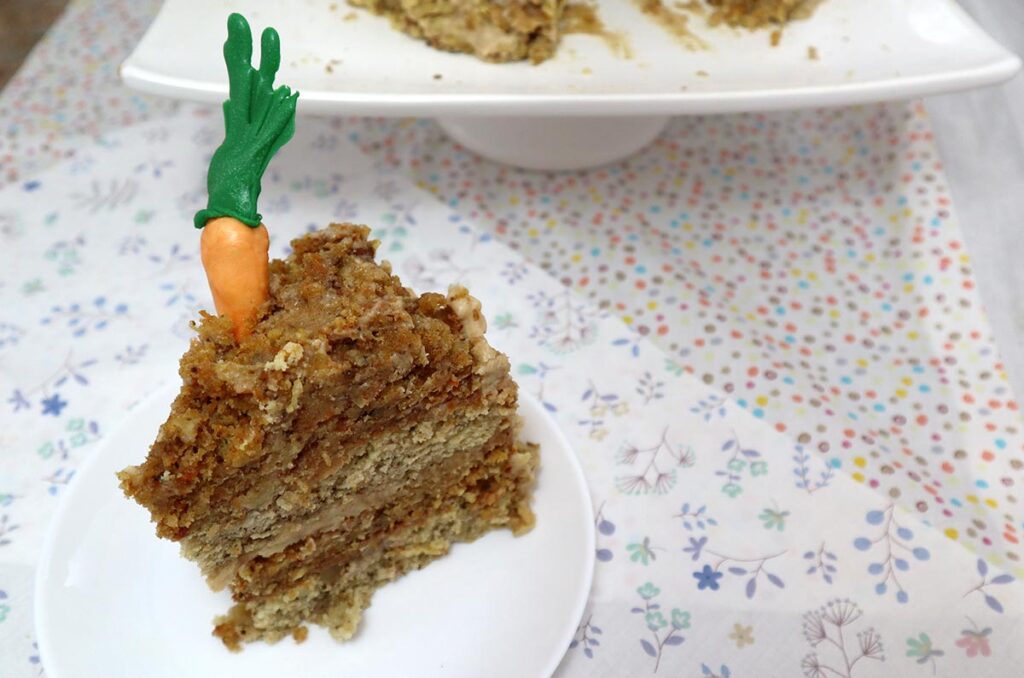 Both earthy and fruity, carrot and banana cake is studded with tons of delicious ingredients and is unbelievably soft and moist.
Making this cake was actually a complete disaster. Click here, or scroll to the bottom if you want to hear the story.
How to Make this Carrot and Banana Cake
This cake is actually two different types of cake that are stacked alternately. 6 layers of cake and 6 layers of frosting.
Carrot Cake
Brown Butter Maple Buttercream Frosting
Banana Cake
Brown Butter Maple Buttercream Frosting
Carrot Cake
Brown Butter Maple Buttercream Frosting
Banana Cake
Brown Butter Maple Buttercream Frosting
Carrot Cake
Brown Butter Maple Buttercream Frosting
Banana Cake
Brown Butter Maple Buttercream Frosting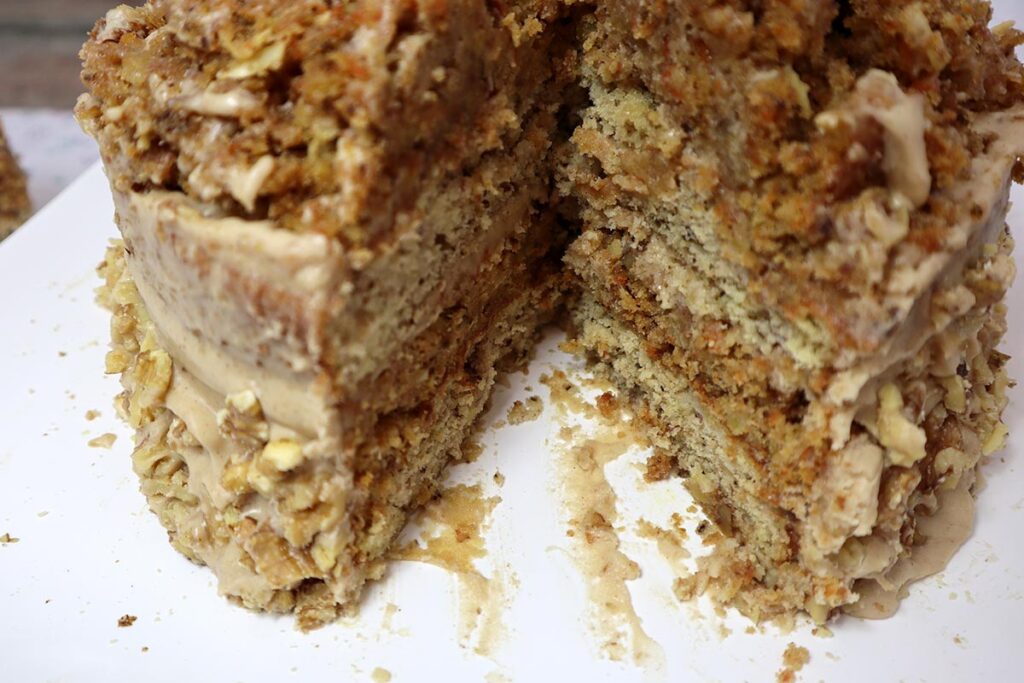 Carrot Cake
The carrot cake is made traditionally with a standard base of creamed butter, sugar and eggs, and then the flour.
But then comes the best parts. It's stuffed with delicious pineapple, shredded carrots, walnuts, and coconut and then it's spiced with cinnamon.
You don't even know it's full of all this stuff. It comes together so beautifully in the oven during the caramelization process and the end result is an incredibly moist, and yummy cake.
My favorite cake.
Banana Cake
The banana cake is courtesy of Spend with Pennies. She claims it's The Best Banana Cake, and is it ever! This cake is so yummy!
The only thing I changed was that I added walnuts. I love walnuts.
Holly says the trick to this cake is soaking the bananas in lemon juice prior to adding them to the cake. She doesn't specify if you should use ripe bananas or the ones you throw in your freezer because they are too ripe, so I did a mixture of both. I think you could get away with either.
Video Tutorial Making this Cake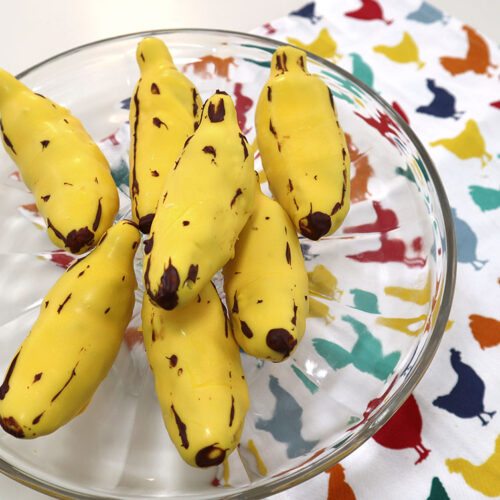 Banana Bread Cake Pops
Cute Mini Banana Bread Cake Pops That Actually Look like Real Bananas
Ingredients
Banana Cake
¾

cup

mashed bananas

1

tablespoons

lemon juice

⅓

cup

butter softened

½

cup

white sugar

¼

cup

brown sugar

2

large eggs

½

teaspoon

vanilla

¾

cup

butter milk

1 ½

cups

flour

¾

teaspoon

baking soda

½

teaspoon

salt

½

cup

crushed walnuts

optional

1 bag yellow candy melts

¼

cup

chocolate chips
Frosting
1

stick of butter

½

teaspoon

vanilla

8

oz

cream cheese

¼

cup

maple syrup

1

lbs

powdered sugar
Instructions
Banana Cake
Preheat oven to Fahrenheit 350°

Grease a 9×13 casserole dish

Set aside

Soak overripe frozen, or fresh bananas in lemon juice

Set aside

Beat butter and sugars until creamy

Add eggs one at a time until well mixed, then add vanilla

Add ½ flour, soda and salt

Mix until combined

Add half of the buttermilk and mix until combined

Add remaining flour and mix until combined

Finish with remaining buttermilk and mix until combined

Stir in bananas and nuts (optional)

Pour into casserole dish and spread evenly

Bake at Fahrenheit 350° for 45 minutes until cake springs back to the touch

Remove from oven and let cool completely
Finalè
When cake is cooled move cake into a large bowl, it's okay to break it up

Add frosting to the bowl and mix together with cake until mixture is spongy

Mold cake into banana shapes and place on a flat sheet

Freeze overnight until firm

After banana cake pops are frozen, melt 1 large package of yellow candy melts until smooth

Dip bananas into yellow candy melts

Transfer to wax paper to dry

Melt chocolate chips and use a toothpick to add brown banana spots

Let dry 1 -2 hours until chocolate has completely set up
Frosting
In a medium saucepan over medium high heat melt butter until browned and beginning to smell fragrant

Turn off heat and add maple syrup and vanilla

Allow to cool to room temperature

Beat cream cheese until light and fluffy

While mixing, add brown butter mixture and mix until thoroughly combined

Add powdered sugar in batches and whip until creamy and thick
Is This a Hummingbird Cake?
No. A Hummingbird Cake combines carrots, bananas and pineapple in the same cake. This is a carrot cake and a banana cake each with alternating layers.
The carrot cake is separate from the banana cake.
They are individual layers that go amazing together. I love how you can taste each separate cake on it's own, and then you get to taste how they are combined. This might be my newest favorite cake. It's an easy sell.
Plus a Hummingbird Cake uses pecans, whereas this carrot and banana cake uses walnuts.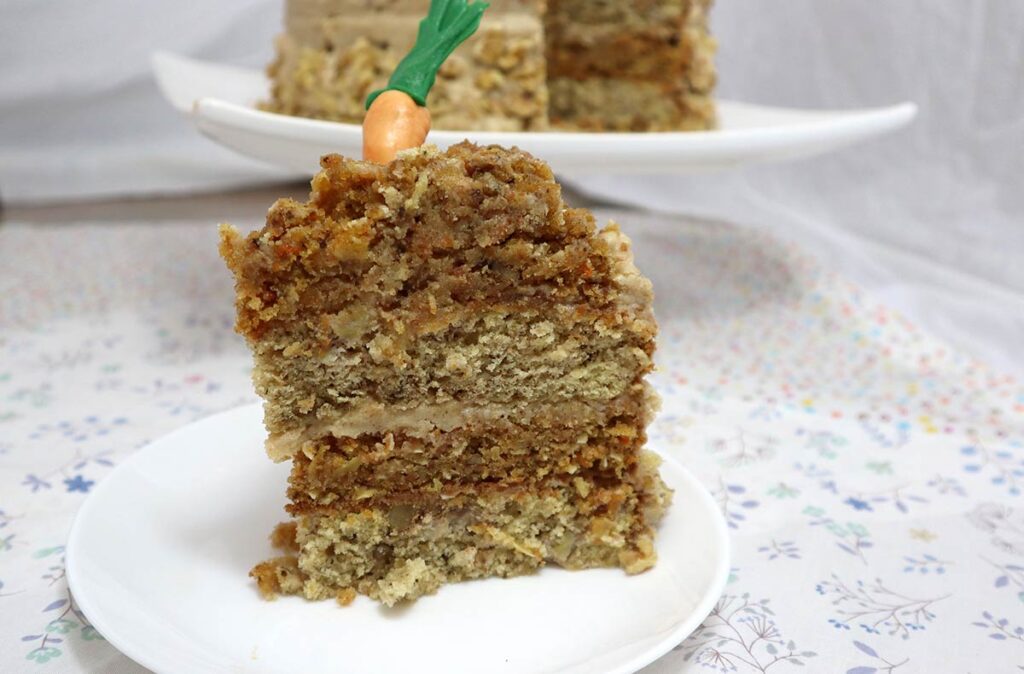 Can I Omit the Nuts?
Yes, you absolutely can.
I personally love nuts, so I add them to everything but it's not a necessary ingredient. You can swap them out for a different nut too, if that suits you.
Do I Have to Use Sunflower Oil?
You can use any oil you prefer. Sunflower is the oil I prefer.
How Did you make the Carrots on Top of the Cake?
These are starburst carrots!
I got the idea from an adorable baker friend who lives in Alabama. She no longer has a blog, but she is super talented!
Mold the starburst by squeezing the candy in your palms until they are nice and warm.
Roll one to two pieces of candy in your hands until it's a long stick.
Pinch the bottom until it comes to a point.
Flatting the top of the carrot by pressing it against a flat surface.
Then I just used a sharp knife to cut little slits in the starburst to resemble carrots. They will harden right back up just sitting on the counter without being touched.
For the carrot tops I used candy melts. I simply piped big swiggly lines all over waxed paper. When dry, I flipped them over so they looked more 3D than flat. I cut a little hole in the top of each carrot to pipe more green candy melt to adhere the tops too.
It's super easy! Anyone can do it!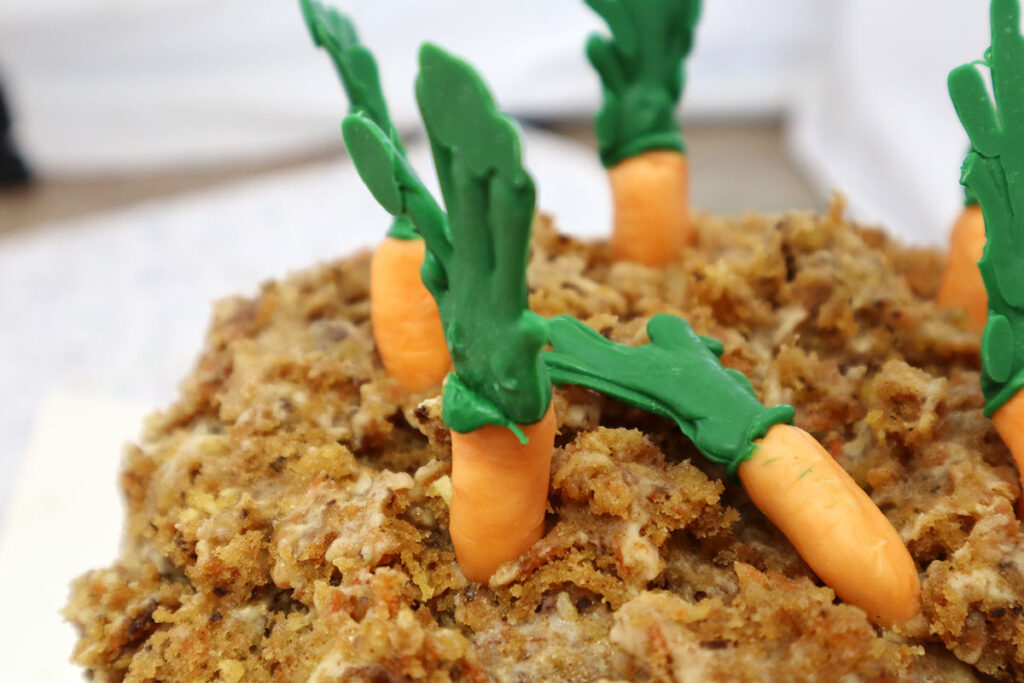 A Note About Salt
Not all salt is created equal and neither are taste buds.
In my recipes I use a blend of Himalayan salt, and Celtic salt which I find tends to need a higher dosage. Additionally, I like things to taste a little more salty, so you might find that you prefer using a little less than I recommend.
What Happened to This Cake?
Despite how incredible this cake is, I'm going to be totally transparent. Making this cake was a complete disaster. Not for any reason other than my own neglect, and at this stage in my life, I should know better.
I manhandled one of the layers of carrot cake too much when I was deciding how to store it overnight. It ended up tearing a little bit on one edge before I finally decided to leave it alone. My carrot cake is so soft, it's excellent for eating, but not so much for wrapping up or touching too much.
Layering the Cake
The next morning when I started putting the cake together I completely forgot and picked up this layer for the very middle of the cake. The only thing worse would have been to put it on the bottom of the cake.
I realized my mistake as soon as it was placed, but what was I supposed to do? I couldn't take if off or I'd completely destroy it, so I just kept going. By the time I got to layer five, it was oozing out the sides. I'd completely destroyed it anyway.
I couldn't glue it together with enough frosting to save it. I couldn't chill it long enough to keep it together, but still I kept trying. You gotta give me credit for going on.
Too Much Weight
I decided to go ahead and put on layer six. The weight of that final layer sealed the deal.
The entire layer of carrot cake was squashed out of the middle like it melted. All I could do was stand there and cry.
Still Trying to Save the Day
I had to do something! So I flipped the cake over onto another cake plate. It was so heavy I couldn't do it alone though, so I held one cake plate while my husband held the other. I was able to salvage two layers of carrot and banana cake that were already sealed together with frosting. Those made up the bottom.
Then I just had to start digging into the destroyed layer of carrot cake, which ended up becoming two ruined layers instead of just losing one. I grabbed handfuls with my bare hands and relocated them off to the side of my work station onto a cookie sheet.
I still had a layer of banana cake from the top that remained intact. I was able to save this one, and put it on top of the other two salvaged layers I was able to rescue. That made up layer three.
Dirt Cake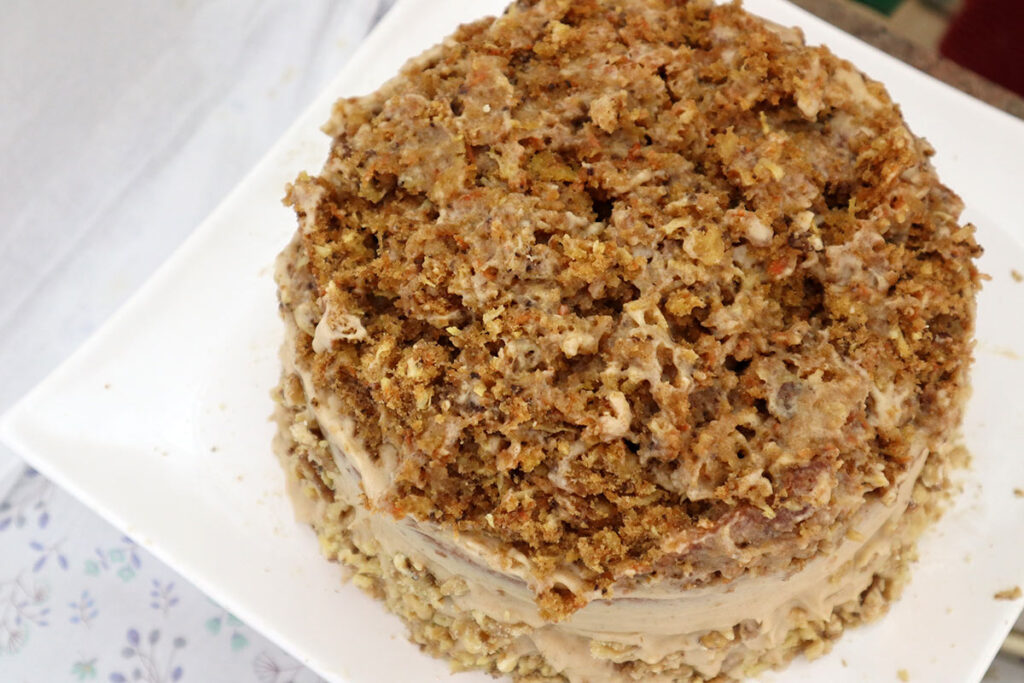 Like I said, carrot cake is my absolute favorite so I couldn't just leave the destroyed mess off to the side like discarded trash. I thought since it was already mixed with frosting, it could be like a cake ball mixture for the top of the cake.
I was desperate, okay?
I had made six layers of cake, and I couldn't stomach throwing all that work into the trash. Plus, I didn't want to show up at our friend's house for dinner empty handed. At this point, I had nothing to lose.
After all was said and done, and it was all put together, it actually reminded me of a dirt mound and since carrots are a root vegetable – it seemed apropos.
I layered the outside of the cake with some crushed walnuts, and then I molded tiny little carrots out of orange starburst, and I dare say, you might not know the travesty behind this cake if I didn't bare my soul to you!
If You Make This Cake
If you make this cake, you can either layer the cakes the intended way, alternating between carrot cake and banana cake and using the frosting in-between, and finishing the top off with a smooth layer of frosting, or…
You can make three layers of each cake and destroy two layers of carrot cake. Then mash up the two destroyed cakes with frosting and create a dirt top layer.
I created cake balls out of the third layer of banana cake and froze them for my daughter's birthday coming up. Banana cake is her favorite, and I'm going to shape them like bananas and dip them in yellow candy melts as a surprise!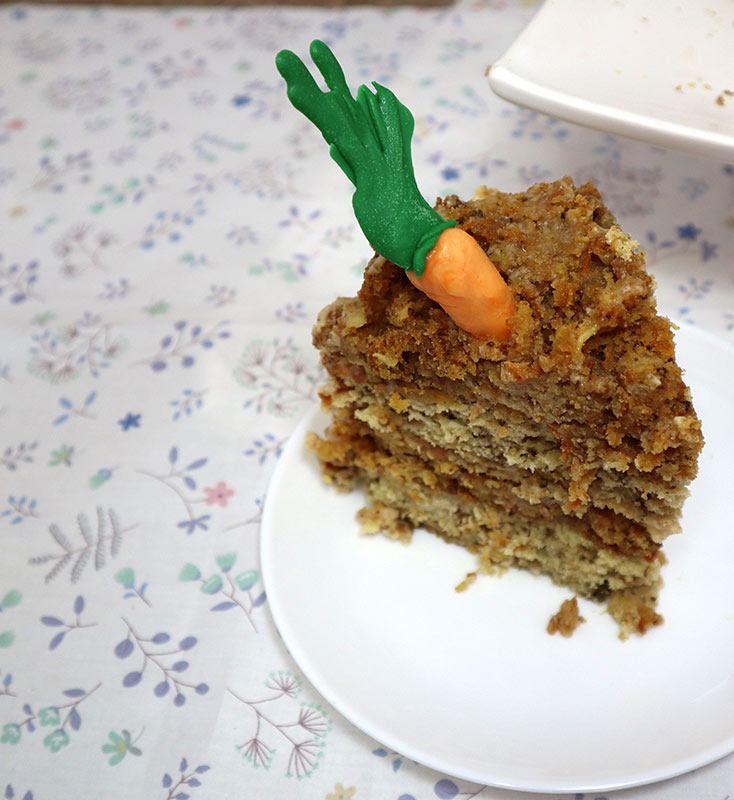 My Favorite Cake Accessories on Amazon
In addition to solid cake pans, for this recipe you'll also need a good shredder or food processor.
I am an Amazon affiliate and Amazon sometimes pays me an incredibly small stipend from the sale of these items, and it does not cost you anything to click on them!
A food processor is such an awesome and handy kitchen accessory.
In addition to carrot cake, I use it for paleo sweet potato waffles, au gratin potatoes, chocolate zucchini bread, and more!
I prefer cake pans with straight edges, as opposed to fanning out at the top. I also like a thick rounded lip at the top. These feel heavy weight and do a great job distributing the heat evenly.
And I just saw these, and immediately ordered them! No more cutting out stupid parchment paper!
Make This Carrot and Banana Cake
If you make cake, tag @Fahrenheit350sweets on Instagram so I can see it! And I'd love it if you left a review and a comment below!
More Beautiful Spring Recipes to Bake at Fahrenheit 350°!