Coconut Lime Cheesecake is one of my favorite cheesecakes. It's a really simple dessert, but it is packed full of flavor. For one, it's really pretty. The contrast of white cheesecake smothered in dark purple blueberries is quite stunning.
This dessert is super versatile. Coconut lime cheesecake is great for spring, all the way through summer.
Typically when you think of lime desserts you come up with Key Lime Pie and Margaritas. This is a unique twist that you can serve at a nice dinner or party that will likely be something no one has ever had!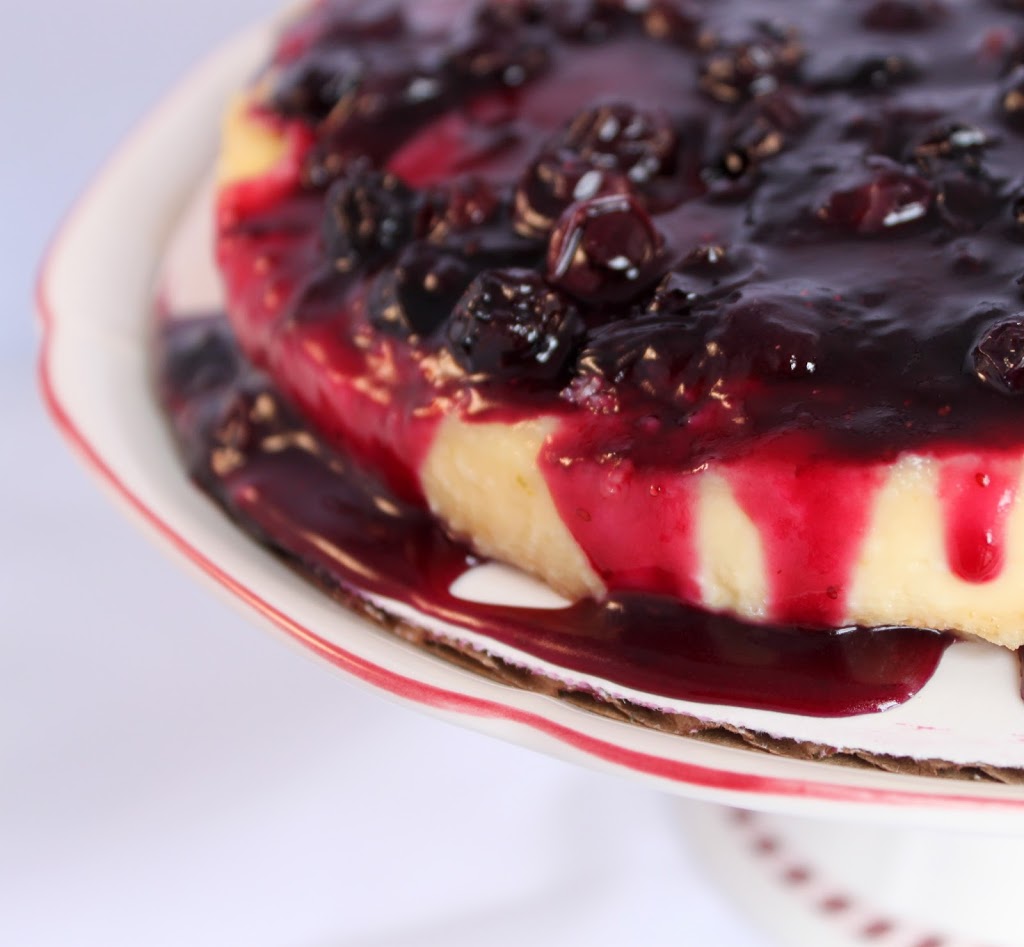 My other favorite thing about this desert is that it's pucker your lips tart. I mean, it's got an entire cup of lime juice in it, but it's so right.
Coconut Lime Cheesecake
with Blueberry Sauce
Coconut Lime Cheesecake with Blueberry Sauce is a beautiful dessert. It has a sharp contrast of colors. A white cheesecake with spots of green, covered by a gorgeous, thick, deep purple topping.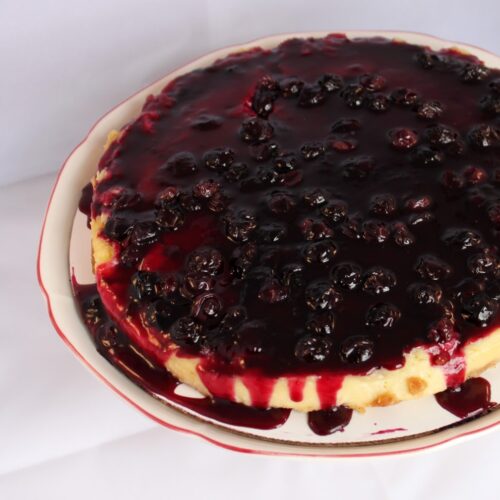 Coconut Lime Cheesecake with Blueberry Sauce
These cheesecake is such a beautiful dessert with a sharp contrast of colors. White cheesecake with spots of green, covered by a gorgeous and thick deep purple topping.
Ingredients
Crust
½

cup

coconut flakes

½

cup

graham cracker crumbs

2

tablespoons

butter
Cheesecake
16

oz

cream cheese

1

cup

sugar

1

teaspoon

lime zest

3

eggs

½

cup

whipping cream

½

cup

coconut milk

¼

cup

flour

1

cup

lime juice

½

cup

minced coconut flakes
Blueberry Sauce
2

tablespoons

cornstarch

2

tablespoons

cold water

2

cups

fresh or frozen blueberries

½

cup

water

½

cup

granulated sugar

2

tablespoons

fresh lemon juice

½

teaspoon

vanilla extract

Zest of 1 lemon
Instructions
Crust
Pulverize coconut flakes and graham crackers in a blender or food processor until both are very fine crumbs

Melt butter and mix into crumbs

Line bottom of 9" springform pan with crumbs

Bake for 7 minutes at Fahrenheit 350º

Set Aside
Cheesecake
Whip cream cheese, sugar and lime zest until smooth and creamy

Add eggs and beat until well mixed

Add whipping cream, coconut milk, lime juice and coconut flakes and mix until thoroughly incorporated

Pour over crust and bake at Fahrenheit 300° for 25-30 minutes

Remove from oven and allow to cool completely before removing outer rim

Chill

Serve with blueberry sauce
Blueberry Sauce
Make a slurry with the cornstarch and water

Set aside

In a saucepan over medium heat, add remaining ingredients

Bring to a low boil

Once mixture is boiling, add slurry and cook until mixture thickens and coats the back of a spoon

Remove from heat and transfer to a bowl to chill in the fridge
Can I Reduce the Amount of Lime Juice?
Whatever alterations you make to the liquid, balance it out with either whipping cream or coconut milk.
Less lime juice will diminish the lime flavor. Extra whipping cream will lessen the flavor over all, while extra coconut milk will add a tropical sweetness.
I made the recipe after all, but I personally wouldn't dream of reducing the amount of lime juice.
Cheesecake Topping: Blueberry Sauce
This blueberry sauce is the ultimate cheesecake topping.
The limes in this cheesecake do what limes do; they make it super tart, but the blueberry sauce balances it out beautifully.
An extra layer of whipped cream is just what this cheesecake needs.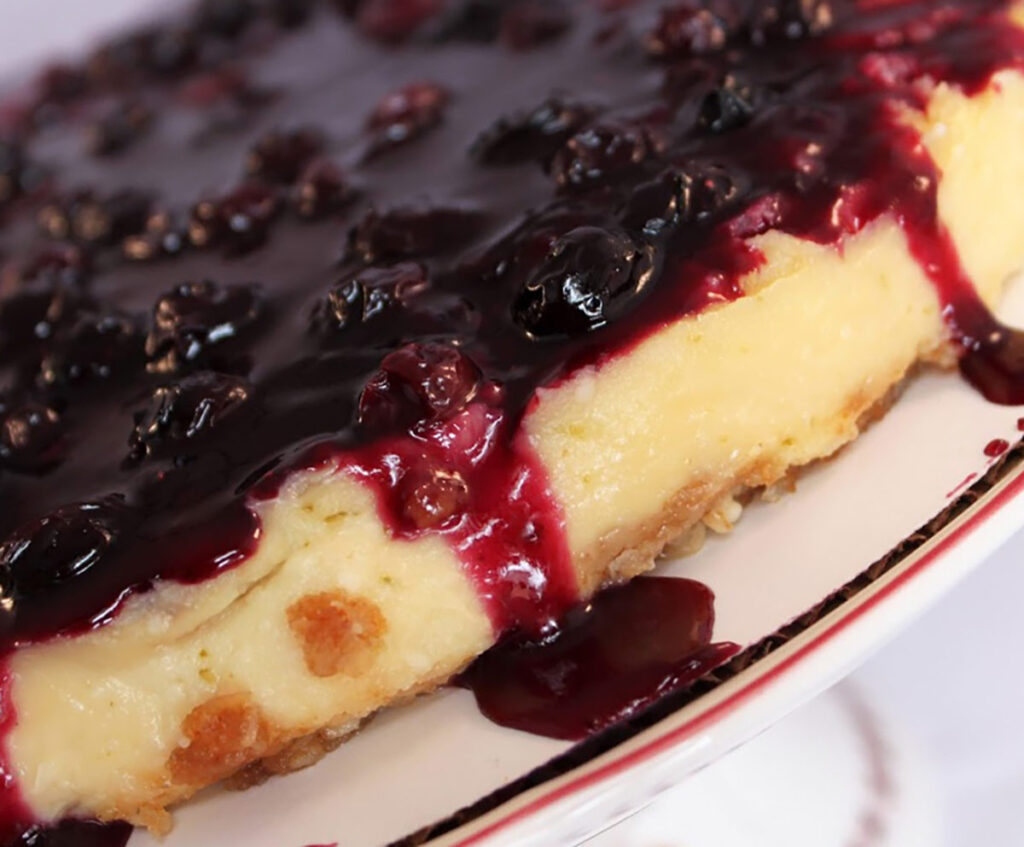 If This is a Lime Cheesecake, Why Does the Blueberry Sauce Have Lemon?
Lemon is a natural flavor enhancer, and sweetener when combined with something more naturally bitter.
Lime is simply tart and sour. It's doesn't react with other ingredients in the way that lemon does. It's its own flavor.
You cannot taste the lemon in this sauce, so it does not counteract with the lime cheesecake.
How Would this Blueberry Sauce be on Plain Cheesecake?
It would be amazing, of course! This blueberry sauce is amazing on everything.
Yogurt
Ice Cream
Pancakes
Pound Cake
Angel Food Cake
Scones
Donuts
My Favorite Cheesecake Products on Amazon
Everyone needs springform pans. They make life so great!
I appreciate the kickback from you clicking on these links. Amazon pays me an incredibly small stipend from the sale of these items, and it does not cost you anything to click on them! The sale of items you and I love help support this webpage.
A heart springform pan!!! I am buying this right now!
You don't even have to be a beginner baker to appreciate this package! This is a steal for all this stuff!
Make This Yummy Coconut Lime Cheesecake with Blueberry Sauce
If you make this cheesecake, tag @Fahrenheit350sweets on Instagram so I can see it! And I'd love it if you left a review and a comment below!
More Delicious Spring Recipes to Bake at Fahrenheit 350°!