Who knew dyed Easter Egg Cake Bites could be so adorable? I mean probably Bakerella.
I've been a long time fan of Bakerella. Everything she touches turns to cuteness. She manages to take any idea and make it over the top charming.
She is after all the cake pop queen! But me? I'm more of a utilitarian when it comes to my food. I just don't understand why you would put cake on a stick? Why not just cake bites? Why not just adorable little cake creations that sit on your table?
You'll love these colorful Easter egg cake bites. You can make them my way, or put them on a stick for Easter egg cake pops! Either way they will make a cheerful celebration!
Dyed Easter Egg Cake Bites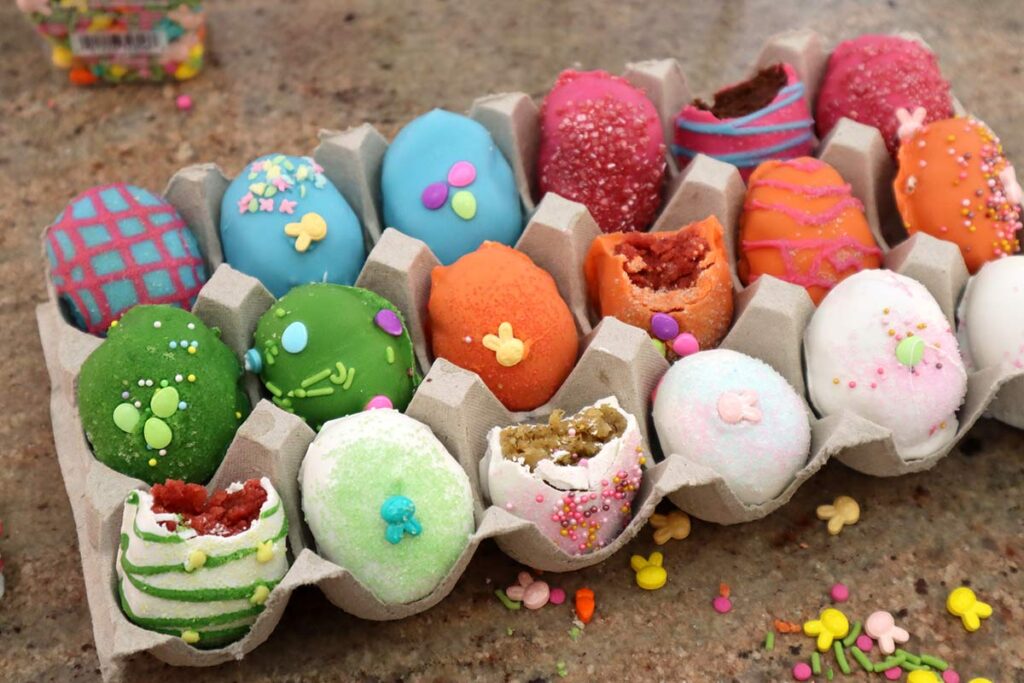 Coloring Easter Eggs have a long tradition as part of Easter Celebrations. In fact, some historians date coloring eggs all the way back to the time of Christ.
We always include this activity in our festivities, and the kids love searching for them as much as they love hunting for plastic eggs filled with treasures.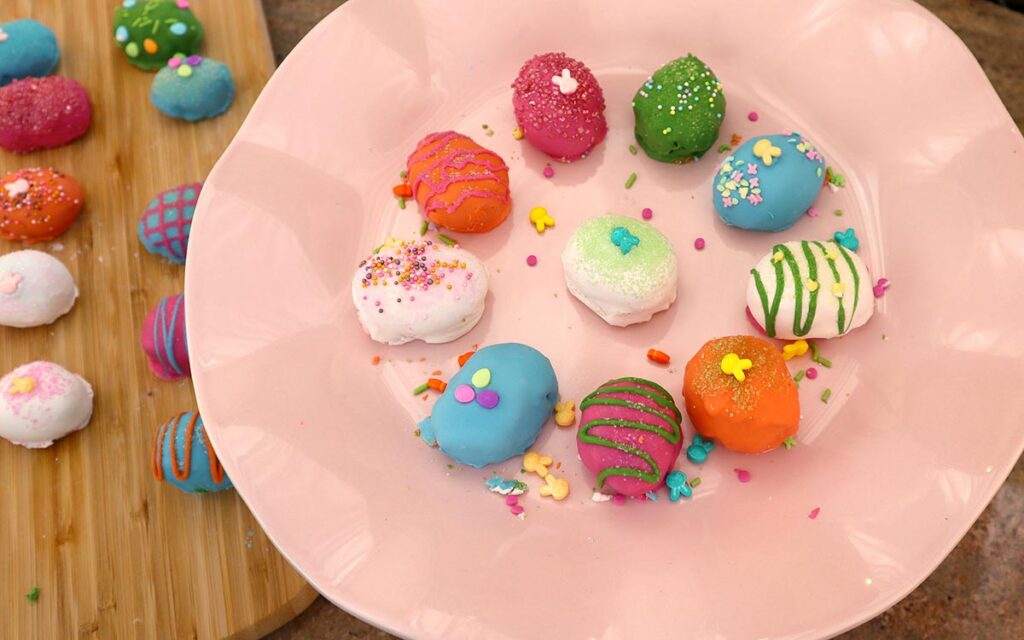 These dyed Easter egg cake bites are every bit just as much fun. Look how colorful and vibrant they are!
How to Make These Easter Egg Cake Bites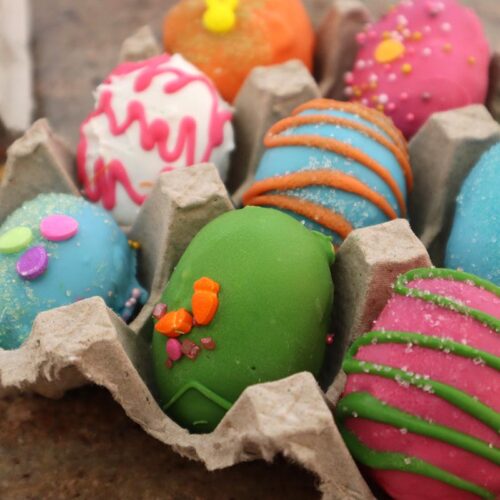 Dyed Easter Egg Cake Bites
Adorable egg shaped cake bites decorated to look like dyed Easter eggs.
Ingredients
Pastel Colored Candy Melts

Cake Balls

Sprinkles
Instructions
Mix cake and frosting together until it sticks to itself

Shape cake into oval egg shapes

Melt candy melts on low until just melted

Remove cake bites from freezer 3 at a time to dip

Dip cake bites into melted candy melts or chocolate

Transfer coated cake bite to wax paper to allow the chocolate to set

Immediately decorate with sprinkles

Repeat until all cake bites are covered

You may need to reheat your chocolate coating multiple times unless you are using a candy melter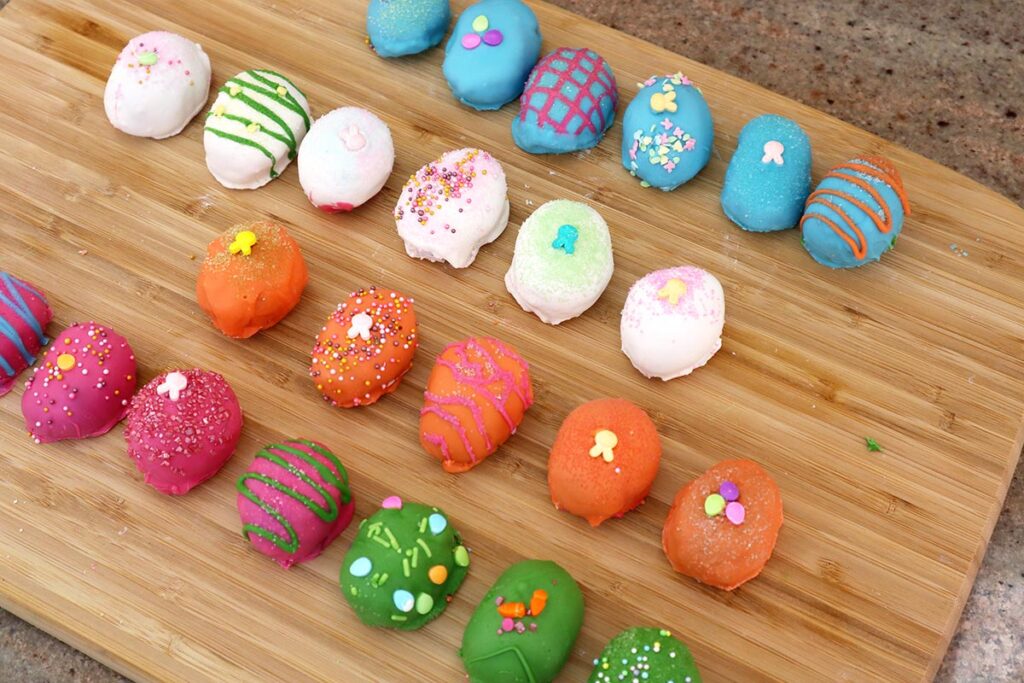 Ingredients for Easter Egg Cake Bites
I always save any extra cake I have left over. I take the cake remnants and mix it up with enough frosting to make it stick together. All that is left is to roll out little balls, and then stick them in the freezer for a later date.
This week I found cake balls made from Mini Red Velvet Cakes, Orange Chocolate Cupcakes and Banana Cake.
Otherwise, you can simply make any cake and frosting recipe to make cake bites.
Then, you just need a few pastel sprinkles and colored candy melts.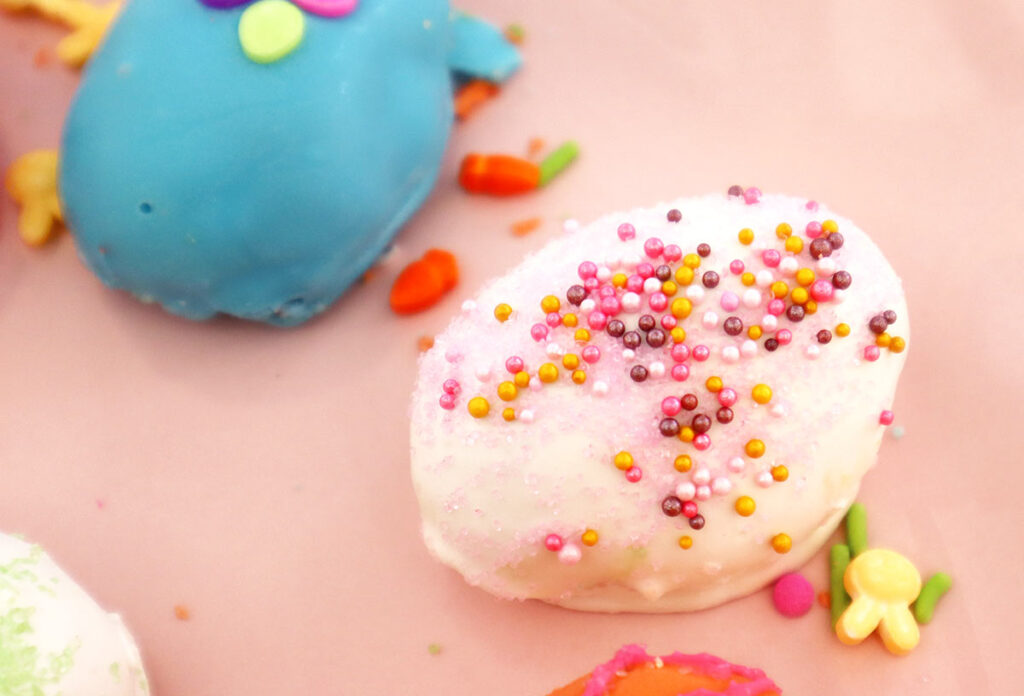 Egg Shapes
Making an egg shape is quite simple. Make a ball, flatten it slightly and then squeeze both sides together.
You'll want to cup the ball as you squeeze in the sides to make sure you don't make a square or rectangle instead.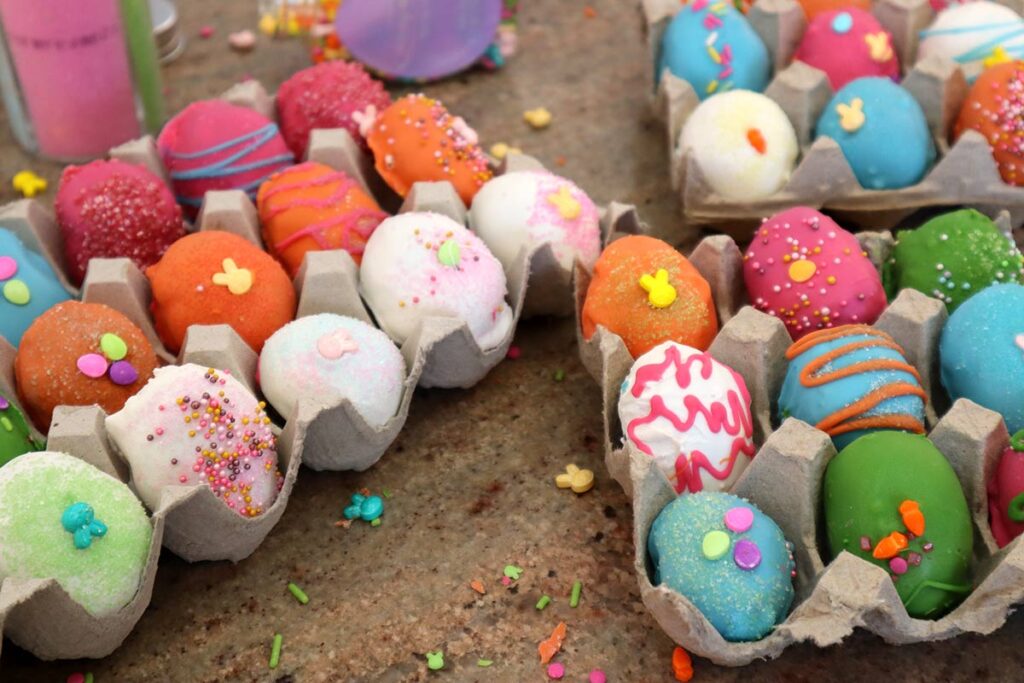 Easter Egg Hunt
These are great to add to your indoor or backyard Easter Egg Hunt! The kids will have a hard time telling them apart from the real and plastic eggs.
The real treasure is found inside! In fact, in some we even hid a yellow candy yolk jellybean.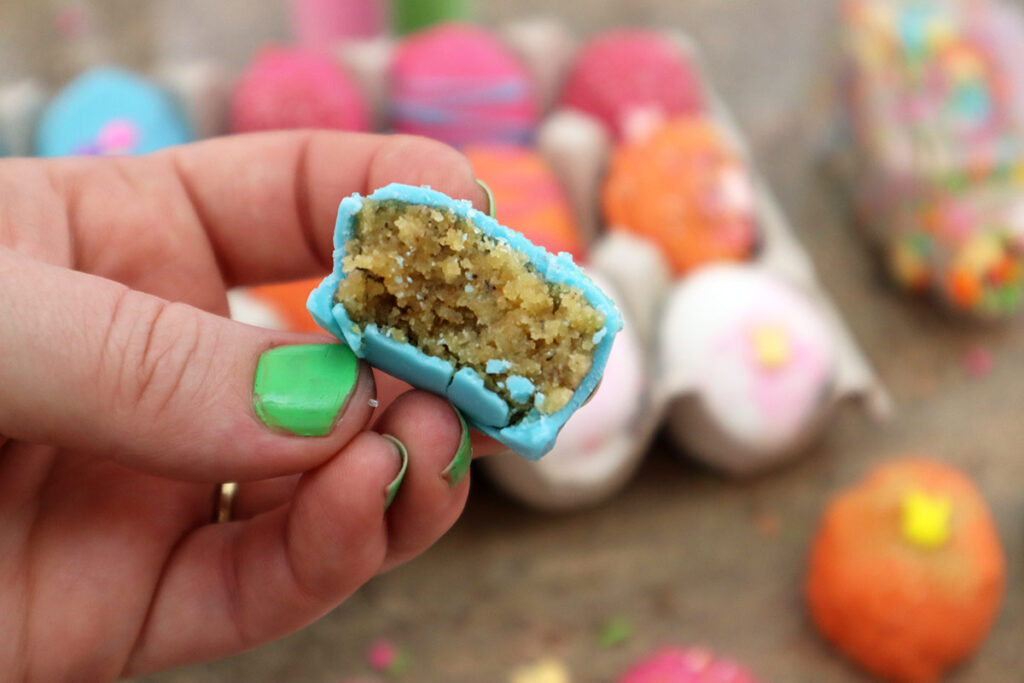 Great Gift Idea
This recipe is perfect for sharing with friends and neighbors, nieces and nephews, grandkids, or your congregation at church.
My kids and I loved making these together and coming up with all sorts of fun color combinations and decorative ideas.
Recommended Products for this Recipe
I really love my chocolate melter and I constantly find recipes to use it.
It's especially perfect for recipes like this to keep the chocolate the perfect temperature the whole time you need it. No getting up and constantly having to reheat the chocolate in between decorating.
I definitely recommend it for the home baker!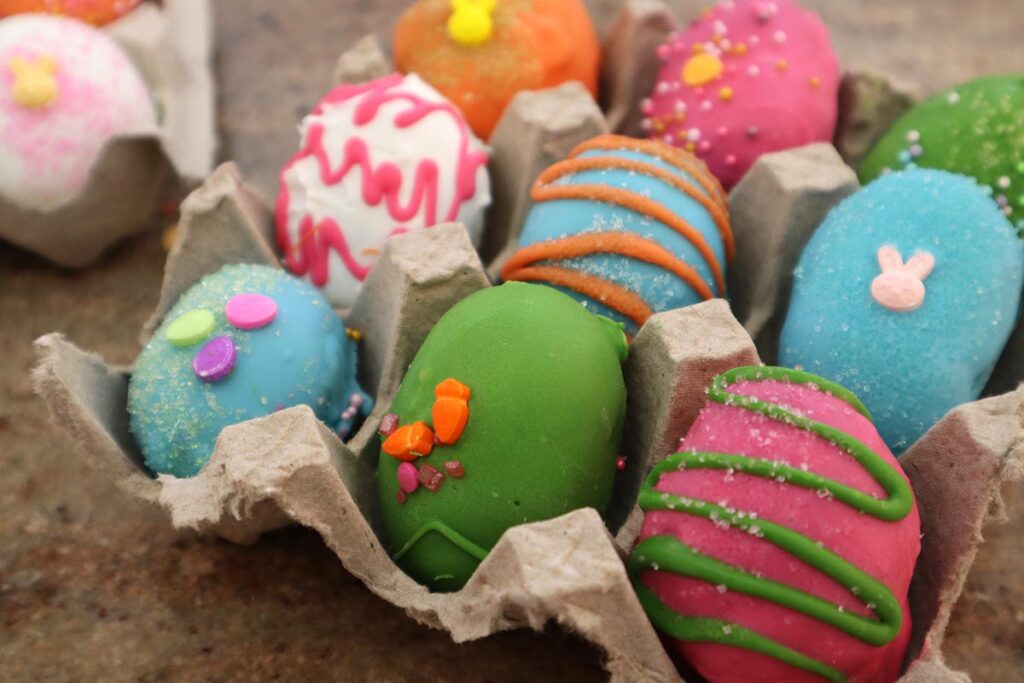 Here are a few additional links that are great for this recipe as well! I receive a commission if you purchase products from these links; they cost no extra to you. Amazon just appreciates the business.
Make These Colorful Dyed Easter Egg Cake Bites
If you make these cake bites, tag @Fahrenheit350sweets on Instagram so I can see it! And I'd love it if you left a review and a comment below!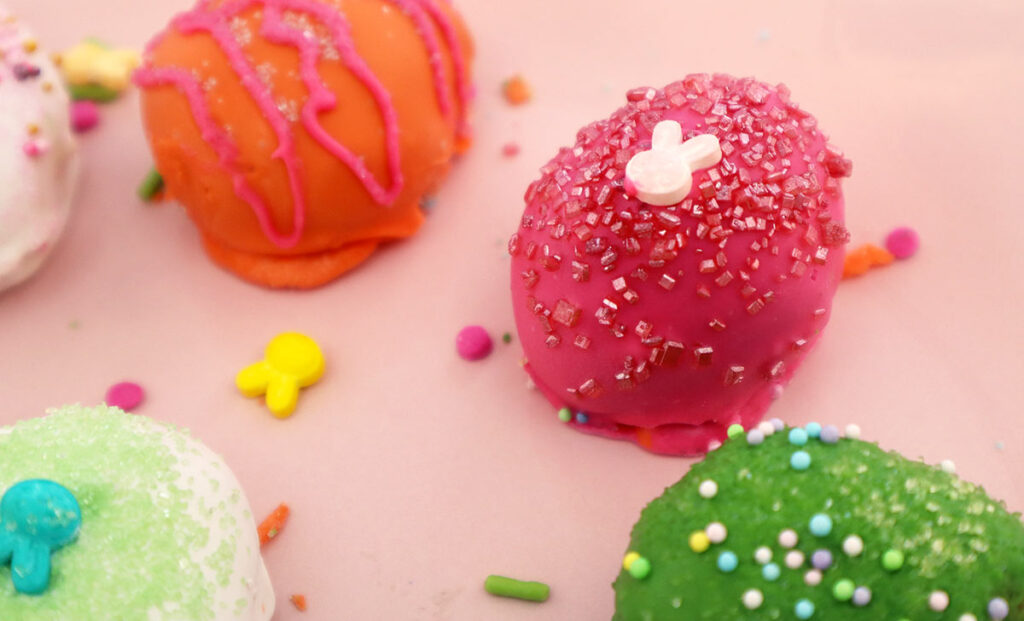 More Festive Easter Recipes to Bake at Fahrenheit 350°!