I brought these adorable pink cupcakes over to a friends house for dinner the other night. This family eats a vegan diet, so this raspberry cupcake recipe is actually vegan!
These cupcakes aren't just pink because of the raspberries, but because this cute family has three daughters. I knew it had to be pink, it had to be vegan, and of course, it had to be delicious.
This is a raspberry cupcake recipe, but it's also a pineapple cupcake recipe and a coconut cupcake recipe. It's got so many yummy flavors that all compliment each other wonderfully. It doesn't have the bulk that a lot of cupcakes have due to its high liquid content, but it's so moist, soft and delicious.
Raspberry Cupcake Recipe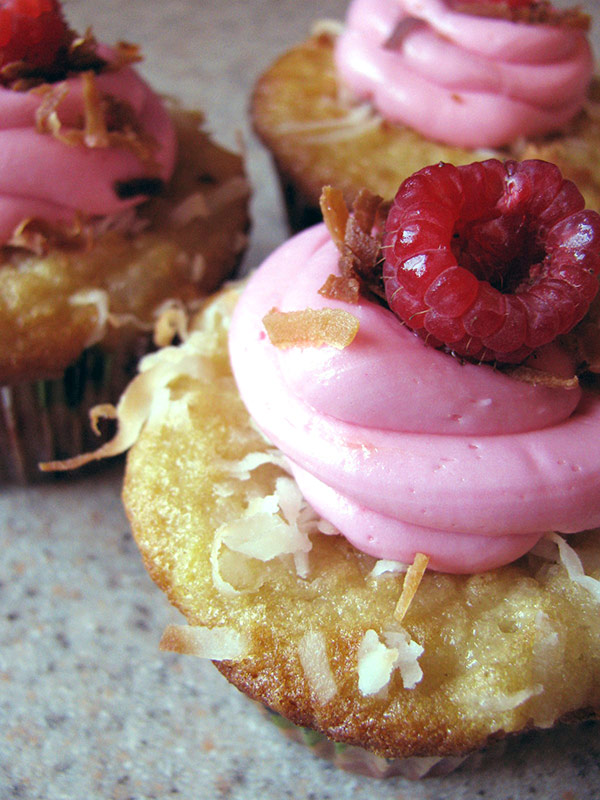 A vegan raspberry cupcake recipe chock full of pineapple, coconut and raspberries to create a delicious and adorable pink dessert.
How to Make this Recipe
Even though it's vegan, you'll still make it the same way you would a recipe that has butter and eggs. It will just require a few extra steps.
Seep the flaxseed in the water to bloom.
Then cream the oil and the sugar and add in vanilla and other juices.
Stir in the flaxseed.
Add your flours and dry ingredients, and stir in the raspberries as little as possible.
Bake, cool and frost!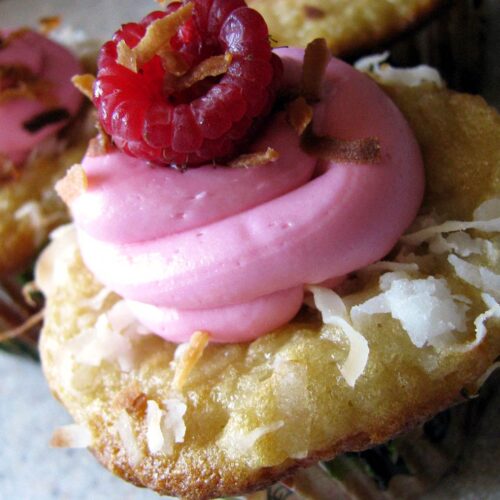 Raspberry Cupcakes
Ingredients
Raspberry Cupcakes
1

tablespoon

ground flaxseed

3

tablespoons

water

¼

cup

sunflower oil

⅔

cup

sugar

1 ¼

cups

pineapple tidbits with juice

1

teaspoon

vanilla extract

1 ¼

cups

flour

½

teaspoon

baking powder

1

teaspoon

baking soda

¼

teaspoon

salt

¼

cup

shredded coconut flakes

¼

cup

whole raspberries
Frosting
2

cups

powdered sugar

¼

cup

pineapple juice

1

teaspoon

vanilla

2

tablespoons

sunflower oil

Pink food coloring

Toasted coconut flakes
Instructions
Raspberry Cake
Soak flaxeed and water for 15 minutes

Preheat oven to Fahrenheit 350°

Line cupcake tins with liners and set aside

Beat oil and sugar together until emulsified

Add pineapple tidbits in juice and vanilla, stirring until smooth

Stir in flaxseed mixture

Add flour, baking powder, soda and salt until flour is thoroughly incorporated

Add raspberries, stirring as little as possible

Transfer batter to cupcake liners, filling ⅔ full

Prior to baking, sprinkle tops of batter with shredded coconut flakes

Bake at Fahrenheit 350° for 15-18 minutes, until cake is golden brown

Remove from oven and allow to cool
Frosting
Mix sugar, juice and vanilla together with electric beaters until smooth

Add oil slowly, as needed, to develop texture and increase thickness

Color with pink food color until desired color is reached

Spoon frosting into a piping bag with an open tip, or a gallon ziplock bag with a large tip cut out of one corner

Pipe frosting in large swirls in center of cupcake

Sprinkle with toasted coconut flakes, and adorn with whole raspberries
Can I Make This Raspberry Cupcake Recipe Not Vegan?
Honestly, you'd never know this recipe was vegan. I've never tried, but the only two changes would be to add eggs and butter.
You can easily swap out the sunflower oil for butter. The oil is a pretty small amount, so I'm not sure it would make that huge of an impact.
One egg would take the place of the flaxseed mixture.
If you try it, let me know how it turns out!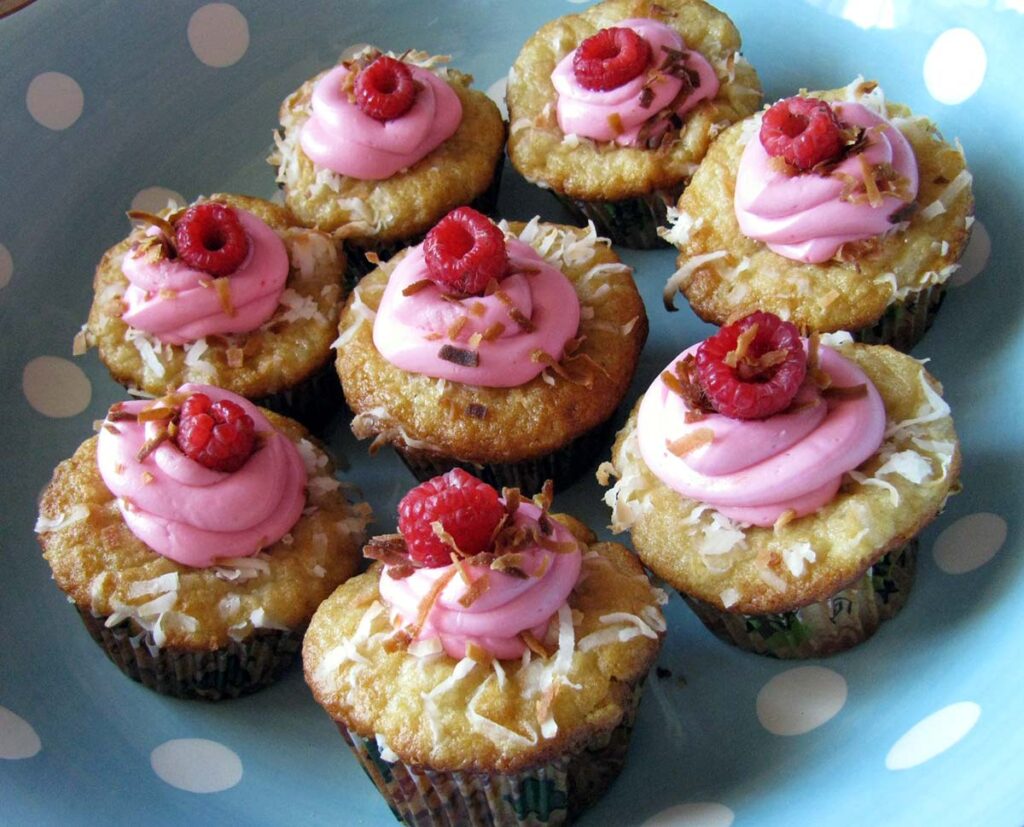 Can I Make These Cupcakes with a Different Juice instead of Pineapple?
You know me, I'm all about changing out the ingredients in a recipe to create something different.
I love orange and raspberry, and it would be a yummy combination. However, I will say, you often see raspberry and lemon, and raspberry and orange paired together. Pineapple is a unique combination that I'm sure you'll love.
If you do want to try it, the hard part would be determining how much orange juice to add, since the recipe calls for pineapple tidbits in the juice, not pineapple tidbits plus juice.
I might just start with a ½ cup.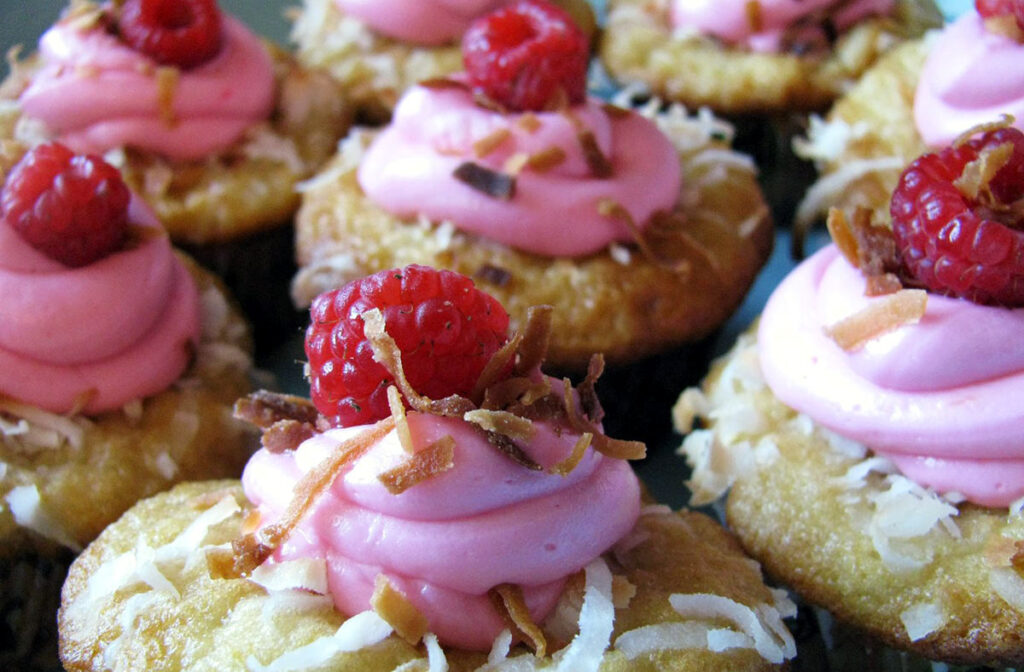 Baking Products on Amazon I Love
These are Amazon affiliate links, and it does not cost you anything to click on them!
I have all the cupcake tins in my house.
Standard size, 12 cavity.
Few recipes make just 12 cupcakes, so it's nice not to have to make just 3-4 extra. Not to mention, having all the cupcakes cooked at once just makes sense.
Then mini cupcakes. I actually use this muffin tin for mini apple pies and they are the perfect little bitesize treat/party favor. You can get these in a 24 cavity size, or in a 48 cavity size. You want the 48.
And when you want Costco sized muffins, you are looking for the Texas muffin tins (not just jumbo).
Make this Yummy Raspberry Cupcake Recipe
If you make these cupcakes, tag @Fahrenheit350sweets on Instagram so I can see it! And I'd love it if you left a review and a comment below!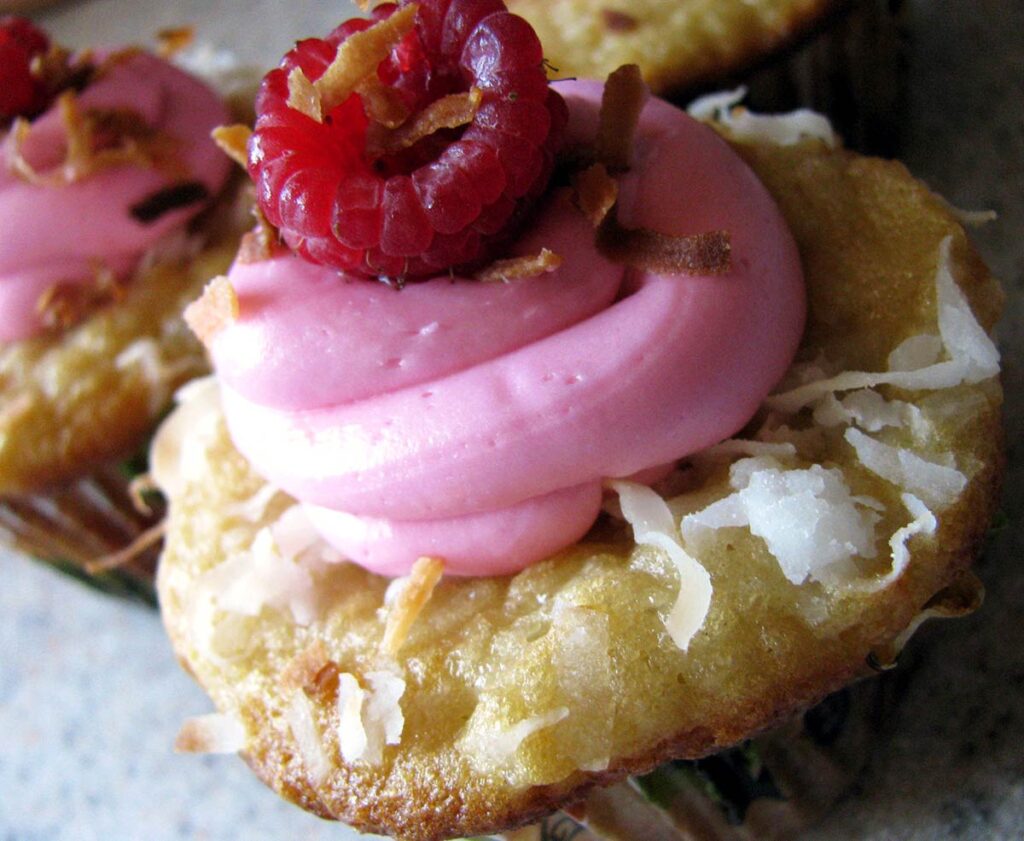 More Cupcake Recipes to Bake at Fahrenheit 350°!